How Much Compensation For A Botox Injury or Negligence?
By Danielle Jordan. Last Updated 16th August 2023. This guide will provide you with information about how to make a botox injury compensation claim. We explain what botox is and when it might be used, as well as examining what could happen when botox has gone bad.
When you seek a botox treatment, you are owed a duty of care. Should this duty be breached, and you suffer avoidable harm as a result, you might be entitled to compensation. These are the eligibility requirements for a claim. You will need evidence to support your case. We provide a few examples of items you could submit later in this guide.
You also might be curious about how much compensation you could claim for this type of injury. We'll take a look at different factors that could determine how much this sort of claim could be worth.
We conclude with a look at how a solicitor working on a No Win No Fee basis could support your claim.
If you have any questions about the claiming process, or need any help with starting one, please contact one of the advisors from our team. They're available 24/7 on the following details:
Fill in our 'claim online' form and an advisor will call you back.
By phone on 0800 073 8804
Our live chat at the bottom of the screen.
Select a section:
A guide to Botox injury claims
Botox is one of the most popular non-surgical cosmetic treatments in the UK, alongside things like dermal fillers. Every year, thousands of people get this treatment for achieving tighter and wrinkle-free skin. As is the case with all types of procedures, there are risks that every patient needs to be aware of.
Nevertheless, if you have suffered a Botox injury and it was not your fault, there is a very high chance that you will be able to claim Botox compensation for your suffering.
This is something we can help you to do. Our team has plenty of experience helping personal injury victims get the full amount of compensation they deserve. But, before we take your call, why not read on to find out everything you need to know about Botox injury claims? You will find information on everything from eligibility to average compensation amounts for botox negligence claims.
What is Botox?
What is Botox? And what are the Botox ingredients? Botox, otherwise known as Botulinum toxin, is a material that has been used for cosmetic purposes for approximately 50+ years. However, it has been around a lot longer than that, as mankind has known about it for more than a century. Initially, Botox was used to treat cervical dystonia, i.e. a wry neck and blepharospasm, which is when people cannot move their eyelids in specific ways, and strabismus, which is the term for a lazy eye.
However, this changed in 2002, when it became a popular cosmetic treatment for relaxing and improving frown lines between the eyes. Over the years, there have been many developments in terms of what Botox can be used for. In 2004, it became approved as a treatment for hyperhidrosis, which is excess sweating. And, as of 2010, it is an approved treatment for migraine headaches.
If you take a look on the Internet, you will find many myths and misinformation regarding Botox. One of the most common misconceptions is that the muscles in the face are paralysed during Botox. If you go to a reputable physician, this won't be the case. That only happens when someone has had excessive amounts of Botox injected into them. This highlights why it is so important to choose a physician with care, as they will ensure the perfect amount is injected.
Botox injury claims/botox negligence claims are possible against those who provide negligent or harmful Botox treatments.
The popularity of Botox
Botox has become very popular over the past decade or so. Once considered a treatment simply for ageing women, research indicates that thousands of men now have Botox per year. Not only this but more people in their 20's are having Botox too. This is evident from the statistics, as there were more than 6.7 million Botox procedures performed around the world in 2015.
For more information on botox negligence claims, please read on or contact our team today. 
What to do if you are involved in botched Botox causing injury
Whether the physician administered too much Botox around the eyes or injected it in the wrong place, you will be able to make a compensation claim, so long as you can prove that they were to blame.
As the graph below from the Review of the Regulations of Cosmetic Interventions, the amount of complaints made for beauty treatments has been on the rise compared to complaints made in other sectors.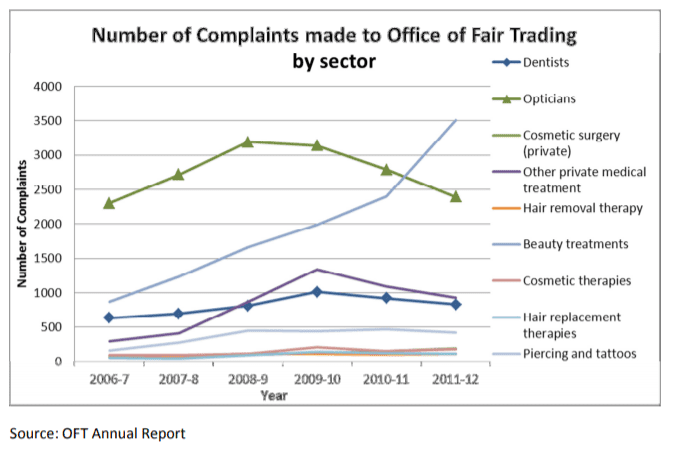 At this stage, it would be a good idea to gather as much evidence as possible to put together a strong case for you. The sort of evidence required in botox injury claims includes:
Medical report – This is something your doctor will put together, which is why it is so important to see an expert medical professional if you are suffering an adverse effect from your Botox treatment. Not only will they ensure that you get the treatment you require, but also they will put together a medical report. This will be used to determine how much compensation you will receive. If this is something you are yet to do, don't panic; give us a call, and we would be more than happy to arrange a local medical for you.
Witness contact information – It is very unlikely that someone would have been in the room with you while getting Botox. However, if there was, or you brought a friend or family member with you, make sure you have their contact information. Witness statements can really help to strengthen your cause.
Take photographs – Bad Botox pictures are probably the last thing that you want to concern yourself with right now. However, botched Botox photos really help to strengthen your case.
Keep proof of expenses – If you have encountered any out of pocket expenses because of the injury you sustained, you will be able to claim these as special damages as part of any botox injury claims. Common examples include travel costs, prescription expenses, loss of income, childcare costs, and the cost of counselling. You will be able to claim for all of these, but you will need proof, so it is important to keep your receipts and anything else that can back up your claim.
If you'd like to know more about the botox negligence claims process, please read on. 
How to begin a Botox injury claim
No matter whether you have been injured due to Botox poison or too much Botox in the forehead, you must get the compensation you deserve. This is something we have made as easy as possible here. All you need to do is give us a call, and we will get started as soon as possible.
When you call us, you will speak to a member of our professional and friendly team. Not only will they answer all of your questions, but also they will conduct a free fact-finding session. This is nothing to worry about. We want to know the ins and outs of what has happened to give you the best advice and ensure we have the best chance of securing the highest amount of compensation for you.
Among the most crucial pieces of evidence, you need for botox negligence claims is a professional medical report. If you are yet to see a doctor or medical professional, this is something we can arrange on your behalf at a local medical centre if required. Please speak to our team today about how Botox injury claims work.
How is Botox administered?
Now that you know what Botox meaning is and what it is used for, you may be intrigued to know how Botox is administered. Botox injections should only be given by a medical professional that has the necessary training. Undoubtedly, a lot of the Botox gone wrong before and after photographs have occurred because someone with unnecessary training has taken over.
A nurse, doctor or healthcare professional will inject Botox into a muscle. They will strategically place the injections for the best results. This is not a permanent solution, so it is advisable to go back every few months. Depending on the conditions, you may receive Botox in more than one area at any time.
For more details on what circumstances botox negligence claims can be made, read on to our next section or contact us today for free legal advice. 
Can I claim if I am unhappy with my Botox results?
Botox gone wrong forehead could mean one thing to you and one thing to another person. You may be unhappy because your face is swollen, and you are suffering headaches because the Botox has not been administered properly. Someone else may be unhappy simply because they don't like the results or feel that they have not made a noticeable difference. You can claim if you are unhappy with your results due to medical negligence. However, you cannot make Botox injury claims if you expected to look better after the treatment.
What can be claimed after an accident causing a Botox injury
No matter whether you have suffered a severe reaction to Botox or you have experienced Botox gone wrong crows feet, there are several different things you can claim for when making a claim. This includes:
General damages – General damages compensate you for the pain and suffering you experience.
Care claim – If you have required help around the house, the person who has cared for you can file a claim.
Medical expenses
Travel expenses
Loss of earnings
The above isn't an exhaustive list of things that is claimable for botox negligence claims. For more details about specific circumstances for potential botox injury claims, get in touch with our team. 
Common places people get Botox
Common places people get Botox include:
Forehead wrinkles
Crow's feet
Frown lines
Bunny lines
Smoker's lines
Mouth corners and marionette lines
Neck cords or bands
Sagging eyebrows
Whether Botox has been injected or what clinic you have visited for Botox, if the physician has been negligent, we can help you get the full amount of compensation you deserve.
Risks of Botox
The risks of Botox, any of which could lead to Botox injury claims, include:
Breathing difficulties (rare)
Double or blurred vision (rare)
Flu-like symptoms
Heavy eyelids after Botox
Headaches
Bruising at the injection site
Temporary droopiness and weakness of your facial features.
The most common types of Botox injuries
Several different injuries can occur when Botox treatment has gone wrong. This includes:
Emotional distress and unhappiness
The inability to talk properly
Blurred or impaired vision
Headaches
Paralysis of facial muscles
Facial disfigurement
Allergic reactions
Botox negligence claims could be in any of these circumstances.
How much compensation will I get after a Botox injury?
If you take a look on the Internet, you will often see Botox gone wrong pictures accompanied by a compensation calculator, informing you of how much money you could receive if you have experienced botched Botox. It is important to note that these compensation calculators only give you a rough estimate of the amount of money you could receive. It is impossible to give an accurate figure. This is because all Botox injury claims are different, and there are many different variables. With that in mind, in the table below, you will see the average payouts for several common injuries amongst those with a Botox injury.
If you cannot find the injury you have sustained, please do not hesitate to get in touch, and we would be more than happy to assist.
| Reason for compensation | Typical compensation amount | Comments |
| --- | --- | --- |
| Total blindness | In the region of £268,720 |   |
| Loss of sight in one eye, and reduced vision in the other eye | £63,950 - £179,770 | Higher payout is where further deterioration in the remaining eye is a severe risk. |
| Complete loss of sight in one eye | £49,270 to £54,830 | The higher payout is for cases where significant scarring is present. |
| Minor eye injuries | £3,950 to £8,730 | Minor injuries include the likes of being splashed in the face by liquids, being struck in the eye, and exposure to smoke and other fumes. |
| Transient eye injuries | £2,200 to £3,950 | If you have fully required within a few weeks, you fall into this bracket. |
| Facial disfigurement - Very severe scarring | £29,780 to £97,330 | This is for cases whereby there is a severe psychological reaction and the cosmetic effect is very disfiguring. |
| Facial disfigurement - Less severe scarring | £17,960 to £48,420 | This is for cases whereby the disfigurement is substantial enough to result in a substantial psychological reaction. |
| Facial disfigurement - Significant scarring | £9,110 to £30,090 | Plastic surgery will have reduced the worst effects, but there will be some cosmetic disability, as well as psychological reaction. |
| Facial disfigurement - Less significant scarring | £3,950 to £13,740 | There will be a number of small scars, or there will be one scar, which can be camouflaged. |
| Moderate psychiatric damage | £5,860 to £19,070 | Cases of moderate psychiatric damage relate to those whereby the prognosis is good and there is marked improvement by the trial. |
No Win No Fee Botox injury claims
There are many reasons why you should consider using our service if you want to make a Botox pain after injection claim or any other type of claim relating to botched Botox injections. However, one of the main reasons is that all of our solicitors work on a No Win No Fee basis. This means that you will not require a large upfront sum to begin your claim. Not only this, but you are only going to need compensation if your case is a success. If for some reason, your claim is unsuccessful, you will have no legal fees to pay.
This offers you a significant degree of monetary protection. It means that you will never find yourself in the dreaded position whereby you have a huge legal bill to pay, yet you don't have any compensation. This happens when going for a solicitor that charges per hour, so No Win No Fee is a must. It also gives you peace of mind that we won't waste your time; we only take on cases that we believe have a genuine chance of success. Discuss Botox negligence claims with our team.
Why choose us for your claims service for a Botox injury claim?
If you want to make Botox injury claims, we are the best personal injury law firm for the job. Not only do we have an abundance of experience in the industry, but we also have an exceptional reputation to back it up. You only need to see what our previous clients have had to say to see that this is the case.
Aside from drawing on our years of experience to build the best case for you, we also operate with a customer-centric approach. This means that you are at the heart of everything we do. We genuinely care about securing compensation for you, and we know that you are probably going through a horrific time right now. The only thing we want to do is help you as much as we can.
We won't add to the stresses and strains you are experiencing. Instead, we will go about securing compensation for you in the most efficient manner. Also, we want your sole focus to be on resting and getting better. So let us take care of the financial side of things for you. Contact us now about Botox negligence claims.
Call for free advice and to start a claim
We hope that our updated guide to botox negligence claims and botox injury claims has helped you.
If you have been the victim of medical negligence and suffered botched up Botox as a result, you should give us a call today to get started with making a claim. The number you need is 0800 073 8804. You will speak to a professional and friendly member of our team, who will be more than happy to assist you in any manner they can. They will answer all of your queries, and they will talk you through the claim process.
We won't simply get you to fill in a Botox claim form and then leave you to it. We want you to feel as comfortable as possible when using our service, and this begins from the moment you give us a call, so don't hesitate to get in touch.
Useful links
Control Of Hazardous Substances
HSE guidelines on how to control hazardous substances such as Botox.
This link takes you to the NHS page for deciding if a cosmetic procedure is right for you.
In this NHS guide, you can learn more about the use of Botox therapy in medical care.
Hospital Negligence Compensation Claims
Our updated guide looks at how to claim compensation for negligence in a hospital.
How Much Compensation Can I Claim For Medical Negligence?
If you are a victim of medical negligence due to botched botox, find out how much compensation you could claim, contact us for specialist advice.
How Much Compensation Can I Claim For Cosmetic Surgery Claims?
Please find out how much compensation you can claim for negligent cosmetic surgery; contact us for free advice.
Further Useful Guides
Thank you for reading our guide on botox injury claims and botox negligence claims.