Car / vehicle road accident caused by an animal – How Much Compensation Can I Claim?
By Mark Ainsdale. Last Updated 5th August 2021. Welcome to our guide about making a compensation claim after a road accident caused by an animal. Strange as it may seem, it is not uncommon for a car accident in the UK to be caused by an animal in some way. If you're in such an accident and sustain injuries of any sort, you may wonder how to claim compensation. So, this guide provides legal advice about claiming after a road traffic accident involving a collision with an animal. And this applies whether or not you're an animal owner yourself.
Select a Section
A guide to road accident claims caused by animals
The UK is home to several different animals, and whether they are wild or domesticated, or owned by farms or stately homes, sometimes they stray onto our roadways. If this happens, it can cause road accidents that can have devastating consequences for the animal, the driver and passengers in a vehicle and even pedestrians walking nearby.
If you have had the unfortunate occurrence of having been involved in a road accident caused by an animal, you may be surprised to hear that it might be possible for you to claim compensation for your injuries, loss of earnings while recovering and more. Our guide takes you through more information on road accident claims for incidents caused by animals, whether a livestock road collision or one involving a domestic pet and advises you on beginning a compensation claim. In addition, we illustrate how much road accident compensation you may be awarded.
What is a road accident caused by an animal?
There are a variety of instances that can lead to an accident being caused by an accident. Whether it is a case involving a domestic animal, livestock or a wild animal if an animal has encroached onto the roadway unexpectedly and caused an accident, if someone responsible for that animal is found to be at fault, you may have cause to make a compensation claim.
Who is at fault for road accidents involving livestock or farm animal?
In many cases, in a livestock road accident, the owner of the livestock, often a farmer, can be held liable for any accident that animals under their care have caused. If you are worried about their livelihood being affected by any claim, then you must understand that public liability insurance can be and is taken out by most farmers to protect themselves should this type of event occur.
Can I claim if my accident was caused by a wild animal?
According to the road traffic act, animals should be avoided on the road if possible to take evasive action. As the driver of a car that has hit a wild animal, however, it may be unlikely you'll be able to claim compensation should a wild animal cause you to crash. Wild animals are not deemed 'owned' by anyone, so there would be no one liable for the accident. However, if you are travelling in a car as a passenger and sustain injuries due to the driver's negligent action, it may be possible for you to claim compensation. If you require any more clarity on this point, do not hesitate to call us, and we will be happy to explain the situation in more detail.
Could I claim if my accident was caused by a stray cat or dog?
You may be wondering if a dog causes an accident or a stray cat, is it something you can claim for. The truth is, it depends entirely on what has happened and whether anyone is at fault for the dog or cat getting out. When a dog causes car accident, who's liable in the UK may vary, depending on the situation.
One car accident caused by animal statistics makes for interesting reading. Domestic pets cause hundreds of accidents on our roads each year in the UK, with over a hundred thousand dogs reported missing annually. If the pet's owner is shown to be negligent in their care of the animal, allowing it to stray onto the roadway, then they may be found to be liable for your injuries. This type of accident is covered in many home insurance policies.
However, when it comes to stray animals, the situation is not so simple and can depend on your position in the accident. If you are a passenger and the driver has not responsibly handled the situation so that an accident could be avoided, you may be able to make a claim. Every case is different, so you should get in touch with our team. That way, you can find out whether you have a case after your road accident caused by an animal.
I hit a deer, can I claim compensation?
It is estimated that a large number of deer perish each year as a result of UK road accidents. Whilst you may think this only happens on country roads, you would be mistaken. Fifty-two percent of deer accidents happen on motorways, with forty-eight percent on A roads.
When it comes to claiming compensation, it depends entirely on whether the deer is deemed to be 'owned', perhaps by a venison farm. If it is, it is likely to have some form of identification, perhaps an ear tag, making its ownership state. Therefore, if its owner has been negligent in their duty to keep the animal contained, you may be able to make a claim.
If you require any clarification on this, do not hesitate to call us, and we can ask a few questions to determine whether you're likely to be able to claim compensation.
Your responsibilities after a car vs animal collision
By law, all drivers involved in an accident where an animal has been injured or killed should stop at the scene. They are required to swap details with others involved as well as reporting the incident to local police within 24 hours. However, there are some anomalies within the law that do not make it a legal requirement to stop if you hit a cat or a deer. This is because the definition of an animal in the law covers only cattle, mule, ass, goat, pig, horse and dogs.
Most responsible drivers will stop regardless of the type of animal, but it is wise not to approach an animal that has been injured in case it becomes aggressive. You should also only stop if it is safe to do so without causing an obstruction that could be dangerous to other road users. Contacting the police should be done as soon as possible as they will have to attend to ensure an animal receives treatment where required or is dealt with humanely if it cannot be treated. If the animal has perished, then the police should be contacted so they can arrange removal.
New Forest animal road collision map
In 2015, a map showing animal road collisions in the New Forest was published. This would include some sobering statistics to ensure drivers take care on roads to avoid animal collisions.
The park has been home to roaming wild animals for centuries. However, in 2014, there was 138 vehicle to animal collisions in this area alone. In 2013, the number was even higher, as 182 animals were subjected to a vehicle collision. The B3056, B3054 and B3078 are the most troublesome roads. These would amount to over a third of the total number of incidents.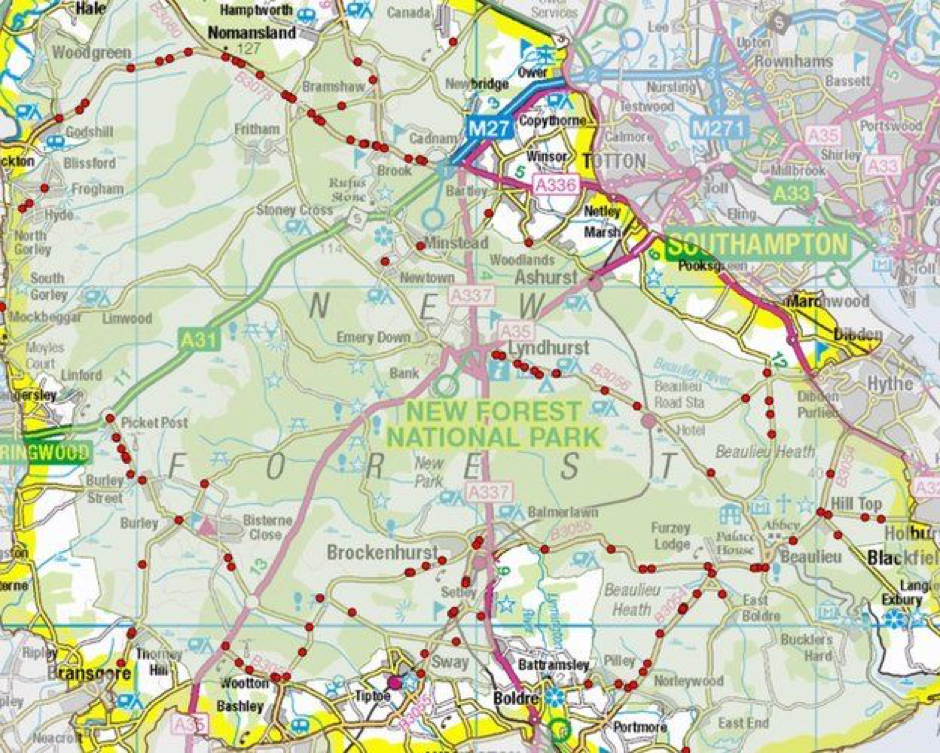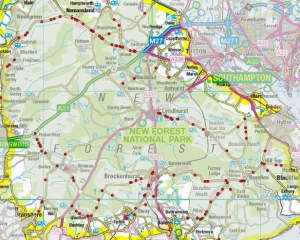 What to do if you are involved in a road accident caused by an animal
If you are involved in a road accident that an animal of any kind has caused, it is best to begin to collate evidence as soon as you can support your claim. The type of evidence you should collect and keep breaks down into the below categories.
Photo Evidence – Pictures of your injuries, or the scene of the accident, and anything else you may feel is relevant.
Evidence of costs – Receipts for travel costs for medical appointments, doctor's bills and prescription receipts
Witness details – Contact details of anyone witnessing the accident so they may provide a statement at a later date.
Medical Evidence – Any prescriptions, medical reports etc.
Notes about the event – Often, writing down the events straight after the incident helps as everything is fresh in your mind.
If you have any questions about what evidence is relevant, then why not get in touch. Our team will be happy to advise you.
How to begin a road accident claim
An initial phone call to us is all it takes to begin a claim. A sympathetic member of our team will begin with a consultancy session, which is free of charge. As we work on a No Win No Fee basis, we will not ask for any money upfront to begin your claim. Instead, in this consultancy session, we will find out the facts surrounding your case. You will have the opportunity to ask any questions you may have surrounding the claims process, including asking us to explain our No Win No Fee service in more detail and provide more information about animal accidents with cars claims.
We may also need to arrange a local medical assessment. Here, you receive a review by a doctor who will compile a full report of your injuries. This also caters for your prognosis for recovery and any other medical details our solicitors may need.
What can be claimed for after a road accident caused by an animal?
When you come to claim compensation after sustaining injuries in an accident caused by an animal, you may find that your compensation comes with several different elements. The most common types of compensation include claims for the following:
Damages (General) – This part of your compensation covers you for any suffering and pain you encounter after the accident.
Care Claim – If a person has had to care for you after your accident due to you not being able to perform some daily tasks around the home, then that person can file a claim for care costs.
Travel Expenses – This covers the cost of travelling to medical appointments, etc.
Medical Expenses – Included items may be prescription costs, counselling fees, physiotherapy costs, etc.
Earning Loss – If you cannot attend work due to your injuries, your usual pay may not be forthcoming. This loss of income can be claimed as part of your personal injury claim.
If you incur costs due to your accident, call us to find out if they could comprise compensation. We will be happy to answer any questions you might have.
The most common types of road accidents caused by animals
Animals cause numerous different injuries and accidents. However, the most common are:
Vehicle to animal collision – If a driver cannot stop or swerve to avoid an animal in the road, then a vehicle to animal collision will occur. Some animals on our roads can cause extensive damage to a vehicle when hit as they are quite large and heavy in stature. Therefore, they can cause severe injuries to occupants of the vehicle that has hit the animal.
Vehicle swerving to avoid animals – UK law knows that this can have more dangerous consequences in some cases than hitting the animal with the car. But what if a car comes in the opposite direction? And what if a car swerves onto the wrong side of the road to avoid an animal? Well, a head-on collision with another car could occur.
Emergency stop to avoid hitting animal – If a driver slams on the brakes to avoid hitting an animal, this can cause injuries, even if there is no other traffic on the road. However, if there's another vehicle behind, this could cause a collision between the braking car and the car behind.
Whether your accident type is here or not, we can tell you if you're likely to win. Do not hesitate to call us if you need any clarification on this.
How much compensation will I get after a road accident caused by an animal?
This is one of the more common questions we are asked when people call us, and the simple answer is that there is no set answer. Claims differ wildly in some respects, and in others, there may be small intricacies within the law that dictate different compensation amounts be awarded. This is why we cannot give you a certain guaranteed amount of compensation. It would be wrong of us to make false promises, and we pride ourselves on our honesty.
What we can do, however, is provide a rough guide or estimate based on what has been awarded for certain injuries in the past. These guidelines have been compiled together in a table below to give you an idea of the awards given for common injuries. The most common injuries suffered in these collisions are neck injuries, such as whiplash, but others are common.
We hope this information is something you will find useful. However, if you have any questions, please call us. We will be happy to talk you through any questions you might have.
| Compensation type | Possible payout amount | Further Information |
| --- | --- | --- |
| Back injuries classed as minor | A few hundred pounds - £9,500 | In order to determine the award, certain factors need to be considered. These include, when it comes to minor back injuries, the amount of pain you have suffered, the severity of the initial injury, and the consistency and type of symptoms you've experienced. Claims at the lower end of this award bracket are those where full recovery is within a few months. |
| Back injuries classed as moderate | £9,500 - £29,475 | Moderate back injury awards take into account the level of residual disability, which should be less severe than the 'severe' bracket. At the lower end, there will likely be ligament and muscle damage that can cause pain in the back and injury to the soft tissue. |
| Back injuries classed as severe | £53,000 - £122,350 | At the higher end, injury to the spinal cord and/or nerve roots is common. At the lower end, disc injuries, soft tissue injuries and disc lesions or fractures resulting in chronic condition/s are likely. |
| Neck injuries classed as minor | A few hundred pounds - £6,000 | Minor neck injury awards take into account the medication required, the pain experienced and how long recovery has taken, along with the severity of the initial injury. |
| Neck injuries classed as moderate | £6,000 - £19,000 | Dislocations and fractures are at the higher end of this award level, and these usually have severe symptoms immediately. Lower amounts may be awarded for injuries that have exacerbated a pre existing condition. |
| Neck injuries classed as severe | £34,575 - £112,750 | Incomplete paraplegia and permanent spastic quadriparesis are at the top end of this bracket. The lower amount is for someone who has suffered with a very severe soft tissue injury, dislocation or fracture. |
| Anguish – Mental | £3,550 | If you have faced the expectation of the end of your life and/or fear of your own death, this could form part of your award. |
| Pain & Suffering | £1,000 - £200,000 | It is likely that at least some suffering and pain will be experienced, and this award should compensate you for that. |
| Anticipated earning loss | £10,000 - £400,000 | Your current pay grade, possibilities for promotion and future earning potential are looked at when calculating this. It should compensate you at the level you would likely have reached during the time you are unable to work. |
| Benefit loss | £5,000 - £500,000 | If you have actually lost income due to the accident and injuries sustained, this compensation should be calculated to cover this. If your pay is of a high grade, this may end up being more than the maximum amount stated here. |
No Win No Fee road accident claims
When it comes to pursuing a claim for road accident compensation, some household budgets will already be under strain. This is particularly true if the main household income decreases due to their sick leave. This should not leave you unable to begin a claim immediately after your road accident caused by an animal.
To this end, we offer a No Win No Fee service for animal road accident claims. Now, this does not require you to pay out any money upfront. Additionally, you don't pay a penny if your claim submission is not upheld and compensation is refused. The only fees due will be after a successful claim.
This means that we are dedicated to only taking on cases we feel are likely to be successful. Unlike some solicitors that charge by the hour no matter what the outcome of the case, you'll know that our solicitors will be working hard to ensure you get the compensation you deserve – and the maximum amount possible too.
Why choose us as your claims service for a road accident claim?
We believe in our service, and thousands of clients who have successfully pursued compensation claims through our service are likely to agree with our claims that we offer not only a fantastic customer-focused service but one that helps to secure the maximum payout for their compensation claim. We have years of experience in pursuing compensation claims for cases as simple as someone having sustained whiplash when they crashed into an animal on a country road to those more complex situations.
So, we are adept at matching you with the right solicitor. Additionally, we take the time to treat you as a person, not just a patient. We will take the time to answer any questions you may have too. Whatever your question, we will answer it honestly and clearly.
We also like to think we are a champion for what's right. We do not believe that anyone's financial situation should stop them claiming compensation for injuries. This is why we offer our clients a No Win No Fee personal injury claims service.
Call for free advice and to start a claim
It is extremely easy to make an animal collision accident claim via our claims service. Please call 0800 073 8804, where you will speak to one of our experienced team of advisors. We will listen to your story and ask relevant questions to find out the facts we need to know. At this point, we can answer any further questions and explain how your case is likely to proceed.
Our advisor will then connect you with an in-house No Win No Fee animal road traffic accidents solicitor. This focuses on your injuries and the accident details, ensuring we match you with the best solicitor for your case. If you are ready to begin, why not call today?
Helpful Links
Government highway code rules about animals
This is the link to the Highway Code and the portion of the code that concerns animals.
You must report when an animal dies, either as a result of a road accident or otherwise. This link shows you how to go about it.
LegalExpert.co.uk Car Accident Compensation Amounts
Our guide covers compensation for car accidents that don't involve animal collisions. You may find this information useful.
Newforestnpa.gov.uk animal_accidents
This is a link to the full report on animal accidents in the New Forest
LegalExpert.co.uk Whiplash Compensation Guide
One of the most common injuries in car accidents is whiplash. Here, we have produced a guide to whiplash claims that you may find helpful.
Road Accident Caused By An Animal FAQs
What animal causes the most car accidents?
Deers tend to cause the highest percentage of road traffic accidents.
How can livestock cause road accidents?
This comes from them slowly crossing roads or approaching vehicles in the dark.
Is hitting an animal an at-fault accident?
No, this would actually come under the classification of a not-at-fault accident.
Can you survive a 60 mph crash?
It is highly unlikely for a pedestrian to survive a crash at such a high speed.
Who is liable if a horse damages a car?
Your car insurance should cover any damages relating to such an incident.
Is it illegal to swerve for an animal?
Yes, because it potentially places other road users at risk if you suddenly swerve your vehicle.
What is the most deadly car crash?
An off-the-road crash has the potential to be the most tragic.
What is the safest car colour?
Yellow is the safest car colour for other drivers, pedestrians and animals to see.
Thank you for reading our guide about making a compensation claim after a road accident caused by an animal.