Mansfield Personal Injury Solicitors No Win No Fee
By Daniel Calvin. Last Updated On 7th September 2021. Welcome to our guide on Mansfield personal injury solicitors. Are you from Mansfield and have you been the victim of an accident that was not your fault? If you've had a personal injury in Mansfield then you might be able to make a claim for compensation with our specialist personal injury solicitors. Our specialist personal injury solicitors Mansfield have a vast amount of experience in the entire range of personal injury cases and have helped people across Mansfield and the wider Nottinghamshire area recover thousands of pounds of compensation that they are entitled to under UK law.
If you have any issues or questions regarding anything in this guide, then please do not hesitate to get in touch with us. Our advisors are here to answer your questions. The more we know about your injury and how it was sustained, the more accurately we'll be able to help you. All of the information you'll receive is free of charge. Read on for more information.
Contact Details
You can reach out to us in a number of ways. Don't delay. Personal injury claims will have often have time limits placed on them.
Jump To A Link
What Sort Of Claims Do Your Personal Injury Mansfield Solicitors Specialise In?
Our expert personal injury solicitors have extensive experience in working with the full range of personal injury cases from minor trips, slips and falls to major accidents and fatalities. Cases we regularly work on include.
Don't feel like you can't make a claim if you're unsure whether your circumstances make you eligible. What's important is whether or not you were injured due to the negligence of another person or body. Even if you feel you may be partly responsible for your injuries, it's still possible to receive a partial payout.
The next few sections will focus on specific scenarios that could lead to injuries caused by the negligence of others.
Road Traffic Accidents
If you have been unfortunate enough to have been injured in a road traffic accident whether as a passenger, a driver, or a pedestrian and it was not your fault then you may very well be entitled to take out a claim for compensation for your injuries.
Your claim will be made against the insurance company of the person responsible for the accident and you will need to prove that they were responsible. To help you do this, we will require information such as:
Details of the drivers and vehicles involved
Photographs of the incident if possible
Contact details of witnesses
Police incident number if they were involved
Receipts for any expenses due to the accident
Trips, Slips and Falls
From minor injuries to major ones, if you have been injured thanks to a fall due to another person's negligence, you might be able to make a claim for compensation. Our Mansfield personal injury solicitors will help to make a strong claim for compensation by utilising evidence such as:
Photographs of what or who made you fall
Photographs that show the scale of any broken pavements etc
Contact details of any witnesses
Receipts for any expenses that you may have incurred due to the accident
Workplace Accidents
All employers in the UK have a responsibility to protect their employees from workplace accidents and injuries. This is done by ensuring that employees have the correct training, tools and safety equipment as well as having full and comprehensive health and safety policies in place.
Examples of workplace accidents and injuries that you could make a claim for include:
Falls from height
Falling objects
Vehicle injuries
Construction site accidents
Accidents due to insufficient training
Accidents due to faulty equipment
Slips and trips
Lack of correct PPE (personal protective equipment)
Clinical and Medical Negligence
Clinical and medical negligence is when medical professionals fail in their legal duty of care towards you. If you think you have been the victim of clinical negligence or medical negligence then get in touch with our specialist Mansfield personal injury team.
Examples of cases include:
Being injured by an act or omission by a medical professional
Being a victim of misdiagnosis
Late diagnosis
Infections
Birth injuries
Medical negligence cases cost the NHS a lot of money each year. The annual report from 2021 shows that it had to pay out over £200m in compensation. These figures are shown in the graph below.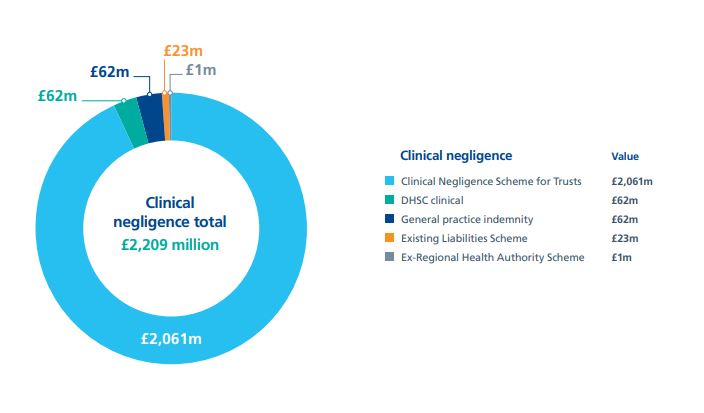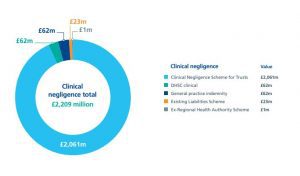 Criminal Injuries
If you have been a victim of a crime, then you might be entitled to claim compensation from the Criminal Injuries Compensation Authority (CICA). Should your injury have occurred in the last two years as the result of a crime such as physical assault or sexual abuse, then we may be able to help you achieve compensation for your injury. To help us make a claim, we would need:
Details of the crime and injury (date, time, witnesses etc)
Details of the police station at which the crime was reported
Details of medical treatment needed
Details of your own criminal record, if applicable
Head Injuries
Head and brain injuries can be some of the most devastating that can happen and can leave victims with very severe injuries that have lifelong consequences.
If you or a loved one have been the victim of a head or brain injury that was not your fault then get in touch with our specialist Mansfield team of personal injury solicitors and they will be able to guide you through the whole process and get the compensation and justice that you deserve.
How Much Could My Claim Be Worth?
There can be a number of figures to take into account when considering how much compensation you could be awarded. A good one to start with is one known as general damages. This amount is calculated using the Judicial College Guidelines (JCG). This legal publication is made up of a detailed list of injuries and what you could be awarded for the associated pain and suffering caused by the injury in question.
In the graph below, we've included some of these figures to give you an idea of how these guidelines function.
| Injury | Description | Amount |
| --- | --- | --- |
| Toe | (d) Serious - crush injuries of the big or multiple fractures to two toes or more | £9,010 to £12,900 |
| Scarring | A single scar that's noticeable, or several smaller scars | £2,220 to £7,350 |
| Neck | (c) Minor - (iii) a full recovery will take no longer than 3 months | Up to £2,300 |
| Kidney | (c) One kidney will be completely lost but the other will have sustained no damage | £28,880 to £42,110 |
| Chest | (f) Collapsed lungs from which a complete recovery is made without complication | £2,060 to £5,000 |
| Eye | (d) One eye will be completely lost | £51,460 to £61,690 |
| Post-traumatic stress disorder | (c) Moderate - Cases where a good recovery had been made with only minor ongoing symptoms | £7,680 to £21,730 |
| Spleen | (K) Spleen will have been lost and there is an ongoing risk of infection | £19,510 to £24,680 |
| Shoulder | (e) Clavicle fracture | £4,830 to £11,490 |
| Arm | (d) A simple forearm fracture | £6,190 to £18,020 |
There are other things that can be included in your final settlement amount. These costs are known collectively as special damages. They are financial losses or additional outgoings caused by your injuries – whether they be physical or mental. Some examples can include:
Damage to property – the cost of repairing or replacing any personal property damaged during the accident that caused your injury
Loss of earnings – the wages you would or could have earned during your recovery period
Medical bills – you could have prescription costs and/or specialist care that isn't available for free on the NHS
There are other costs you could reclaim too. However, you must have proof such as receipts so that you can be reimbursed.
What Sort of Information Will You Require To Commence My Claim?
During your initial free consultation on the phone we'll help to ascertain if in our opinion you have a valid claim as well as discussing:
The funding of your case (e.g. No Win No Fee)
Compensation
Starting the claim within the legal time limits under UK law
How to maximise your claim
Medical needs and any rehabilitation needed to assist your recovery
As your claim progresses, we may need to request other information such as:
Medical records
Police reports
Copies of accident book entries
Eyewitness reports
Our Mansfield team of personal injury solicitors will help you ascertain these if you have any difficulties.
What Is A No Win No Fee Arrangement?
This is when your personal injury solicitor does not receive their payment unless they are successful in helping you win your case. If you are successful, then you are not required to cover their costs. This is why it is known as No Win No Fee.
All of the lawyers on our panel work with every client on a No Win No Fee basis. So, if you're worried about your ability to finance a claim, then rest assured that you could have access to the same legal help as everybody else.
How Long Do I Have To Make a Claim?
Usually, under UK law, you must begin Court proceedings within three years of the accident that has caused the injury. However, should you have not known what the cause of the injury was until some time later, then the three years can start from the date that you were first aware. In cases regarding children and those with a reduced mental capacity, it's possible for this time limit to be suspended in certain circumstances.
If your claim is to the Criminal Injuries Compensation Authority (CICA), this needs to be made within two years of the date that the incident occurred although in some special circumstances this can change. If you require more information, our Mansfield personal injury team will be more than happy to help.
Don't Delay, Start Your Mansfield Claim Today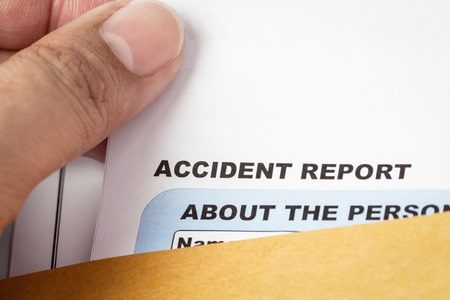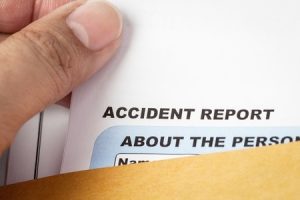 Get in touch with our Manfield personal injury team today and take the first step to making your claim for compensation for your injury that was not your fault. Our legal team will explain everything that you need to know and guide you through the whole process in a straightforward, honest and transparent way.
Don't struggle on with the consequences of your accident, get the compensation and justice that you deserve under UK law by getting in touch today.
Other Useful Compensation Guides
Thank you for reading our guide on Mansfield Personal Injury Solicitors.