Cardiff Personal Injury Solicitors – No Win No Fee Claims
By Stephen Hicks. Last Updated 15th September 2021. Welcome to our guide about starting personal injury claims with Cardiff personal injury solicitors. If you live in or around Cardiff and have been involved in an accident that was not your fault then you may be able to claim compensation for any injuries or illness that you experienced as a result.
If you are able to prove that you were owed a duty of care by a third party and that third-party breached their duty of care resulting in injury, they could be liable to pay you damages. It is crucial in this situation to find a firm of compensation lawyers to help you process your personal injury claim. This will give you the greatest chance of success. Legal Expert, available on 0800 073 8804 can help you to find solicitors to assist you and they don't even have to be Cardiff personal injury solicitors to help you.
How our expert team could help you to claim compensation
For those in the know, there is a significant amount of legislation out there to help people who have been injured due to somebody else's negligence and wish to seek compensation. However, for an individual who is not familiar with this legislation and has never been through the claims process before, this can all seem rather daunting. Luckily, Legal Expert have a large panel of Cardiff personal injury solicitors who are highly experienced and will be able to assist you with your claim.
Our provided personal injury lawyers will be very happy to talk to you about your individual case and advise you on your chances of a successful claim. Do be aware that even if you have recently started experiencing symptoms from a condition that developed a number of years ago, such as hand arm vibration syndrome, you may still be able to make a claim. Although the personal injury claim time limit is 3 years, the clock starts at the point at which you begin to notice symptoms and receive a diagnosis. Therefore even if your condition was caused by an event or whilst doing a job several years ago, the date of diagnosis is the crucial date in terms of claims time limits.
Our Cardiff personal injury solicitors will be able to advise you on the process you will need to follow to make a successful claim. This will usually involve having a medical examination, which can be arranged for you, collecting evidence and gathering witness statements. Please don't feel overwhelmed by this as our team are here to help and support you. Our aim is to make the process as straightforward and stress-free as possible for our clients.
Eligibility criteria you need to fulfil
In order to be able to win your Cardiff personal injury case, it is essential that your solicitor can evidence the following:
The defendant owed you a duty of care
That duty of care was breached by the defendant
It can be proved that your illness or injury was caused by the defendant's breach.
It is important to remember that the sooner you instruct a personal injury solicitor the better. It is easier to collect supporting evidence earlier on in a case rather than waiting until a period of time has passed.
How to go about finding the best No Win No Fee solicitor for your claim
Once you have made the decision to contact a solicitor regarding your personal injury case, you will realise that there are many firms offering similar services and you may feel unsure about which firm to contact. Whilst all solicitors are subject to the Solicitors Regulation Authority (SRA), levels of service vary. We recommend that you bear in mind how long a compensation claim can take. Where the injuries are severe and there are a number of tricky issues to negotiate, the claim can take months and even years. You could potentially be working with your legal representative for a very long time, and so the experience is likely to be more positive if you can identify a solicitor who matches your needs and that you feel comfortable with. Finding a firm who offer a client centred approach and are experts in your area of personal injury is recommended.
What should I think about when reading reviews of solicitors or lawyers?
Whilst we think that speaking to a solicitor either face to face or over the phone is a really good way to find out whether or not you could build a rapport with them, we also suggest that you check out some personal injury solicitor reviews prior to making that call. Looking at reviews will give you a better idea of the range of service levels they offer. It is also worth checking out the success fees and insurance premiums that each individual firm charges. Although many personal injury solicitors work on a No Win No Fee basis, conditional fee agreements vary slightly in their terms and the proportion of the fee that is deducted at the end of the case may come as a nasty shock to the claimant if you are not prepared.
Do I need to work with a local legal firm?
You may be under the impression that because your injury occurred in Cardiff, you would need to seek a No Win No Fee solicitor firm in Cardiff. This is not the case. You are free to seek a personal injury solicitor from anywhere in the UK. The important thing is that the solicitor covers your area of personal injury and offers service fees that you are happy with. Legal Expert can provide the services of a solicitor that covers anywhere in the United Kingdom. We have solicitors working with us who will happily cover South Wales. You may be required to undergo a medical examination and of course, you will want this to take place close to your home for reasons of convenience. For this reason, Legal Expert's provided solicitors work with medical experts throughout the UK to ensure that they can get you an appointment at a location close to you.
What cases does Legal Expert conduct across the country?
Legal Expert can provide solicitors to deal with a whole different range of personal injury claims throughout the UK. Here are just some of the cases that we can handle:
Industrial diseases claim cases
Industrial diseases are usually caused by conditions in the workplace. Often as a result of exposure to a harmful substance over a period of time. Conditions such as noise induced hearing loss to mesothelioma fall under the industrial disease umbrella. We are able to help with claims for all different types of industrial diseases.
Medical malpractice and clinical negligence
Clinical negligence, also known as medical negligence claims can be dealt with by one of our solicitors who deal with claims nationwide. Clinical negligence claims arise from an injury or illness which has been caused or exacerbated by the actions or omissions of a healthcare professional. Your injury or illness could have been caused by a GP or nurse in your local practice or maybe at Cardiff Hospital. If you were given the wrong type of medication, suffered negligence during a surgical procedure or were given an incorrect diagnosis then we can help you claim for damages.
Accidents when working in Cardiff
A great many personal injuries occur in the workplace. If you have had an accident whilst at work in Cardiff then you may be able to make a claim against your employer. Here are some of the instances in which we can help you to make a claim.
Cardiff area workplace accident statistics
For an insight into how common work accidents are in Cardiff and across other parts of the UK, we can look to statistics from the Health and Safety Executive.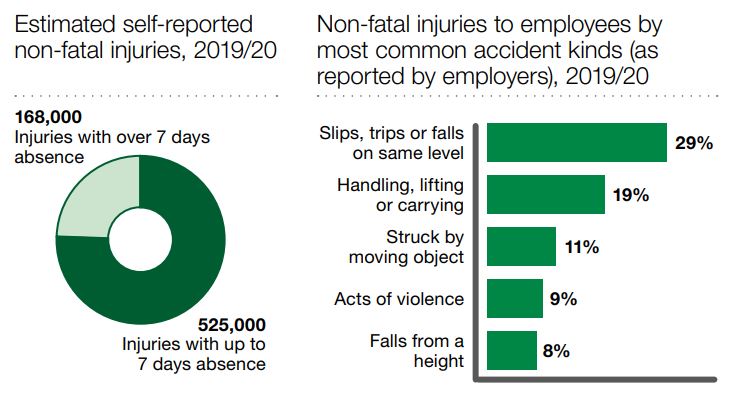 According to the HSE's summary statistics for workplace accidents in Britain in 2020, there were 693,000 non-fatal injuries reported in UK workplaces during the period 2019/20. As shown in the graphs above, around 168,000 of the non-fatal injuries recorded lead to an absence of over 7 days by the affected worker. 525,000 of the injuries led to an absence of 7 days or less.
Among the different types of non-fatal injuries recorded in work, the most common type of incident was slips, trips or falls on the same level. These sorts of accidents accounted for 29% of reported incidents.
Slip and fall injury claims
As illustrated by the table above, slip, trip and fall injuries are the most common injuries taking place in the workplace. If obstacles have been left in the way, floor surfaces are slippy or flooring is not properly maintained then you may be able to claim that your employer has been negligent and has failed in their duty of care to safeguard your health and wellbeing at work. In this scenario, you would be eligible to claim compensation and this is something that Legal Expert would be happy to help with.
Serious injury claims
Accidents resulting in serious injury can have devastating results. If the injuries suffered are so severe that you are unlikely to make a full recovery, this can completely change your way of life. You may no longer be able to do your job, look after your family or even look after yourself. We understand that following a serious injury you may need compensation to help you finance your change in circumstances. We also understand that this will be a very difficult time for you and your family and we will help you to make the claims process as easy as we possibly can.
Claims for road traffic accidents or car crashes in Cardiff
If you have been involved in a road traffic accident your injuries could range from a minor scrape through to serious injury and psychological trauma. Road traffic accidents in the Cardiff area are not uncommon. If you have suffered an injury following a road traffic accident then do not delay in seeking the help of a personal injury lawyer.
Reported road accident casualties in the Cardiff authority area
The Department for Transport (DfT) regularly releases reports on how many road accident casualties occur across the whole of the UK (including Cardiff). According to the DfT's provisional results report for 2020, a total of 115,333 road casualties (including fatal incidents) were recorded on UK roads during this particular year. Other findings from the report include the following:
Compared to the figures for 2019, the total number of road casualties reported on UK roads went down by 25%.

1,472 of the road casualties reported in 2020 were specifically classed as road deaths. This marked a 16% decrease compared to road deaths in 2019.

23,486 of the road casualties were marked as killed or seriously injured (KSI). This is 22% down compared to 2019.

22,014 of the road casualties in 2020 were classified as serious incidents. This represents a 22% decrease compared to 2019.

As many as 91,847 of the road casualties reported in 2020 were marked as slight injuries. This is a 25% decrease compared to the recorded figure for 2019.
Making a successful No Win No Fee personal injury claim
No Win No Fee solicitors serving Cardiff can help you to make a compensation claim without any financial penalty payable upfront. If your claim is successful, a fee will be deductible from your final payout. No Win No Fee is also known as a conditional fee agreement, so if you see this written into the terms and conditions you can assume that this is the same as No Win No Fee. Payment of a fee is conditional on a successful outcome. No Win No Fee personal injury claims are of great benefit to clients as a hefty upfront fee can be a deterrent to launching a claim.
Are our claims really made on a No Win No Fee basis?
Although Legal Expert guarantee that there are no upfront costs payable by our clients, be aware that other firms may have hidden costs that are not initially obvious. Be sure to ask the right questions and find out exactly what fees are payable and when. If you fail to win your case you should not be eligible to pay a penny. This is the beauty of a No Win No Fee agreement. Legal Expert will only take on cases that we feel highly confident we can win. Therefore, if we agree to take on your case you can feel safe in the knowledge that we think you have an excellent chance of success.
How do I claim compensation for an injury?
Whether you are ready to launch your claim now or would just like a little more advice, Legal Expert are here to help. We want you to be fully equipped with all the correct information so feel free to ask us as many questions as you like before making your final choice of solicitor. Our website is full of useful information as well so have a look online to find out more before picking up the phone.
Contact Legal Expert
Once you have decided to make your claim you can call us on 0800 073 8804 or contact us via our website at www.legalexpert.co.uk. We will happily put you in touch with Cardiff personal injury solicitors. You can also request a callback via the website for a conversation at a time that is convenient to you.
Useful contact details and additional guides
If you have been involved in an accident in Cardiff then you may be seeking some additional advice and support. As well as contacting Cardiff personal injury solicitors, you may wish to speak to one of these useful organisations too.
Local Police Station
Address: King Edward VII Avenue,
Cardiff,
CF10 3NN
Telephone: 101
Website: www.southwales.police.uk
Opening hours: 8.00am – 6.00pm, 7 days a week.
Local Crown Court
Address: The Law Courts,
Cathays Park,
Cardiff,
CF10 3PG
Telephone: 02920 678730
Web: https://courttribunalfinder.service.gov.uk/courts/cardiff-crown-court
Opening hours: Court building open: 8:30am to 5pm, Court counter open: 8:30am to 5pm
Local Hospital
Address: University Hospital of Wales (UHW),
Heath Park,
Cardiff,
CF14 4XW
Telephone: 029 2074 7747
Web: www.cardiffandvaleuhb.wales.nhs.uk/
Thank you for reading our guide on Cardiff personal injury solicitors.