Barry Personal Injury Solicitors No Win No Fee
Our Barry personal injury lawyers are here for anyone who's suffered an accident that wasn't their fault. If you've been injured in a traffic collision, at work, in a public place/business premises or at an organised event, our experienced team of solicitors can take your case and win you compensation.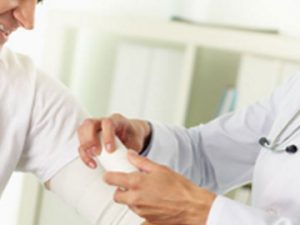 Our personal injury lawyers in Barry are available to anyone living in the Barry area or surrounding region. We offer a tailored service that gives you the best possible chance of receiving financial remuneration following an accident. Our presence in the town gives us the edge on big city firms and allows you to drop by at any time to discuss the progress of your claim with our friendly team. If you've suffered an injury in an accident that was someone else's fault – we can help.
No Win, No Fee Service
Our Barry personal injury solicitors operate on a No Win, No Fee basis. This means we take a percentage of your total compensation payout if your claim is successful and charge you nothing if the claim breaks down. All the consultations and legal advice we offer to our clients is completely free, and we work around your schedule as best we can to ensure you can continue with your everyday routine as normal. With our personal injury solicitors, there is no pressure, no stress and no tension. Instead, you'll receive a compassionate service that gives you every chance of claiming back compensation that you deserve.
Why You Should Claim
It's your right to make a claim if you've experienced injury caused by someone else. We've seen hundreds of clients suffer all kinds of injuries over the years, with some being aggravated over time and turning into long-term problems. You are entitled to a fair amount of compensation that will allow you to get back on your feet. Just some of the problems that can arise as a result of incurring an injury include:
Loss of current and potential earnings
Medical bills
Decline in quality of later life
Mental anguish and depression
Social issues
Limited mobility
Financial difficulties
Speak to one of our personal injury solicitors that covers the Barry area today and you can ensure you're provided with the amount of compensation that's required to help you recuperate from your accident.
How To Make A Claim
Making a claim with our Barry personal injury lawyers is quick and simple. If you believe you have a case, you can either give us a call on 0800 073 8804 or complete our contact form and we'll get in touch with you at a time and date suitable for you for a free, no obligation chat.
After you've made your initial inquiry, we will examine your case and explain to you whether we believe you have a valid claim. If so, we can begin the process by setting up a free consultation. During this meeting, we will ask you about your accident in more detail in order to gather all the information we need to get the wheels in motion. We can arrange this consultation for a time that's best for you. A question and answer session will then take place where we'll ask you about the location of the accident, how it happened and if you were with anyone when it occurred. We'll also ask you to bring along any evidence that could help make your claim stronger. Useful evidence can include documents such as:
Eyewitness reports
Police reports
Medical reports
Doctor's notes
Proof of loss of income
Proof of loss of future income
Bills related to your accident
Psychologist analysis reports
If you are unsure where to obtain this information, our personal injury solicitors can help you to gather it. The more evidence we have about your claim, the better chance you will have of claiming back a higher amount of compensation.
After obtaining all the evidence we can about your accident, we will determine who is responsible for causing your injuries. This can be a particular individual or a whole organisation. We will then a write a letter to this person or organisation (known as the defendant) explaining how you have been injured in an accident that they caused and we believe you are entitled to compensation as a result. The defendant will be given 12 weeks to respond to this letter. They must admit responsibility for causing your accident or deny any wrongdoing whatsoever. If they concede that they were indeed in breach of health and safety regulations or have behaved in an unlawful manner, we will arrange a time to sit with them and organise an appropriate amount of compensation. If they refuse to attend this meeting or negotiate an appropriate and sufficient amount of financial compensation, the claim will be taken to court where a judge will examine the case.
Our specialist solicitors will stick by your side throughout the claims process and keep you updated on any progress or changes whenever they occur. Our Barry personal injury lawyers offer the best legal customer service in the business and you can rest assured that you are in the hands of professionals who have your complete best interests at heart.
The End Of The Claims Process
All personal injury claims are completely different from one another, with some ending in a matter of days and others taking as long as several months. We will rigorously argue your cause and remain by your side no matter how long the claims process lasts, promising to push your case through as quickly and effectively as possible. Whilst the claim is ongoing, we will also make sure you're consistently updated with regards to the amount of compensation you're likely to receive when the case eventually draws to a close.
If you have any questions whatsoever about pursuing a personal injury claim, contact our legal team today on 0800 073 8804. We will be more than happy to offer you our professional legal opinion, guidance and support from the moment you first get in touch.
Please remember when claiming through a personal injury solicitors in Barry we highly recommend that you read their terms and conditions.