Lewisham | Personal Injury Solicitors | No Win No Fee
By Daniel Roberts. Last Updated On 20th June 2023. Welcome to our guide on Lewisham personal injury solicitors. This is a guide for people who have been injured in the borough of Lewisham. We will show you why, though you may think you need to use solicitors near to you, that this does not need to be the case at all.
We include information on what a personal injury claim is when you can make a claim, look at some of the most common forms of injury, and set out how our team could help you to secure the compensation you are owed.
Contact Details
If you have any questions, you can get in touch with us at any time. You can call us, but there are alternatives too.
Legal Expert's Research Into Personal Injury Claims Against Lewisham Council
Lewisham Council dealt with 105 personal injury claims from April 2022 to April 2023, new data from Legal Expert has found.
During this period, the council paid out £270,351 in personal injury compensation irrespective of when the claim was filed, according to the response to our Freedom of Information request.
Common causes of claims made against the council included pothole accidents, falling trees, claimants being struck by a gate or door and slip, trip and fall accidents.
Any employees or visitors using spaces, premises or highways under the control of Lewisham Council are owed a duty of care. The local authority must ensure they are reasonably safe in these spaces.
Council negligence occurs when a local authority breaches its duty of care to you, resulting in an injury. If you are unsure whether you have an eligible claim, get in touch and our advisors can offer you free no obligation advice.
What is a personal injury claim, and when can you make them?
A personal injury claim is a type of legal action that you can take when you have been hurt due to the negligence or actions of another person. The injuries suffered could be physical, such as broken bones or could be psychological.
If you choose to make a claim and it is successful, you will be awarded a financial settlement that takes into account the type of injury you have, and how serious it is. There are various ways in which people can sustain injuries and accidents. Through this guide, we will look at these different types of claims, as well as show you more about how personal injury claims work.
How we help victims of accidents to get the compensation they are owed
If we can clearly show that you meet the eligibility criteria which we set out below to make a personal injury claim, we will be able to provide you with all the services you need to make a claim. Our team has a wealth of experience in handling various different types of claims and a great track record in securing good compensation settlements for those we help.
What criteria makes me eligible to claim compensation?
In order for you to make any personal injury claims, there are a few eligibility criteria that you will need to meet to do so.
Your claim needs to be started either within three years of your injury happening or of you discovering the injury. These dates may be different, especially in instances of industrial diseases where exposure could have happened several decades earlier. You have to show that the defendant in your claim (those you are seeking damages from) did owe you a duty of care.
This could be showing that a bus driver was responsible for your safety as a passenger. You need to show that this duty to keep you safe was not met. In our example, the driver may have caused an accident you were hurt in.
Finally, you need to show a clear causality between the two parts, the failure to keep you safe and how you were hurt.
We can discuss your case when you first talk to our team on the phone and determine whether your injury meets these simple eligibility criteria.
Five tips to help you find a high-quality personal injury lawyer
Here are five simple tips which you can keep in mind when you are choosing between solicitors to handle your claim. When you are looking for a solicitor, try to find one which meets all of the requirements we look at below.
1. How experienced is the solicitor?
As in any field, experience in handling personal injury cases similar to your own could mean your solicitor has more chance of securing you compensation.
2. How successful have they been in the past?
Whilst a solicitor may have worked on many cases where people were hurt in circumstances similar to your own, if they have a low rate of success, this experience may not count for as much.
3. Look for a solicitor with a professional attitude
You should try to find a solicitor who can offer you a high level of service and who can handle your case with the professionalism it requires. Injuries can be distressing and personal and your solicitor may need access to private information. You need to be able to put your trust in them and their colleagues.
4. How does their fee structure work?
People can understandably be worried about how much legal services may cost and whether you will lose a large part of their settlement to legal fees. Early on you should check what a solicitor may charge in the event of a win or a loss.
Make sure that you use a solicitor who can offer a No Win No Fee service to you. By checking the fees early on you can get the best deal and know how much of your damages you will be left with.
5. Their overall approach
As an individual and as a company, as they empathetic to your situation? Are you treated in a kind and warm way? Will you be able to have a good relationship with the solicitor through your case? You need to think about the answers to these questions as your solicitor plays a crucial role in your case.
Next, we look at other factors you should consider before you make your final choice.
Should I read reviews of solicitors?
One of the best ways to learn more about the services which a particular solicitor, lawyer, or law firm offers, and how they do so, is to read reviews written by previous clients who they have helped. Reading personal injury solicitor reviews can help you find out much more about how they interact with claimants.
Do they keep people updated with the progress of their claims on a regular basis? What was the customer's experience of their services? Remember, when you read reviews of a solicitor they may have been written when people are feeling particularly vulnerable and so may not always reflect the services they were provided, or the way in which those services were administered.
People may also give bad reviews if they have been led to have unrealistic expectations of what they can claim in compensation before contacting a solicitor. This is why we will always give you a realistic estimate of how much we could secure for you.
Does it matter where my solicitors are based in England?
The simplest answer to this is no. Whilst you might think that you need to use a local legal firm, such as Lewisham personal injury solicitors, you do not need to use a law firm that is based in the same town, city, or even the same part of the country as you. Today many services such as those of a law firm can be accessed from anywhere in the country.
You can keep in regular contact with your solicitor, being updated on the progress of your claim in a way that is convenient to you and your solicitor. In most personal injury cases you will not need to visit the solicitor in person, the only part being carried out in your area may be a medical assessment. This can be organised through our nationwide panel of medical experts.
What accident and injuries do we help people claim damages for most commonly?
Our team of solicitors, lawyers, and medical experts operate and help people across Great Britain. As a team, they are experienced in almost every area of personal injury law. As such, we can always find the best expert with the most relevant expertise to handle your claim.
In the following sections, we look in a little more detail at some of the most commonly seen reasons for making a personal injury claim. For each, we also point you to where you can find out more detailed guide.
How to make an industrial disease claim
Some workplace injuries can be caused by prolonged exposure to unsafe working conditions. In these instances, the damage can be cumulative, so it can be difficult to track the cause of injury back to one isolated incident. Some examples of industrial illnesses could be:
For more information on industrial illnesses, get in touch with our advisors.
How to make a clinical negligence claim
Clinical negligence or medical malpractice claims are those which are brought against a medical practitioner (a doctor, nurse or even a dentist) who has harmed you in some way. There are many different ways in which negligence or malpractice can lead to someone being harmed. The most common of these are:
If you have been harmed by medical malpractice or any other form of accident, we may refer you to our local medical experts for an assessment. This is part of the service we provide.
Learn more about medical negligence claims in London in this more detailed guide.
How to make a fall or trip injury claim
Of the workplace accident statistics we will see later in this guide, we will see that separately and together slips and falls (either from a height or on the same level) are the most frequent way people are injured in the workplace.
Whilst true for accidents at work, this is similarly the case with accidents in other locations or situations. For instance, you may be able to claim compensation from a local council if you tripped over on a broken paving stone.
Slips and falls may also contribute to other forms of accident or injury. This could include a manual handling accident which is caused by a fall, or someone slipping into a swimming pool and sustaining a head injury.
Learn more about claims for slips or falls at work in this guide.
How to make a serious injury claim
Sometimes also known as a catastrophic injury, a serious injury is one that has both an immediate and a long term effect on the injured party. This effect might also extend through to their family members or their friends.
If you, a close friend, or a family member (anyone whom you have responsibility for) have sustained a catastrophic or serious injury, we could be the best personal injury law firm to help you claim compensation. Our Lewisham personal injury solicitors have handled many claims of this nature.
How to claim compensation for an accident at work
Accidents in the workplace happen as often in this London borough as in other parts of the country. Sadly, accidents in the workplace do also happen to people in all walks of life and across every different workplace, from the office to the construction site.
If you have been hurt whilst carrying out your job or at work, contact our personal injury lawyers. We are on hand and have experience in a very wide variety of different workplace accident circumstances. Below, we will look at statistics for the number and nature of accidents at work that have been reported to have occurred in the Lewisham area. These are accidents that have been reported to and logged with the HSE.
Fatal Workplace Accidents
Statistics from the HSE tell us more about workplace accidents that lead to the death of a number of workers in 2020/21.
Certain industries can carry greater risks than others. Of the workplace 142 deaths in 2020/21, 39 were in the construction industry. Fatal accident claims can be made on behalf of the deceased employee.
The graph below will show you some of the other industries that registered fatal workplace accidents in 2020/21.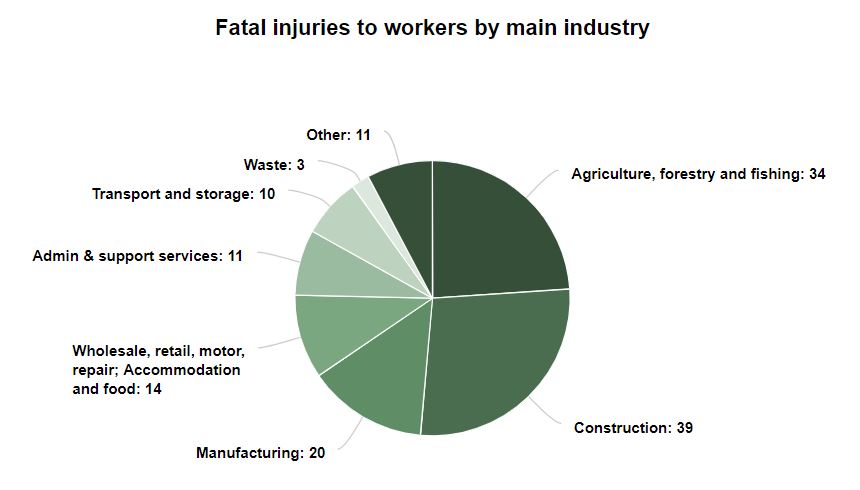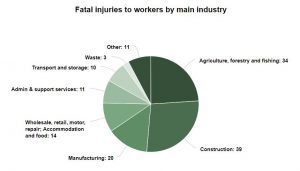 How to make a road traffic accident claim
If you have been injured as a result of any type of accident on the road, our road traffic accident claims solicitors can help you to get the compensation you deserve. As long as you can show that another party was liable for the accident which happened to you, and the resulting injuries you suffered, you could be owed damages.
No Win No Fee Lewisham personal injury solicitors
In order to make sure that you have the best personal injury lawyer for your claim, you need to remove any potential barriers which a lack of funds could cause. This is where No Win No Fee services can help you. No Win No Fee means that if the lawyer, solicitor, or legal firm is not able to win your case, you will not have to make any payments for their services.
When you take out such an agreement with Legal Expert, the contract means that the personal injury lawyer who works on your claim will be offering their services to you without you incurring any charges. The solicitor or lawyer will assume all of the risk in undertaking your personal injury case. If the case is successful, claimants are expected to pay a success fee.
How do claims with No Win No Fee accident lawyers work?
If you take out a No Win No Fee agreement for your personal injury case, you are only expected to pay for any legal services with the claim is settled in your favour. The amount which you will need to pay will be set as a (small) percentage of your total settlement.
This figure will have been agreed upon by you and your lawyer and is set out in your No Win No Fee agreement. This agreement is a legally binding contract, so you can be sure that there will be no surprise charges or fees added on later.
It is always a good idea to check payment terms with No Win No Fee solicitors before you settle on a law firm to work with. We are pleased to say that we will always aim to offer highly competitive rates.
Further information on the personal injury claim settlement process
This guide has been produced for anyone who is searching for Lewisham personal injury solicitors. Whilst our offices are not based in Lewisham, we are able to help you as easily as if we were. However, we do understand that you might still have some questions as to how to make a personal injury claim, or how to choose the best personal injury lawyer for your needs.
Remember, being able to make the right choice about which solicitor or lawyer is right to handle your claim, or which way to proceed with your claim depends upon having the right information. You can find further information on doing so in our personal injury claims guide.
Speak to us today
If after reading this guide, you need further personal injury claims advice, or are ready to make your claim, you can get in touch with our team to do so. The best ways to speak to our team are by phone, email, or by using the live support feature on this page.
Phone: 0800 073 8804
Email: info@legalexpert.co.uk.
If you use our online support chat, or send an email to our team we will schedule a call with you at a convenient time.
Services you may need after an accident in Camden
After suffering any form of accident or injury which was caused by someone else, there are several services people commonly need to access. You may need to report your accident to the police or visit your local hospital for treatment. You may also need to take your claim to court. We have included details for these services in your area below.
Local Police Station
Lewisham Police Station
43 Lewisham High Street
SE13 5JZ
Web: www.met.police.uk/your-area/lewisham/lewisham-central
Local Crown Court
Sessions House
Newington Causeway
London
SE1 6AZ
Web: Inner London Crown Court
Local Hospital
University Hospital Lewisham
Lewisham High Street ,
London
SE13 6LH
Web: www.lewishamandgreenwich.nhs.uk
Further personal injury claim advice
We have also included other relevant guides from our site below.
How to claim compensation for an accident in the street
In this guide we look at how you can claim compensation after being injured in circumstances such as a pavement accident.
Accident at work claims
This is our guide to accident at work claims.
Other Useful Compensation Guides
Thanks for reading our guide on Lewisham personal injury solicitors.