Harrow Personal Injury Solicitors – No Win No Fee Claims
By Daniel Oldman. Last Updated On 22nd September 2021. Welcome to our guide on Harrow personal injury solicitors. If you are considering making a compensation claim for personal injury, you will want information on how to make a claim, what underpins a potentially successful claim as well as finding out what is involved not just in making a claim but in finding the right personal injury solicitor who covers the Harrow area.
Accessing this information for a reputable source is essential. As a complex area of law, you need to be confident that the information you base your decision on whether to proceed with a claim or not is up to date and correct. You've come to the right place. Call 0800 073 8804 for more information, or read below.
How our team of lawyers and solicitors can help you
At Legal Expert, we have been helping people to make personal injury compensation claims for some time now with lawyers who are experienced in this field, just like Harrow personal injury solicitors.
There is a considerable amount of legislation that supports people who are seeking compensation. The panel of solicitors we work with here at Legal Expert have many years experience of working with clients to claim the settlement they need after an accident or incident such as clinical negligence / medical malpractice or contracting an industrial disease.
People are injured as a result of all kinds of circumstances and situations including road traffic accidents, being knocked over as a pedestrian, or from being misdiagnosed which results in a medical negligence claim. It is also true that many people also suffer ill-health due to negligence at work or from using equipment for long periods, such as vibration white finger.
There are many criteria that form the basis of a potentially successful compensation claim. One is the issue of time.
There is a three-year deadline within which time a claim for personal injury compensation must be made. In the case of an accident, this normally starts from the date of the accident which resulted in you being injured. If you are making an industrial disease compensation claim, you have three years within which to make a claim from the date of your diagnosis.
If you are unsure, our expert team can help with this and much more.
Could I claim compensation for an accident, injury, or illness which was not my fault?
As well as making a claim within the three-year time frame, there are other factors that your personal injury lawyer must demonstrate;
Your solicitor must demonstrate there was a duty of care owed to you by the defendant
They will need to show that this duty of care was breached
They will also need to show that as a result of this breach in the care owed to you, you were hurt or ill as a result.
Don't be tempted to leave starting your claim until you 'feel better'. It is important to start the claims process as soon as you can. This way, your personal injury lawyer will be able to gather the supporting evidence that may otherwise be lost.
Five simple reasons why you need personal injury lawyer
There are lots of reasons to use personal injury lawyers to settle your claim. They can help:
To explain complexities within the law that you might not have known about
To fight on your behalf to gain the compensation you deserve
To help recover costs that happened entirely due to the accident
To ensure any future losses are covered for
To take on your claim without fees upfront
Finding the right personal injury solicitor is essential. This could potentially be a long journey to claiming the settlement you need and so you need to be confident the personal injury solicitor is, in fact, the right person for your case.
Solicitors are regulated by the Solicitors Regulation Authority (SRA). This body regulates the standard of practice of solicitors, making sure they conduct themselves as per the guidelines and professional practice.
What can differ from one solicitor to another is the level of service. Whilst some solicitors and their supporting legal teams will do everything they can and more, others may not offer the same service. Bearing in mind that compensation claims can take months or years in the case of life-changing, serious injuries, you need to be confident you have the right solicitor with the expertise you need and who offers a high level of attention to your case.
Why read solicitor reviews?
There are many ways of finding the right personal injury lawyer, but you need to be confident in what you are looking for. Online reviews can come in very handy when making your decision. They are a great place to start because testimonials from previous clients are always worth reading. As well as checking reviews on their website, what do independent review sites offer in terms of client reviews about the solicitor and the service they offer.
Also, it's a good idea to consider:
Costs and fees – it is important that you fully understand how much the solicitor will charge for taking on your personal injury compensation claim. For example, you may not pay if you lose – known as No Win No Fee – but what will you pay if your claim is successful?
Talking to a solicitor directly – you will need information and advice that relates specifically to your case and that's why talking to the solicitor direct is an important part of getting the right personal injury solicitors in Harrow. Did you know you can request a call back from a solicitor on the Legal Expert panel?
Can I use a solicitor from outside my area?
By talking about the services offered by personal injury solicitors or claims services covering the Harrow area, you would assume that if you live and work in Harrow, that using a local solicitor would be the best solution. It makes sense in some ways but what is more important is choosing the personal injury solicitor who has the right combination of expertise and experience in claims such as yours.
In effect, you can choose a specialist personal injury lawyer from the UK. What is important is making sure that any medical assessments are carried out local to you. This minimises travel time and additional stress at a time when you need to be focused on your recovery or rehabilitation.
What circumstances or injuries can I claim compensation for?
We provide solicitors across the UK, all of whom have a variety of expertise and experience in personal injury compensation claims. For claimants looking to make industrial disease compensation claims, we work with personal injury lawyers who have vast experience in this area, as well as accidents at work. Slips and trips are also accidents that also result in injury and injuries resulting from road traffic accidents are also claims that road traffic accident claims solicitors deal with. We deal with many other kinds of claims too.
Industrial disease claims
There are many diseases that many workers are now suffering from as a result of working in unprotected and unhealthy environments. For example, mesothelioma is a fatal disease resulting from exposure to asbestos fibres. Complex cases, you need a lawyer who has the experience of working with this kind of case as well as other industrial diseases.
Medical negligence claims
Medical negligence – also known as clinical negligence – can result when someone has been misdiagnosed or for issues such as birth injury compensation claims. Medical negligence claims relate to professional medial circumstances including GP compensation claims, as well as hospital or clinics. This type of compensation claim also refers to cosmetic surgery and other cosmetic negligence claims.
Slip, trip, and fall injury claims
Slips and falls can happen anywhere and when they do, a fracture is not an uncommon injury. As well as being a common workplace accident, slips and falls in public areas are also not uncommon. Making a claim for an injury after this kind of accident hinges on who had a duty of care towards you and whether this duty was breached or not. Why not find out more about slips and trips compensation claims in public places?
Serious injury claims
Serious injuries are those that are life-changing. From paralysis to head injuries, serious injury compensation claims can take years to resolve. Complex in nature, you need a personal injury lawyer who has the expertise and the commitment to see the case through from start to finish. Why would you trust anyone else with your compensation claim, the outcome of which is so very important?
Harrow accident at work claims
Accidents at work can and do happen. Fatalities are rare but continue to happen, in spite of a raft of health and safety measure. Over a million people, according to Health and Safety Executive figures, were injured at work during 2017 to 2018. Thankfully, many of these will result in only minor injuries but for some people, injuries can be serious and even life-changing. A personal injury lawyer with expertise in accident and workplace accident compensation claims will be able to advise you further on the likely success of your claim.
Fatal accident claims
Some workplace injuries can be so serious that they result in fatalities. If someone you know has suffered a fatal accident, you could still be able to make a claim for compensation due to their wrongful death.
The graph below has been made using statistics from HSE. It shows in which industries these fatal accidents occurred in 2020/21. As you can see, construction had the most cases.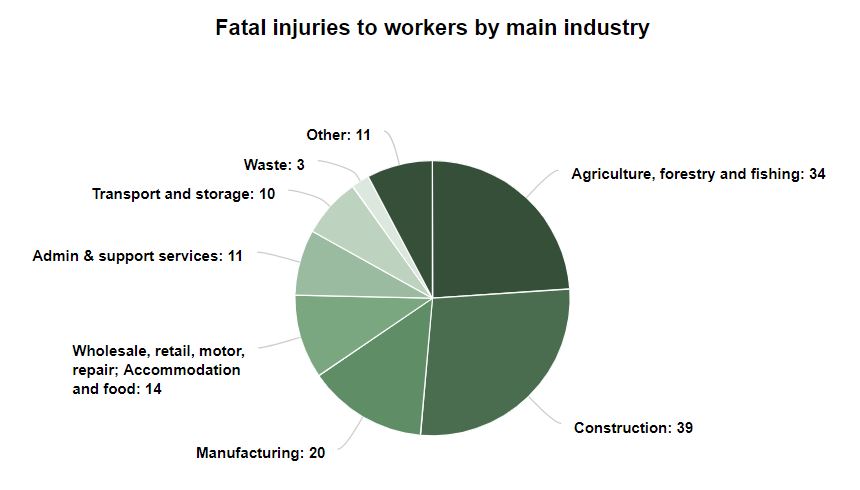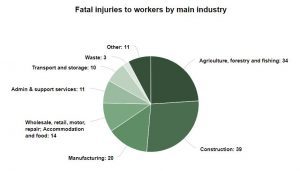 Road traffic accident claims in Harrow
On a positive note, UK roads are some of the safest in Europe. Fatalities and casualties from road traffic accidents are decreasing due to a combination of driver education and improved design of vehicles. However, accidents on your roads still happen, with the Hasting road network not being immune to accidents and collisions. If you have been hurt and the accident was not your fault, you may be able to make a road traffic accident claim.
What is a No Win No Fee agreement?
This agreement should mean exactly what it says – if you lose your personal injury compensation claim, you don't have to pay anything. However, some solicitors may still charge for their services.
What you need to know is that the solicitors on the Legal Expert panel offer their services on a genuine approach of this nature so you won't have any nasty surprises should you lose your case.
The benefits to this approach are many and varied. As a claimant, it levels the playing field in that you don't have to find thousands of pounds to fund your case at a time when you are hurt or ill.
Likewise, if a personal injury lawyer or claims service covering the Harrow area decides to continue with your claim on your behalf, you know that they have robustly assessed your claim as having a high chance of being successful, although there are no guarantees.
How do I make a No Win No Fee claim?
If you claim is successful, you will need to pay your own personal injury lawyer. This wasn't always the case but a change in the law in 2013 meant that costs would be taken from any settlement made to a claimant. This is why it is essential to understand how your solicitor will charge for their time and the estimated cost of your case.
Many claimants buy an insurance policy for their case so that their legal fees are covered. Again, you will need to compare policies and premium prices, opting for the one that offers you the right level of cover at a price you can afford. Before committing to making a claim with law firms in Harrow, always check the fee structure and payment arrangements. All accident solicitors we provide work on this basis, so you can ask us for more information on this.
Where could I learn more about making personal injury claims?
At Legal expert, we understand the need for claimants to access information without pressure or feeling obligated to continue with making a claim. We make as much information about personal injury compensation claims and the process, as freely available as possible.
You can access this information in a number of ways;
Online – you will find many articles and guides on various topics relating to personal injury compensation claims on our website, all of which can be accessed at any time.
Live chat – the live chat facility is available on our website too, a quick and easy way to have your questions answered.
Calling us – you can call us on 0800 073 8804 7 days a week.
Contact us form – you can also email any questions you have by using our online contact form
Remember, there is no obligation to continue with making a claim when you request more information, even it is tailored towards your own personal compensation claim.
Speak to us today
Once you decide to continue with making a claim, the best way to start the process is by calling us. Some people prefer to start the process online, using our online claim form. If you feel you would like more information, you can request a call back from a personal injury solicitor. When you call our team, ask them for this service.
Helpful local contact information and guides
If you have been hurt in an accident or are suffering ill health as the result of negligence on behalf of your employer, you may find the following organisations and information useful.
Police:
74 Northolt Rd,
Harrow
HA2 0DN
Tel: 101
Court:
Hailsham Drive
off Headstone Drive
Harrow
HA1 4TU
You can also find out more information about Harrow Crown Court on the government website.
Hospital:
Northwick Park Hospital
Watford Road,
London,
Middlesex,
HA1 3UJ
Tel: 020 8864 3232
Web: http://www.lnwh.nhs.uk/
Don't forget to check our website for articles and guides relating to personal injury claims and types of accidents too. As well as medical negligence, we have information on how much compensation you could claim after a road traffic accident and other helpful guides.
Other Helpful Guides
Thank you for reading our guide on Harrow personal injury solicitors.