Harlow Personal Injury Solicitors No Win No Fee
If you're in Harlow, Essex and have been injured in an accident, then you may be entitled to claim compensation for your injuries. Whether your injury was in a public place, at work, in a vehicle or even as a result of some other instance, if the accident was not your fault then you should call our experienced Harlow personal injury solicitors team today.
Making A Claim With Our Harlow Personal Injury Solicitors Team
When you call our expert Harlow team of personal injury advisors, they'll have a completely free, no obligation chat with you about your injury, your accident and how it happened. To bring a claim against another person or another organisation you must show that they are at fault for your injuries. If this fault cannot be proved, then we won't go ahead, although if partial blame is proven then we could take it on.
The 'fault' in question can be one of two things. Firstly it can be a breach of legal duty in which your employer for example may have failed to provide you with the proper equipment in which to carry out your duties effectively and safely. Secondly it can be negligence, such as if there was a spillage on a supermarket floor which was not clearly marked as wet once cleaned up, with you subsequently slipping on it.
How To Start Your Claim
Once we think that you have a claim, then the process begins. If you've been injured and believe that it was not your fault then you need to gather as much information about the accident as possible so you can tell our Harlow legal team (and the court) if necessary all the facts that are relevant. These facts can include:
The name and address of the defendant (the person or organization you believe are responsible for your accident and subsequent injury).
The location of the accident.
What injuries you received.
What treatment was necessary.
Contact details of any witnesses.
If you have not been able to work since your accident the details of your typical earnings before the accident.
Have you had any out of pocket expenses?
The Next Stage Of The Claim Process
The next step is that once our Harlow personal injury team has assessed all of the information that you have provided and discussed it with you, we will write a letter to the defendant. This is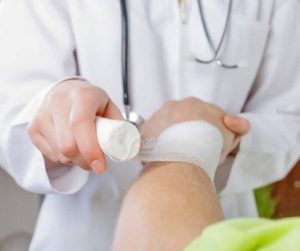 known as a formal letter of claim and sets out the circumstances of your accident and injury. Because this is a formal part of the claims process, the defendant can be given three months in which to investigate the claim and issue their response. In the vast majority of cases, the defendant in question will have insurance cover and it will be their legal department or solicitors that will deal with your claim.
If liability is admitted, you will then be required to see a doctor for a medical report as well as proving any out of pocket expenses. We arrange all of this for you so it is local to Harlow. The medical report will be carried out by an independent doctor who will confirm that the injuries you have sustained were because of a personal injury and then a 'Schedule of Special Damages' will be drawn up and presented to the defendant. The exact amount of your claim may then be negotiated by our solicitors and the defendants.
If the defendant disputes your case, then our Harlow personal injury team will tell you the exact actions that you need to do. However, even if your claim does end up going to court to be heard before a judge, all of our personal injury solicitors are skilled advocates and will present your case powerfully and persuasively in court.
How Much Is My Harlow Claim Worth?
At the start of the process, as you might expect it is very difficult to give you a figure as to how much your claim is worth although our solicitors will be able to give you a ballpark figure. However, once your claim is in process and the Schedule of Special of Damages has been completed, a more definitive idea of what your claim is worth can be given. This is because every claim is unique because of things such as loss of earnings and out of pocket expenses.
Do I Have to Pay For My Claim?
Our Harlow personal injury team of solicitors work on a No Win No Fee basis. What does this mean? It means that you can take out a claim with us with no worries about having to pay fees that you cannot afford. Basically, once we take on your claim, you will only pay an agreed percentage of your claim should we be successful. If, in the extremely unlikely event that your claim is not successful then you have no fees to pay. So as you can see, when you take out a claim with ourselves, there is absolutely no risk. So if you have been injured and it wasn't your fault, get in touch today!
Why Choose Our Harlow Personal Injury Team?
We understand that there is a lot of choice out there, from solitors like ourselves to 'claim management companies'. However, we like to think that we're a cut above the rest and can provide you with a personal injury service that is second to none.
With every one of our solicitors being a personal injury expert, you can rest assured that you have a dedicated and committed personal injury expert in your corner to fight your Harlow personal injury claim.
Ready to Make a Claim?
Get in touch today by calling 0800 073 8804 or by completing our contact form. If you've been injured and it was not your fault, then you should make that call or complete that form and take that first step to the compensation and justice that you deserve and are entitled to under UK law.