Gosport Personal Injury Solicitors No Win No Fee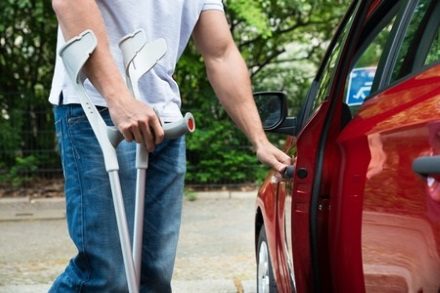 By Stephen Chambers. Last Updated 3rd September 2021. Welcome to our guide on Gosport Personal Injury Solicitors. Accidents are unfortunately a part of life. Whilst some may be down to ourselves, often they are the fault of other people. If you have had an accident in Gosport or elsewhere in the UK and it was not your fault then you should give our specialist Gosport personal injury team a call as you could be owed thousands of pounds in compensation.
Our personal injury solicitors for Gosport have a wealth of experience in bringing compensation claims for victims of accidents that were the fault of somebody else and have a wealth of experience in the full range of personal injury cases from simple trips and slips to major injuries and fatalities.
Time Limits For Claiming
If you are seriously considering pursuing a personal injury claim, then there is typically a time limit for starting this process. As a requirement under the Limitation Act 1980, a personal injury claim needs to start within three years of the day your accident occurred in order for it to be valid. So if more than three years have passed since your accident and you haven't started a claim already, that normally means it will no longer be possible to make one.
The three year time limit can work differently in certain circumstances. When the injured party is a child, the time limit will not become active until the day their 18th birthday happens. The claim time limit will also be put on hold if the injured party lacks enough mental capacity to decide on actions on their own behalf. The time limit will activate later if the victim recovers sufficient mental capacity to act independently. A victim who is currently under 18 or lacking enough mental capacity could potentially have a claim started on their behalf by a representative formally referred to as a litigation friend.
Types Of Damages You Could Claim For
When you have grounds to begin a personal injury claim in Gosport or elsewhere, you may have questions on what exact damages you can actually claim for. Following a successful case, there are potentially two main kinds of damages that you may possibly receive compensation for:
General damages –

Compensation for these types of damages is meant to cover for the physical and/or psychological injuries you've suffered due to your accident/an act of negligence which took place.

Special damages –

If you're entitled to be paid compensation for general damages, then you may potentially also receive money to cover for special damages. Special damages payments may be provided to cover you for financial losses which have occurred as a direct result of the negligent behaviour which has harmed you.
Our Personal Injury Solicitors For Gosport Can Deal With All Types of Personal Injury Cases
You're in safe hands with our Gosport personal injury team. They can help you with the full range of accident types including:
Road Accidents
Despite cars and other forms of transport being safer than ever before, the UK still experiences a huge amount of road traffic accidents due to the fact that the roads are getting ever more busy. Our experienced personal injury solicitors can help with the full range of RTA personal injury cases including:
Car Accident Claims – Car accidents are common in the UK and if you have been injured as the driver of a car in an accident that was not your fault then you could be owed compensation.
Passenger Accidents – It's not just the drivers of cars that can be injured, passengers are too. If you have been a passenger in a car or bus and you've been involved in an accident then you could be entitled to compensation.
Motorcycle Accidents – Motorbikes can be quite vulnerable in today's busy roads. If you've had an accident on your motorbike, you could be entitled to make a No Win No Fee claim for compensation if it wasn't your fault.
Workplace Accidents
If you have been injured in an accident at work and it wasn't your fault then not only may you have been physically hurt but you may well also feel anxious, nervous and somewhat financially uncertain. Our Gosport personal injury solicitors are here to help you get the compensation you deserve and are entitled to regardless of what type of accident at work you have suffered.
A selection of workplace accidents we take care of are:
Slips and Trips
Slips and trips are some of the most common personal injuries that can occur. Whilst many of these may be what are termed as minor, resulting in bruising, sprains or broken ankles, they can be distressing, painful and can lead to a person's life being limited as well as costs such as loss of earnings. There can also be more serious slips and trips that have far more significant consequences.
Whatever slip or trip you have unfortunately suffered, if it was not your fault then get in touch and make a claim for the compensation you may be entitled to under UK legislation.
Examples of slips and trip claims we can help with:
Shopping Accidents – Shopping accidents are more and more common in Gosport and the UK and can range from simple trips and slips to more serious accidents. Whatever the incident, if it was not your fault you may have a valid claim for compensation.
Pavement Trips and Slips – Local councils are obliged to keep pavements safe and useable and if you suffer an injury on an unsafe pavement or path you may be entitled to make a claim for compensation.
Supermarket Accidents – Whether it is a slip from a spillage or a cut foot from a smashed jar not cleaned up properly, supermarket accidents are common and we claim significant amounts of money for people every year.
Medical Negligence
We may have one of the best health services in the world but unfortunately, sometimes things do go wrong. Our Gosport team of personal injury solicitors are here to help you if you have been unfortunate to have suffered any form of medical or surgical negligence.
A small selection of some of the medical negligence claims we handle include:
Medical Misdiagnosis – Occasionally, doctors misdiagnose a condition and this can lead to further injury, distress or both. If you suspect you have been the victim of a medical misdiagnosis then get in touch with our expert Gosport team of personal injury lawyers.
Dental Negligence – If your dentist has failed in their duty of care to you leading to you having an injury such as damaged teeth or gums then you may be able to make a claim for dental negligence compensation.
Birth Injuries – The vast majority of births in the UK go perfectly well but unfortunately sometimes there can be complications and birth injuries can occur. If you believe that this was somebody else's fault, you may be able to claim compensation, which our Gosport personal injury team will be able to help you with.
Making A No Win No Fee Claim
At Legal Expert, we can support your Gosport personal injury claim on a No Win No Fee basis. Making a claim with the support of one of our solicitors under this sort of agreement can provide several financial benefits, such as the following:
There is no requirement to pay your solicitor's legal fees before your claim gets underway.

There's also no requirement to pay legal fees to your solicitor while your claim is still in progress.

Should you make a successful claim under a No Win No Fee basis, only then will your solicitor's legal fees need to be covered. Under this type of agreement, your solicitor will subtract a small percentage of the compensation paid to you to cover their payment. The amount your solicitor can subtract is capped by law. Details of how payment works should be clear in the agreement you sign with your solicitor (and available to review before signing the agreement).
Get In Touch With Our Gosport Personal Injury Team Today
Whatever type of accident you have had, if you have been injured and it was not your fault, get in touch with our personal injury solicitors for Gosport today to find out how we can help you.
Other Useful Compensation Guides
Thank you for reading our guide about Gosport Personal Injury Solicitors.