Gateshead Personal Injury Solicitors – No Win No Fee Claims
By Stephen Traynor. Last Updated 20th September 2021. Welcome to our guide on making a claim with Gateshead personal injury solicitors. Are you looking to make a compensation claim using solicitors who can cover the Gateshead area following an accident that was caused by somebody else?
Do you want to use a No Win No Fee service so that you don't have to pay upfront for your solicitor's services? If so, you're in the right place as Legal Expert are specialist personal injury lawyers and although our main office is not in Gateshead, we cover the Gateshead area and have years of experience making claims for accidents like yours.
This guide will explain how to choose the right lawyer, how No Win No Fee works and the most common types of accidents that are claimed. If you're ready to begin your claim, then you'll find our contact details at the end of this guide.
How do you make a personal injury claim?
It can be quite a scary prospect when you start to think about making a compensation claim against somebody else. Firstly, you may worry about the financial costs and then there's the worry about what happens if you lose the case.
With our No Win No Fee service we can ensure you only pay for our services if we win the case which makes claiming have no financial risk. Any other worries can be quashed because there is plenty of legislation in the UK that is designed to make claiming against somebody else fair and easy, if they were to blame for your accident.
Legal Expert always assesses any claim before taking it on to ensure you have a chance of success in being awarded compensation which, on its own, should put your mind at rest and make claiming a worry-free experience.
Do you have to be eligible to claim compensation?
To win a Gateshead personal injury case (and anywhere else in the UK) you and your lawyer (if you choose to hire one) needs to be able to demonstrate that:
The defendant (The shop, employer, local authority, health authority or other entity that you are claiming against) owed you a duty of care.
They then breached that duty of care in some way.
And that the breach is what caused you to become ill or injured.
To give a solicitor time to prove all of the above it is recommended that you begin your claim as soon as possible after it happened so that they collect all of the evidence required to support the claim.
Tips for you to think about before choosing your solicitor
Your personal injury solicitor is the most important part of your injury claim which means that choosing the right one is essential. You should look for a competent and experienced solicitor who specialises in personal injury cases.
The strength of your solicitor in being able to put the right information into your claim can mean the difference between winning or losing the case and furthermore, can result in a higher compensation payment if they are able to show clearly, and with expert evidence, how the injury was caused by the defendant and the impact it's had on your life.
Compare No Win No Fee solicitors
When you start looking for an accident claims service covering the Gateshead area you may want to just call one and get the ball rolling, but we'd recommend that rather than making a blind decision you take a look at any reviews of the firm first of all.
Look for the level of satisfaction clients show, any positive comments about the amount of compensation that was awarded and look for a steady flow of success being reported by previous clients over a long period of time.
You can read reviews about Legal Expert here.
Do I have to use a local legal firm?
The short, and only, answer to this question is: No. You do not need to use a solicitor in Gateshead and you can choose one anywhere in the country to help make your claim. Our offices aren't local but we arrange your medical local to Gateshead and if you think that most solicitor-client communications are made over the telephone, email and letters in the post then it's really less important where the office is actually located.
We do however ensure that if you require a medical assessment, then it will be arranged locally in Gateshead in one of our approved panel of medical centres.
Accident and injury claims we can conduct in your area
We are specialists and can deal with any type of injury claim where somebody else caused the accident to happen. Some of the most common accidents that Gateshead personal injury solicitors deal with include:
Industrial diseases
There are a number of industrial illnesses that can take many years to become apparent, so the claimant may no longer be working for the company where the injury or illness occurred. You'd still be eligible to make a claim though within 3 years of the diagnosis from the doctor rather than when the condition was caused.
The types of industrial diseases that can be claimed for include:
Acoustic shock
Carpel Tunnel Syndrome (CTS)
Chemical poisoning
All of these diseases can be claimed for by Legal Expert if the employer didn't mitigate for the risks of them happening in the first place (by providing a better working environment, better tools, taking safety advice etc).
Medical negligence & malpractice
Medical negligence claims can be taken out against NHS and private medical establishments where the negligence has caused you to become, your symptoms to become worse or if you become injured while undergoing treatment (as well as while you're in recovery).
We have a dedicated page on Gateshead medical negligence here which is worth a read if you're considering this type of claim. The types of negligence covered in that page include:
Late or delayed diagnosis of a condition
Misdiagnosis which resulted in incorrect surgery or treatment
Incorrect prescriptions
All of these reasons, as well as others, can lead to a personal injury claim against the health authority responsible. Feel free to contact us now about using Gateshead personal injury solicitors to support a medical negligence claim.
I had an accident at work in Gateshead, can I claim compensation?
An accident at work can result in a compensation claim if it was caused by some form of negligence on the part of the employer. Any employer must abide by the Health and Safety at Work etc. Act 1974 which means they have a duty of care to all employees and they should have policies and procedures to reduce any risk to their staff.
If you've been involved in an accident at work in Gateshead where you believe the employer hadn't trained you others correctly, hadn't maintained equipment properly, didn't provide the correct safety equipment or generally didn't provide a safe working environment then you could claim for compensation against them.
Accident at work statistics for Gateshead area
The following table details all of the accidents at work reported to the Health & Safety Executive for the Gateshead area over a number of years:
| Accidents report at work in the Gateshead local authority area | 2011/12 | 2012/13 | 2013/14 |
| --- | --- | --- | --- |
| Unclassified accidents | 42 | 44 | 46 |
| Electrical Shock | 0 | 0 | 3 |
| Accidents involving machinery | 18 | 16 | 15 |
| Explosions | 1 | 3 | 0 |
| Accidents involving Fire (burns) | 0 | 2 | 1 |
| Harmful substance exposure | 7 | 3 | 7 |
| Falling from heights | 36 | 24 | 26 |
| Animal-related injuries, such as dog bites | 3 | 0 | 1 |
| Manual handling related injuries | 144 | 90 | 90 |
| Physical assault | 6 | 9 | 12 |
| Slip, trip or fall accidents | 107 | 114 | 90 |
| Struck by an object | 21 | 22 | 9 |
| Hit by a vehicle | 9 | 6 | 5 |
| Trapped by something | 68 | 34 | 46 |
As in most areas of the UK, the most common accident at work appears to be due to manual lifting and accidents involving slips or trips. Contact Legal Expert online or on the phone for advice and support on starting a work accident claim with Gateshead personal injury solicitors.
Slip, trip & falling accidents
As mentioned in the previous section a slip or trip-based accident is a common workplace accident but could happen just about anywhere else in Gateshead as well such as: at school, in a shop, restaurant, pub, museum or just about anywhere else.
Slips and falls can lead to very serious injuries that require multiple surgeries to remedy and can cause years of pain and suffering.
We have a team of specialists who can make claims for slips and falls. If you're not sure if somebody else is liable, then please call us and we'll assess your claim.
Serious injury claims
Determining what is a serious injury versus a standard injury can be a complex definition to make but, in general, if a claimant's life is majorly altered because of their injuries then it could be deemed a serious one.
We've written a more detailed article about serious injury claims but some that could be determined to be on the serious scale include accidents that result in paralysis, amputations or brain damage and could be caused by cycling accidents, road traffic accidents or medical negligence amongst other things.
Road traffic accident claims in Gateshead
Any road traffic accident that was caused by another motorist, whether you were a passenger, the driver or a pedestrian can lead to a personal injury claim. This is true whether it was an accident or caused by criminal behaviour like drink driving or dangerous driving.
Furthermore, it may surprise you to know that there is an insurance industry-led scheme that provides compensation for motoring claims where the driver did not have insurance or did not remain at the scene of the accident (hit and run).
Gateshead metropolitan area road traffic accident serious casualty statistics
The graph below comes from the 2015 Tyne and Wear Accident Report produced by the Traffic and Accident Data Unit (TADU). It shows the number of killed or seriously injured (KSI) road traffic casualties that were reported in Tyne & Wear districts including Gateshead between 2011 and 2015.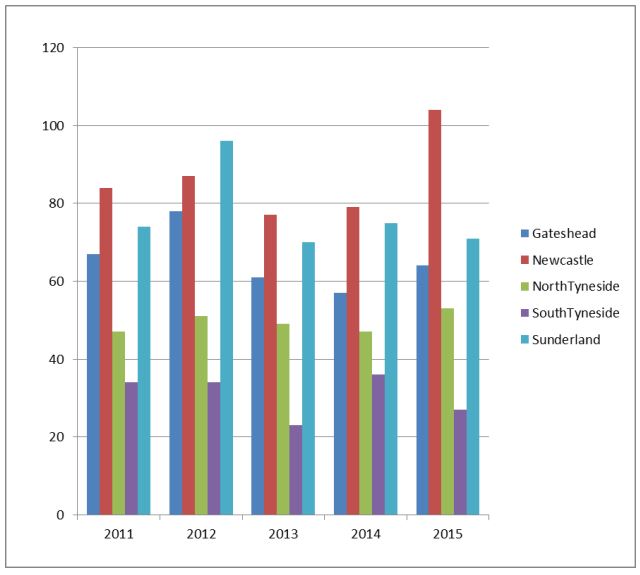 According to the report, there were 64 KSI road casualties in the Gateshead region during 2015. That marked a slight increase for the region compared to the previous two years. There were 57 KSI casualties in 2014 and 61 back in 2013. However, there were slightly more KSI casualties when compared to 2012 and 2011 (78 and 67 during these respective years).
Year by year, Gateshead regularly recorded more KSI road casualties compared to North and South Tyneside but fewer when compared to the Newcastle and Sunderland regions.
What does No Win No Fee mean?
You may think that because your case is taken on a No Win No Fee basis then you get less legal work than for a case where you pay the solicitor for their time regardless of the outcome, but this couldn't be further from the truth.
A No Win No Fee solicitor is actually taking on a risk by not charging you unless they win the case, so it could be argued that they actually do more (or at least the same) work for a No Win No Fee case.
Your personal injury solicitor will:
Offer an initial consultation to understand your accident and injuries.
Make legal, medical and technical checks to make sure your case has a chance of success.
Prepare a No Win No Fee agreement (including the percentage fee you'll pay if they win).
Gather evidence to support the claim.
File the claim against the defendant or their legal team. This will set out how much compensation you are seeking and why.
Deal with any response from the defendant and decide, when an offer is received, whether to accept the offer, reject it or take the matter to court (in very rare cases).
Once all of that is done the solicitor will retain their percentage of any claim before sending the remainder to the client. As you can see there is a fair bit of work involved in any case even if it is No Win No Fee.
How do fees work?
If you sign a No Win No Fee agreement with LegalExpert.co.uk for an accident you've had, then you only have to pay the solicitor if they win you compensation.
If your case is lost, you pay nothing, but if it is won then the solicitor retains their fee before paying the remainder to you.
Where can I find out more?
There may still be more information that you require before committing to making an injury or accident claim which is completely understandable. Make use of our website as there are hundreds of more specific guides on here regarding different types of injuries. If after browsing our site, you still have questions then please get in touch and we'll give you the correct information to help you move your claim forward.
How to contact Legal Expert
However, if you are now in a position where you want to move forward and use the Legal Expert No Win No Fee service to make your accident claim then you can contact us by:
Telephone: Give our experts a call on 0800 073 8804.
Email: Send your details to office@legalexpert.co.uk.
Live Chat: Chat online with our experts from any page on our website.
Online form: Submit your claim online using this easy form.
However, if you choose to contact us we'll begin by offering you a free consultation to understand how your accident in Gateshead was caused and the impact it's had on you.
Useful contacts and services
If you've been involved in an accident in Gateshead then, as well as contacting us at Legal Expert, there are some more organisations (police, courts and hospitals) that you may need to contact. Their contact details are listed below:
Local Police Station
Gateshead Police Station
High West Street
Gateshead
NE8 1BN
Tel: 101

Local Crown Court
Gateshead County Court and Family Court
Gateshead Law Courts
Warwick Street
Gateshead
NE8 1DT
Tel: 0191 477 5821
Web: https://courttribunalfinder.service.gov.uk/courts/gateshead-county-court-and-family-court
Local Hospital
Queen Elizabeth Hospital
Sheriff Hill
Gateshead
Tyne & Wear
NE9 6SX
Tel: 0191 482 0000
Web:www.qegateshead.nhs.uk
Finally, here are a few more articles that may help you with your decision to make a personal injury claim:
Personal Injury compensation – We've been asked many common questions about personal injury claims over the year. This guide details some of the frequent questions we receive.
Accident At Work Claims – a more detailed look at how an employer could be liable for your injuries following an accident at work.
Other Helpful Compensation Guides
Thank you for reading our guide on Gateshead personal injury solicitors.