Croydon Personal Injury Solicitors – No Win No Fee Claims
By Daniel Wright. Last Updated On 14th September. Welcome to our guide on Croydon personal injury solicitors. A great number of people all across the globe suffer injuries due to someone else acting dangerously or negligently, but some people never make a  claim with a personal injury lawyer, even though they would have every right to. Why not? Because they don't believe they can obtain the services of No Win No Fee Croydon personal injury solicitors, or those based elsewhere that cover the area.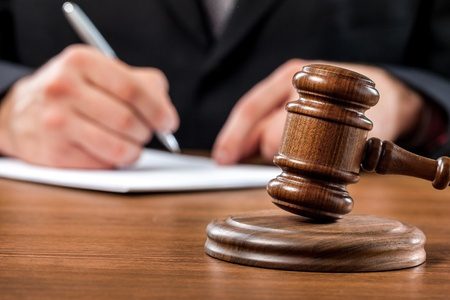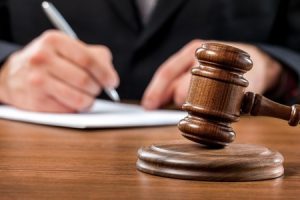 This is simply not true. In this short guide, we are going to take you through the eligibility criteria for a personal injury claim, as well as how personal injury claims solicitors can be provided by us here at Legal Expert. We'll also tell you why you don't necessarily need the services of Croydon personal injury solicitors that are based in that area to make a claim. Carry on reading to find out what you need to know.
Contact Details
Our advisors are ready and waiting to hear from you. If you have any questions regarding your claim then it's time to get in touch.
Jump To A Section
How Our Team Can Help You To Claim Compensation
There is a huge amount of legal precedent and legislation that will cover those people who are unfortunate enough to be injured or made ill due to someone else's behaviour, whether that is a lack of care and attention or dangerous actions. Here at Legal Expert, our experienced panel of personal injury solicitor members can assist with a huge number of different types of claims. While a limitation exists in terms of the amount of time after an incident happens to make a claim, not every case falls within the usual 3-year limit.
Some. Industrial illnesses don't start to show until years after they began, and it would be unfair for you to be unable to claim simply because you didn't realise you had the disease. In these cases, the 3-year limit begins from your diagnosis date. In some cases too, if an adult didn't claim for you at the time, and you were injured as a child, you can claim up to your 21st birthday. However, it is always best to begin the process as soon as you can in order to make it easier to gather any kind of evidence you might need.
How To Check You Are Eligible To Make A Claim
In order to check complex situations, you might want to give the team here a call. However, if you can answer yes to the questions below, it is almost certain that you'd have a claim:
Was the incident that happened not your fault?
Did the person/company at fault owe you some sort of duty to ensure your safety?
Did they fail in that responsibility?
Did their failure lead to your injury or illness?
If you're still unsure as to whether you'd have a claim, pick up the phone and call us. We can clarify your position really quickly.
Why Having The Right Solicitor Is Vital To Your Claim Being Successful
Finding a solicitor is easy but finding the right one for you is somewhat less so. If you were to instruct a conveyancing solicitor to handle a personal injury claim, it is unlikely they'd have the requisite experience to gain you as much compensation as a personal injury lawyer that an experienced injury claims lawyer would.
That is because they have specific experience in their sector, and this is what often makes a big difference in personal injury claim settlements. Of course, all solicitors are under regulations, by the SRA, but this doesn't mean the service levels are all the same. Speaking to a solicitor is often a good idea, but doing research online is also a good option. However, it can be difficult to weed out what is clever marketing copy from genuine proof of achievements across the number of claims they've dealt with before.
Should You Read Reviews Of Solicitors Before Making Your Decision?
It can be helpful to read reviews regarding various Croydon personal injury solicitors before choosing who you wish to work with. Doing this will give you an overall impression of how satisfied previous clients were with how their claim was made.
On the reviews section of our website, you'll find comments from those we've helped win compensation. Feel free to head over there and have a read. Tom Dobby said this about us following his successful claim:
"I felt confident in their legal experience throughout."
Another former client praised our:
"Professional staff and very quick service."
If you like what you see, then the next step is to get in touch with us directly. Look at the top and bottom of this page to find our contact details.
Does It Matter If My Solicitor Is Not Based In Croydon?
Simply put; no. Any solicitor with experience in the personal injury sector will likely have dealt with claims in many other areas, simply because they are asked to do so and they're good at what they do. While it used to be the case that local was always better, due to the fact that everything was done face to face, now there is no need for you to venture out to use the services of a solicitor that matches your needs best.
You now have the luxury of being able to complete a claim for the most part over the internet, via post and over the phone. While a medical appointment will often still be necessary for evidential purposes, lawyers based anywhere in the country can arrange one that is local to you for the most part, unless you require specialist medical assessment that you might have to travel a short way for.
Examples Of Some Of The More Common Personal Injury Claims We Handle
If you've become injured or fallen ill, it was not your own doing and someone else bears responsibility, you are likely to be able to use our service. We cover all of the types of claims listed below, and many other types too – so don't wait to get in touch – we're sure to be able to help.
Compensation For Industrial Diseases
We spend an awful lot of time at work, and we don't expect that we leave work with anything less than a paycheque and maybe a little bit of stress, but some people have left with much worse than this – in the form of industrial disease.
Mesothelioma, osteoarthritis, deafness and more can wreak havoc on a person, significantly affecting their quality (and in some cases) of length of life, and we believe that this should lead to compensation for you. We are able to provide experienced personal injury lawyers to help you get this compensation.
Compensation For Medical Negligence
Doctors, GPs, surgeons, dentists, midwives and more – all can make errors, and all can lead to severe trauma, pain and even death in serious cases. If medical malpractice has blighted your life and caused you injury or worsening illness, then do get in touch with our experienced team who will be able to go through the specifics with you to ascertain whether our panel of solicitors will be able to fight for your compensation. We can help with both private and NHS claims, against hospitals in Croydon and all across the UK.
Croydon Accident At Work Claims
Whatever accident you've had, if you've had it at work, then you're bound to be a little worried about your future at work if you should move forward to make a claim. But you need not be nervous.
It is essential that you know your employer should have insurance to cover such a claim, and it is better for you to highlight the issues that led to your injury to ensure they don't happen to one of your future or current colleagues. Legal Expert can provide you with a lawyer with experience in workplace claims, whatever type of accident you've had and what type of injuries you've incurred.
Statistics For Accidents And Injuries At Work
There can be a number of causes for injuries sustained in the workplace. For example, you could receive inadequate training, have to use dangerous machinery, or you could slip on unsafe walking surfaces. These can be cases of employer negligence. If you can prove this negligence, this is when you could make a claim against your employer.
In the graph below, you'll see the breakdown in causes of non-fatal injuries in the workplace. This graph has been put together by using statistics from the HSE.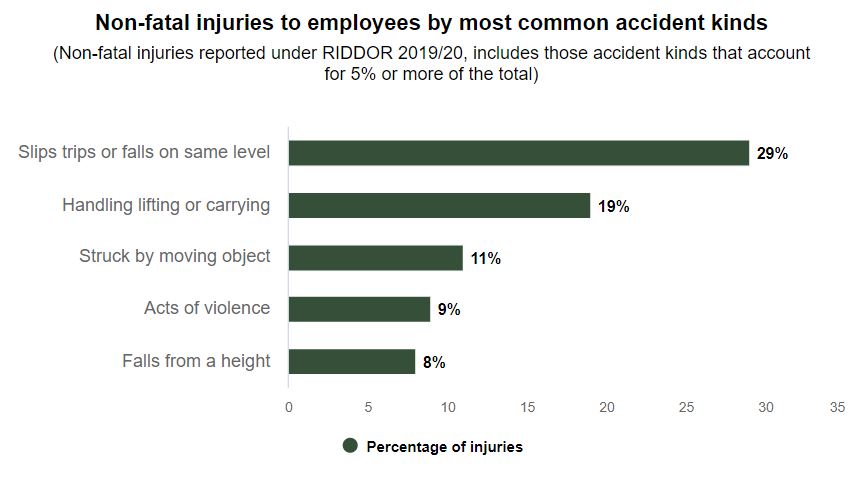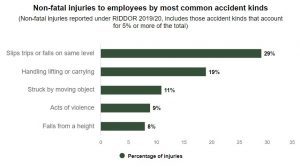 Compensation For Harm Caused By Trips And Falls
Simple trips and falls are something we'd think are unlikely to cause serious injuries, but you'd be surprised that in some cases they do. Depending on where you fell, how you landed, what type of surface it was and whereabouts you were, means that there are all sorts of outcomes from a slip or trip.
Falls from a place that is high carry a huge amount of risks, as there is not only the problem of how far you've fallen, it's a case of what you have fallen upon. With so many different outcomes, you need a lawyer who is able to knowledgeably assess your case and provide the insight you might not get from a less experienced lawyer.
Compensation For Harm Caused By Serious Injuries
Sadly, there are some injuries that are not completely recoverable from, and those that take an awfully long time (often including additional surgeries) to get over. Whether you've been left with life-changing injuries from a car crash, or you have a long road to recovery to contemplate after a machinery crush injury at work, you're sure to need an experienced solicitor.
It's important to be aware that with the kind of trauma associated with serious injuries, you might have mental trauma too – the solicitor you choose needs to understand this and include this as part of your claim. We are experienced in making claims for mental injuries as well as physical injuries.
Car Crash Or Other Road Traffic Accident Claims
If you've been involved in some sort of road accident, the likelihood is you'll have suffered at least one injury. Cars, buses and motorbikes are considerably heavy and when you bring speed into the equation, can cause untold harm.
If you have been injured as a driver, passenger, or pedestrian, there is a likelihood that you will be left with an injury or maybe even more than one. Our experienced car crash solicitors that we can provide you with have experience in not only simple but also complex car accident claims, and we can help provide you with the one best suited to your claim.
No Win No Fee Personal Injury Claims In Croydon
A long time ago, there was not the option for a person to engage the services of a lawyer without having to pay something up front, but now there is No Win No Fee. This means you won't be risking funds of your own at a time when there is likely to be a drop in your income. Instead, the lawyer will take their funds from your compensation payment.
What Is A No Win No Fee Agreement?
Termed sometimes as a conditional fee document, this contract shows you exactly how much in percentage terms your solicitor will take as payment from your award, and the conditions attached to this. It's important to remember that these fees are capped by law, so you should not expect to pay more than 25%.
Where Can I Find Out More?
You can always find out more from us. There simply is not enough space on a website to cover every eventuality and we know you're likely to need to know details that are specifically for your own circumstances. After all, every accident is different and every injury is different. You might be unsure as to whether your claim falls within the time limits, whether we can find a solicitor to help you if you've been injured on the roads by a foreign driver and many more examples.
Speaking to us on the phone or reading some of the other guides on our site is sure to furnish you with the information required. We can even furnish you with more information on solicitors from our panel to help you decide what action is the right course for you.
Contact Our Specialist Team Now
Whatever time of day it is, there is a way to get in touch with the Legal Expert team. You can reach us at 0800 073 8804, and speak to us over the phone, but there's also a live chat feature in the bottom right. Additionally, there's a contact form on the website for us to phone you back at a convenient time. You really do have nothing to lose by getting in touch.
At the very least, you'll obtain answers for any queries or wonderings about the accident you've had or injury or illness that you have suffered. At best, we'll match you with the most experienced and suitable lawyer from our panel who will be able to fight your case to a successful conclusion, allowing you to move on from any trauma you have suffered.
Helpful Contacts In Croydon And Additional Resources
Whichever authority you need to get in touch with in the area because of your accident, you can find the details below for your reference. We've also included some of our other guides you might be interested in reading as well.
Local Police Station
Croydon Police Station
71 Park Ln,
Croydon
CR9 1BP
Web; www.met.police.uk
Local Crown Court
The Law Courts
Altyre Road
Croydon
CR9 5AB
Web: https://courttribunalfinder.service.gov.uk/courts/croydon-crown-court
Local Hospital
Croydon University Hospital
530 London Road
Croydon
CR7 7YE
Are you an agency worker that works in the area? – Making a claim as an agency worker need not be any hassle with this guide.
Have you any questions? – Our FAQs might help you understand what many people are asking about personal injury claims
Processing Claims – What happens? – The way in which claims work is no mystery. Find out information on the process here.
Thank you for reading our guide on Croydon personal injury solicitors.