P&O Ferries Personal Injury Claims Guide – How To Make A Compensation Claim Against P&O Ferries
P&O Ferries operate on routes between Britain and the island of Ireland, France, Belgium and The Netherlands. They have over 20 ferries and sail over 25,000 times a year carrying over 8 million passengers and 1.6 million cars. In this guide, we're going to look at making personal injury claims for accidents on P&O Ferries. We'll provide information on the types of accidents that might happen, when the ferry operator could be responsible and how much compensation you could be entitled to. As well as passenger claims, we'll look briefly at claiming for a crew injury too.
The advisers at Legal Expert are happy to provide free advice and guidance about your claim. We can also assess your claim on a no-obligation basis. Should your case be strong enough, we could then introduce you to one of our specialist, no win no fee, solicitors. If you're ready to begin a claim straight away, please call us on 0800 073 8804 today.
If you'd rather find out more about claiming for a passenger ferry accident, please continue reading.
Select A Section
A Guide To Personal Injury Claims For Accidents On P&O Ferries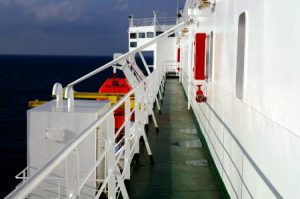 When making accident claims, evidence is required to prove who was to blame, what happened and what injuries you suffered. The same is true for personal injury claims. Shortly, we'll cover the types of accidents that could occur. Before we do, here is the type of evidence you could collect to help substantiate your claim:
Photographs of the accident scene (including the root cause).
A copy of the accident report. The operator will be obliged to record the incident if you inform them of it.
Witness statements.
Medical records from the doctor or hospital that treated you.
CCTV footage if the area was covered.
Also, to be eligible to make a claim, you'll need to do so within the personal injury claims time limit. The normal period is 3-years although there are exceptions. However, on a ship or ferry, this could be reduced to 2-years. Please check with one of our advisors to see which time limit applies.
Once you've gathered as much evidence as possible, our team can review it with you and help decide whether you've got a valid claim or not. Once you've read this guide in full, please give us a call to discuss how we could help you claim.
Now we're going to move on to explain your rights as a ferry passenger, the different legislation that governs ferry operation and also the types of accident that could occur. Please be aware that even if we don't discuss your particular accident, we could still help you claim. So long as you can show that your injuries were a result of an accident caused by a ferry operator's negligence, you could potentially be entitled to compensation.

What Is An Accident Claim Against P&O Ferries?
A large ferry operator such as P&O will no doubt carry out risk assessments to try and identify any dangers to customers and staff. In fact, it's part of their duty of care to do so. Following those assessments, health and safety procedures are written, changes are made to reduce risks and staff are trained in health and safety procedures.
However, even after all that work has been carried out, it's still possible for a passenger or crew member to become injured. If an accident does happen, if the accident could've been prevented (i.e. it was foreseeable), then it could mean a compensation claim is possible. For instance, if your accident was caused by any of the following, you could be entitled to claim:
Inadequate training. If staff hadn't been properly trained in the task which led to your accident, you could be entitled to claim against a ferry operator.
Faulty equipment. Passenger lift accidents due to lack of maintenance.
Procedural errors. As mentioned, staff should've been trained in health and safety procedures. If they fail to follow them through and cause an accident, you could claim for your injuries. An example could be where you slip on a wet floor with no warning signs.
It is vital to say that being involved in an accident alone will not qualify you for compensation you must have suffered preventable harm in order to be eligible to begin a claim for damages.
Ferry And Ship Passenger Rights
Ferry passengers departing the UK have a number of rights based on EU legislation (article 1177/2010). This means that you could be entitled to P&O ferry delay compensation. The regulations include:
You should be told of any travel delays as soon as possible.
If your departure is delayed by 90 minutes or more, drinks and snacks should be provided for free.
Possible compensation for that part of the affected journey.
Reimbursement of the ticket price within seven days.
If a sailing is cancelled or delayed and an overnight stay becomes necessary, operators must supply accommodation.
If you're a disabled passenger, you have a number of additional rights. These include:
Being charged the same price as other passengers.
Free assistance where required. You should use the P&O Ferries customer services email address to inform them of your requirements at least 48-hours before sailing.
Being allowed to bring your safety dog on board, unless it breaches health and safety regulations.
Legislation And Regulation For UK Ferry Operators
When making ferry personal injury claims, there are different pieces of legislation that could be used. The main bodies and legislation associated with UK ferry operators are:
The Merchant Shipping Act 1955. Legislation that governs British owned ships when travelling at sea.
The Athens Convention 1974. Based around awarding compensation for injuries to passengers or damage to their luggage. In 2002, extra legislation was added to include insurance so that compensation amounts could be increased. Any country can opt-out of the Athens convention but only if their laws allow for higher compensation amounts.
The International Maritime Organization. Founded in 1948, the IMO ensures countries work together to keep shipping as safe as possible.
Causes And Types Of Ferry Accidents
We're now going to look at different types of accidents that could happen on a ferry while at sea or in the port. Again, if you don't see the type of accident you suffered included here, don't worry, you could still claim.
Some of the cases we're going to cover include:
Injuries caused by a ferry crash.
Whiplash injuries.
Suffering an allergic reaction.
Slip, trip and fall accidents.
Collisions Involving Ferries
Ferry collisions are thankfully very rare. Collisions that could lead to a compensation claim include:
Crashing into other ships.
Colliding with the harbour or port wall.
Collisions involving other sea vehicles.
Remember, a ferry collision alone does not entitle you to compensation. You'll need to have suffered an injury as a direct result of the crash.

Whiplash Injuries Caused By A Ferry Accident
You might be surprised to know that, according to this NHS guide, whiplash can occur when you fall. It's commonly believed that whiplash is only caused by road traffic accidents. In fact, any fall which causes the head to whip forwards, then backwards, at any speed could cause whiplash injuries.
Therefore, if you're involved in a ferry accident that was not your fault and a doctor diagnoses whiplash, you might be entitled to claim if the accident was caused by negligence.

Falls, Trips Or Slips On A Ferry
Injuries caused by slips, trips and falls are probably the most common of all personal injury claims. However, there are a couple of reasons why you wouldn't be able to claim if you fall on a ferry. These are:
If the fall was caused by the movement of the ship due to sea conditions.
Or if you were messing around and fell as a result.
You could claim though if you were injured because:
You tripped on cables that were trailed across a walkway.
A slip happened because of cleaning, a spillage or leak where warning signs weren't used.
You tripped because of damage to the flooring.
Accidents And Injuries Caused By A Lack Of Maintenance
If an injury is sustained on a ferry because of a faulty, damaged or poorly maintained fixture, fitting or piece of furniture, you might be entitled to claim.
For instance, if your injury was caused by any of the following, you might be entitled to claim:
A faulty door mechanism causing it to slam into you.
Exposed sharp edges on a chair, bench or table.
Falls caused by damaged handrails.
Food Allergy Claims Against A Ferry Operator
There are 14 different allergens that under UK law must be highlighted on pre-packed food. In restaurants and cafes, they have to be highlighted on the menu or on a board explaining who you need to ask for information.
Therefore, if you suffer an allergic reaction because an allergen was not indicated, you could be able to claim for your suffering. It's important to try and keep hold of any packaging, samples of the food consumed or photographs of the menu. Also, if a witness heard you ask the staff about allergens, then a witness statement could also help support your claim.

Man-Overboard Incidents
All ferry operators will have safety procedures for handling a man-overboard situation. This will include launching a safety vessel to try and rescue the victim and calling the local coastguard.
If you fell overboard from a ferry and you were breaking safety regulations, intoxicated or climbing barriers, you probably wouldn't be eligible to claim. You could be entitled to claim though if the accident was caused by faulty barriers or inadequate safety procedures.

Ferry Worker Accidents And Injuries
If you're a UK employee working on a ferry, then you're offered some protection by the Health and Safety at Work Act 1974. This is legislation which means your employer has a duty of care to try and keep you safe while you're at work. They should risk assess the workplace and make changes where danger is identified.
If you're injured while working on a ferry, you could be entitled to claim if the accident was caused by:
Faulty or unmaintained equipment.
A lack of protective equipment.
Inadequate training.
Excessively long periods of work without rest breaks.
Employers cannot prevent you from making an honest claim. Doing so could mean action being taken against them for unfair dismissal. Therefore, don't be afraid to seek the compensation you could be entitled to.
Please call to discuss your accident at work while working on a ferry with one of our advisors.

Personal Injury Claims Calculator
If making ferry personal injury claims in England or Wales, your solicitor will use a document called the Judicial College Guidelines (JCG) to determine how much compensation you could be entitled to. The personal injuries compensation calculator table below provides some example figures from the JCG:
| Injury | Severity | Range | Comments |
| --- | --- | --- | --- |
| Neck | Severe | £42,680 to £52,540 | Injuries such as dislocations, fractures and severe tissue damage that lead to a permanent significant disability. |
| Neck | Minor | £2,300 to £4,080 | Soft tissue injuries that recover fully 3 months -1 year. |
| Back | Severe | £36,390 to £65,440 | Injuries such as fractured discs or disc lesions where, even after surgery, disabilities remain. |
| Back | Minor | Up to £2,300 | Soft tissue injuries, resolved in full, within 3 months. |
| Arms | Simple Fracture | £6,190 to £18,020 | This range is for simple fractures of the forearm. |
| Elbow | Severe | £36,770 to £51,460 | Includes severely disabling injuries to the elbow. |
| Wrist | Severe | £44,690 to £56,180 | Injuries that result in the complete loss of function of the wrist. |
| Legs | Very Serious | £51,460 to £85,600 | Includes injuries which result in the permanent use of crutches or mobility aids for the rest of the claimant's life. |
| Knee | Moderate | £13,920 to £24,580 | A dislocation, torn meniscus or cartilage with mild future disability. |
| Ankle | Severe | £29,380 to £46,980 | Injuries which result in pins and plates to be inserted and cause significant residual disabilities. |
Each injury is compensated based on how severe they were. Therefore, your solicitor needs to provide evidence that shows what injuries you sustained, how severe they were and how they affected you.
As our solicitors specialise in legal matters rather than medical ones, they use independent doctors to assess you and provide a report to be used as evidence to support your claim. This is done to try and ensure you receive the correct level of compensation.

Ferry Accident Claim Damages
When making personal injury claims, a solicitor can claim for two different elements. Compensation paid for pain and suffering is known as general damages. These are the figures shown in the previous section. Then there is compensation for financial losses linked to your injuries. These are known as special damages. There are many types of special damages that can be used depending on how you've been affected by the injuries. Here are some examples:
Travelling Expenses.
Your claim could include fuel and parking costs linked to visits to your GP, a hospital or physiotherapist due to your injuries. You could also claim back any travelling costs if you're unable to drive while recovering.
Medical Costs.
You'll probably receive the free treatment for your injuries from the NHS. However, if you pay for prescriptions and other medicines, the cost can soon build up. Therefore, these could be included as well.
Care Expenses.
Some people need to be cared for while recovering from their injuries. Therefore, the cost of a carer or the time of a friend or relative could be included in your compensation.
Lost Income.
If you're unable to work due to medical appointments or because you're unfit for work, you could include any lost income within the claim. Also, when you suffer long term injuries that affect your work prospects, you could claim for future lost earnings too.
Damaged Property.
When your accident occurred, if personal property was damaged, such as clothing, mobile phones or jewellery, you could claim to have them replaced.
To prove these expenses were linked to your ferry passenger accident, you should retain any receipts, bank statements and wage slips. This will help your solicitor when it's time to claim. Also, take note of how each expense was linked to your injuries.

No Win No Fee Claims Against P&O Ferries For A Personal Injury
If you've been involved in a P&O Ferries accident, you might be put off from claiming because of the cost of hiring a personal injury lawyer. That's why our solicitors work on a no win no fee basis for any claim they take on.
The claims process starts when your claim is assessed by the solicitor. If they think you've got a chance of winning, they'll provide you with a conditional fee agreement (CFA). This is the legal name for a no win no fee contract.
Before you sign the CFA, you'll be able to confirm two main points:
There are no solicitor's fees to pay when a claim is unsuccessful.
The level of success fee that's payable when your claim is won.
When you're happy to sign the CFA, the solicitor will begin working on a no win no fee basis. If they go on to win, the success fee (a percentage of your compensation) will be deducted before the rest of the settlement is sent to you.
Our solicitors offer a no win no fee service because they know that the financial risk for claimants, and stress levels, are reduced greatly.

Why Work With Legal Expert On Your Case?
Here are some reasons we believe you should choose Legal Expert to handle your case:
We've received loads of positive feedback from previous clients.
Our team of solicitors have up to 30 years' experience in making personal injury claims.
We have a team of advisors who offer free advice and guidance. They'll also assess your claim for free too.
The claims line is open 7-days a week, 24 hours a day. Therefore, you can begin whenever it's convenient for you.
Our solicitors always try to resolve a claim as quickly as possible.
Also, they always try to present as much evidence as possible to try and ensure you receive as much compensation for your injuries as possible.
If you would like to discuss how we could help you, please call and speak with an advisor today. There's no pressure from us and you're under no obligation to proceed.

Start Your Claim
We hope that you've found this guide about claiming for a P&O ferries accident useful. Also, we hope you're ready to begin your claim using Legal Expert. If so, there are many ways to start. These include:
Our claims line can be contacted 24-hours a day and 7-days a week. We offer free legal advice about claiming. Furthermore, our advisors can assess the merits of your claim on a no-obligation basis. Should they think your claim is valid, they could introduce you to one of our personal injury solicitors. Should they take your claim on, it will be on a no win no fee basis.

Supporting Information
You've now come to the end of this guide about making P&O Ferries accident claims. To help you further, we've provided links to some other guides and external resources below.
P&O Cruises Accident Claims – This guide explains how to make a personal injury claim against P&O cruises.
Boat Accident Claims – Our guide that explains when you could seek compensation for injuries sustained in a boating accident.
Accident At Work Claims – If you suffer a ferry worker accident, you could be entitled to sue your employer. This guide should prove useful if that's the case.
Ferry Complaints – Information from ABTA about the process for complaining about the service you've received.
The International Maritime Organization – The IMO promotes links between countries to help ensure that shipping becomes safer, more secure and less polluting.
New Maritime Passenger Rights – Information from the government which explains the new rights for passengers travelling by water.