Outdoor Activity Centre Injury Compensation Claims
Outdoor activity centre injury compensation claims could be made if you experience an injury while engaging in paid-for outdoor activities. You could also claim on behalf of your child. Find out how to claim in this guide.
While engaging in activities, people should expect a certain level of safety. We look at licensing of outdoor activity centres. In addition to who is covered by the regulations. Also, we look at what makes an injured person eligible to claim as not all injuries will qualify for compensation. 
Activity centres must train staff or employ staff that are trained to carry out the activities safely.  If injuries occur due to negligence then those who have suffered could be able to make a personal injury claim. We explore what injuries could happen and what amounts of compensation could be awarded. 
To claim compensation, you must be able to prove negligence caused your injuries. We discuss what steps you could take following an injury that could help strengthen compensation claims. Time limits apply. We explain the time limits and what circumstances could lead to an exception. 
Learn how to claim with a No Win No Fee personal injury solicitor. They could be beneficial to ensure that your claim is filed in full and within the personal injury claims time limits. 
Our advisors are ready to discuss your potential claim.  
Start your claim today:
Select a Section
What Are Outdoor Activity Centre Injury Compensation Claims
The Health and Safety Executive (HSE) currently is the licensing authority for the Adventure Activities Licensing Regulations 2004 (AALA). The Activity Centres (Young Persons' Safety) Act 1995, make it a legal requirement for adventure activity providers for young people to have an inspection of their safety management systems and hold a licence. These are to reduce unnecessary risks of avoidable injuries and death. 
What activities require a specific licence:
Caving

: Mine exploration and cave diving are included.

Climbing

: Abseiling is included.

Trekking

: Walking and mountain biking are included, amongst other activities. 

Watersports:

Activities done on the sea or non-placid large bodies of water are included.
Those who provide activity centres must take reasonably practicable steps to protect the safety of service users. Outdoor activity centre injury compensation claims arise when the centre neglected its duty of care.
Our advisors are available to talk to you about activity centre negligence.
Types Of Outdoor Activity Centre Accidents
Outdoor activity centres can range from mountain biking to cave exploring. Any activity has a certain amount of risk and not all injuries will mean that there is a liable party. Below we explore how accidents could occur and what injuries could result. 
Causes of injuries could include: 
Lack of fitness:

Before participating in outdoor activity centre activities, your own fitness should be considered. For example, if you aren't in shape for assault courses, they could present additional risks. 

Poor/no instruction:

Staff should have effective communication skills. To prevent some injuries, staff need to be able to act in time. For example, if the conditions suddenly change and staff need to bring participants to safety. 

Correctly trained staff: staff that are not trained appropriately create a risk.
Lack of preparation

: Any activity that you undertake will come with certain levels of preparedness. Activity centres should have ready all the necessary equipment needed to complete the task safely. 

Defective equipment:

In addition, frequent checks of equipment should be carried out and recorded. A frayed zip wire harness, presents an injury risk from falls, for example. 

Perilous terrain: activity centres should ensure that any terrain does not pose avoidable hazards that could cause injuries such as broken bones.
How Common Are Accidents At Activity Centres?
We have chosen to use statistics from the Compensation Recovery Unit that is part of the UK government. It shows figures for recovery settlements for public place accidents. Records of Compensation Recovery Data (CRU) are kept by the Department of Work and Pensions. The yearly data in the public place accident settlements graph we have provided below runs from 1 April-31 March.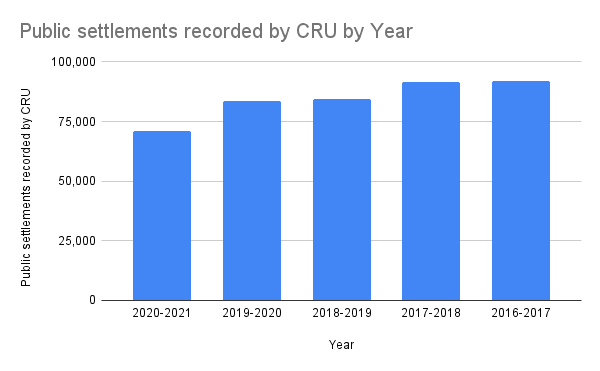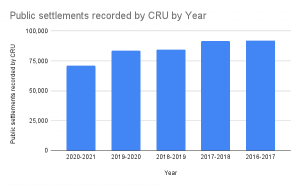 How To Make Outdoor Activity Centre Injury Compensation Claims
The steps you make following an injury could help strengthen outdoor activity centre injury compensation claims. In order to claim, however, you must be able to prove the activity centre acted negligently. 
Steps you could take include:
Seek medical attention:

Medical records following an injury could be submitted as evidence. In order to claim compensation, you might need an independent medical assessment. 

Note contact details:

Witnesses, if there are any, could be contacted for a statement at a later date. You will need to make a note of their contact information. 

Take photographs:

You could take photos of the equipment that caused your injury. 

Get legal advice:

Legal expertise could make the claims process seem a lot less stressful. 
 To begin your personal injury claim due to outdoor activity centre negligence, contact our advisors. 
How Long Do You Have To Claim?
Under the Limitation Act 1980, you typically have three years to begin outdoor activity centre injury compensation claims. The date the injury occurred may not be the date the time limit starts from. If you are unaware of your injury, for example, the time limit starts when you become aware. 
Other exceptions to the time limit also apply if: 
Under 18 and a

litigation friend

does not claim on your behalf. You have three years after you turn 18 to begin your claim. 

Lack the mental capacity to claim and a litigation friend does not begin the claim on your behalf. You also have three years after your recovery to start the claiming process. 
Contact our advisors to start outdoor activity centre injury compensation claims. 
Outdoor Activity Centre Injury Compensation Claims Calculator
If you decide to claim compensation, your claim has two potential heads. We explore each below. 
General Damages
Physical injuries as well as any psychological injury suffered as a result are claimed for under general damages. To estimate the value of your claim, solicitors refer to a document titled the Judicial College Guidelines (JCG). In the JCG, a list of injuries is provided, alongside their potential compensation brackets. We have provided a few examples in the table below. 
| Injury | Potential Compensation | Notes |
| --- | --- | --- |
| Moderate brain damage (i) | £140,870 to £205,580 | Moderate to severe intellectual deficit with a personality change, significant epilepsy risk and senses impacted. |
| Moderate post traumatic stress disorder | £7,680 to £21,730 | Largely recovered but some continuing non-grossly disabling symptoms. |
| Severe neck injury (i) | In the region of £139,210 | Incomplete paralysis. |
| Severe back injury (i) | £85,470 to £151,070 | Damage to spinal cord and nerve roots with very serious consequences. |
| Minor shoulder injury (i) | £4,080 to £7,410 | Soft tissue injury with considerable pain, but almost a complete recovery in less than two years. |
| Moderate injuries to pelvis and hips (i) | £24,950 to £36,770 | Significant pelvis or hip injury but no major permanent disability. |
| Wrist injury (b) | £22,990 to £36,770 | Permanent disability but some useful movement. |
| Less serious leg injury (ii) | £8,550 to £13,210 | Simple femur fracture. |
| Cheekbone fractures (i) | £9,570 to £14,810 | Surgery required for serious fractures with lasting consequences. |
| Significant facial scarring | £8,550 to £28,240 | Worst effects reduced by surgery with either a not great or diminished psychological impact. |
Special Damages
To recover costs that occurred due to your injuries, you could claim special damages. You must supply evidence, such as receipts, to claim under this head. 
You could recover costs for:
Medical expenses

: Therapy costs or renting a wheelchair could be recovered, for example. In addition to any other

medical bills

. 

Lost wages

:

Loss of earnings

could be calculated using your payslips. 
Advice on what evidence you could supply towards special damages is available from our advisors. 
Discuss Your Claim With Our Team
The legal process for injury compensation claims could seem simpler with a legal representative. Costs associated with a traditional solicitor could be prohibitive, however. 
A No Win No Fee arrangement, such as a Conditional Fee Agreement (CFA) is one way to minimise the financial risks associated with hiring a lawyer. A No Win No Fee solicitor does not take an upfront solicitors fee. A legally capped success fee, taken from the award, applies to successful claims. 
Our advisors are standing by to start your outdoor activity centre injury compensation claims. They can provide you with an estimate of the damages you could claim. In addition, they could advise you on what evidence you could use to strengthen your claim. Eligible claims might be passed to our personal injury solicitors. 
Start your claim today:
Leisure And Public Place Accident Claims
You may find these links useful for outdoor activity centre injury compensation claims:
And more guides: