I Had A Slip and Fall at Subway, Can I Claim Compensation?
Have you suffered an injury caused by a slip and fall at Subway? Did you know what if you have slipped and fallen in a fast food restaurant, and it can be proven the restaurant was at fault, causing the accident, you should be able to claim compensation?
This short guide is intended to help people who have been injured at Subway, either as a member of the public eating in the restaurant or as a member of staff working in the restaurant. If you have had any type of accident, such as slipped in a toilet in Subway, Legal Expert can assist you in getting the compensation that is rightfully yours. Call us now on 0800 073 8804 and find out how we can help you.
Select a Section:
A Guide To Making Subway Injury Claims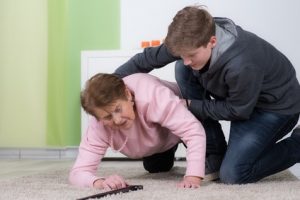 Within this guide to making Subway accident claims, we will cover the situation relating to both employees of Subway, and also consumers who become the victims of an accident such as a slip in Subway, whilst visiting the restaurant. Subway injury claims can be made for both accidents that happen inside the restaurant, and also those that occur outside, in the parking area.
This guide covers the most common ways that accidents can happen in a restaurant, and also the typical injuries these accidents case. It also covers the concept of proving liability both as a consumer and an employee. Finally, it will introduce the No Win No Fee personal injury claims service operated by Legal Expert. The simplest, most effective and risk-free way to make such a claim.

What Are The Most Common Slip, Trip Accidents In Subway?
There are many ways that a person can take a fall in Subway, which could lead to them pursuing Subway compensation. However, in reality, some causes of a slip, trip or fall form the basis of compensation claims more frequently, and these are:
Falling down steps or stairs – usually due to faulty floor coverings, faulty handrails or bad lighting.
Slipping on a wet or dirty floor – due to the waste not being cleaned up and no warning sign being
Tripping on faulty or broken walkways – such as cracked paving stones or a broken curbstone in the carpark and ripped of frayed carpets and cracked tiles inside the restaurant.
For those interested, at the link below you can find the UK Health & Safety Executive recommended checklist for making sure restaurant floors are kept safe:
What Are The Most Common Slip, Trip Injuries In The UK?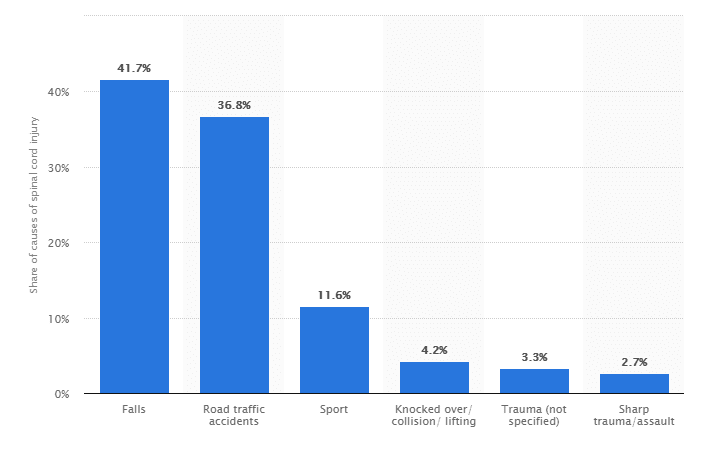 Although most injuries caused by slips, trips and falls in a restaurant are fairly minor, as we can see from the graph above, falls are the most common cause of serious injuries such as spinal damage. Serious injuries are more common in accident at work claim cases, rather than accidents involving restaurant diners. For serious injuries at work, accidents at work compensation would be quite high for making something like a back injury at work claim. However, the most common types of injuries we encounter whilst representing our clients are.
Cuts, bruises and lacerations – usually to the hand, wrist, or lower arms caused by a person trying to break their fall.
Sprains – of the wrist or ankle, caused by these important joints being forced to flex the wrong way.
Fractures – of the fingers, hand bones, foot bones, forearms and lower leg due to the force of the fall.
Concussion – due to a person hitting their head in a the
For additional information about the types of injuries people often sustain in a fall, check the NHS guide at the link below:
NHS guide to wrist and hand injuries

Establishing Liability In Subway Accident Claims
If you need to establish liability for an accident in Subway, the process of doing so differs between members of staff and restaurant diners. For members of the public who have an accident whilst shopping, a shopping slip trip fall claim will be viable if it can be proven that the restaurant has failed to meet the legal requirements of the Occupiers Liability Act with regards to ensuring safe public access to the building.
For employees of the restaurant, then as long as they have submitted a Subway incident report, by filling in the Subway accident book, the restaurant will be liable to claim compensation if it has failed in its Health & Safety compliance covering employee safety.
For extra information about required safety standards at work, read the information at the link below:
Info on maintaining a safe working environment

Subway Slip, Trip, And Fall Settlement Calculator
Below you will find a table showing typical amounts paid in slipped in Subway compensation. Please note that the amounts are the same for both members of the public making claims, and also Subway accident at work claims.
| Injury Type | Information About the Injury | How Severe is it? | Typical Compensation |
| --- | --- | --- | --- |
| Injured Hand | Starting from simple soft tissue damage all the way to long-term loss of the use of the hand. | (trivial to bad) | Up to £54,280 |
| Injured Wrist | Starting from simple soft tissue damage all the way to long-term loss of the use of the wrist. | (trivial to bad) | Up to £4,160 |
| Injured Finger | Starting from simple soft tissue damage all the way to amputation of one or more fingers. | (trivial to bad) | Up to £21,910 |
| Injured Thumb | Starting from simple soft tissue damage all the way to amputation of the thumb. | (trivial to bad) | Up to £48,080 |
| Injured Toe | Starting from simple soft tissue damage all the way to amputation of all toes. | (moderate to bad | Up to £49,180 |
| Injured Ankle | Starting from simple sprains, all the way to complete permanent loss of function of the ankle. | (trivial to bad) | Up to £61,110 |
| Injured Foot | Starting from simple soft tissue damage all the way to loss of the entire foot. | (trivial to very bad | Up to £96,150 |
For a more accurate estimate of the compensation for a specific accident, such as a person who slipped on water in Subway being injured, then please contact Legal Expert on the number at the bottom of this guide.

No Win, No Fee Slip, Trip, Fall, Injury Claims
Legal Expert offers everyone across the UK access to our core service offering, to claim No Win No Fee Subway compensation. This service provides a way for people to seek Subway slip and fall settlements in an entirely financially risk-free way.
By using our slip trip fall claims service, you pay nothing to start your claim, nothing as we pursue it, and nothing if we fail. You only pay when you win! You really have nothing at all to lose by letting us make a compensation claim for an injury sustained in an accident in Subway. Only when you receive a slip and fall payout will you need to pay us!

How To Start Your Compensation Claim
Have you sustained a personal injury due to a slip and fall at Subway? Would you like to find out if you have a valid reason to make a compensation claim? If so, contact Legal Expert on 0800 073 8804 now. We will explain how our No Win No Fee Subway claims works, and let you know if we believe we can help you make a successful claim. If you would rather we contacted you, then fill in the form on the page at the link below, and we will phone you back:
Useful Links
At the link below, you will find information on the HSE preferred protocol for maintaining a safe work environment:
HSE safe work environment protocol
At the link below, you will find information published by the NHS regarding fall-related injuries:
At the link below you will find our guide to making slip, trip and fall claims: