Nandos – Allergic Reaction After Eating At Nandos – Can I Claim Compensation? – Food Allergy What To Do & Guide?
By Daniel Archer. Last updated 10th June 2022. Welcome to our guide on the steps you can take following an allergic reaction after eating at Nando's. 
Whether you have nut allergies, dairy allergies or another type of food allergy, you would usually be advised to avoid the ingredient you're allergic to. This could make eating out somewhat challenging, but restaurants like Nando's would have a responsibility to ensure that you were informed about allergens in your food, and you could even opt to ask them to remove certain items from your meal if you were allergic to them. 
But what happens if you have after being exposed to Nando's allergens because your server ignored your request to omit something from your meal? Or you weren't given the correct information on allergens present in dishes you were ordering? Could you make a personal injury claim against Nando's due to their negligence if you had an allergic reaction to Nando's food? 
This guide answers these questions and more. In the sections below, you'll find detailed information about food allergies and how they could present, along with useful information on your rights as a Nando's customer. We also offer information about how much compensation an allergy claim against Nando's could bring you, and how you could obtain a free, no-obligation eligibility check from the team at Legal Expert. We'll also give details on how our No Win No Fee lawyers could help you claim compensation if you've been harmed by Nando's negligence.
If you'd like to get started right away or have any questions, why not call our expert team on 0800 073 8804. We'll be happy to help you.
Or you can fill out our online contact form instead and an advisor will get back to you.
Select A Section
A Guide To Claims For An Allergic Reaction After Eating At Nando's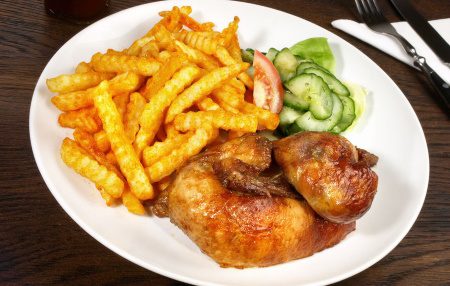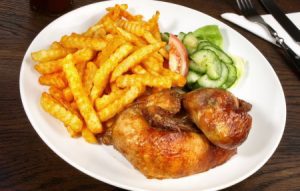 Food allergies could be something you've had to deal with all your life, or they may have developed over time. No matter what type of food allergy you have, you should be able to eat out safely and with confidence in ordering food at a restaurant, such as Nando's, that you would not have a reaction to. 
You may check Nando's allergy menu for information about allergens contained in their food, or you may ask the servers about allergens contained in the dishes on their menu. You could even request certain ingredients not to be included in your meal. If you have an allergic reaction after being exposed to Nando's allergens due to the fact that the Nando's allergy list is incomplete or inaccurate, or because a server has ignored your request to leave an ingredient out when preparing your food, you may be able to make a claim for compensation for your food allergy in Nando's UK. A personal injury solicitor could help you do so.
The sections below look at personal injury claims, including those for public liability of this type in more detail. You will find information about consumer rights, as well as detailed information on allergy symptoms, restaurants' responsibilities and how you could make a claim without needing to pay upfront for the services of a personal injury lawyer. We hope you find the information contained within this guide useful. There are also additional resource links at the end of this guide.
What Is A Nando's Food Allergic Reaction?
An allergic reaction could occur when the body mistakenly perceives something you have consumed as a threat. When the body does this, the immune system launches a response to this threat, which presents as an allergic reaction. You could be allergic to many different allergens, such as pet hair, grass pollen, or insect stings, but in this guide, we concentrate on foods that may cause an allergic reaction after eating at Nando's.
If you have any questions about restaurant accident claims after reading, please call our team.
What Are Allergies To Foods And Drinks?
According to the NHS, Symptoms of an allergic reaction can vary, and while some may be noticeable right away, others could develop over time. The main three categories of allergic reactions are:
Non-IgE – A reaction of this type may present itself sometime after consuming an allergen, perhaps hours or days. Some of the symptoms of a Non-IgE reaction could include:
Redness, dryness or cracking of the skin

Cramps

Itchy skin

Constipation

Vomiting (not with diarrhoea)
IgE – An IgE reaction could vary in severity, with symptoms that could include:
Dizziness

Faintness

Hives

Itching/tingling of the mouth

Nausea/vomiting

Swallowing difficulties

Swelling of the face, throat, body or mouth

Symptoms akin to hayfever

Wheezing
Anaphylaxis – Anaphylaxis is considered to be a very serious reaction indeed, and it could be life-threatening in some cases. Symptoms could include those similar to the IgE list above, as well as:
Chest tightness

Collapsing

Difficulty breathing

Difficulty speaking

Difficulty swallowing

Dizziness

Tongue swelling
Depending on the type of allergic reaction after eating at Nando's you've suffered, you might require medication or even hospitalisation in some cases. No matter how severe your symptoms are, if your allergic reaction is due to negligence, such as Nando's menu of allergens was incorrect, and you can prove that this was the case, you may be able to claim compensation for the suffering and pain you've experienced as a result of their negligence.
Examples Of Foods Causing An Allergic Reaction After Eating At Nando's
The common type of food allergies includes those in the list below:
Nut allergy

Gluten allergy

Egg allergy

Milk allergy

Lupin allergy

Dairy allergy

Wheat allergy

Soy allergy

Sulphur dioxide allergy

Fruit allergy

Cereal allergy

Seafood allergy

Fish allergy

Mustard allergy

Shellfish allergy

Celery allergy
If you suffer from any of these allergies, you may wish to take care when ordering food at Nando's. You can do so in a variety of different ways. You may prefer to research the Nando's allergen guide before you visit the restaurant, or you may ask your server for the most up-to-date Nando's allergy information while you are ordering your food. The staff should provide you with accurate Nando's allergen menu on request, and it should also be displayed on their menu and on their website.
Food Allergy And Intolerance Statistics
Allergy UK's Annual Review 2020/2021 provides some useful statistics about allergies in the UK:
Around 44% of the adult population have one or more allergic disorders
Around 50% of children have one or more allergic disorders
Over 200,000 people need a prescription for emergency adrenaline
Additionally, allergies, and conditions related to them, cost the NHS an estimated £1 billion a year in the UK.
I Told Staff I Had A Food Allergy Or Intolerance
When it comes to how restaurants deal with food allergies, Nando's should take care to ensure that staff members are aware of allergens present in their foods, and they should display accurate information on which dishes contain allergens on the Nando's allergy menu so that customers can opt for meals without that allergen contained within it. 
If allergy sufferers ask Nando's staff to leave out an ingredient they are allergic to from the Nando's allergen menu, then the server should either explain to the customer that they cannot leave the ingredient out or ensure that the order is prepared without that ingredient. Requests you may make for ingredients to be left out of your meal could include:
No Cheese

No Nuts

No Eggs

No Oats

No Fish

No Wheat

No Milk
The Staff Still Served Me The Food I Am Allergic To
If you suffer an allergic reaction after eating at Nando's because the serving staff served you food with the allergen you asked to be left out, you may be able to claim compensation if you can prove that the restaurant breached its duty of care in serving you food that they knew you were allergic to. This could relate to situations involving requests for:
No Cheese

No Nuts

No Eggs

No Oats

No Fish

No Wheat

No Milk
However, it could also relate to other allergens. If you're unsure as to whether Nando's have been negligent in providing your food as per your request, we could offer you a free case assessment to ascertain whether a personal injury lawyer could help you make a claim for compensation.
Who Is Liable For My Allergic Reaction After Eating At Nando's?
When making personal injury claims, it is important for claimants to be able to prove that someone owed them a duty of care and that the liable party breached the duty of care, which caused the claimant to suffer harm. Ways in which a restaurant could be considered negligent regarding a food allergy in Nando's could include:
Situations where inaccurate information on allergens was given by servers (for example if you asked for Nando's egg allergy information and were informed a dish did not contain egg, but it did, leading to an allergy at Nando's UK)

Situations where inaccurate information on the Nando's menu allergens led to your allergic reaction after eating at Nando's

Situations where you requested an allergen to be left out of your meal, and you suffered an allergic reaction due to their failure to honour your request
Consumer Rights For Restaurant Diners
As part of the Consumer Rights Act 1987, restaurant diners are protected from loss, damage or injury caused by a restaurant's negligence when it comes to serving food products that are deemed 'defective'. Defective food products could include:
Those that are made with allergens that you've requested to be left out of your food

Those that are made with allergens when the food allergy warning on the menu doesn't state their presence

Those that are sold negligently, if, for example, you've asked the serving staff whether allergens are contained within food and they have advised you incorrectly

Those that are cross-contaminated with an allergen that you have asked to be left out of your food
Restaurants Failing To Provide An Allergy Guide Or Information
If Nando's allergy menu does not provide accurate allergy information, website or via their servings staff and you suffer an allergic reaction after eating at Nando's because of this, then the restaurant could be held liable for the harm you've suffered due to their negligence.
Could I Claim If I Didn't Inform Nando's Of My Allergy?
While you might assume that not informing Nando's of the allergy from which you suffer may mean they would not be able to be held liable for an allergy claim against them, this would not necessarily be the case. Restaurants have a duty, by law, to inform you if any of the following allergens are present in their foods.
Wheat

Mustard

Lupin

Gluten

Sulphur dioxide

Soy

Fish

Eggs

Shellfish

Dairy/Milk

Cereal

Celery

Seafood

Nuts
If you receive inaccurate information on Nando's menu allergens from the company's printed materials, menus or website, or via one of their servers, and you have an allergic reaction after eating at Nando's because of this, we could help you to start a claim for compensation with the help of a Legal Expert personal injury solicitor.
Nando's Menu And Allergy Information
Below, you can see some information about Nando's menu. While the foods available at Nando's are correct at the time of writing, it may be wise to check for up-to-date information should you have allergies and wish to order food from Nando's, as some ingredients and dishes could change.
Chicken & man dishes
1/4 Chicken Breast

1/4 Chicken Leg

1/2 Chicken

Whole Chicken

3 Chicken Wings

5 Chicken Wings

10 Chicken Wings

15 Chicken Wings

4 Boneless Chicken Thighs

Chicken Butterfly
Burgers, etc
Grilled Chicken Burger

Grilled Chicken Pitta

Grilled Chicken Wrap

Double Chicken Burger

Double Chicken Pitta

Double Chicken Wrap
Sharing platters
Full Platter

Wing Platter

Boneless Platter

Family Platter
Veggie & sides
Beanie Burger

Beanie Pitta

Beanie Wrap

Peri-Salted Chips

Coleslaw

Spicy Rice

Creamy Mash

Garlic Bread

Corn on the Cob

Macho Peas

Long Stem Broccoli
Desserts
Salted Caramel Brownie

Naughty Natas

Gooey Caramel Cheesecake

Choc-A-Lot Cake

White Choc & Raspberry Cheesecake

Carrot Cake
Compensation Payouts For An Allergic Reaction Caused By Negligence
If you are dining at a restaurant such as Nandos, allergens must be clearly marked on the menu. If not, then this information should be available somewhere else. In the case that incorrect allergen information is provided, and you suffer an allergic reaction as a result of exposure to certain ingredients, then Nandos could be considered to be at fault. If you have the evidence to prove this, then you could make a claim for compensation. However, it's important to note that you'd need to have taken measures to ensure you ate a food that was safe for you because you were aware of your allergies.
The table below shows some examples of figures from the Judicial College Guidelines (JCG). The JCG, most recently updated in 2022, is just one of the helpful resources that legal professionals make use of when they are valuing a general damages payment. This is the payment that accounts for the pain and suffering you have endured due to your injuries.
You can see an example of the JCG's entries below. Please be aware that the figures stated do not necessarily reflect the amount that you will receive as a result of your claim. They are only used as guidelines by legal professionals.
| Allergic reaction | Judicial College Guidelines Bracket | Notes |
| --- | --- | --- |
| Severe allergic reaction | £38,430 to £52,500 | There could be long-term effects on claimants who suffer a severe reaction, affecting their ability to work or have a normal social life. Hospital admission might have been needed for days or weeks and severe pain, vomiting and diarrhoea might have been suffered. |
| Serious allergic reaction | £9,540 to £19,200 | Still with serious symptoms but only suffered in the short term. |
| Minor allergic reaction | £3,950 to £9,540 | A short hospital admission may have been required but the reaction wouldn't have been serious and there would have been no long-term or lasting effects. |
| Trivial allergic reaction | £910 to £3,950 | Minor reactions that resolve within a few days or weeks. |
| Mental Anguish | £4,670 | This could be appropriate if the claimants feared they were about to lose their life. |
Get in touch if you have any questions or want to get a more accurate estimate of your compensation amount.
Could You Also Make A Claim For Special Damages?
Making a personal injury claim for an allergic reaction after eating at Nando's may not just involve claiming for the pain, suffering and loss of amenity you've experienced due to the reaction you had. You could also claim for expenses that you've incurred as a direct result of your allergic reaction, including:
To include expenses within your claim, you would have to provide evidence that you'd incurred them. Retaining paperwork relating to expenses such as receipts, bills, payslips and bank statements is a wise idea so that you don't miss out on any compensation you could be eligible for.
How To Make A Claim If You Have An Allergic Reaction After Eating At Nando's
Claiming for an allergic reaction after eating at Nando's is something that you may find a little daunting, but you don't have to go it alone. Legal Expert could offer you free advice on whether you could be eligible to claim compensation and we could provide you with an expert personal injury lawyer to help you with your claim.
Not only could a personal injury lawyer from Legal Expert help make sure you are claiming within the personal injury claims time limit relevant to your claim, and gather the evidence needed for a strong case, but in many cases, they could help negotiate a settlement for you without your case having to go to court. If it does have to go to court, then one of our solicitors could support you through the process and help you fight for the compensation you deserve.
Our solicitors come highly recommended, as you can see from our reviews. We'd be delighted to offer the same great service to you. So, why not call us for more information on how to sue a restaurant for an allergy.
No Win No Fee Claims If For Suffering An Allergic Reaction After Eating At Nando's
If you'd like to claim for an allergic reaction after eating at Nando's then you may wish to consider using a No Win No Fee solicitor from our team. Claiming under these terms requires no upfront payment. In fact, you would not be expected to pay any legal fees until such time as your claim had been settled and compensation had been paid.
You would be asked to sign a Conditional Fee Agreement before the solicitor could start work on your case. This would agree to pay the solicitor a capped success fee in the event that they secured you a payout. If they were unable to get you any compensation, you would not pay the success fee and you would not have to cover the costs that were incurred by the solicitor while they were building your claim.
Here at Legal Expert, we are proud to be able to help you start a claim under these payment terms. We believe that all innocent personal injury victims should be able to make a claim regardless of their financial situation and No Win No Fee claims gives claimants this opportunity. If you'd like to talk to us in further detail about how these claims work, you can call us at any time.
Talk To A Solicitor About Legal Advice
Would you like to get started with a claim for the harm you've suffered from having an allergic reaction after eating at Nando's? If so, we could help. Whether you'd like to be provided with a solicitor right away or would like us to assess your claim for free to see if it could lead to compensation, we're happy to help. You can reach us for more information on your legal rights after suffering an allergic reaction after eating in a restaurant in any of the following ways:
Resources
Package Holiday Claims– If you've suffered a food allergy while on holiday, this guide could be useful.
Claims Against A Restaurant– Here, we explain why personal injury claims could be made against a restaurant if they have acted negligently and you have been injured or fallen ill.
Claiming For A Nut Allergy – If you're considering making a claim for a nut allergy this guide could be useful to you.
Child accident claims– Has your child suffered an allergic reaction due to someone else's negligence? If so, our guide could help.
What Allergens Should I Be Notified Of– This page sets out the responsibilities food service providers have when communicating what allergens are contained in their foods.
Food Allergy Advice – Learning to live with a food allergy? This advice from the NHS may be useful.
Getting Diagnosed – The NHS offers information on getting a food intolerance blood test and food allergen analysis.
Thank you for reading our guide on steps you can take following an allergic reaction after eating at Nando's.
Guide by Jeffries
Edited by Billing