£486,000 Compensation For Mesothelioma Claim Paid to Cancer Victim
In this case study, we take a look at an example of industrially contracted disease. Specifically, in this case, an older man of 70, who contracted mesothelioma due to being exposed to asbestos (both dust and fibres) during the many years he was employed at a shipyard. The victim retired from the shipyard at the age of 61, and then 9 years later was diagnosed with mesothelioma. He died a month after the diagnosis despite treatment being given.
The victim's dependants were awarded a total of £428,061 in mesothelioma compensation. This is the type of case that our expert team at Legal Expert deal with every day. We understand the amount of mesothelioma compensation payouts UK sufferers typically claim, and we always aim to claim an above average compensation payout for mesothelioma.
The employer admitted liability and the final amount of compensation paid covered both the disease itself, and the long-term financial effect the loss of a husband had on the wife, and also the mental anguish of losing her spouse and having nobody left to care for her and her own medical problems.
How Common Industrial Disease Claims?
UK Government statistics show that there are on average around 12,000 deaths due to some form of lung disease contracted at work. This includes all cases of people who try to claim asbestos compensation.
The graph below shows both recorded and predicted deaths due to mesothelioma which may see an employer liable to pay mesothelioma compensation after death.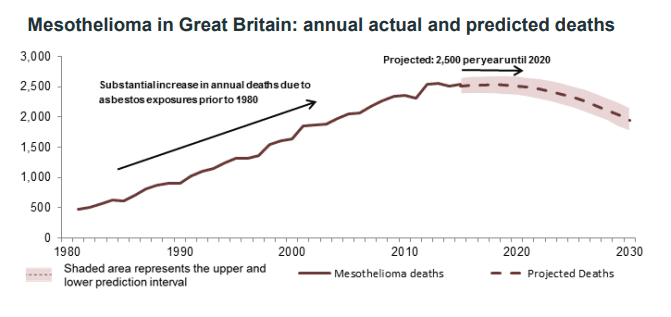 Asbestos and Mesothelioma Industrial Disease
A malignant mesothelioma is the most commonly seen type of this lung disease. The symptoms of mesothelioma include difficulty in breathing, shortness of breath, pains in the chest and a rough, almost bark-like cough. Mesothelioma is a life-threatening disease which is treated with chemotherapy, radiotherapy and in some cases surgery.
Mesothelioma has been proven to be caused by even short-term exposure to both asbestos fibres and dust when inhaled. Due to the fact that this discovery was only made several decades ago, many elderly people have worked in an asbestos heavy environment without adequate protection at some time in their lives. Mesothelioma caused by exposure to asbestos at work is one of the most common reasons industrial disease compensation claims are made.
Establishing Liability in Mesothelioma Compensation Cases
As it is possible to claim mesothelioma compensation for family members UK solicitors pursued a compensation claim on behalf of the victim.
I was alleged that the disease had been caused by unprotected exposure to asbestos at work and that the employer had not done enough to protect its employees.
It was estimated that had the victim not contracted the disease, he would have lived for approximately 10 more years. The spouse he left behind had her own medical problems, and without a husband to help her she would require approximately 40 hours of in-home care a week.
The employer did admit liability, and this meant that there was a valid route to making a compensation claim. However, the employer failed to reach an agreement and settlement out of court. The final court decision was for a compound payment of £428,061, the breakdown of which is detailed below.
Mesothelioma Compensation Amounts
A basic mesothelioma compensation calculator would fail to take into account the complex claim as detailed above. Specifically, the care costs for the surviving partner.
Based on the diffuse mesothelioma payment scheme (amendment) regulations 2015 payment was made as follows:
The victim was awarded £95,685 in industrial disease compensation for the actual suffering he was put through. The pain, mental anguish and the effect on his quality of life during the last month before he died.
The wife was awarded £332,376 to go towards the ongoing costs of her care.
This was a compound payout, as we can see, it addressed two distinct situations. Firstly, the actual disease itself and the effects it had on the victim. Secondly, the long-term effects both financially and mentally upon the wife who had lost her husband. The total amount paid to cover both aspects of the claim was £428,061.
No Win No Fee Solicitors
If you believe that you have a valid reason to make an industrial disease compensation claim, there is a way to action this without having to pay any upfront legal fees, and to cover the ongoing legal costs of the case. You can engage a legal firm under a No Win No Fee deal. This is also known as a Conditional Fee Agreement (CFA).
What this means, is that the no win no fee solicitors will take your claim on without you needing to pay anything at all. They will pursue your claim for you, and should they fail to win the case you don't have to pay them anything at all. However, if they do successfully claim compensation on your behalf they will take their fee out of the compensation amount you are awarded.
Contact Legal Expert Today
If you have contracted mesothelioma as a work-related disease, then it is very likely that your employer will be liable to pay you mesothelioma compensation. All you need to do to begin the process of making a compensation claim is to give us a call on 0800 073 8804. We will then take the details of your specific case, and let you know whether we think you have a valid reason to claim. We will then likely offer to take on your case under a Conditional Fee Agreement. You don't pay us anything at all until we win your case for you.
Useful Links
To learn more about personal injury claims, please get in touch. We've also included some useful guides below too:
Asbestos and lung cancer information
A guide to claiming compensation for work related illness