How Much Could I Claim For An Accident On A Moped?
By Lewis Cobain. Last Updated 24th July 2023. A road traffic accident can cause injuries that affect your quality of life and are difficult to recover from. If you've suffered from an accident on a moped due to an incident that you weren't liable for, you may be able to receive compensation. You can do this by making a personal injury claim.
This guide will provide insight regarding this, as well as answer important questions, such as:
What is a moped accident?
What happens if you crash a scooter?
In what way can a No Win No Fee personal injury solicitor from your panel help me?
In what instances would I be able to claim for a moped crash?
What is the personal injury claims time limit?
What Are Claims For An Accident On A Moped Worth?
Our advisors offer free legal advice 24/7, so if you have any queries, like wanting to know your eligibility to make a claim, please get in touch. You can contact us using the below details.
Please read on to learn more about claiming for a moped accident.
Select A Section
A Guide To Claiming For An Accident On A Moped 
Making a successful personal injury claim revolve around proving that someone else's negligence caused your injury. For them to be negligent, you need to show that these three conditions are met:
The third party had a duty of care towards you.
Their actions breached this duty of care.
This breach led to your injury.
This guide will provide scenarios that highlight third party negligence so you have a greater understanding of what could justify you to make a claim. It will also highlight the different heads of claim that could be awarded to you if you've been injured in a moped accident.
To learn more about claiming for an accident on a moped, please contact our advisors for free legal advice. They are available 24/7 and can provide you with a reliable compensation estimate over the phone in just a few minutes.
What Is An Accident On A Moped?
Millions of people use the roads in the UK every year. All road users are expected to adhere to the standard of skill and care of the average motorist. However, sometimes this doesn't happen, and an accident could occur as a result.
Different types of road traffic accidents that could occur might include:
Rear-end collisions- This is where one vehicle hits the back of the vehicle in front.
Side-impact collisions- Where the side of the vehicle is hit. This could be a result of changing lanes at an inappropriate time.
Head-on collisions- Where the vehicles involved in the crash collide with each other head-on.
T-bone collisions- Where the cars involved in the collision form a "T" shape. This could happen if one vehicle pulls out of a side road at the wrong time and hits another passing vehicle.
You could suffer various injuries from these incidents, such as a fracture, a head injury or a severe knee injury. If a third party was at fault for the accident, you might be able to claim compensation for the injury you sustained.
Why Do Moped Accidents Happen? 
Motorcycle or moped accidents can happen for many reasons. The Royal Society for the Prevention of Accidents (RoSPA) states that some of the primary reasons for a moped crash include:
Failing to negotiate bends
Collisions at junctions
Collisions while overtaking other vehicles
Losing control of the vehicle
Excessive speed
Driving while under the influence of alcohol
Some of these incidents would not be able to be claimed for, as someone else's negligence would need to have caused the accident in order for you to claim compensation. For example, if you've injured yourself from a motorbike crash caused by you excessively speeding, you wouldn't be able to claim as you would be deemed liable. However, if you were hit by another moped driver who was exceeding the speed limit, you may still be able to claim.
To know more about claiming for injuries like a broken tibia or a fractured humerus as the result of a moped accident, please call us using the phone number above. We are available 24/7, offer free legal advice and can tell you if you're able to claim in just a few minutes.
How Often Do Accidents On A Moped Happen?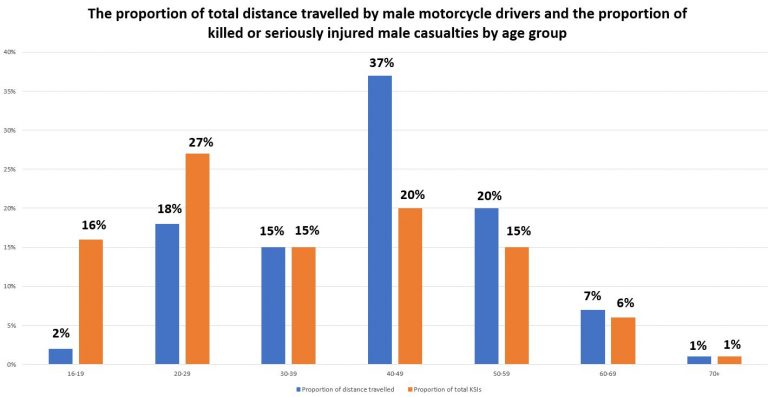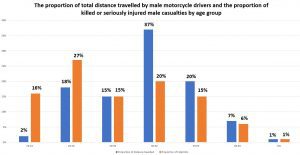 You may be wondering, "how common are scooter accidents?" The latest statistics about motorcyclist casualties in Great Britain were published by the Department for Transport in June 2015. They analyse many different factors of road conduct to provide insight into how an accident on a moped could occur.
The above graph shows the proportions of the total distance travelled by male motorcycle drivers and compares it to the proportion of them killed or seriously injured while using the road. It indicates which male age groups that are more likely to be seriously injured while driving a motorcycle.
For example, 40 to 49 year-olds make up 37% of the total amount of distance travelled but only accommodate for 20% of the total amount of people killed or injured from these types of incidents. In contrast, 16 to 19 year-olds only cover 2% of the total distance across all male age groups but make up 16% of the total motorcycle casualties in which someone is seriously injured or killed.
If you've suffered a break or a fracture, you can use our website to learn more about being able to claim compensation. If you've suffered an injury caused by a road traffic accident, you can read our claims guide and learn more about the different types of accidents you could suffer while on the road.
What Is Dooring?
Dooring is when a car driver or passenger opens a car door into the path of another road user. This could result in different types of injuries based on the other type of vehicle involved. For instance, if you're on a scooter or bicycle, you're more likely to get seriously injured by this than if you were in a car. This is because a car offers more protection than a bicycle or moped.
An accident on a moped caused by someone opening a car door on you could cause an arm break or a broken leg, as you could potentially slam into the car door at high speed. This type of injury could be avoided by car occupants applying the Dutch Reach when opening car doors. RoSPA explains this technique.
When someone in a car uses the hand that is furthest away from the car door to open it, it means they are forced to twist their body as they do so, giving them a clearer view of the road. This makes them more aware of when it's safe to open the car door, which could prevent accidents like this from happening.
Moped Accidents On Bends
The next few sections will explain in more detail the types of incidents you may be able to claim for. If you don't see your accident circumstances listed below, don't worry; this list isn't exhaustive, and you may still be owed compensation for your accident.
RoSPA states that motorcyclist crashes on bends can, broadly speaking, be placed into one of three categories:
The motorcyclist is driving too wide on a left-hand bend, and, as such, they hit an oncoming vehicle.
The motorcyclist loses control while on a right-hand bend, causing them to collide with a tree or hedge on the other side of the road.
Another vehicle cuts the bend, resulting in them colliding with the vehicle, causing a moped accident.
Of these three scenarios, there is usually only one you could claim compensation for, as you can only potentially receive compensation due to someone else's negligence. In most circumstances, you would be deemed liable for the first two scenarios due to an error in judgement when driving.
Moped Accidents When Merging With Traffic Or Overtaking
You could also suffer an accident on a moped while overtaking traffic that is slow-moving or completely stationary. This is known as filtering. Drivers of other vehicles can sometimes fail to realise that a smaller vehicle, such as a scooter or a motorbike, can overtake in this instance when lorries or cars cannot. Therefore, the other road user may fail to account for the approaching motorbike.
This can be an issue, as some car users may fail to take into account motorcyclists when overtaking vehicles. Other examples of incidents where you may be able to make a personal injury claim due to an accident on a moped include:
An accident occurring due to a car driver failing to check their blind spot as they pull out of their lane to overtake another car. They could slam into the motorcycle because they couldn't see it in their mirrors.
An injury could also occur because a car driver could fail to recognise that a moped is overtaking their vehicle. This could cause them to attempt to change lanes, resulting in a collision. This could lead to you wanting to use a personal injury claims calculator.
Accidents At Junctions And Crossroads
An accident on a moped could also happen at a junction or crossroads. This can be caused by another road user pulling out from the junction and colliding with the motorcycle while it's travelling down the main road. As the motorcyclist would have the right of way, the other road user is usually liable for the accident. According to RoSPA, reasons for this occurring include:
The driver not looking as they're pulling out of the junction.
The driver only briefly looks, so they're unable to process that the moped is approaching.
They may also not look at the correct places on the road.
Finally, they may detect the vehicle but not correctly judge how fast it's going or how far away it is. If this is misjudged, it could easily lead to a road traffic accident.
Highway Code For Mopeds
Every road user in Great Britain has a duty of care to one another, which is outlined in the Highway Code. These rules are guidelines for how every road user needs to conduct themselves on the road.
Rules from the Highway Code that specifically relate to vehicles like scooters or motorcycles establish that:
You must only carry one pillion passenger who must sit astride the vehicle while using an appropriate seat. You cannot carry a passenger if you only hold a provisional license.
A protective helmet must be worn, fastened securely and adhere to the required regulations.
It may be beneficial to wear eye protectors and, if you do wear them, they must follow the established guidelines.
During daylight riding, you should make yourself as visible as possible.
While riding in the dark, wear reflective clothing to improve your visibility.
While manoeuvring, you need to be aware of what is behind and to the sides of you. You can use mirrors to help with this.
If you've adhered to the rules set out in the Highway Code for someone driving a motorcycle, but an accident has happened anyway because of another road user's negligence, then you may be able to claim. Speak to a member of our team today for more information.
Calculating Compensation For An Accident On A Moped
There are two potential heads of claim for personal injury claims:
General damages relate to the physical and psychological trauma caused by the injury, as well as the general decline in your quality of life.
Special damages relate to the financial losses suffered as a direct result of the injury.
General damages
During the claims process, an independent medical assessment will be performed to clarify the full extent of the injury. Please remember that if you receive compensation for general damages, it doesn't necessarily mean you'll receive compensation for special damages. This is because both are calculated based on the evidence provided. However, you will not be awarded special damages without also having been awarded general damages.
Concerning general damages payouts, the Judicial College has looked at previous payouts based on the severity of the injury to create reliable compensation brackets. We use this information to provide you with as reliable an estimate as possible. This information has also been used to create our compensation calculator, which you can use to value your claim.
Below is a list of injuries and their respective compensation brackets. The Judicial College provided these figures.
| Area of Injury | Amount of Compensation | Description |
| --- | --- | --- |
| Brain | £40,410 to £85,150 | Cases in this bracket mean that the injury has affected memory and concentration, and negatively affected their ability to work. There could also be a small risk of epilepsy. |
| Post-Traumatic Stress Disorder | £7,680 to £21,730 | Injuries in this bracket means that the injured person has largely recovered and any symptoms still experienced will not be of the grossly disabling variety. |
| Chest | £11,820 to £16,860 | An injury in this bracket is a relatively simple one (such as a single, penetrating wound) leading to some permanent damage to tissue but no prolonged effect to lung function. |
| Bladder | £21,970 to £29,380 | The injury has caused fairly long-term interference to natural function but an almost complete recovery is made. |
| Neck | £12,900 to £23,460 | Injuries in this bracket include soft tissue injuries and severe types of disc lesions causing serious movement limitation, recurring or permanent pain and the potential need for further surgery. |
| Neck | £7,410 to £12,900 | Injuries in this bracket are ones that have been accelerated and/or exacerbated a pre-existing condition, usually over less than five years. This tends to apply to soft tissue injuries with a protracted recovery time. |
| Back | £11,730 to £26,050 | This bracket includes many kinds of back injury, such as ligament and muscle disturbances leading to backache or prolapsed discs. |
| Shoulder | £11,980 to £18,020 | Injuries in this bracket include shoulder dislocation and lower brachial plexus damage leading to shoulder and neck pain. |
| Injuries to the Pelvis and Hip | £24,950 to £36,770 | This bracket includes a significant injury to the pelvis or hip where no major permanent disability has been caused. |
| Wrist | £22,990 to £36,770 | The injury results in significant permanent disability in which some movement in wrist still remains. |
Special damages
Special damages, on the other hand, will cover things like loss of earnings, the cost of medical care and travel costs to and from medical appointments. You will need to provide evidence of any financial losses you have experienced, or you will find it very difficult to claim these back.
To see if you can claim or get an estimate for what you could receive, please contact our advisors for free legal advice. They can answer any queries about the claims process. Just contact us using the phone number at the top of this screen.
No Win No Fee Claims For An Accident On A Moped
If you have been involved in a moped crash and are eligible to make a road traffic accident compensation claim, one of our solicitors may be able to help you. Additionally, they may offer you a Conditional Fee Agreement (CFA). This is a type of No Win No Fee arrangement, and some of the benefits of making a claim with a solicitor under one include:
Not having to pay your solicitor any upfront service fees.
No ongoing service to pay during the process of your claim.
If your claim fails, not having to pay your solicitor for the work they have provided.
Should your claim be successful, your solicitor will take a success fee from you. This fee is deducted directly from your compensation award, and there is a legal cap in place for the percentage that this fee can be.
To see if you could work with one of our solicitors if you have been injured in a moped accident, you can contact our friendly team of advisors.
Start Your Moped Accident Claim 
If you have any questions or queries about claiming for an accident on a moped, our advisors are available 24/7 and offer free legal advice so they can help you at a time that suits you. If you choose to use a personal injury lawyer from our panel, they could provide their services on a No Win No Fee basis. Call us today to see if you could be eligible to claim.
You can:
Learn More 
For more useful information, please see below.
To see more road accident and safety statistics, visit The Department for Transport website.
To read more about motorcycle license requirements, visit this webpage.
You can also learn more about motorcycle accident claims below:
Accident On A Moped FAQs
For answers to frequently asked questions about suffering from an accident on a moped, please see below.
What happens if you crash a moped, scooter or motorbike?
If you're in an accident that causes injury or damage to property, you're legally obliged to stop your vehicle. You should swap details with the other person involved in the accident and inform your insurance company.
What should I do after being injured in a moped crash?
You should seek medical attention if you have been injured in a motorcycle accident, even if you don't think it is serious. You could be more badly injured than you initially assumed.
Could I claim on behalf of a loved one?
You can claim on behalf of someone who cannot claim themselves. This could include someone under the age of 18 or someone who lacks the mental capacity to claim. You would need to be appointed their litigation friend.
Do road traffic accident claims go to court?
A road traffic accident can sometimes go to court. This is usually the case if there is a dispute over liability.
Written by Durdy
Edited by Stocks