Aviva Premier Bike Motorbike Insurance Claims Guide
This guide is focused on Aviva Premier bike insurance claims, the kinds of incidents that could lead to them, why a person might be eligible to claim, and how a solicitor can assist you to get the compensation you are entitled to. We will cover both sides of the claims process—as a person insured by Aviva and as a negligent third party who is insured by Aviva.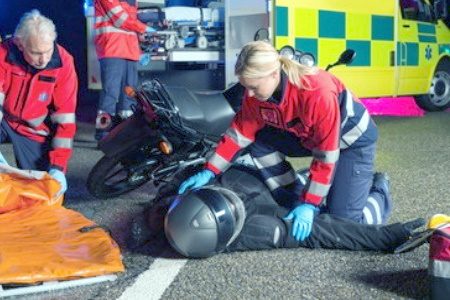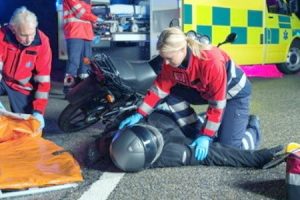 Due to the fact that every claim is somewhat unique in nature, there will likely be questions about your claim that this guide doesn't answer, even though we have tried to be as comprehensive as possible. Don't worry if this is the case, we should still be able to help you. Call our claims team on 0800 073 8804 and speak to an advisor, who will answer your questions and explain how we can provide you with a personal injury lawyer to process a motorbike accident claim for you.
Select A Section:
A Guide To Aviva Premier Bike Insurance Claims
This online guide relates to claims against Aviva Premier bike insurance policies. A claim could be made not just for a motorbike injury, but for other reasons too, many of which we will cover later in this guide. This guide will be of use to riders who use Aviva for their bike insurance, and also other road users that have been involved in a road traffic accident with a person insured by Aviva.
To start this guide off, we begin with a general introduction to what these types of claims are, and some basic information about Aviva as an insurer. This is followed by a discussion of some of the circumstances that could lead to a person needing to make a compensation claim against the firm. We take a look at whether Aviva uses a third-party underwriter, and how an underwriter can influence the outcome of a claim. The last section in this part of the guide goes into some detail about how a claim is evaluated and why it might be refuted.
The next part of the guide covers some specific information related to the process of making a claim, from being offered a pre-medical settlement out of court, to preparing evidence to provide your solicitor in support of your claim. We will try to show how using a solicitor could net you a higher compensation payment, and why accepting an early settlement offer could see you leaving money on the table.
The last few sections of the guide are given over to financial considerations when making a claim. We have added a table that gives examples of different types of injuries and shows the range of compensation they might be awarded. You will also find a list of the more common types of damages your settlement might be made up of if your claim is a success. Finally, you will find an overview of the way a No Win No Fee claim works, and why this kind of contract between a claimant and a solicitor can help to minimise the risk of financial loss at the same time as securing the claimant the legal expertise they need to make a claim.
If you find that you need additional information not included in this guide, or require further clarification about something that is included, please call our claims team. A claim advisor will provide you with the information you need, and also explain how we can help to get your claim underway as quickly as possible. You can contact us on the number at the end of this page.
What Is A Claim Against Aviva Premier Bike Insurance?
Aviva Premier specialises in motorcycle insurance policies, including niche products such as classic bike cover, low-mileage or short-term cover, moped or scooter insurance and multi-bike insurance. Motorcyclists use an insurer such as Aviva over a traditional motor insurance firm so that they are covered by a company that understands the kinds of insurance products that motorcyclists need. Put simply, dealing with a firm that specialises in motorbike insurance gives a rider a sense of security. They know that their insurer is a specialist, rather than a general insurance firm.
The majority of motorcycle-related claims that Aviva will deal with come from other road users who have been injured in a road traffic accident caused by a biker who is insured by their company. There are only a few reasons why a rider might claim against their own insurance, which we will cover in the section below.
This guide covers both kinds of claims, and we can help either a motorcyclist or any other road user to make a compensation claim involving Aviva. Speak to a member of our claims team to learn how.
What Circumstances Are Covered By Motorbike Insurance Policies?
Depending on the terms of the Aviva Premier bike policy held by a motorcyclist, there are only a handful of reasons why they might make a claim against their own insurance, and these could include:
In a split liability claim, where blame cannot be attributed to any single party involved in the accident.

To claim for the theft of the bike covered by the policy.

To claim for damage caused to a bike in cases where no blame can be apportioned. For example, finding the bike damaged after being left parked on the road overnight.
Other road users who are involved in an incident with a biker insured by Aviva have several reasons they might need to make a claim, such as:
Damage to a vehicle or other private property caused by an Aviva policyholder.

Physical or psychological injuries sustained in an accident caused by an Aviva policyholder.
If you are either a biker needing to claim against your own insurance, or a third-party road user needing to claim against Aviva, then we can help you. Please call our claims team and explain your situation. An advisor will then evaluate your claim and tell you how best to proceed with it.
Does Aviva Premier Bike Insurance Provide Policies Directly?
According to the Motor Insurers Bureau (MIB), Aviva Insurance Limited is a UK registered vendor of motorbike accident insurance products and that it underwrites its own policies. This means that no third-party underwriter can confuse the claims process, and the route to claiming compensation is a little more straightforward.
It is the role of the underwriter to maintain a monetary fund that is used to pay out on insurance claims. It is in the best interests of the underwriter to ensure that they pay out as infrequently as possible, and as little as possible when they do. We can provide you with more information about the role of an underwriter and how they can influence a claim if you give our claims team a call.
Considerations Made By Motorbike Insurance Providers
When you make a claim against Aviva Premier Bike for a motorcycle accident or as another road user injured by an Aviva policyholder, your claim will be evaluated by the company to check its validity.
The claim will need to comply with the policy wording and the terms and conditions, otherwise the insurer may reject it out of hand. It is also possible that the insurer will reject the claim on other grounds, such as insufficient evidence to prove liability. In this case, you will need the services of a solicitor to build a proper case and pursue your claim further. This is something that we can assist you with. If you would like to learn more about the service we offer, call our claims team today.
Successfully Dealing With Your Insurance Provider
It is becoming increasingly more common for an insurance company to offer an early settlement, out of court, in the form of a pre-medical settlement. This is done to dissuade claimants from making a personal injury claim, and potentially winning a higher level of compensation. The offer is made in the hope that the claimant will think that accepting the money is a good idea, as they will not need to go through the whole claims process.
Accepting a pre-medical settlement is generally not a good idea unless you have suffered only minor injuries. It is possible, even likely, that a solicitor could win you a higher amount of compensation by processing a claim on your behalf. If you want some advice about accepting a pre-medical or early settlement offer, please talk your claim over with one of our advisors.
Could A Solicitor Help Me Claim For My Injuries?
We have explained previously why it is in the best interests of an insurance firm to pay out as little as possible and as infrequently as possible. Therefore, you may like to consider using a personal injury solicitor to help you make your claim for a motorcycle injury. This would mean you have legal expertise on your side. Your solicitor can present your claim in a way that the insurer cannot refute. You solicitor can help you by:
Correlating the evidence you have provided to support your claim.

Advise you on other steps you should take, such as getting an impartial medical examination.

Value your claim for you and let you know what a suitable level of compensation would be acceptable.

Contacting witnesses and arranging for them to submit testimony.

Representing you if your claim goes to court.
These are the types of things that one of our accident and injury solicitors could do for you. If you would like to find out more about how they might be able to help you, call our claims team for more information.
Evidence Relevant To Your Bike Accident Claim
Something that can be done to improve the chances of personal injury claims being successful is submitting evidence to prove the validity of the claim and the extent of the effect the accident and injuries have had on the life of the claimant. Towards this goal, you could provide your solicitor with information such as:
Photographic or video evidence of the scene of the accident and anything else relevant.

Names and contact details for any witnesses that may need to be approached to provide testimony.

Full details of all parties involved in the incident, along with details of their insurers.

Any medical evidence you have.

All bills, receipts and invoices related to costs incurred.

The police accident report number if you have it.
You might have questions about what could be valid evidence, and our claims team can answer these for you if you give them a call.
Claiming Compensation For Motorbike Accident Injuries
Finally, in this part of the guide, we need to cover the question of eligibility to claim. The precursors to being able to process a claim. These can include:
You will need to be at least 18 years old to make a claim. If you are not, then a litigation friend can make the claim on your behalf.

A personal injury claims time limit will apply, and you will need to begin your claim within this time limit. This is usually 3 years from the accident date.

You must have suffered some form of loss or harm that is attributable to the accident.

You will need to prove that a third party was to blame unless you are making a split liability claim against your own insurance.
We can help you fulfil these kinds of criteria by assisting you to bring your claim. If you call our claims team they will explain how.
Motorbike Injury And Accident Compensation Calculator
You might be able to find some kind of personal injury claims calculator that can give you an indication of the level of damages you might receive if you win your claim. The table below could also give you a rough valuation of your claim. The figures are based on guidelines published by a legal body known as the Judicial College, which reviews compensation awards made by the courts.
| Type of Injury? | How Severe? | Compensation |
| --- | --- | --- |
| Injured hand | Moderate to serious | Up to £58,100 |
| Injured arm | Simple fractures to severe | Up to £122,860 |
| Injured back | Minor | Up to £2,300 |
| Injured foot | Modest to very severe | Up to £102,890 |
| Injured leg | Less serious to very serious | Up to £85,600 |
| Injured head/brain | Minor | Up to £11,980 |
A solicitor will need to value your claim for you if you want a more accurate estimate of how much compensation you might receive based on your own situation. Once again, our claims team will be able to arrange this for you if you call them. They will also provide you with any other information you need at this time.
What Special Damages Could I Claim?
When a claimant receives a settlement, and this can be an out of court settlement or one awarded by the court, it may take into consideration a number of different kinds of damages. Each type of damages will be paid to compensate you for a specific hardship.
General damages will make up part of the settlement. These all correspond with physical and psychological harm. The level of suffering the claimant has been through, the length of time it took to recover, any permanent symptoms and other considerations will drive the value of general damages won. For example:
Permanent disabilities or long-term impairment.

A lessening of the claimant's quality of life.

The onset of depression, anxiety, or other psychological problems.

The pain and trauma caused by invasive therapy or surgery.

General pain, suffering and mental trauma.
Special damages may also make up part of the settlement. These all correspond to financial or other types of non-physical loss. Any claimant wishing to recover costs already incurred will need to provide proof to support their claim, such as in the form of receipts and bills. Special damages might include:
Reduced income potential in the future, possibly for the remainder of the claimant's life.

Lost income from a current job, due to taking time off.

The cost of hiring a nurse to provide private care.

The cost of any private medical treatment.

Any expenses incurred in dealing with the claim or the injuries themselves. Such as travel to or from the hospital or to visit your solicitor.
One of our claim advisors can give you a rough indication of the kinds of damages you might be able to recover based on your own claim; just give them a call.
No Win No Fee Claims For Motorbike Injuries
One way to secure the legal help you need, and also minimise the risk of financial loss when making a claim, is to engage a solicitor under a No Win No Fee agreement. Under this deal, if the solicitor fails to win your claim, they won't ask you to pay their fees.
You also don't pay at the time you start your claim, or while it is being processed. You might be asked to pay a modest success fee if the claim is a success. This success fee is legally capped, and your solicitor can collect it out of any compensation payment they receive for you.
Begin Your Claim Today
Do you believe that you have a valid personal injury claim against Aviva? Or perhaps you just need some help and advice about making a claim? All you need to do to get the help you need is to speak to our claims team on 0800 073 8804. They are available 24 hours a day, 365 days a year to assist you. One of our advisors can talk you through our claims process, evaluate your claim, and then provide you with some free legal advice on how to best proceed with making a claim. One of our expert accident and injury solicitors will then process your claim for you.

Helpful Resources
You can also learn more about motorcycle accident claims below:
These external links have additional information that could be useful:
Facts About Motorcycle Casualties
British Motorcycle Foundation Information About Safety
Guide by Wheeler
Edited by Billing