Stagecoach Bus Accident Claims Guide – How To Claim Compensation Against Stagecoach For Personal Injury?
By Max Mitrovic. Last Updated 10th June 2022. How do I claim compensation after a bus accident? Are you looking for information on how to make a Stagecoach Group bus accident claim in order to get the compensation which you could be entitled to? If so, you can find out information on bus accident claims in this article.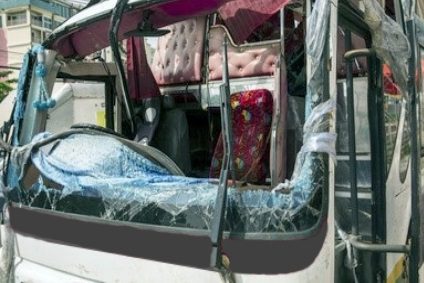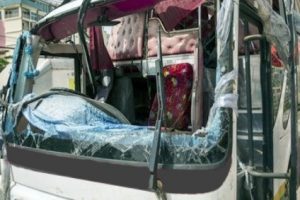 In the UK, bus drivers and operating companies (such as the Stagecoach Group) operate to very stringent health and safety standards as well as high standards of driver training and ability. This has helped to make travelling by bus one of the safest forms of transport. The rates of bus accidents and passenger injuries in the UK is relatively low when compared to other forms of road transport, such as cars or motorcycle.
However, circumstances such as bad weather, poor road conditions and negligence on the part of other drivers could all contribute to accidents happening. At times, buses could also be quite crowded, especially in city centres, and passengers may have to stand up which could be a contributing factor for passenger injuries. Additionally, most buses are not equipped with passenger seatbelts. Such factors could all contribute towards passengers being injured if an accident does happen.
Despite the efforts of bus operators, transport companies and drivers, the risk of having an accident can never be completely eliminated. In some cases, accidents could be caused by circumstances beyond the drivers (or bus companies) ability to control. If you have sustained bus accident injuries and wish to make a bus accident injury claim, it could be complex to address who was responsible for the accident. A personal injury solicitor could help you find out who the liable party is and to make a successful compensation claim against them.
Select A Section
A Guide To Passenger Accident Claims On A Stagecoach Group Bus
In this guide we are looking at ways in which people could be able to make a bus accident compensation claims, examples of ways and which you could be potentially injured whilst travelling on a bus operated by Stagecoach Group, how much compensation you could be entitled to claim and how a personal injury solicitor could help you.
What Is A Stagecoach Bus Passenger Accident?
In the context of this guide on making Stagecoach Group bus accident claims, we will be looking at examples of bus accidents that could possibly occur and how some of these may lead to compensation claims. A bus accident is an unexpected incident that happens while on a bus which may cause injury or damage. Not all bus accidents leading to injury will require damages in terms of compensation only those that are proven to have been cause by a third party that owes a duty of care.
At busy times or in city centre locations, buses can carry large numbers of people. Most buses will have space to carry seated and standing passengers. As people are either standing up or seated, but not wearing a seatbelt, there is the potential for numerous different types of injury to happen in circumstances such as an emergency stop or due to an accident such as a vehicle collision. Bus accident injuries could happen as passengers are not properly restrained and can be thrown about. Examples of injuries which could happen include minor injuries such as bruising and cuts through to whiplash and up to head injuries or fractures.
If you were injured as a passenger on a bus operated by Stagecoach, you could be eligible to make a personal injury claim if the injury was the result of a breach in the duty of care that is owed to you.
Who Could I Make A Bus Passenger Accident Claim Against?
Bus accidents could be caused in a variety of different circumstances, each of these could have a different party who is liable for the accident and thus a different person whom you will make a claim against. In general, the party whom you bring a bus accident compensation claim against will be a negligent party.
When you contact a personal injury solicitor they will look at your accident and establish who was liable for its cause and for your resulting injuries. If you are unsure who is at fault in your bus accident call Legal Expert and they will be able to tell you straight away who is liable for your injuries if anyone at all.
Bus Driver Negligence
If the bus driver was at fault in some way and was responsible for your accident which lead to an injury due to dangerous driving or carelessness, you may be able to make a personal injury claim against Stagecoach for your injuries. The operating company could also be liable if you were injured whilst boarding or disembarking the bus, or if you were still walking to your seat as long as it can be proven that they acted in a negligent way which resulted in you injuring yourself.
Situations, where the driver may not be responsible for your injuries, could include;
Where damage to the road caused the bus to have an accident or to brake sharply.
Where other road users or pedestrians acted in a negligent way and caused an accident.
There could also be instances where you as a passenger were injured on a bus but not be able to make a claim as the bus company had fulfilled their duty of care and taken all reasonable steps.
Bus Accidents Caused By Another Driver
Road traffic accidents could be caused by other road users, such as drivers of cars, lorries, cyclists or even pedestrians crossing the road. Such road users owe the bus driver, and you as a passenger, a duty of care. If you are on a Stagecoach bus that has been in an accident caused by another road user and as a direct consequence you are injured then you may have grounds to start a personal injury claim. Call Legal Expert today.
Accidents On A Bus Caused By A Damaged Road
If the accident in which you were injured was caused by poor road conditions or a lack of maintenance, then the local authority responsible for maintaining the road on which the accident happened may be liable for the accident. As such, you would make your personal injury claim against this authority if you claim was valid. Under the 1980 Highways Act, local authorities have to make a reasonable effort to maintain roads. They must keep it in a good state of repair, clear any obstructions and treat the main roads for ice or snow.
To make a personal injury claim against a local authority, your solicitor or personal injury lawyer may need to show that the road was in some way damaged, that the council may have been  aware of the damage and that there had been sufficient time for them to repair the damage. Your solicitor may need to request information from the council to see how often the road has been inspected. The majority of buses are equipped with CCTV, which can help to show the damage to the road and the accident taking place.
Can I Sue For An Emergency Stop Accident?
There are a variety of circumstances in which a bus may need to make an emergency stop. Typically these situations happen very abruptly, so a bus driver has little or no time to make a decision as to what action to take. An emergency stop could be quite dangerous for standing passengers and they could suffer more serious injuries. Because bus passengers will either be seated without restraints or will be standing, drivers should only use an emergency braking manoeuvre if there are no other options.
If you are injured due to your driver performing an emergency stop but are unsure whether it was to do with negligence please call Legal Expert and they will be able to shed some light on your case.
If it was necessary for the driver to make an emergency, such as due to circumstances which were beyond the drivers' control, you may be able to make a claim against the other (third party) driver.
I Slipped While On A Bus Can I Claim?
Slips and falls could happen when stepping on to the bus, getting off the bus, or whilst moving about inside the bus. They could be caused by spillages or by rubbish which has been left on the floor. Damage to the floor of the bus or to the entrance way could also cause you to trip over and be injured.
If you were injured because the bus was not correctly maintained, damaged and not repaired and you fell over, you may be able to make a Stagecoach accident claim. To find out what to do if you are in a bus accident, contact us today.
Bus Passenger Whiplash Injury
One of the most common types of injury in a road traffic accident is whiplash. This could affect passengers who are seated or who are standing on the bus. Whiplash is a term which is used to refer to different neck injuries which are caused by the head and neck being violently thrown, either hyperflexing or hyperextending the neck.
You could make a whiplash bus accident claim if you have suffered a neck injury which was caused due to a negligent bus accident or collision. You can find out more about how whiplash injuries can be caused as well as treatment options in this guide from the NHS.
What Duty Of Care Does Stagecoach Owe Passengers?
In order to make a successful Stagecoach Group bus accident claim, you will need to show that the company did owe you a duty of care. Your solicitor will show that you had cause to place trust in the company and that this duty of care was not fulfilled. This breach of duty of care and trust could be due to negligence or carelessness. After this, it needs to be shown that the breach in their duty of care to you led to your injury.
Companies operating bus services have to hold a Public Service Vehicle Operators licence. To obtain the licence, the operator has to show that it meets standards and rules set out in the Public Passenger Vehicles Act, 1981, the 1995 Public Service Vehicles Regulations as well as the 2011 Road Transport Operators Regulations.
Criteria which the bus company needs to meet include the following;
Checking that drivers are fully licenced and are adequately trained to operate the bus.
Working hours and rotas must be monitored.
Records of MOT dates for all vehicles must be kept.
Keeping a record of (and ensuring all vehicles are adequately covered by) insurance.
Ensuring that the vehicle meets criteria associated with the Disability Discrimination Act.
If the bus operator has failed to meet these (or other required criteria) and you are injured then you (as a passenger) could have cause to make a Stagecoach accident claim.
Your Rights When Travelling By Bus Or Coach
When you are using public transport, such as a bus service, you have certain bus and coach passenger rights. Under EU legislation which is also part of UK law, you have bus passenger rights which allow you to claim compensation if you are injured in a bus accident whilst on a journey of over 250 km (though if your journey was shorter than this, call us to see if you could claim). In cases of a fatal passenger accident,if a third party is to blame your spouse or dependant could also be able to claim compensation.
In addition to being able to claim compensation for injuries sustained in an accident, you could also be able to claim compensation for loss of or damage to your belongings. To find out more about your bus passenger rights and what to do if you are in a bus accident, talk to a solicitor today.
Compensation Calculator for Bus Accident Claims
If you're claiming for a Stagecoach accident, you would need to prove that your injuries were caused by negligence to receive compensation. There are two potential heads of claim in any personal injury claim. They are:
General damages – This is regarding the suffering and pain caused by the injury itself and the negative impact of it. The amount you could receive from this is dependent on factors including the severity of the injury and whether any permanent injuries were caused.
Special damages – This is regarding the financial losses caused by the injury. For example, you could claim for loss of earnings if you're unable to work due to the injury. Other potential losses include travel expenses, home adjustments and care costs. You would need evidence such as invoices, bank statements and receipts to receive compensation.
Regarding general damages, the Judicial College Guidelines can provide you with a clearer idea of what you could receive. The figures shown below have been taken from the latest guidelines, which were published in 2022. Please remember that these figures are not guarantees of compensation amounts. This is because every claim is unique and there are many factors that can determine your level of compensation should your claim be successful.
If you have evidence of a valid claim after a Stagecoach bus crash, why not get in touch?
| Type Of Injury | Amounts | Information |
| --- | --- | --- |
| Serious Leg Injuries | £39,200 to £54,830 | Serious fractures or serious injuries to joints and ligaments causing instability. |
| Moderate Back Injuries | £12,510 to £38,780 | Starting with ligament damage, soft tissue injuries which could cause exacerbation of a pre-existing back condition to a compression or crush injury fracture of the lumbar vertebrae causing constant pain and discomfort. |
| Moderate Neck Injuries | £7,890 to £38,490 | Brackets begin at moderate soft tissue injury, recurring stiffness discomfort and possibly several attempts at surgery to fractures and dislocations and vulnerability for further trauma. |
| Moderate Ankle Injury | £13,740 to £26,590 | Fractures, ligamentous tears and the like which give rise to less serious disabilities. |
| Moderate or minor Injuries to the Elbow | Up to £12,590 | A comprise of simple fractures, tennis elbow syndrome and lacerations. The figure is time sensitive so the length of injury will have a bearing on the amount awarded. |
| Less Severe Psychiatric Injury | £1,540 to £5,860 | Depending of length of disability and affect on daily activities and sleep. |
| Very Minor Wrist Injury | £3,530 to £4,740 | Recovery within 12 months, undisplaced or minimally displaced fractures and soft tissue injuries. |
| Mental Anguish | £4,670 | Fear of impending death. |
| Pelvis/Hip Lesser Injuries | Up to £3,950 | Minor soft tissue injuries with full recovery expected. |
Additional Compensation You Could Be Able To Claim
In the table above we have looked at what you could be able to claim in compensation for some specific injuries. However, in addition to this, there can be other forms of damages which you could be able to claim compensation for. Factors which could affect how much your final settlement is could include;
How much suffering and pain that you have experienced.
How long you need to recover and whether you have had to take any time off work.
The cost of any medical treatment you require, and the cost of getting to said appointments.
Other costs and losses which could have been caused as a direct result of the accident or injury.
The personal injury claims calculator above is a good place to start to see how much you could claim and provides good examples of what different injuries may be awarded.
No Win No Fee Passenger Accident Claims Against Stagecoach Coach Bus
If you are making a Stagecoach bus accident claim today, it is likely that you will do so through a no win no fee agreement. The technical or legal name for such agreements is a CFA or Conditional Fee Agreement. This is an agreement entered into between a personal injury solicitor and a claimant. What this means for you is that if you are not able to make a successful claim, then there will be no legal fees to pay for your solicitor. And if you do win your case, the solicitors' fee can be deducted from the compensation and paid to the solicitor directly.
How To Contact Our Expert Solicitors
If you have been injured in a bus accident and wish to make a Stagecoach Group bus accident claim, speak with a member of the Legal Expert team today. You can call us on 0800 073 8804 and talk to us 24 hours a day, seven days a week. You can also send us details of how you were injured to Office@LegalExpert.co.uk and request a callback. Finally, you can use either the live 'support' chat on this page or the contact form to the right.
Additional Related Articles
Whilst we have included a plethora of resources and information in this guide to Stagecoach Group bus accident claims, you can find additional information in these other articles on our site. We have also included external resources which you may find helpful in the event of a bus accident.
Bus Accident Claims
This is our more general article looking at how to make a bus accident injury claim.
London Bus And Coach Accident Claims
If you have been injured on a bus or a coach in London, such as on buses operated by Transport For London, find out how to make a personal injury claim.
Coach And Bus Passenger Rights In The UK
In this guide, you can find out more about your rights as a coach or bus passenger travelling in the UK.
Coach And Bus Passenger Rights In The EU
In this guide from the EU, you can find out more about your bus and coach passenger rights.
Department For Transport Bus Statistics
Statistical information related to bus travel and usage in the UK as collected and produced by the DFT.
Edited By Melissa.