National Express Bus Accident Claims Guide – How To Claim Compensation Against National Express For Personal Injury?
Many people in the United Kingdom use public transport as a means of getting about, whether you take the bus to work or you get a coach to see your friends on the weekend. Without such transport many people would not be able to go about their daily lives. If you have had the misfortune of being involved in a bus accident or coach accident, you could be able to claim for compensation if you have suffered injuries as a direct consequence. Keeping that in mind, read on to discover information you may need to know if you are thinking of making a claim for a National Express accident. Here at Legal Expert, available on 0800 073 8804, we could help you to make a claim if you were to have been involved in a National Express bus or coach accident and you are injured. We have many years of experience and we have claimed compensation for thousands of personal injury victims. If you have had National Express bus accident or a National Express coach accident, read on as this guide may answer any questions you may have.
Select A Section
Your Guide To Accident Claims On A National Express Bus Or Coach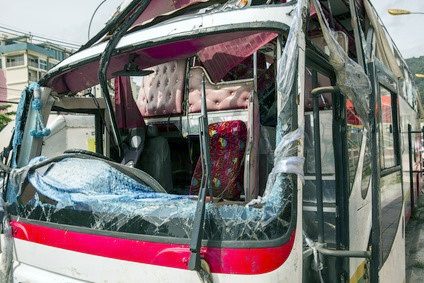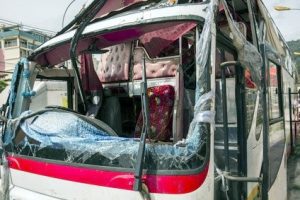 It does not matter what type of transport you travel in, whether it is a bus, aeroplane, train, ship or coach, the travel company has a duty of care towards all passengers, and so they are legally required to comply with the safety laws that are in place. This applies to National Express, which is a British multinational public transport company that operates tram, train, coach, and bus services throughout the UK. If National Express fail to operate within their duty of care, and you are injured in a National Express bus accident as a result, then you may be able to make a claim for compensation. From negligent driving to a lack of maintenance or third party fault, there are different reasons why this type of bus or coach accident could occur, yet it all comes down to proving who may be liable if you are injured while on a coach or bus. This is something we could help you with.
In this guide, we have provided you with information you may need to know if making a claim for a National Express coach accident. This includes examples of injuries that could occur regarding specific types of accidents. This could be a bus whiplash accident, emergency braking accident, or an accident that could happen withing a bus or coach station, for example. We will also talk you through the claims process, explaining how much coach accident compensation you may receive, as well as helping you to understand how compensation for a National Express personal injury claim is split up. If you have any further questions, please do not hesitate to get in touch. You will find our contact details at the end of the guide.
What Is A National Express Coach Or Bus Accident?
The first thing you will probably want to do is determine whether you are able to make a claim for compensation. The main factor in any personal injury claim is establishing responsibility. It is extremely unlikely that you will have been the cause of a crash if you were using public transport. Therefore, you simply need to show that someone else is to blame for the bus or coach accident in order to be able to make a personal injury claim for you injuries. An accident on a coach or bus is an incident that happens without warning and possibly causes you injury or causes damage.
Examples of causes of bus accidents could include:
Poorly maintained vehicles
Pedestrian hit by a bus as they cross the road
Passengers injured while forced to stand
Faulty or damaged equipment on the bus causing passenger injuries
Third party fault, when another vehicle crashes in to the bus or coach
People hit by a bus while waiting at a bus stop
Abrupt use of the brakes
Prompt acceleration by the driver before the passenger has had the chance to sit down
Rubbish left on the floor and spillages, which cause slips, trips, and falls
When the electric doors close on passengers
Bus driver fault accidents
The important thing to recognise when travelling on a National Express bus is that when you are travelling on public transport, the company that provides the service has a duty of care towards you and all of the other passengers. Not all accidents that happen on a coach or bus will be eligible for compensation, if you accident was the fault of another who owed you a duty of care and you are injured call Legal Expert to see if you have grounds for a compensation case.
Who Is Liable If You Were Injured In A Bus Or Coach Accident?
There are different ways that you could be injured while on a coach or a bus. If you are wanting to pursue a claim for damages it must be proven that a third party is liable for your injuries. If you are injured on public transport it may be due to the fault of the driver, the fault of the transport company or possible the fault of a third party. As mentioned above not all accidents will lead to compensation only those injuries that are caused because there was a breach in the duty of care that was owed to you.
Bus Drivers Duty Of Care And Negligence
All National Express bus drivers owe a duty of care to the passengers on board. The company must ensure that passengers who use their transport service are safe at all times and that procedures are put in place to prevent hazards from happening which could put passengers in danger. If drivers are negligent and cause a passengers to injure themselves they it may be that the duty of care which should exist has been breached.
Bus Or Coach Accidents Caused By Third Parties
In these sections, we are going to take a look at some of the different examples of causes of bus accidents. Let's begin with third-party accident claims. Here are some examples of these:
Collision with a static obstacle, which has been positioned by a third party and is causing an obstruction.
The driver could be required to do an emergency stop because it needed to move away from another vehicle, causing injuries to passenger/s.
When the driver needs to prevent a National Express bus or coach accident with a car/van etc, which causes the bus to come off the road where it collides with an object that is static.
A vehicle crashing into a coach or bus.
Coach And Bus Accidents Caused By Damaged Roads
It is possible to suffer injuries due to poor and damaged roads. With this sort of claim, you may be making a case against the local authorities, rather than against a bus or coach company. It all depends on the circumstances of what happened. Simply give us a call and we will be able to shed further light.
Bus Emergency Stop Accidents
When vehicles have to make an emergency stop it can be for different reasons. If the bus driver has been forced to pull an emergency stop, it could result in people suffering different types of injuries because they could be flung forward and out of their seat. Emergency stop injuries do not all lead to a claim for compensation the driver must have been acting negligently or a third party must be at fault. Call Legal Expert and they will be able to advise if you are eligible to make a bus accident claim.
I Fell Over On The Bus, Could I Claim Compensation?
Slips trips and falls could happen anywhere and for many different reasons. There could be rubbish on the floor of the bus which cause you to slip. The toilet could be leaking on a coach which forced you to slip or there could be luggage left in a hazardous place that has caused you to trip. If you have had a fall while on a National Express vehicle call Legal Expert they will be able to advise you on what to do next.
I Had An Accident At A National Express Coach Station Can I Claim?
If you are injured at one of the coach stations that are operated by National Express, and you feel that the coach company is at fault for the accident you was involved in you may be able to pursue a claim for compensation. There are a number of stations operated by National Express. This includes Cardiff Coach Station, Bournemouth Coach Station, London Liverpool St Coach Station, Wolverhampton Coach Station, Plymouth Coach Station, and more.
Bus Whiplash Accidents
Whiplash is an accident that often happens when someone has been injured on the road. This is because their head jolts forward and backward in a violent manner. If this has happened to you during a National Express bus or coach accident, you could be able to make a claim. One issue with being involved in a whiplash bus accident is that the symptoms are often not always immediate, and so people may not go to see a doctor straight away. If you are yet to see a medical professional, this is something we can arrange for you.
What Liability Or Duty Of Care Does National Express Have Towards Passengers?
Bus companies have a legal obligation to ensure the health and safety of their passengers. There are a number of regulations in place that make certain this is the case. This includes:
The Public Service Vehicles (Operators' Licences) Regulations 1995
The Public Passenger Vehicles Act 1981
Bus And Coach Passenger Rights
As a bus or coach passenger, there are a number of different laws in place to protect you. As you can see from above bus and coach companies must adhere to several different laws and legislation to ensure that passengers are safe when they are aboard their vehicles.
Accident Compensation Calculator
If you have been involved in a National Express bus accident, one thing you will possibly want to know is how much money you are going to receive in terms of damages. You may have come across a personal injury claims calculator online. These can be used, but we have provided a different way of gaining an insight into possible compensation amounts on this page. This works slightly differently to an accident compensation calculator, as here we look at compensation guidelines used by insurance companies, solicitors and even Judges. We feel this is a good way to get an understanding of how much money you may be awarded for a coach accident you were involved in. We have put this information together in the table below. If you cannot see the specific injury you have experienced, please do not hesitate to give us a call and we can shed further light.

| Type Of Injury | Amounts | Information |
| --- | --- | --- |
| Moderate Back Injuries | £26,050 to £36,390 | Starting with ligament damage, soft tissue injuries which could cause exacerbation of a pre-existing back condition to a compression or crush injury fracture of the lumbar vertebrae causing constant pain and discomfort. |
| Moderate Neck Injuries | £23,460 to £36,120 | Brackets begin at moderate soft tissue injury, recurring stiffness discomfort and possibly several attempts at surgery to fractures and dislocations and vulnerability for further trauma. |
| Moderate or minor Injuries to the Elbow | Up to £11,820 | A comprise of simple fractures, tennis elbow syndrome and lacerations. The figure is time sensitive so the length of injury will have a bearing on the amount awarded. |
| Very Minor Wrist Injury | £3,310 to £4,450 | Recovery within 12 months, undisplaced or minimally displaced fractures and soft tissue injuries. |
| Pelvis/Hip Lesser Injuries | Up to £3,710 | Minor soft tissue injuries with full recovery expected. |
| Serious Leg Injuries | £36,790 to £51,460 | Serious fractures or serious injuries to joints and ligaments causing instability. |
| Moderate Ankle Injury | £12,900 to £24,950 | Fractures, ligamentous tears and the like which give rise to less serious disabilities. |
| Mental Anguish | £4,380 | Fear of impending death. |
| Less Severe Psychiatric | £1,440 to £5,500 | Depending of length of disability and affect on daily activities and sleep. |
What Financial Costs And Losses Could I Claim Compensation For?
What could you actually claim for? Here are some examples:
Physical injuries
Psychological injuries
Medical treatment
Loss of income
Hospital visit expenses
Childcare expenses
Damage to personal items of clothing
Essentially, you could claim for both general damages and special damages. The former relates to damages that cannot be quantified, for example, physical and psychological injuries. Special damages relate to those damages that can be quantified, for example, travel costs, the costs of childcare expenses, and such like. You should hold onto receipts and anything else that could prove the expenses you have incurred.
There are some ways you could improve your chances of securing a compensation pay-out for the National Express bus or coach accident you were involved in, and these are outlined below:
Make a note of everything that happened – This could make sure you do not forget any crucial details.
Take photographs – From photos of the scene to photographs of your injuries, this could serve as great evidence to help strengthen your case.
Keep proof of expenses – You could claim for any costs incurred as special damages, including travel costs, childcare expenses, medical costs and loss of income, but you could need proof.
Get witness contact details – Witness statements are great in terms of strengthening your  bus accident case. Therefore, if anyone saw the accident you were involved in, get his or her details.
Claim quickly – Don't wait too long to make a claim. Not only is there a personal injury claims time limit, but also you could find it easier to make a National Express coach accident claim the sooner you do so.
No Win No Fee Personal Injury Claims Against National Express
Some people may not attempt to get compensation because of the possibly extortionate costs associated with using a solicitor for an accident claim. Some solicitors charge extremely high rates for their service. However, this is not the main problem. The issue is the financial implications that occur if your case is not successful. Most people cannot afford such a risk.
Luckily, at Legal Expert, we have a solution to both issues. Firstly, our advice is free. Therefore, you can give us a call and explain your accident. We will then tell you whether it is likely to result in a successful compensation claim. We won't sugar coat it for you. We pride ourselves on acting honestly and in the best interests of our clients.
In addition to this, we will match you to a no win no fee solicitor. This eliminates the potentially extortionate costs that are associated with traditional personal injury solicitors. You need not worry about the financial implications of failing in your National Express accident claim, as you won't pay a penny to us if this happens. Moreover, by using a no win no fee personal injury lawyer you don't need any money to start your claim.
How To Contact Us
If you want to make a claim for a National Express coach accident or a National Express bus accident, the only thing left to do is get in touch with Legal Expert. This is an area of personal law that we have a lot of experience in. Therefore, you can be confident of an exceptional service. Not only this, but the risk associated with making a claim is lowered significantly when you choose us because all of our solicitors work to a no win no fee agreement. So, if you are ready to make a claim or you have any questions about making a National Express bus or coach accident claim, all you need to do is dial 0800 073 8804. Or, if you would prefer, you can enter your contact details via the homepage and we will call you back at the earliest opportunity. We have a live chat feature on our website too.
Related Resource And Guides
Edited By Melissa.