Sutton Coldfield Council Data Breach Claims Guide – How Much Compensation Can I Claim?
Welcome to our guide looking at how a data breach by Sutton Coldfield Council could potentially occur, and whether those affected by a data breach could be eligible to claim compensation. A local council may need to hold your data for a number of reasons, for instance, if they are your employer or if you use any services that they provide. This could include social housing tenants or those who are under the care of social services.
When Could Victims Of Data Privacy Breaches Claim Compensation?
The council, as well as all other organisations, have a responsibility to keep your personal data secure. Failure to do so could expose this data, which in turn could cause emotional and financial harm.
For instance, if your bank details were exposed in a breach, this could mean that you lose money. Emotional harm caused by a data breach may include stress, anxiety or, in some cases, even post-traumatic stress disorder.
There is legislation in place to protect your personal data. But what steps can you take if a data breach by Sutton Coldfield Council occurs because they failed to keep your data secure? That is the question this guide will answer.
Our claims team is available on 0800 073 8804 if you have any further questions about claiming. You can call them 24/7. They can answer any questions you might have.
Select A Section:
Our Guide About Claims For A Data Breach By Sutton Coldfield Council
This guide will start with some statistics that relate to Government data breaches. This illustrates how a data breach by a council could potentially happen.
The next part of the guide moves on to look at the laws that protect your data, as well as what personal data is classed as. We'll also look at the specific ways that a council data breach could occur.
In addition to this, we will look at the role played by the Information Commissioner's Office (ICO) in enforcing data protection laws. We will also look at the amount of compensation that you could be owed, and how a claim for harm caused by a data breach may be valued.
This guide will conclude with some basic advice on starting a claim and information on how to contact our claims team. We have also included some additional links that you may find useful and answers to some of our frequently asked questions.
It may not always be clear on what steps are necessary if a data breach by Sutton Coldfield Council was to occur. For that reason, we offer potential claimants a chance to have their case assessed for free.
Time Limits For Making A Claim
If you would like to pursue a claim for compensation for harm caused by a data breach, you must start it within the appropriate time limit. And act quickly because you may not realise that your timeframe is as short as it really is. So, you have:
6 years for a claim against a private company, or;
1 year for a claim against a public company, such as a council.
Cyber Security Breach Statistics
The ICO is the regulatory body responsible for managing data security and privacy legislation in the UK. It can also take punitive action against organisations that do not comply with data protection laws.
The chart below looks at common causes of data breaches in central government. It's based on data from the ICO covering the Q1 2021/22 time period. It shows the most common cause of central government data breaches for non-cyber incidences.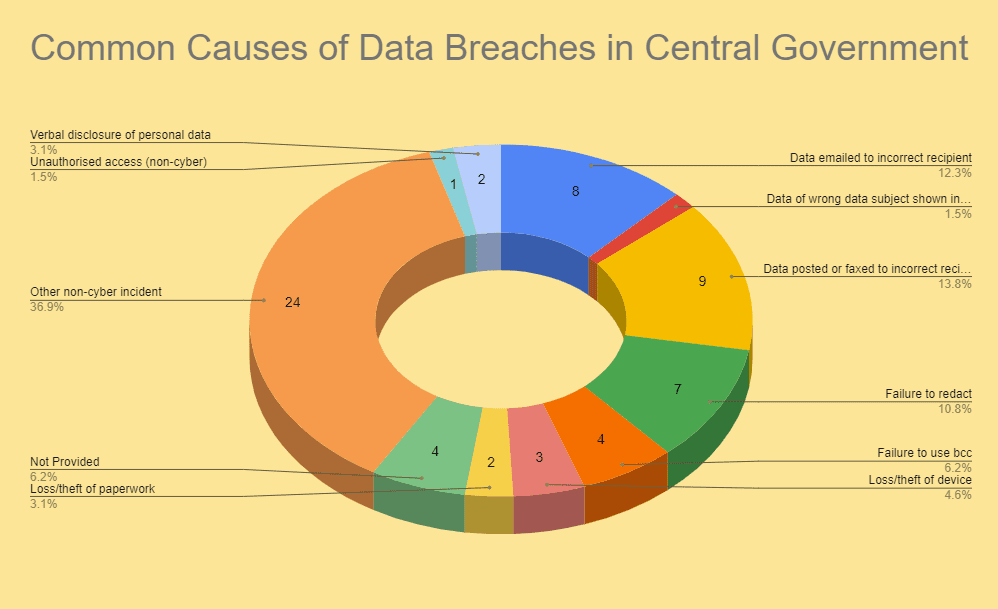 What Could Be A Data Breach By Sutton Coldfield Council?
The General Data Protection Regulation (GDPR) is the piece of EU legislation that outlines data privacy data laws. This was ratified into UK law by the Data Protection Act 2018 (DPA). Since leaving the EU, we refer to the UK GDPR.
A data breach is a term used to describe a security incident that leads to the unauthorised or accidental loss, alteration, destruction, disclosure or access of personal data. Personal data is classed as any information that can be used to identify you, either in isolation or when referred to alongside other information.
If a council has failed to protect your personal data, leading to a data breach that causes you harm, what options are available to you? That is what we will cover in this guide.
If you have any further questions about the eligibility criteria for making a claim or what kinds of damages you could be entitled to, why not get in touch with our team today?
Does The GDPR Still Apply To Councils?
Councils are not exempt from adhering to the UK GDPR. They must still follow the rules that it sets out about how data can be stored and processed.
The UK GDPR is based on seven key principles which organisations (including councils) must follow. They have to:
Process data in a fair, lawful and transparent manner
Collect data for an explicit and legitimate purpose, and not process it in a way that is incompatible with this purpose
 Only collect necessary data for the purpose for which it's collected
Ensure that data is accurate and up-to-date. If it's outdated, all reasonable steps should be taken to update it
Only keep the data for as long as is needed for the purpose it was collected for
Make sure that they have appropriate security in place to protect the data. This applies to physical and digital data; for instance, digital data may be protected by cybersecurity systems while physical data is left in a locked filing cabinet
Take accountability for the way they process and use data, and show that they are compliant with the rest of these principles
What Could Cause A Breach Of Your Data Privacy?
How could a data breach by a council happen? Data breaches can happen for many different reasons. Data controllers are those who collect individuals (data subjects) personal information. Personal data must be protected whether it is online in computer systems or physical files such as records in filing cabinets. Potential breaches of personal data may look like;
A member of staff sending an email with your personal data to an unauthorised person
Sending a letter containing your personal data to the wrong address, despite having the correct one on file
Not redacting your personal data when sending documents to a third party.
Unlawful access to your sensitive or private data by an ex-council employee who has retained access to the system
Access to council systems by a hacker or cybercriminal enables them to access your credit card details.
Your medical records being left in an unlocked drawer, meaning that unauthorised members of staff can access them.
Not all data breaches that occur will mean a data subject has the right to seek compensation. Data controllers must be proven to have failed to keep your personal data secure. An organisation can, in certain circumstances, share or process your personal data without your consent. However, they must have a lawful basis for doing so.
Council Breaches Of Tenants Data Privacy
If you are a council housing tenant, the local authority hold and process data related to, amongst other things, rent payments and tenancy audits. Therefore, if a data breach by Sutton Coldfield Council were to occur it could potentially expose this personal data. If councils online systems were hacked personal data could be accessed. Hackers could set up a phishing scam where they pose as the council in order to get information from you. Information from your rental agreement, like the amount you pay each month, could be used to make the scam more believable.
What types of information could a council process;
Name and contact details
Date of Birth
National Insurance number
Copies of passports and identification documents
Vehicle registration
If a council did everything they could to secure your data and a breach occurred anyway, you would not be able to claim. However, if lack of online security systems and poor staff training meant that your personal data was breached this could be a foundation for starting a data breach claim.
When Do You Report A Data Breach To The ICO?
Certain data breaches must be reported to the ICO by the organisation that experienced the breach. All breaches that pose a risk to the rights and freedoms of the data subjects must be reported to the ICO within 72 hours. If your data was involved in a breach that threatens your freedoms and rights, you should be told about it without undue delay.
If you're concerned about the way an organisation is using your data, but haven't been made aware of a breach, you should raise this with the organisation. There is an ICO template that you can use to voice your concerns.
If a council fails to address your concerns in a satisfactory way, then you can report to the ICO for them to investigate. You should do this within 3 months of your last meaningful communication with them, as waiting any longer might result in the ICO declining to investigate.
If the ICO decide in your favour, then this could support a claim if you decide to make one. However, you do not need to report the breach yourself in order to begin a data breach claim.
What Should You Do If Affected By A Data Breach?
If you've been caused harm by a data breach and you have raised your concerns with the council, but they have not resolved it to your satisfaction, then you may make a complaint to the ICO. The ICO can't award you compensation. They can investigate the data breach and fine the data controller if necessary.
You don't need a data breach solicitor to make a claim for compensation as you can do so without legal representation; however, data protection laws can be complex, and so you may find that the guidance of an expert data breach solicitor could help you navigate the claims process. For this reason, we recommend seeking legal advice if you can prove that you were caused harm by an avoidable data breach.
Why not call our Legal Expert claims team today. Through an informal chat with one of our advisors, you can have your questions answered. Evidence can be reviewed and an assessment of your case carried out. Speak to our claims team to learn how to proceed with this.
How Are Breaches Of Data Protection Valued?
Vidal-Hall and others v Google Inc [2015] was a landmark Court of Appeal case in which the court held that psychological injuries can be claimed in relation to a data breach, even if no financial loss was involved. What this means for you, is that stress and trauma can be claimed independently of financial losses The emotional impact of a data breach is referred to as non-material damages.
Material damages refer to any actual financial loss you have experienced because of the breach. You could lose out financially due to a theft of your identity that allowed a cybercriminal to spend your savings, make purchases using your credit cards, take out new loans, etc.
As well as the immediate financial impact, this could also affect your credit rating in the long term. This could also be included in the material damages head of your claim.
How To Calculate A Settlement For A Data Breach By Sutton Coldfield Council
Compensation for non-material damages can be valued in a similar way to personal injury claims. This means that guidelines provided by the Judicial College are used to help value these claims.
Below we have included a table that shows some of these guideline compensation brackets for a number of different injuries. Remember, these are only guidelines; we cannot guarantee the amount of compensation you could receive.
| Medical Issue | How Bad? | Possible Damages | More Info |
| --- | --- | --- | --- |
| Psychiatric harm | Less severe | £1,440 - £5,500 | Awards within this bracket will take into account how much things like sleep and daily activities were affected. |
| Psychiatric harm | Moderately severe | £17,900 - £51,460 | Professional help will help with injuries in this bracket, and the prognosis will be better than in more serious cases. However, the injured person will be significantly disabled for the foreseeable future. |
| Psychiatric harm | Moderate | £5,500 - £17,900 | Overall, a largely complete recovery will have been made. If there are any residual effects, these will not be grossly disabling |
| Psychiatric harm | Severe | £51,460 - £108,620 | The injured person will be permanently affected by their injuries and will be unable to function at a pre-trauma level. |
So, if you'd like a more accurate valuation of your claim, our team can help. Simply give us a call to speak to one of our friendly advisors for free legal advice.
Making A No Win No Fee Damages Claim For A Data Breach By Sutton Coldfield Council
Have you come across the phrase No Win No Fee before? Perhaps you have but are not completely sure what it means. Under a No Win No Fee agreement, you only pay your solicitor's fees if the claim is won. This means you won't pay an upfront charge or ongoing fees. So, if the claim isn't successful, the solicitor does not get paid.
If your claim against a city council is a success, however, you will have to pay your lawyer a capped success fee. This is deducted from your compensation and ensures that all claimants receive the majority of the compensation awarded.
If you would like to find out whether you could be represented on a No Win No Fee basis, why not give us a call today? If they feel your claim has a good chance of success, you could be connected with one of our No Win No Fee solicitors.
What Could A Data Breach Lawyer Do To Help You?
As we've already mentioned, there's no legal obligation for you to have a solicitor work on your behalf when claiming. But there are many ways that one of our expert solicitors could help you in the process of claiming. For example, they can:
Evaluate your claim and let you know whether it could be valid or not.
Advise you on the type and extent of damages that you may be able to claim.
Help you to prepare any evidence that you will be submitting to support the claim.
Represent you if the claim has to go to court for a decision.
Start A Claim
Our expert team of claim advisors is waiting to give you the help and advice you need to get your claim underway. Just reach out to them by:
Updated Data Breach Claim Guides
We've included some links below which you might find helpful:
All of these other guides are worth a read.
FAQs About The GDPR
Below are some straightforward answers to commonly encountered questions about data breach claims.
What is a data protection officer?
The Data Protection Officer is responsible for oversight of how your sensitive or private data is stored and used.
What is a subject access request?
One of your rights is the ability to make a request to know what data is held about you.
What is a data subject?
The data subject is the person to whom the data relates and who could be identified by the data. Any living person whose data is used or processed by an organisation is a data subject.
What fines could be issued for GDPR breaches?
The ICO is responsible for taking punitive action against organisations that breach UK-GDPR. The ICO is legally able to levy fines against any organisation, including a local authority of up to 17.5 million pounds or 4% of their annual turnover; whichever is higher. Fines issued by the ICO should be proportionate, effective and dissuasive.
Thank you for reading our guide on what you could do if a data breach by Sutton Coldfield Council occurred.
Written by Wheeler
Checked by Stocks