Northampton Borough Council Data Breach Compensation Claims Guide – How Much Compensation Can I Claim?
This guide shall question if a Northampton Borough Council data breach occurred would that mean those who suffered a personal information leak could be eligible for compensation? We cover the rules and regulations related to data privacy and security and what you can do if your personal data has been exposed by failings on the part of a data controller.
Data Protection Breaches By Borough Councils
Local councils and authorities need to collect a wide range of personal data for a number of different reasons. For example, if someone is under the care of social services or lives in council housing, then their information will need to be held in relation to these services.
However, if this data was exposed, it could cause you financial or emotional harm. Emotional harm could cause things like stress, anxiety or depression. In some instances, you may even experience post-traumatic stress disorder.
For this reason, we have legislation in place to dictate how organisations (including councils) must act when storing and processing data. But what would your rights be if Northampton Borough Council failed to keep your data secure? That is what this guide will look at.
If you have any further questions, our claims line is open around the clock, seven days a week on 0800 073 8804. Call and speak to an expert advisor to have all of your questions answered.
Select A Section:
A Guide On Claiming For Northampton Borough Council Data Breach
We begin this guide with a graph containing statistics from the Information Commissioner's Office (ICO). It looks at the causes of data breaches.
We will then move on to give some information about what a data breach claim is and the rules and regulations that enforce data security and privacy. We'll examine the role played by the General Data Protection Regulations (or the UK GDPR now that we are no longer in the EU) and the Data Protection Act 2018.
The next part of the guide moves on to look at specific scenarios that could be considered a data breach. We'll look at the personal data that councils hold on tenants of council housing and how this could potentially be exposed.
You will then learn about some of the legal considerations of making a claim, including what role the ICO plays. We have also included an example compensation table to this guide, as well as an overview of the kinds of harm that you could claim damages for.
To conclude this guide, we will explain what a No Win No Fee claim is. We will also look at the steps you can take to get your claim underway. We close this guide with some links you might find useful and by answering some frequently asked questions about claims of this nature.
If a Northampton Borough council data breach was to occur then our advisors could advise you on what your next steps could be. Please call today for free legal advice.
Claim Time Limits
If you intend to make a claim for a data breach, you must begin it within the applicable time limit. Keep in mind that several factors could alter how long you have to claim, so get in touch as soon as possible. Otherwise, you could miss out. Nevertheless, the general timeframes are:
6 years against a private company, or;
1 year against a public body e.g. a council.
Rates Of Public Sector Data Protection Breaches
The table below was created based on data provided by the ICO for the 2021/22 period. It shows the causes of data breaches in central Government. These statistics all refer to non-cyber security data breaches.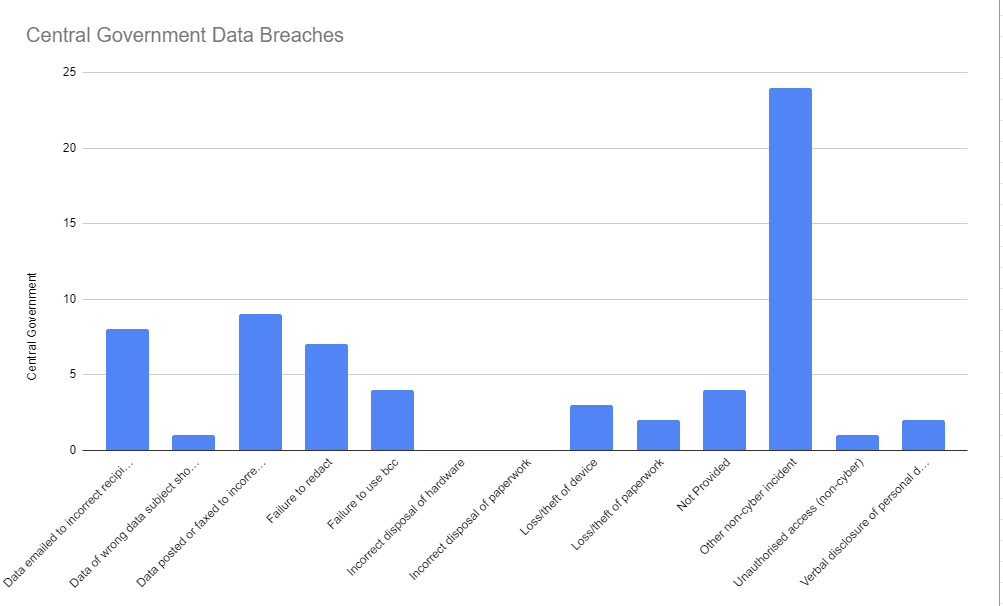 What Could Be A Northampton Borough Council Data Breach?
Every local authority in the UK has to comply with the UK GDPR when handling and processing, and storing personal data for any reason. "Personal data" is any data that can identify the person to whom the data relates (the "data subject"). This is the case whether the information can be used in isolation to identify the person or whether it must be combined with other information to do so.
A data breach is a security incident that involves the unlawful, unauthorised, or accidental loss alteration, destruction, unauthorised disclosure or access of data.
What steps can you take if failings on the part of a council have resulted in your data being exposed, causing you to suffer financial or emotional harm? That's what we will look at in this guide. We aim to show you what circumstances could justify a compensation claim against a council for avoidable harm caused by a data breach.
On what grounds could you claim for a Northampton Borough Council data breach? What kinds of damages would be eligible for compensation? What criteria must be met for the claim to be valid? If you have questions like this why not call our claims team today?
Are There Exceptions To The GDPR?
Every organisation must adhere to the UK GDPR when processing and handling data. Councils are not exempt to UK GDPR compliance and must still adhere to its seven key principles. They must:
Be lawful, fair and transparent when handling data.
Only collect data for a specific, explicit and legitimate purpose and not process the data in a way that's not compatible with this.
Only collect data that is necessary for the purpose that it's processed for.
Take all reasonable steps to ensure that data is accurate and up-to-date.
Only keep personal data for as long as is necessary for the purposes it's processed for.
Ensure that the processing of the data ensures appropriate security. For example, it should be protected against unlawful processing, accidental loss, destruction or damage.
Take responsibility and demonstrate compliance with the rest of these principles.
Types Local Government Data Breaches We Could Help With
How might a council data breach occur? Below, we have included some examples of how a data breach could potentially happen. For instance:
Sending an email containing personal data to an unauthorised member of staff.
Personal information not being redacted when an information pack is sent to a landlord.
An ex-employee retaining access to council-run computer systems, resulting in them having unauthorised access to personal data.
A cyberattack resulting in a hacker gaining access to credit card details because of a lack of cybersecurity.
Your medical records are shared with a third party without your authorisation and where there is no lawful basis to do so.
A filing cabinet containing personal information, like passport scans, is not locked and can be accessed by unauthorised people.
A letter from your employer containing personal information being sent to the wrong address, despite the data subject having updated their new address with the council.
Breaches Of Rental Statements And Tenancy Information
Public housing tenants have a lot of their information held by the local council. This is necessary in order for them to use a service that the council provides.
When you are living in public housing, there's a wide range of personal information that the council may need. The council then has a responsibility to store and process this data in compliance with the UK GDPR.
As councils collect and often process personal data they are referred to as a data controller. The data subject is the person who provides their personal data. Under the Data Protection Act, 2018 and the UK GDPR data controllers must ensure that the personal information they collect is safe. Data subjects have a lot more control now over how their data is processed.
If a council was proven to have failed to protect personal information in a tenancy agreement or statements, for instance, had a poor cyber security system that hackers could infiltrate easily they could be liable for any harm caused by a data breach.
Can Borough Councils Be Referred To The Information Commissioner?
The ICO is an independent authority that upholds the rights of data subjects in the UK. They promote data privacy and can investigate and fine organisations that are in breach of the UK GDPR.
If you have been affected by a data breach that has posed a risk to your rights and freedoms, then this should be reported to the ICO within 72 hours. The organisation should tell you about the data breach without undue delay.
You may not have been informed about a data breach but are concerned about the way an organisation has handled your data. If this is the case, you can contact the organisation yourself with your concerns. The ICO have a template that you can use to do this.
If the organisation has not settled the issue to your satisfaction, you can report this to the ICO in order for them to investigate. You must report it to them within 3 months of your last meaningful communication with the authority. If you report it after this point, then the ICO may refuse to investigate.
The ICO can investigate a potential data breach and come to a conclusion about what happened. They can also fine the organisation for the breach. However, they are not able to award compensation to you or force the organisation to do so. In order to receive compensation, you would need to make a claim for compensation.
Suing Your Local Borough Council
If you have contacted a council about a data breach you believe you were a victim of, but they have not resolved the issue to your satisfaction, then contacting the ICO could help if you go onto make a data breach claim. In order to be able to claim, the breach must have occurred as a result of failings on the part of a data controller. They may have done all they could to prevent a breach from occurring, and one happened despite this; if this is the case, you may not be able to claim.
You may wish to start legal action against a council whose failings caused your personal data to be exposed, causing you harm. If you have complained to the ICO about the breach, this will not impact your ability to make a claim.
To see whether you have grounds to make a data breach claim for the harm you were caused, you can get in touch with our team. Give them a call any time of the day or night to get the help you need.
Types Of Damages For Data Breaches
When you make a claim for harm caused to you by an avoidable data breach, you can claim for two different kinds of damages; material and non-material damages. Material damages refer to any financial impact that the breach has had on you. Non-material damages refer to the emotional harm caused to you by the breach.
Vidal-Hall and others v Google Inc [2015] changed the way compensaiton was awarded in these kinds of claims. The Court of Appeal held that non-material damages could be awarded independently of material damages. Before this, claimants could only receive compensation for emotional harm if they had also been harmed financially.
In order to claim back material damages, you will need evidence showing the loss you have incurred.
As part of your claim for non-material damages, you will usually be invited to a medical assessment. This is where an independent expert will confirm that your injuries were caused by the breach you experienced and ascertain how serious the psychological damage is.
They will then compile their findings in a report. This can be used to help value your claim.
 How To Calculate Settlements For A Northampton Borough Council Data Breach
The table below gives examples of ranges of compensation for mental hardship that you might be able to claim as part of your personal data breach claim. The Judicial College produces guidelines for valuing injuries, and we used these to create this table. Although these are designed for use in personal injury claims, they can also be used to help value emotional damages in a data breach claim.
| Medical Problem | Severity Level | Possible Payment | More Data |
| --- | --- | --- | --- |
| Psychiatric harm | Severe | £51,460 - £108,620 | This is a category of psychological damage where the injured person will have marked difficulty with life, education and work. The prognosis for recovery will be poor. |
| Psychiatric harm | Moderately severe | £17,900 - £51,460 | This is a category of psychological damage where the injured person will have some difficulty with life, education and work; however, the prognosis will be more optimistic than in more serious cases. |
| Psychiatric harm | Moderate | £5,500 - £17,900 | This is a category of psychological damage where the injured person will have some difficulty with life, education and work; however, there will have been marked improvement and a good prognosis. |
| Psychiatric harm | Less severe | £1,440 - £5,500 | The amount of compensation awarded in this bracket will depend on how daily activities and sleep were impacted. |
| Post-Traumatic Stress Disorder (PTSD) | Moderately severe | £21,730 to £56,180 | Where the affects of the PTDS will cause the injured person to be significantly disabled for the foreseeable future. |
| Post-Traumatic Stress Disorder (PTSD) | Moderate | £7,680 to £21,730 | Where recovery will be largely complete and there will not be any grossly disabling continuing effects. |
For a far more accurate estimate of the value of your claim, one of our team can evaluate your claim for you. Give them a call to get started with this.
Use A No Win No Fee Solicitor To Claim For A  Northampton Borough Council Data Breach
You may be able to make a data breach claim using the services of a solicitor who is working under a No Win No Fee arrangement. You have likely come across the term No Win No Fee before, but what exactly does it mean?
Under such an agreement, you will not be expected to pay your lawyer any fees while the claim is ongoing or in the event that it's unsuccessful. You also won't be asked to pay them anything in order for them to start work on your claim.
If the claim is won, your lawyer will ask you to pay a small, capped success fee. This ensures that you will always receive the majority of the compensation you're awarded.
If you need a deeper explanation of making a claim with a No Win No Fee solicitor, our team of advisors will be happy to go over things with you. Just give them a call, and they can tell you how we can help with your own claim.
Starting A Claim Against Your Borough Council
Thank you for reading this guide about your rights should a Northampton Borough Council data breach occur.
There is no obligation for you to have a solicitor in order to make a claim, but you may find that their guidance and expertise can help the claims process run much more smoothly. If so, you can:
Call our claims hotline on the number below and explain your circumstances.
An advisor will go over your claim with you and let you know whether it is potentially valid or not.
An expert lawyer will begin processing your claim for you.
Talk To A Claims Expert
Our claims team is standing by to help you to get your claim started. We can also give you further information about what could entitle you to make a claim. Please contact us using the information below.
Useful Information
All of these external websites have information that could be related to your claim.
What to do if an organisation does not reply to your satisfaction 
These other guides are all related to this one and could be worth checking over.
Frequently Asked Questions
Below are some concise answers to commonly asked questions about making a data breach claim.
How do I start proceedings?
Even if you have not reported the data breach to the ICO, you can call and speak to our claims team for advice on making a claim. We could connect you with a specialist solicitor to handle your claim.
What evidence do I need to start a claim?
In order to start a claim, you need to show that the breach that caused you harm was caused by failings on the part of a council. You should also provide evidence as to any financial or emotional harm you have experienced. This could include bank statements and medical records.
What is the limitation period?
A limitation period is a fixed period of time in which you must begin a claim. The limitation period for data breach claims is usually 6 years; give our team a call for information on the exceptions that could apply.
What are pre-action considerations?
Pre-action considerations are the steps that parties are expected to take before starting proceedings to make a claim. They give parties the opportunity to avoid legal proceedings by agreeing to a settlement before the case goes to court. If legal proceedings cannot be avoided, these protocols help them to be managed efficiently.
If you have any more questions on this guide to claims for a Northampton Borough Council Data Breach call our advisors today.
Guide by Wheeler
Edited by Stocks