Mansfield District Council Data Breach – Compensation Claims Guide
In this guide, we will examine the steps that could be taken should a Mansfield District Council data breach happen. That is to say, when sensitive or private data a council holds is exposed or leaked accidentally, deliberately or unlawfully. We aim to show how a data subject, those who have personal data processed could be eligible to bring forward a claim for data breach compensation.
However, each claim is based on at least partially unique circumstances. In other words, claims might share common aspects, but no two are identical. Subsequently, we cannot hope to answer every question you might have in this guide. But we can offer you a solution to get the answers you need.
Our claims line is open 24 hours a day, 365 days a year. You can call 0800 073 8804 at any time, and speak to one of our claim advisors. They will answer all of your questions, and also tell you about the way we can organise an expert data breach lawyer to work on your claim for you.
Select A Section:
A Guide To What Are Claims For A Mansfield Council Data Breach
We shall direct the procedure you may want to take if a Mansfield District Council data protection breach was to occur. Equipping you with the information you need in order to understand the claims process. Furthermore, we hope to provide you with an understanding of your rights to have your personal data protected.
Initially, we provide a graph showing the causes of data incidents in central government. This is followed by a general overview of the laws related to data privacy and security in the UK. Furthermore, you will find a basic overview of what a data breach claim is.
Subsequently, we look at why the council has to comply with these laws. And how a failure to comply with them can lead to your personal information being breached. You will also find some examples of data breaches in this part of the guide.
Furthermore, we will look at why the council has to comply with data protection and privacy laws. As well as how a data breach could affect a data subject. And, how to make a data breach complaint and subsequently, a data breach claim.
Some financial information comes next. In the form of an example table that shows possible compensation ranges. Additionally, you will find information about the reasons you may need to claim damages. The fee structure of a No Win No Fee claim is discussed, as well as the benefits that using a lawyer working under such an agreement could give you.  In conclusion, we will offer some general advice on beginning a claim. We then follow this up with some useful links, and a Q&A section.
Claims Time Limits
You will have to begin a claim for a data breach within the specific time limit implied by the circumstances of your claim. Examples include:
A claim against a council or another local public body gives you one year to start the claim.
For a claim that is against a privately-owned organisation, you have six years to start the claim.
Furthermore, there are other factors that could have an impact on the time limit. Therefore, you may like to contact our claims team to learn which time limit will apply, based on your own circumstances. And this also ensures that you don't miss out by trying to claim after your limit ends.

Rates Of Information Security Breach
The Information Commissioner's Office (ICO) is responsible for managing and policing data privacy and security regulations. Part of the service offered by the ICO, is gathering and correlating data related to data breaches. Subsequently, this data is made available to the general public. We used data from the ICO to create the graph we have included below. This graph shows non-cyber incidents.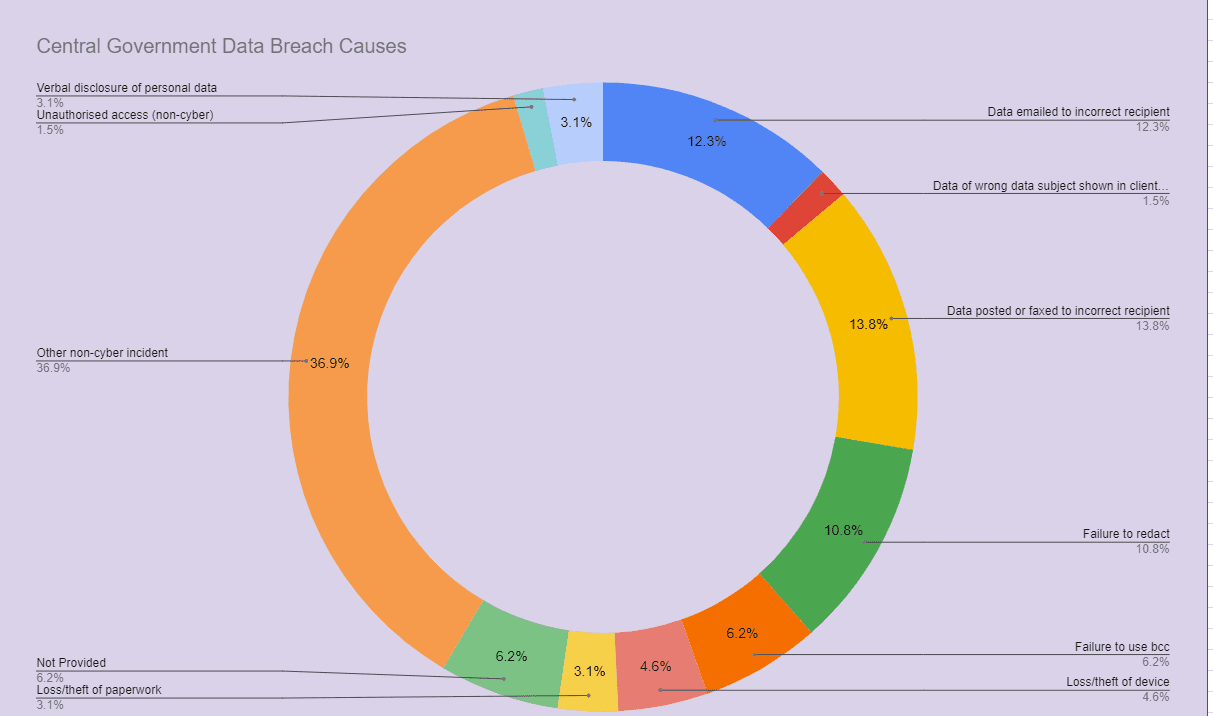 If a Mansfield District Council data breach happened and it affected your rights and freedoms they would not only need to inform you but also the ICO.

What Could Be A Claim For A Mansfield Council Data Breach?
We need to explain the data privacy and security laws in the UK here. Above all, we have to show how they apply to a local council. Before the UK left the European Union (EU), it was the EU version of the General Data Protection Regulation (GDPR) that was in force. It was enacted within the Data Protection Act 2018 (DPA). However, the UK has now left the EU, and subsequently, UK specific law applies. We now follow the UK-GDPR.
As a result, your data should be kept safe through the application of UK GDPR protocols. A data breach is a security incident that allows personal information to be accidentally or unlawfully, lost, changed, destroyed, accessed without authorisation.
This means that you might be able to make a compensation claim for any mental hardship and financial loss such a data breach causes. However, it must be proven that the data controller those who collect and handle personal data failed to secure it correctly. If a data controller has done everything within their power to keep your data safe and it still manages to get exposed it will be unlikely a claim is valid.

Must Councils Comply With The GDPR?
Generally, organisations in the UK that store or process your personal data, have to comply with UK GDPR. These regulations mean that data subjects have much more control over how their data is processed. It also means that data controllers must put in steps to keep this type of data safe and secure. That is to say, any data controller should be incorporating the 7 pillars of GDPR. And these are:
Complying the law, by acting transparently and fairly.
Holding only the minimum volume of data about you.
Limiting how long your data is held for.
Ensuring the privacy of your data.
Purpose limitation
Keeping your data accurate.
Ensuring you abide by the above 6 GDPR principles
Ways The GDPR And Data Protection Act Could Be Breached
A breach can affect physically stored data such as printed records, and also digitally stored data. Some examples of potential data breaches could be:
Data fraud, when an employee uses a data subject's sensitive or personal data to carry out a fraudulent act. For example, using your identity to hire a vehicle.
Breaches that affect paper-based physically stored data. For example, information about your family and its interaction with Social Services is lost, or left in a public place.
Digital data breaches expose your data in some way. For example, an employee of the council accidentally emailing your personal or sensitive data to the wrong person.
If a Mansfield District Council data breach happened you could call our team any time of the day or night to have any queries answered. Call and speak to a member of our claims team to find out if your claim is valid or not.

Leaks Of Private Rental And Social Service Information
If you are a council tenant, the local authority may hold personally identifiable information about you. What is personally identifiable information? Well, it is data that can either identify you or be used and combined with other information to identify who you are. Data breaches can happen through computer systems, online hacks or they can be caused through the exposure of your physical files. Potential examples could include;
Rent statements are exposed in some way. For example, an employee of a local council discusses your rent payment history with an unauthorised party.
Your rental agreement or another physical document is left in a public place, where anybody can find it and read it.
A database is hacked that holds your personal information because the data controller had poor security systems that needed updating,
It is vital when pursuing a data breach claim that you show how the data controller failed to protect your personal information. Data controllers such as a council should have procedures in place to ensure any personal data they hold is secure. This could be watertight cyber security systems and training staff on the importance of data privacy. Call and talk to our claims team to find out more.

How The Claims Process Works
As we have mentioned several times, you need to prove fault. Very often the onus is on the claimant to establish why they believe those responsible for protecting their private personal information failed to do so. Our data breach complaint process guide could potentially help you to do this.
Firstly, you could contact the council itself. You can ask whether a data breach has happened, what data might have been exposed, and what actions have been taken to seal the breach. In short, you might be able to solve the problem without having to take the matter further.
Secondly, you can contact the ICO and make a complaint if the council did not give you a meaningful response to your questions. However, try to do this within three months from your last contact with the data controller.
Lastly, you can move on to try and make a compensation claim. Contacting the ICO is a voluntary step. On the other hand, you may want to see if the ICO supports your complaint, this could have a positive bearing on your claim.
If you are unsure about how you should proceed in dealing with a data breach, you can call and speak to our claims team. They can advise you further.

Working Out What You Could Claim?
There are two primary sources of damages when making a compensation claim for a data breach. Firstly, there is the stress, trauma and mental harm you may have suffered, that could be compensated for. Secondly, there may be financial losses that were caused by the data breach that could be compensated.
There was a case heard at the Court of Appeal in 2015. The case was Vidal-Hall and others v Google Inc. The claimants were successfully able to obtain compensation for mental injuries, even though they suffered no financial loss. Therefore, this precedent means that you could potentially do the same.
Further, you may suffer some level of financial losses due to a data breach. In a worse-case example of identity theft, this could amount to tens of thousands of pounds. Likewise, you may have had to pay out for expenses related to making the claim. For example, using a document courier service to send critical documents to your solicitor. In both cases, you may be able to claim these financial losses back. You can speak to a claim advisor to learn what types of damages might be applicable, based on your own case.

How To Calculate Compensation Payouts Should A Mansfield District Council Data Breach Occur
Each claim is unique in its own way, making it impossible to give average compensation settlements for a data breach. There are lots of aspects that need to be taken into consideration such as material and non-material damages. For that reason, we have provided a table with mental injuries and their compensation brackets. The table was made using data taken front the guidelines maintained by the Judicial College in England.
| Mental Problem | How Severe? | Potential Damages | More Data |
| --- | --- | --- | --- |
| Mental issues | Moderate | £5,500 - £17,900 | The category includes psychological injuries resulting from traumatizing events. An individual might experience symptoms that negatively affect the quality of their life and functional capability. There is a possibility of recovery, although it might take some time and treatment. |
| Mental issues | Less severe | Up to £5,500 | Compensation for less severe psychological injury. The victim is likely to recover and experience a better quality of life despite having ongoing symptoms. |
| Mental issues | Moderately severe | £17,900 - £51,460 | An example of this type of injury would be psychological injuries caused by traumatic events. As a result of the injuries, the victim's quality of life and function will be compromised. Furthermore, even after treatment, the victim may still experience symptoms. |
| Mental issues | Severe | £51,460 - £108,620 | Under this category of compensation, all severe psychological injuries from repeated trauma are covered. When people suffer from mental injuries, their quality of life is greatly reduced and their functionality is impaired. Although extensive treatment may be administered, some symptoms may persist. |
A lawyer would be able to value your claim more accurately. If you wish us to arrange for a solicitor to do this or you, simply call our claims team and let them know.

No Win No Fee Compensation Claims For A Mansfield District Council Data Breach
It may be possible for you to make a claim for a Mansfield District Council data breach using a No WIn No Fee solicitor. You have probably come across this phrase before, but we need to explain it fully here just in case.
Your lawyer will start working on your claim, and not expect to be paid an upfront fee. While the claim is in process, no ongoing fees will be collected. Even if the claim takes months to complete. And of course, if the claim fails, no lawyer fee is due.
But, if the claim is a success, your lawyer will generally want to be paid a small success fee. The amount of this fee is legally capped. Your lawyer will have been sent a compensation payment for you by this stage, and the success fee can be taken out of this. You will then receive the remainder.
For a fuller explanation of how a No Win No Fee claim works, please call and talk it over with one of our expert claim advisors.

How Do I Find A Claims Specialist?
Firstly, you can call our claims team and have any questions that you have answered. This will be done in a consultation that is free and carries no obligation to pursue a data breach claim. Secondly, an advisor will evaluate your claim, and let you know whether it is potentially valid. Lastly, a solicitor will move on to begin processing your claim for you. Any claims taken on by our solicitors will be done so under No Win No Fee terms. Our claims line is open 24 hours a day, so call today and get your claim underway.

Talk To A Claims Specialist
Do you have any more questions about steps to take should a Mansfield District Council data breach occur? Or do you just need a little more free legal advice about starting a claim? You can use the contact information below, to get in touch with our team 24 hours a day, 7 days a week.
Telephone: 0800 073 8804
Use our webchat or fill in a contact request.

What To Read Next
These links have useful additional information,
Personal Data Breaches Explained
Complaining About A Data Breach
Additionally, these other claim guides could be useful to you.
Answering Some Common Questions
Here are some simple answers to questions that people quite often ask about data breach claims.
What time limits apply to making data breach claims?
In general, you have from six years to start your claim, one year if it affects your human rights, depending on your circumstances. Call and speak to our team for more information.
How do you claim for a breach of the GDPR?
If you need information about starting a data breach claim why not call our claims advisors today. They can answer any questions you have in our free initial consultation we offer all potential claimants.
What is the ICO?
The Information Commissioner's Office (ICO) manages data security and privacy regulations. The ICO also keeps track of data breaches that have happened, and also takes punitive action against organisations that breach GDPR.
Do you have any more questions about steps to take should a Mansfield District Council data breach occur? Why not call our team today.
Guide By Wheeler
Edited By Melissa.