City Of York Council Data Breach Claims
When you entrust your personal data to a company or organisation, you trust that they will keep it secure and only process it in a lawful manner. In this guide, we will look at the actions you could take should a potential City of York Council data breach occur.
There are a number of different pieces of legislation that protect personal data. The General Data Protection Regulation is a piece of EU legislation that aims to protect the rights of data subjects. This was ratified into UK law with the Data Protection Act 2018. Now that the UK has left the European Union, we refer to the UK GDPR in relation to data protection. The DPA has also been updated to account for the UK's departure.
But what happens when an organisation doesn't adhere to this legislation, and data subjects are harmed as a result? This is one of the things we will address in this guide.
Local Authority Data Breach Compensation Claims Explained
Each claim is unique in the way it came about and the damages that can be awarded. Our guide aims to provide as much advice as possible about seeking compensation.
We have experts available seven days a week to answer any questions you may have either during the day or at night. To speak with one of our claim advisers, call 0800 073 8804. Our live chat service also provides instant advice.
Select A Section
A Guide To Dealing With A City Of York Council Data Breach
Our guide to seeking data breach compensation provides advice on when a claim could be valid. We explain the effects a data breach can have on you that you may be able to claim for. This includes financial loss and psychiatric harm.
We also provide statistics about government data security incidents, and we explain what would constitute a breach in data security. We offer advice on a council's legal obligations to keep your data safe while explaining why and how a breach could happen. In addition to this, we will look at how human error can cause a data breach to occur.
In the sections that follow, we tell you when a breach can be reported to the Information Commissioner's Office (ICO). Moreover, we explain their role in enforcing data protection law. You will also find information on the sort of damages you could seek.
In addition, we've included a compensation table that gives you a rough idea of what you might receive. We cover No Win No Fee agreements and how you may be able to fund a solicitor under these terms.
To speak to a member of the Legal Expert team about the steps you could take if there ever was a City of York Council data breach, please get in touch today. We provide legal advice in a no-obligation, initial consultation that is free of charge.
The time limit for filing a claim
You will need to begin your claim within a set time frame. The time limit for data breach claims against the public sector is set at 1 year. If you are unsure on how long you would have to seek compensation if a City of York Council data breach were to occur, a member of our team is here to provide you with free advice.
Throughout the week, our advisers are available 24 hours a day. Contact information is provided at the end of this guide. We offer free legal advice and you won't feel pressured to use our services when you get in touch. Also, your initial consultation is free of charge and you would not be obliged to continue with a claim if you decide not to.
Cyber Attack Statistics
In the UK, the Information Commissioner's Office (ICO) is responsible for enforcing data protection laws. Based on data from the ICO related to Local Government data incidents for 2021/22, the table below summarises the findings. Data breaches affecting both local and central governments are routinely published on the ICO website.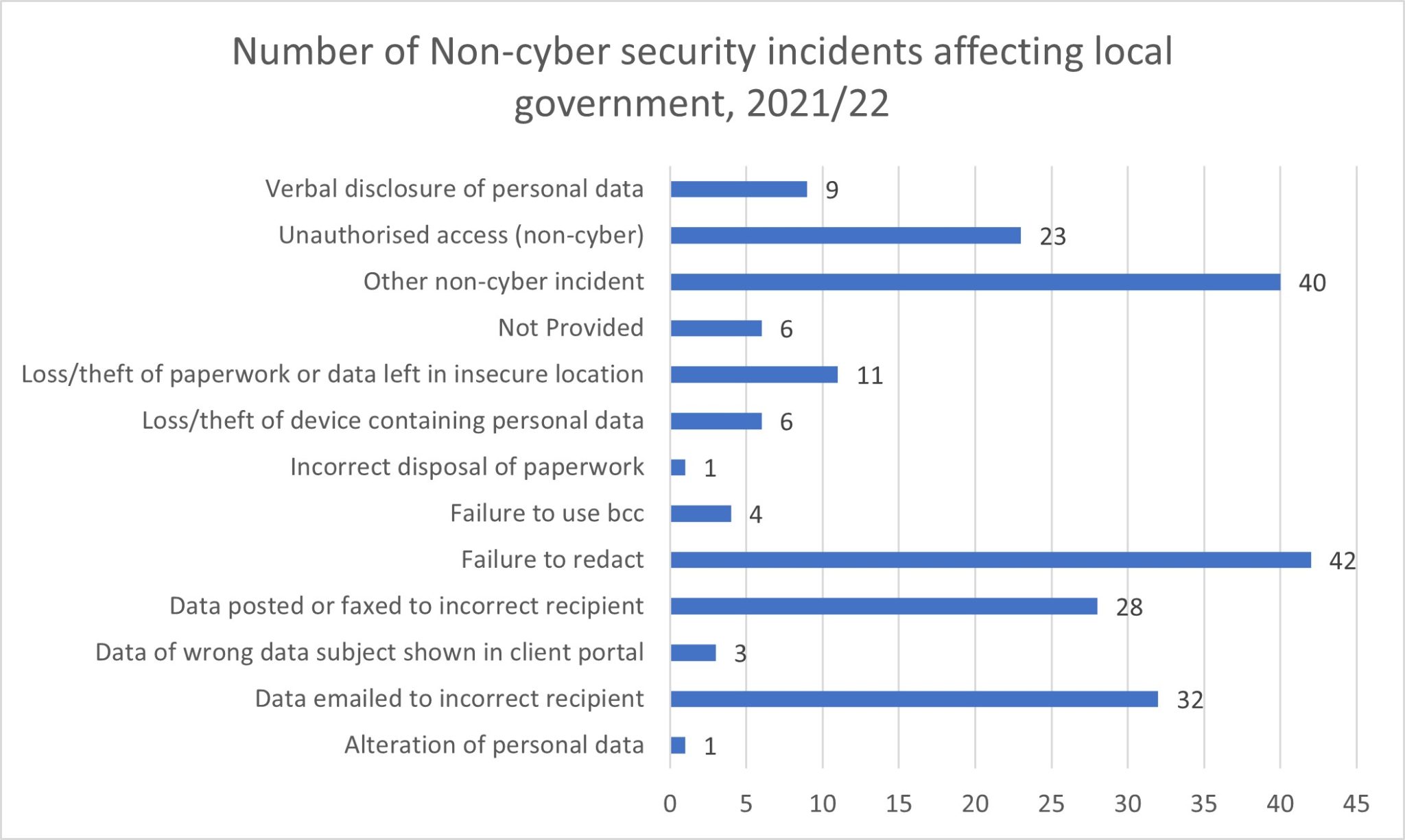 What Could Be City Of York Council Data Breaches?
A data breach could either be intentional or accidental. For example, it might occur because a cybercriminal launched an attack, but could also happen if an employee accidentally left a device containing personal data on public transport.
Local authorities can be fined if they fail to follow laws and regulations that aim to prevent data breaches. A data breach is a security incident that causes personal information to be lost, destroyed, disclosed, changed, or accessed without a lawful basis.
Personal data is any information that can identify a living person. This is the case whether the information can be used in isolation to identify someone, or whether it needs to be combined with other information in order for the subject to be identified.
If you have suffered financial loss and/or psychological harm as a result of a data breach, you could be eligible for compensation. However, you would need to show that the breach was caused by the failure of the organisation to do all they can to keep your personal information safe. If they did all they could to stop a breach from happening and one occurred anyway, you would be unlikely to be successful in your claim.
Is The Government And Council Subject To The GDPR?
Those organisations that collect and process a data subject's personal information must adhere to the UK GDPR and the Data Protection Act 2018. By complying with laws and regulations organisations are preventing data breaches from occurring.
Those who conduct data collection or processing (such as local authorities) must adhere to the UK GDPR and the 7 key principles. In addition, you need to have a lawful basis for processing personal data.
The lawful bases for processing personal data are:
Consent. This is where the data subject has given clear consent for their data to be processed for a specific purpose.
Contract. This can be used if the data controller (the organisation that decides how it is used) needs to process the data in order to fulfil a contract with the data subject.
Legal obligation. This is where the data controller has to process the data in order to comply with the law.
Vital interests. In these cases, data can be processed if necessary to protect someone's life.
Public task. Where processing the data is necessary for a public interest task to be performed.
Legitimate interest. This is where processing the data is necessary for your legitimate interests or a third party, and there is no good reason to protect this data that overrides these interests.
Examples Of Breaches In Data Protection
As we have already mentioned, some data breaches are the result of a malicious attack on the part of a cybercriminal. They may attempt to steal your information to use for their own gain.
However, not all data breaches are the result of an attack. Sometimes, a breach can occur as the result of human error.
It doesn't matter whether the breach was malicious or not; as long as you can show that the data controller's failings allowed the breach to happen and that you were caused emotional and/or financial harm as a result.
Below, we have included some examples of potential data breaches:
An email from a social worker containing personal data was mistakenly sent to a recipient who did not have the authorisation to access it.
Information about your child's school or nursery placement is mistakenly published on the council website because an IT employee uploaded the wrong file.
Your employer leaves personal information in an unlocked filing cabinet where it can be accessed by anyone.
For more information on filing such a claim, please talk to our claims team today. An adviser is here to answer any questions you have about the steps to take if a City of York Council data breach were to occur.
Data Breach Of Rent Statements
Councils offer affordable public housing to many people, particularly those who are vulnerable. The council will hold personal data if they are your landlords; this is necessary in order for them to provide you with this service.
Below we look at scenarios of the documents that councils may hold about tenants and how they can be potentially breached:
Rent statements. Sent to the wrong email address.
Proof of identity. The council may have had to take a scan of your passport in order to confirm your identity. If this was accessed by someone without authorisation, this could lead to a third party committing identity theft. They could take out loans in your name, affecting your credit in the future.
Bank details. If a hacker exploits a vulnerability in the network systems and manages to get your bank details they could access your accounts.
How And When To Report A Breach To The Information Commissioner
What steps should I take if I suspect a City of York Council data breach? There are a number of different things you can do.
You can first bring your concerns to the council's attention. They will be able to confirm whether a breach has happened and, if so, what data has been exposed.
If the council cannot resolve the issue, you can report the issue to the ICO. This should be done within three months of your last meaningful communication with the council. If you wait longer than this to raise your concerns, then they might decline to start an investigation.
You should also know that the ICO cannot compensate you. In order to receive compensation, you would need to either be offered this directly from the council at the time of reporting the breach or make a claim later down the line.
What Should I Do If The Council Breached My Data Privacy?
It is perfectly acceptable to make a data breach claim without a solicitor. However, a data breach solicitor has the knowledge and expertise to be able to ensure that your claim is filed in full. Once a data breach compensation settlement is accepted you cannot go back and ask for more. This is why it is vital to have your claim correctly filed.
You may have good reason to claim compensation if:
The breach was caused by failings on the part of the data controller
As a result of the breach you suffered monetary losses, psychological harm, or both
If you need to make a claim, you could hire a solicitor. Our team of specialist solicitors offer No Win No Fee agreements to claimants with valid claims.
Contact our claims advisers who will talk you through the claims process free of charge. If you would like to benefit from our advisers' advice please call the number below.
Types Of Damages Awarded
There are two types of damages that you could be owed in a successful data breach claim. The first is non-material, while the second is material.
Material damages cover you for any financial losses you have experienced. For instance, if your bank details were leaked, this could mean that your money is stolen.
Non-material damages cover you for any emotional harm you have experienced. The breach could, for instance, have caused you stress or anxiety. In serious cases, you might experience post-traumatic stress disorder.
Vidal-Hall and others v Google Inc set a precedent for claiming psychological damages for a data breach. The Court held that even if you didn't lose money as a result of the breach, you are able to claim for psychological harm. Prior to this ruling, you could not claim non-material damages if you did not suffer from financial harm.
Please call our claims advisers for more information on non-material and material damages you may be able to claim.
How To Calculate A Payout For A City Of York Data Breach
The compensation table in our guide shows you several potential compensation amounts awarded for specific psychological harm. We compiled this table using the Judicial College guidelines which assist legal professionals in valuing personal injuries.
This is possible because of the case Gulati & Ors vs. MGN Ltd [2015]. Because of this case, emotional harm caused by data breaches can be valued in the same way as in personal injury claims.
These are just guideline compensation brackets. If you would like a more accurate valuation of your claim, please get in touch with our advisors for more information.
| Mental harm suffered | Further notes | Potential compensation payouts |
| --- | --- | --- |
| Trauma psychological - Post Traumatic Stress Disorder | Severe symptoms that inhibit him or her from working, holding down a job, or participating in normal activities. Such effects are not only detrimental to their individual lives but can affect their relationships with family members and friends. | £56,180 to £94,470 |
| Trauma psychological - Post Traumatic Stress Disorder | Symptoms experienced by the claimant are moderately severe. The symptoms are similar to the above , but the prognosis is more optimistic with the claimant being expected to make some form of recovery over time with the right treatment and therapy. | £21,730 to £56,180 |
| Trauma psychological - Post Traumatic Stress Disorder | Although the initial injury will have been substantial and debilitating the claimant will make a good recovery. There still maybe ongoing mental illness into the future though. | £7,680 to £21,730 |
| Trauma psychological - Post Traumatic Stress Disorder | The claimant is expected to make a complete recovery within a period of two years. Any lingering symptoms will not be major. | Up to £7,680 |
| Psychiatric harm | In this case, the claimant suffers severe psychiatric injuries as a result of the data breach. The compensation payouts will vary depending on how their lives have been adversely affected, their ability to work and hold down a job, and whether they have had a negative effect on relationships as a result of the breach. | £51,460 to £108,620 |
| Psychiatric harm | The claimant suffers from moderately severe symptoms than those described above due to a data breach. They may have a better chance of recovery. However, for the near future, these symptoms are likely to negatively impact the claimant's life in general, | £17,900 to £51,460 |
| Psychiatric harm | A more optimistic outlook is expected and the prognosis is far better than above thanks to the correct treatment and therapy. The claimant is expected to recover over time. | £5,500 to £17,900 |
| Psychiatric harm | It is very likely that the claimant suffers much milder symptoms following a data breach. The claimant is expected to fully recover from the mental harm. | Up to £5,500 |
No Win No Fee Lawyers For A City Of York Council Data Breach
A No Win No Fee agreement is a type of agreement that means you do not have to pay any lawyer fees for them to begin working on your claim. Moreover, you will not be charged ongoing solicitor fees for the duration of the case. In addition, your solicitor will not charge you any fees if your claim fails.
The solicitor will deduct a success fee from your compensation if the claim is successful. A No Win No Fee solicitor will take their fee when you win your claim. These fees are legally capped, meaning that you always get the majority of the compensation you're awarded.
Call us today to learn more about making a No Win No Fee claim. An adviser can let you know if you have a valid claim, explain the process in detail and, if your claim is valid, connect you with a solicitor. Moreover, our solicitors offer their services on a No Win No Fee basis.
For more information on what to do if a City of York Council data breach ever took place, please reach out to one of our experienced advisers today. You will benefit from a free, no-obligation consultation when you get in touch. In short, if you decide not to go forward with your claim, you will not have to.
Helping Victims Get Compensation
To prevent a City of York Council data breach it is really important that steps are taken to train employees and ensure that any online documents are secure. Having up to date solid cyber security could be one way to protect personal information in online networks and databases. If you find that your data has been breached you may be looking for a data breach lawyer. The services of a lawyer could be very beneficial in processing a data breach claim on your behalf. For example:
Assistance in preparing evidence to support your claim
Working on your behalf to negotiate a fair settlement for the harm that is caused
Representing you in court, if necessary
It is worth noting that the majority of data breach claims are settled out of court. To find out how Legal Expert can help process a claim after a data breach, please get in touch today.
Contacting Our Experts
Contact our advisers using the information below for free legal advice and to find out if your claim could be valid.
We provide everyone who gets in touch with us an initial, no-obligation consultation which is free of charge. You can ask questions and we can offer free legal advice about seeking compensation if a data breach were to occur.
Related Articles
Please follow the links below to useful data breach guides:
Links to other websites that provide essential data breach information:
The UK General Data Protection Regulation
The Updated Data Protection Act 2018 (DPA 2018)
FAQs
How do data breaches happen?
Data breaches can occur as a result of human error. However, other reasons include inadequate cyber-security protocols or a malicious cyber-attack by a criminal.
Does my compensation come from the ICO?
The ICO enforces data protection law in the United Kingdom. However, the Information Commissioner's Office does not award compensation to victims of a data breach.
What is the DPA 2018?
The DPA 2018 is the legislation that governs information security.
How do I know I was the victim of a data breach?
You may start receiving odd emails, or someone may send people you know emails pretending to be you. If your financial details are breached, someone could empty your bank account or use your credit cards.
Thank you for reading our guide on the steps you could take if a City of York Council data breach were to occur.
Written by Wood
Checked by Stocks