Carlisle City Council Data Breach – Compensation Claims Guide
Welcome to our guide on claiming compensation if you've been harmed by a Carlisle City Council data breach. Since 2018, your personal data has received extra protection since the European Union's General Data Protection Regulation (GDPR) was enacted into domestic law by the Data Protection Act 2018.
The idea is that data subjects (you) have more control over when and how their personal information is used by data controllers (councils in this situation). Therefore, we'll look at what a council could do wrong to cause a data breach and when you might be able to claim compensation for any harm their mistakes cause.
Breaches In Data Protection Affecting Local Authorities
Additionally, we'll look at how the Information Commissioner's Office (ICO) governs data laws and how they can investigate organisations that do things wrong and fine them where necessary.
While they do have a lot of powers, they can't directly help you with making a data breach compensation claim. Therefore, if you have been affected by a data breach at Carlisle City Council, you may want to start your own legal action, and that's where Legal Expert could help.
If you have evidence of a breach, why not call our team for free legal advice? Following a no-obligation telephone consultation, we could connect you with one of our data breach solicitors who conduct cases on a No Win No Fee basis. Our advice line number is 0800 073 8804 or you can use live chat to find out more.
Alternatively, why not write to us about your claim online? To learn more before getting in touch, please continue reading.
Select A Section
A Guide On When You Could Claim For A Carlisle City Council Data Breach
In the modern world that we live in, data flows around the ether constantly. It makes many tasks easier and quicker. However, there is also a risk of sending all of that data here, there and everywhere. If you sit down and work out what information a council might hold on you, you'd probably be surprised. Also, you probably wouldn't want it ending up in the wrong hands. For that reason, the GDPR was introduced.
The new law gives you more control over how information about you is used. You'll now see tick boxes, pop-up boxes and agreements in almost every transaction you carry out these days. They are there to give you options about how an organisation (the data controller) can use your information.
Local authorities are bound by the GDPR as they require information about their clients to function properly. As with any other organisation, if a data breach at Carlisle City Council were to occur, they might expect to be contacted by the ICO and asked to explain what will happen.
We will show you what rules apply to local authorities throughout this guide. We'll also explain how much compensation might be paid if you suffer as a result of your data being exposed.
Once you have finished reading, why not get in touch to discuss if you have a valid claim?

Are Data Breaches Increasing In Frequency?
In this section, we have provided a graph showing data breaches reported to the ICO in the local government category. As you will see, reports during the two time periods (Q3 2020/21 and Q1 2021/22) don't vary too much. However, over recent years data breach reports have increased massively.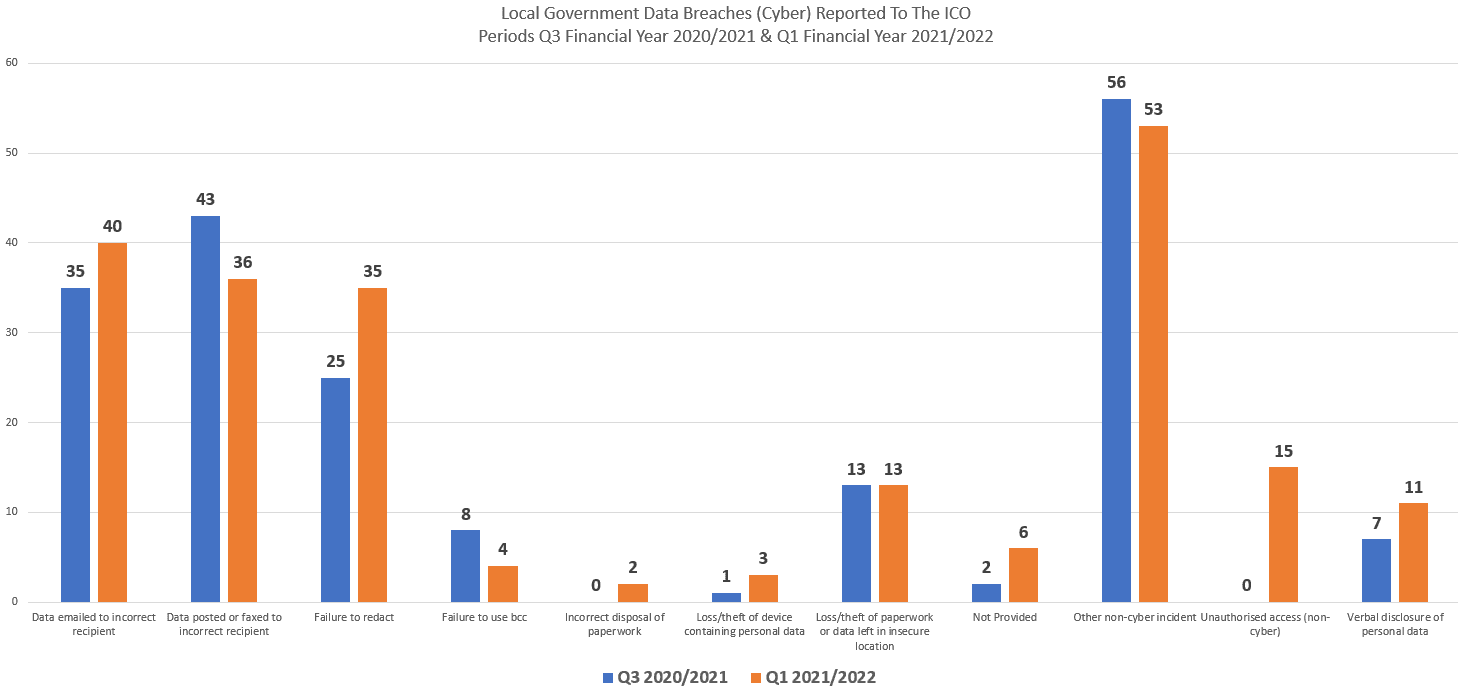 You should consider, though, that it doesn't necessarily mean that lapses in data security have increased. The rise in numbers could simply be down to the fact that they must be reported to the ICO. This is a good thing and may result in the number of reported incidents declining in the future.

What Is A Damages Claim For A Carlisle City Council Data Breach?
So, what is a data breach? Well, the GDPR documentation says that when personally identifiable data is lost, destroyed, changed, accessed or disclosed to unauthorised parties, a data breach is likely to have happened.
To make a data breach claim, the act that caused the breach to occur does not need to be illegal or even deliberate. Accidental data breaches could still entitle you to claim.
In the case of cybersecurity data breaches involving hackers or cybercriminals, you would need to show that the data controller had failed to do something that allowed the hackers to access data. For example, if they had not used a strong password system or they had not installed the latest security patches for applications or hardware.
We could help you seek compensation if you've suffered from psychological harm or incurred financial losses. Please call today and we'll assess your claim for free.

GDPR Compliance For A Local Authority
The UK GDPR applies to all organisations that process information about you. Therefore, local authorities are not exempt from the rules. Importantly, before processing any personal data, they need to verify that there is a lawful basis. The ICO's website says that this can come from:
Consent: Where you have been told why your data is required and you have clearly agreed to it being processed.
Contract: This means your data is required to fulfil a contract you have with the council.
Legal obligation: Meaning that the council can share information about you when they are legally obliged to do so. There would be no need for you to consent in this instance.
Vital interests: Where the council believes that if somebody's life is at risk, they can legally share relevant information about you with the emergency services for example.
Public task: Where a task that's in the public interest and has a lawful basis requires information about a data subject to be processed.
Legitimate interests. This is the most flexible of the lawful bases for processing data. Essentially, it covers processing personal information that a data subject would reasonably expect to be used in that way.
Importantly, whenever data is processed, only the minimum amount should be used. For example, if you'd agreed for a council to share your contact details with a charity, that's all they should be given. Also, if there is another way to achieve the outcome required without processing personal data, then the lawful basis will not apply. Therefore, data controllers must always look at alternatives before choosing to use personal data.

When Could Your Data Privacy Have Been Breached?
Let's now take a look at some scenarios that could result in personal information being leaked in a data breach. It's worth remembering that some actions can be deliberate or illegal while claims might also be possible for accidental data breaches. Here are some examples:
Where council staff leave information about you on an unlocked computer screen in an area where unauthorised members of the public can view your details.
If social services put vulnerable children or adults at risk by sharing files with other organisations.
Where a local authority breaks data protection law by failing to destroy documents containing personal information securely.
When councils share data with other local authorities without asking the data subject's permission first.
Where a letter or email intended for you is sent to the wrong recipient who then has access to personal data about you.
If the council learns of a data breach, they must get in touch with the ICO to report the incident within 72-hours. They must also tell any data subjects about the breach if it has the potential to cause them problems without undue delay.
If you have evidence that you've been impacted by a Carlisle City Council data breach, please call our team today.

Breaches In Tenancy And Social Work Privacy
Carlisle City Council, like other councils, could potentially hold information about clients in various ways. Here are a few examples:
Rent statements: These are likely to have your personal details along with information on your rent payments.
Tenancy agreements: Documentation may contain your name, address and date of birth.
Audit documents: When your details are checked by the council, they could retain scans of your passport or other documentation that could identify you.
Here are some ways data breaches relating to renting a property from the council could occur:
Sending information to the wrong recipient. Where this happens, another tenant could receive your personally identifiable information.
Using unredacted information about you in packs sent to landowners. You could claim for any psychological harm, like stress, or financial losses that result from personal information being sent to landlords without a lawful basis to do so.
Losing documentation or files. If a council officer loses documents or a memory stick that contains information about you, then you could sue if that leads to you suffering.
It's not always clear whether you have the grounds to make a data breach claim against a government department. Therefore, it is a good idea to check the validity of your case with one of our specialists. Why not call today to learn more about how we could help you?

Report A Breach Of The GDPR In The UK
When the ICO finds out about a data breach, they may choose to look into what happened and who caused the breach. However, you can't ask them to investigate straight away. Instead, you would need to raise a complaint formally with the council and await their response.
If you don't agree with the council's findings, you should escalate the complaint as high as possible. If you're still not happy with the outcome of your complaint, you can contact the ICO and ask them to look into the matter within three months since you last heard anything meaningful.
It's important to point out that while an ICO report could help with your claim, they cannot award compensation for you no matter how seriously you have suffered. That is the reason you would need to take legal action against the council yourself. Any report that is written, though, could provide important evidence in your case.
Our advice is to speak to our team in the first instance. If a solicitor takes on your claim, they will help you decide whether asking the ICO to step in is appropriate in your case. Please call today to find out more.

Taking Legal Action Against A Local Council
If you have proof that you have suffered because of a Carlisle City Council data breach, you might want to discuss your case with our team. When you do, they'll explain your options for free and check to see if your case is viable.
If a solicitor agrees to work with you, they'll let you know whether it's worth consulting with the ICO and asking them to investigate the breach. This isn't always necessary in cases where a council has already documented the fact that the breach took place and this can save some time in the claims process.
To start the ball rolling, please contact one of our specialist advisors today.

Working Out What Damages You Could Be Owed
Data breach claims can compensate you for two different forms of damage:
Material damage – to cover any costs, financial losses or expenses caused by the breach.
Non-material damage – to cover any psychological injuries that result from the breach.
As an example, you may need to claim for material damage if your bank details have been obtained and used by criminals and left you out of pocket. Similarly, you could claim non-material damage if the Carlisle City Council data breach caused you to suffer from the likes of post-traumatic stress disorder (PTSD), anxiety or depression.
However, your solicitor also needs to consider whether you'll continue suffering in the future. Therefore, you'll need a medical assessment as part of your claim. Our solicitors can book these locally to prevent you from having to travel too far. Your appointment will be conducted by an independent specialist who'll review how you've suffered by reviewing medical notes and asking questions. When they're finished, your injuries will be recorded in a report as will your prognosis for the future which will be used to prove your claim.
We believe it's best to work with a data breach lawyer when seeking compensation because it's very easy to forget to include or evidence some aspects of your suffering. If your case is taken on, a solicitor will try to ensure everything is included as you can't ask for further compensation once your claim is settled.

Calculate Your Payout For Carlisle City Council Data Breaches
The compensation table below uses information from the Judicial College to show you how much compensation could be paid in a successful claim following a Carlisle City Council data breach. It includes figures for conditions like anxiety, stress and other psychological problems that might result from data breaches.
| Injury Suffered | Potential Compensation Range | Further Information |
| --- | --- | --- |
| Psychiatric Damage (General) | £51,460 to £108,620 | Very Severe |
| | £17,900 to £51,460 | Deemed moderately severe |
| | £5,500 to £17,900 | Moderate symptoms |
| | Up to £5,500 | Less serious symptoms |
| Post-Traumatic Stress Disorder (PTSD) | £56,180 to £94,470 | Very severe |
| | £21,730 to £56,180 | Deemed moderately severe |
| | £7,680 to £21,730 | Deemed moderate |
| | Up to £7,680 | Less serious symptoms |
It's worth bearing in mind that the Court of Appeal case of Vidal-Hall v Google [2015] set the legal precedent that:
Compensation can be considered if a claimant has been harmed psychologically by a data breach (whether money has been lost or not).
Before this case, claimants had to demonstrate financial damage in order to claim for mental harm.
Another case, Gulati and Others v MGN Ltd [2015], recommended to lawyers to consider payouts in personal injury claims when valuing psychological injuries in data breach cases. This is why we've included the above figures, taken from the guidelines of the Judicial College.
If you would like us to check what you could claim for in your case, why not use our online chat service to get in touch?

When Could You Work With A No Win No Fee Solicitor?
The thought of losing money on solicitors fees if your claim is unsuccessful is enough to put some people off taking action. We fully understand that and it is the reason our team of experienced solicitors provide a No Win No Fee service. By doing so, we reduce your financial risk and make the data breach claims process a lot less stressful.
If your case is accepted, a solicitor will provide you with a Conditional Fee Agreement (CFA). This is the formal title of a No Win No Fee arrangement and shows you what conditions must be met before your solicitor is paid. Essentially, they must win your case and you must receive compensation.
Where there is a positive outcome, you'll pay a small success fee which is a percentage of your compensation. This is listed in the CFA and is capped by law to stop you from being overcharged. It is used to cover your solicitor's costs.
To check if your claim could be processed on a No Win No Fee basis following a Carlisle City Council data breach, please call today.

Choosing Someone To Handle Your Carlisle City Council Data Breach Case
While you might find solicitors in Carlisle who'll offer to help you make a data breach claim, there's no reason not to widen your search. As we offer a nationwide service, our solicitors can help with Carlisle City Council data breach claims.
We do everything online, over the phone and by email which means our service is efficient and you won't need to travel to see us. Furthermore, we always work on a No Win No Fee basis for any case we accept.
There's nothing to lose by calling, so why not get in touch today? If you're still unsure, why not check our reviews?

Talk To A Solicitor Online
If you're considering making a claim for a Carlisle City Council data breach why not get in touch with us for free legal advice and a no-obligation review of your case? To do so you can:
Remember, any claims we agree to work on will be handled by a data breach solicitor on a No Win No Fee basis.

Useful Resources
We have listed some useful resources here that may be of some use when claiming for a Carlisle City Council data breach.
The Freedom of Information Act 2000 – This allows you to access information held by public authorities.
Generalised Anxiety Disorder – NHS advice on what can be done to help treat anxiety.
Report A Data Breach – The ICO explains the correct process for reporting data breaches.
NHS Data Breach Claims – Information about how information about you could be leaked by the NHS.
University Data Breaches – Details on whether you could claim if your information is leaked by your university.
Leaked Medical Records – Advice on what you could do if your medical records are involved in a data breach.
Useful Compensation Guides
Data Protection Victim FAQs
In this final part of our guide on claiming for a Carlisle City Council data breach, we have answered some common questions. If you have any further questions, please call our team today.
Does the council need my consent to use my personal information?
Councils must obtain a lawful basis to use your personal information. This may come from a contract (such as your tenancy agreement) or by asking for your permission to use information. However, a lawful basis to share data about you could be established without your permission. This may be the case if there is a perceived danger to life for instance.
How do I stop the council using my data?
Councils can only use your information where there is a lawful basis for doing so. This is often established by asking for your permission to use your data in certain ways. You can rescind that permission by emailing the council. For example, you could ask the council to stop using your email address to send updates about council services.
How do I make a subject access request?
If you would like a copy of the information the local authority holds on you, you can make a Subject Access Request (SAR). This can be done in writing, verbally or even by social media. You should expect a response within one month. However, if your request is complex, you may need to wait for up to 3-months.
Thank you for reading about when you could claim for the suffering caused by a Carlisle City Council data breach. Our team is ready to provide free advice on your options so why not call today?
Guide by Hambridge
Edited by Billing