I Have Been The Victim Of A Crime, How Long Does A Criminal Injury Victim Compensation Claim Take?
By Max Mitrovic. Last updated 9th June 2022. Welcome to our guide on making a criminal injury victim compensation claim. Being physically or mentally injured by a criminal act can be devastating, often leaving victims traumatised long after any physical injuries have healed.
Injury from a violent crime may occur in various ways, both directly or indirectly. It may be that you were the victim of a criminal assault, sexual assault, or suffered grievous bodily harm (GBH) at the hands of someone else. Or perhaps you were in the wrong place at the wrong time and injured due to criminal activity near you; for example, you may have been knocked down by someone in a stolen vehicle.
Various injuries can result from being the victim of a criminal attack, both physical and psychological. Filing a criminal injury claim could give some financial assistance if successful whilst you recover from your injuries.
However, criminal injury victim claims can take several months to conclude. Using the services of a criminal injury solicitor could help ensure that the claims process runs promptly so as not to drag on longer than necessary.
Legal Expert has a team of criminal injury lawyers that could support you with your criminal injury victim compensation claim. Contact us on 0800 073 8804.
Select A Section
A Guide On How Long Criminal Injury Victim Compensation Claims Takes
Making a claim for compensation as the victim of criminal activity in most cases will need to be processed through the Criminal Injuries Compensation Authority (CICA). This guide gives information on the relevant facts surrounding criminal injury claims and how to claim yourself.
The guide discusses which types of criminal injuries could be claimed for and what the criminal injury claims time limit is for such claims. It also looks at how long claims may take to settle and whether they can be fast-tracked.
The guide also discusses what might cause a claim to be delayed and how to check how the claim progresses. Finally, in the guide, you will find information such as what additional damages you can claim for, how much compensation you could be awarded, and how using a No Win No Fee criminal injury solicitor could be beneficial.
What Is A Criminal Injury Victim Compensation Claim?
If you have suffered an injury due to falling victim to a criminal act, you may be entitled to make a criminal injury claim. Depending on the type of criminal activity of which you were a victim, you may have sustained not only physical injuries but also been left with a level of psychological injuries as well, such as Post-traumatic Stress Disorder (PTSD) and anxiety, which could last for many years.
The Criminal Injuries Compensation Scheme is a scheme run by the Government to enable innocent victims of violent crime to claim compensation for their injuries, including physical injuries and injuries related to psychological trauma. The amount you're awarded will depend on the nature of your claim and the type and severity of the injuries involved.
Claiming criminal injury victim compensation will not change what has happened to you. Still, it can provide some financial support whilst you concentrate on recovering from your injury.
For more information on making a criminal injury victim compensation claim, please read on or get in touch with our claims team today for more information.
Types Of Criminal Injuries Which Victims Could Claim For
There are many different types of injuries that the victim may sustain, ranging from minor to serious injuries. Often the worst kinds of injuries are resultant from particularly violent crimes including:
Sexual Abuse – This may have occurred over a short or very long period of time, and physical injuries would result in severe psychological trauma.
A sexual Assault – As above, whether or not penetration occurred or not, the trauma of a sexual assault can be hugely debilitating.
Rape – Penetration injuries will be present and certainly, in some cases, physically severe, but also the traumatic injury of such a crime will be horrific.
Criminal Attack – This may result in various injuries such as fractured and broken bones, cuts, stab wounds, burns and scars, disfigurement.
GBH – GBH can result in serious injuries, including those above, as well as head injuries and unconsciousness.
Criminal Assault using a weapon – Injuries may include broken or fractured bones, crush injuries, bullet wounds, stab wounds, or other puncture wounds.
Indirect Criminal Activity – Injuries can vary depending on how the victim became injured in an event where they were not individually targeted. From being knocked down by a vehicle in a hit and run to suffering a gunshot, injuries will vary accordingly but will likely be similar to those mentioned above.
Criminal injuries statistics
In September 2020, it was revealed by the Crime Survey for England and Wales that there were 5.7 million crimes reported in England and Wales; this was a decrease of 6% from the previous year. The graph below shows that, despite some variations, the overall level of crime in September 2020 can be compared to September 2019.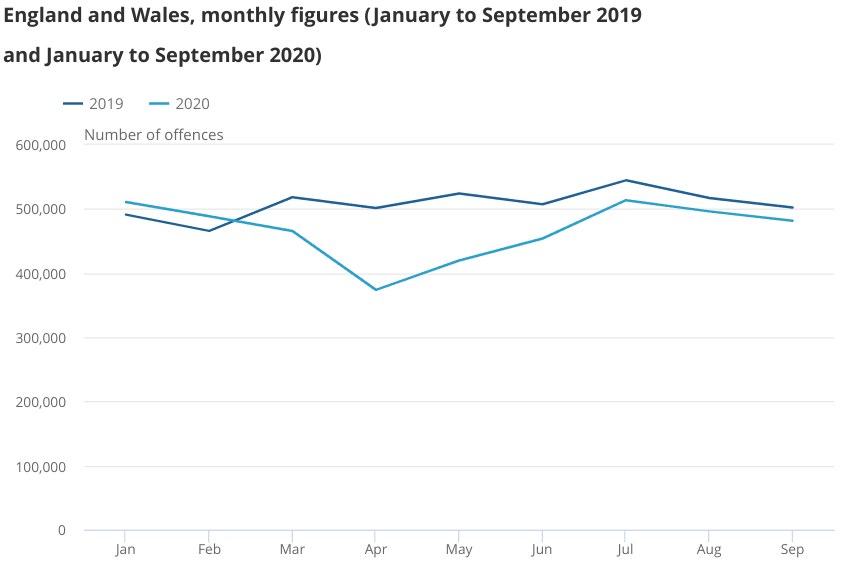 The same report using information from the Telephone-operated Crime Survey for England and Wales indicated that 1.4 million violent crimes occurred in September 2019- September 2020.  Violence against the person offences increased by 19% from April-June to July-September 2020.
Our next section will look at the time limits that apply when making a criminal injury victim compensation claim; if this is of interest to you, please read on.
Time Limits In Which To Start A Criminal Injury Compensation Claim
All claims, regardless of nature, have to be initiated and underway before the time limit has expired. With criminal injury cases made through the CICA, this will generally be 2 years from the date the incident occurred. Therefore, it is imperative to start a claim as soon as possible. However, there are exceptions.
When claiming crime victims compensation, a full report must have been made to the police, where you will be given a crime number. You cannot make a criminal injury claim if it has not been reported. In historical abuse cases where the abuse occurred a long time ago, it may still be possible to file a claim through the CICA scheme two years from the date the incident was reported to the police.
A claim made through CICA is possible if the perpetrator is unidentifiable or has insufficient funds to pay compensation.
In cases where the perpetrator is known and being prosecuted, victims do not have to wait until the criminal trial has ended. If waiting would leave them 'out of time' to file their claim, they may not want to wait as this could be detrimental to their case.
However, if they do decide to wait, we would recommend that they request the advice in writing. This can be evidence to prove their reason to CICA for filing a claim 'out of time'.
How Long Could It Take For Criminal Injury Compensation Claims To Be Settled?
Although we cannot say exactly how long it will take for criminal injury victim compensation claims to settle, we know that CICA attempts to settle most claims within 12 months. However, this may vary and will depend on the nature of the claim. Some claims may take a lot longer, such as claims of a complex nature or where the settlements are of a higher value. Likewise, there are certain cases where settlements are much quicker.
In cases where the victim suffers serious injuries and continues with ongoing medical treatment, a final settlement decision may only come after the prognosis. With these cases, depending on the circumstances, you may be able to request CICA to pay an interim payment.
Could Some CICA Compensation Claims Be Fast-Tracked?
The CICA may give priority to older cases but they aim to balance this with newer cases in which a straightforward decision could be made.
Generally, though, the time it takes for a CICA claim to settle will depend on several factors, such as:
The complexity of the case
Whether further evidence is required
For more information, get in touch on the number above.
Why Are Some CICA Compensation Claims Delayed?
Although there's no set time, the victim of a crime's compensation could have a delay for several reasons. These include:
Where a case is more complex – When more information and evidence are necessary, CICA may need to wait on reports made by medical professionals or the police. Also, for cases involving child abuse or abuse of an adult, if the perpetrator doesn't receive a conviction in a court, CICA may require extra information and evidence to help them reach a final settlement decision which naturally will take more time.
Ongoing treatment – Where the victim needs ongoing medical treatment or is waiting for an official prognosis of future recovery time, CICA may not make a final decision. They may, however, pay an interim payment to provide some financial support to help prevent the victim from suffering from financial hardship as a result of being a victim of crime. We can advise how the length and depth of treatment could influence a payout for a criminal injury victim compensation claim.
Could I Check How My Claim Is Progressing?
You can call CICA at any time to check the progress of your claim. Although it's possible to handle a claim with CICA independently, it can often feel very daunting and overwhelming. Having a criminal injury solicitor such as those at Legal Expert can be a huge relief.
If you would like Legal Expert to conduct your criminal injury claim on your behalf, please get in touch with us. But if you start your claim and need legal advice, we can still help and take on your case.
You may wonder how much you could receive from a criminal injury victim compensation claim. If so, read our next section for the answer to your question.
Criminal Injury Compensation Claim Calculator
| Injury Type | CICA Compensation | Details |
| --- | --- | --- |
| Head Injury | £6,200 | A minor head injury which leads to permanent balance impairment, concussion or headaches. |
| Scarring Of The Face | £11,000 | Scarring of the face which results in serious disfigurement. |
| Eye Injury | £44,000 | Serious and permanent loss of visual field. |
| Face Fractures | £11,000 | Multiple fractures of the face. |
| Nose | £3,500 | A nasal injury which results in partial loss of smell, taste or both. |
| Skull | £4,600 | A depressed fracture of the skull which requires an operation. |
| Teeth | £3,500 | The loss of four or more front teeth. |
| Elbow | £6,200 | A fracture or dislocation of one elbow that causes significant disability. |
| Arm | £3,500 | A fractured humerus which causes significant disability. |
We have created the table above using figures from the Criminal Injuries Compensation Scheme 2012. These compensation valuations will vary from case to case, depending on the circumstances of each individual's suffering.
More payouts for victim compensation claims
In certain circumstances, compensation for victims of crime can come directly from the perpetrator. However, in other instances, you may make your claim through the CICA. One reason for this is that the defendant may not be known or found. Another reason is they simply may not have access to the sufficient funds necessary to compensate you.
If a successful claim is made directly against the assailant, then the compensation would not be awarded in accordance with the Criminal Injuries Compensation Tariff. Instead, it would be calculated in the same way as in other personal injury claims. That is, legal professionals would take a look at your medical evidence, as well as a publication called the Judicial College Guidelines (JCG).
We've included some figures from the 16th edition of the JCG in the table below, as this is the latest edition, published in 2022. As you can see, each injury has a range of figures alongside. This is to assist those calculating your claim. However, they are only guidelines and there is no guarantee that the amount you receive for your pain and suffering will fall within these brackets.
| Injury | Description | Amount |
| --- | --- | --- |
| Brain Damage | (a) Very Severe – The compensation awarded may vary depending on several factors such as the person's life expectancy and the physical limitations. | £282,010 to £403,990 |
| Paralysis | (b) Paraplegia – The level of compensation will depend on how severely factors such as independence, mental health, and life expectancy are affected. | £219,070 to £284,260 |
| Hand | (b) Where both hands have been seriously damaged, leading to permanent disability of either a cosmetic or functional nature. | £55,820 to £84,570 |
| Eye | (d) One eye will be totally lost. | £54,830 to £65,710 |
| Arm | (b) Arm injuries that cause a permanent and substantial disability such as fractures of a serious nature to either one or both forearms. | £39,170 to £59,860 |
| Elbow | (a) An elbow injury that is severely disabling | £39,170 to £54,830 |
| Neck | (b) Moderate - (i) Injuries such as fractures and dislocations, that bring on symptoms immediately with a spinal fusion being required. | £24,990 to £38,490 |
| Digestive system | (a) Damage that has been caused by a traumatic injury: (iii) Injuries might include a penetrating stab wound. | £6,610 to £12,590 |
| Shoulder | (e) Clavicle fracture | £5,150 to £12,240 |
| Wrist | (e) A Colles' fracture that is simple in nature. | In the region of £7,430 |
Other expenses
Whether claiming against a perpetrator or through the JCG, there are sometimes other figures you may be able to claim. For instance, a loss of earnings may take place due to you being unable to work due to your injuries.
However, the avenue you take to claim may differ. Please get in touch with our advisors to find out more. They can provide further clarification and also answer questions such as "how long does it take for criminal compensation to come through?".
Special Expenses Applicable To Compensation Claims
Special expenses cover the financial costs the victim endures because of their injury. These might include goods or services that were necessary, reasonable and weren't available for free from another place. They could include:
Dental/Medical treatments – Any costs because of the injury for dental/medical treatment or medication for serious injuries.
Care Expenses– Costs for care help as a result of suffering their injury.
Loss of earnings – If you weren't able to work for over 28 full weeks.
It is especially important to keep hold of any receipts and invoices as proof of payment of these costs.
No Win No Fee Criminal Injury Compensation Claims
A No Win No Fee arrangement such as a Conditional Fee Agreement (CFA) offers claimants financial protection when getting legal representation.
Our solicitors at Legal Expert offer this type of agreement when taking on a claim. A CFA means that you don't pay fees upfront or during the claims process.
If the solicitor fails in securing your compensation, you don't pay a success fee to them. If they're successful, however, they take a small percentage of the settlement amount. This contribution is subject to a legal cap.
Why Choose Legal Expert For A Criminal Injury Victim Compensation Claim?
Legal Expert has a team of expert personal injury solicitors with an excellent track record of successful compensation claims. We are passionate about securing the compensation our clients deserve.
Now, we understand that our clients are going through a particularly tough time. And so, we always put 100% effort into building a strong case, covering all areas with extreme care. Also, we aim to inform our clients of the progress made on their case each step of the way.
For more information on seeking victim support compensation with the help of one of our solicitors, see below for how to contact us.
Start Your Criminal Injury Victim Compensation Claim
To start your claim today, you can contact Legal Expert on 0800 073 8804. Or you could fill out our online contact form. Alternatively, speak with an advisor using the live chat feature below.
Essential Resources
Whom Do You Claim Criminal Injury Compensation From? – This is a guide offering further advice on whom you would claim criminal injury compensation from.
Claims For Death By Dangerous Driving – Death may be indirect; this guide might be helpful.
Claims For Murder Victims Loved Ones – Criminal injury could be as severe as murder, so that this guide could be helpful.
Criminal Injuries Compensation Authority – Government information on CICA.
Victim Support – Helpful information and advice from Victim Support.
Facial Scar Injury Claims – In this guide, we will explore whether you could seek compensation for a facial scar injury.
Child Abuse Claims – This helpful guide will provide information on seeking compensation by making a child abuse claim.
Psychological Injury Claims – Visit this guide if you have experienced psychological harm as a result of someone else's negligence.
CCTV For Personal Injury Claims – Read this guide on gathering CCTV evidence for your claim.
Assault At Work Compensation – For more information on making a claim following an assault at work, see this guide.
Thank you for reading our guide on making a criminal injury victim compensation claim.
Criminal injury victim compensation claim- FAQs 
Below, we have provided answers to commonly asked questions about crime victims compensation.
How much compensation will I get for criminal injuries?
There's no single answer to this question. That's because the amount of awarded compensation depends on the severity of your injuries as well as other factors unique to your case.
How Long Does It Take For Criminal Compensation To Come Through?
You may be wondering how long it could take to receive your victim compensation in the UK. You should know that this may depend on who is compensating you; the perpetrator directly or the CICA. Please remember that you would only be able to claim through the CICA if you were the victim of a violent crime in England, Scotland or Wales.
The length of time it takes before your compensation comes through could depend on how long your claim takes. In itself, the length of your claim depends on a variety of factors. For example, it could depend on when you started your claim.
Generally, you need to report an incident to the police as soon as possible. Once you've managed to do that, you would then need to contact the CICA within two months if claiming through them.
The CICA can coordinate with the police and work with you to build your compensation case. Evidence, such as medical reports and photographs of your injury, can be used to clarify the amount of compensation you're entitled to. The date you receive compensation is directly linked to how long this process takes.
Once this bid to secure a settlement has been successful, and you've made the CICA aware that you want to accept this, it should be deposited in your bank account within four weeks. Our specialised solicitors can help you with this process.
To know more, or to find out about claiming directly through the perpetrator, please contact our team for a free consultation using the above details.
Can you still claim criminal injuries without a conviction?
Yes, you can claim compensation through CICA if the assailant is yet to receive punishment. However, you will still need to report the incident to the police.
Can you claim criminal injuries twice?
You can't claim for an injury in a criminal attack if you previously received payment for it. Please get in touch with us today for more information about criminal injury victim compensation claims.
Can you claim for psychological injury?
If you suffer a psychological injury as a result of being attacked, then you could claim for this through CICA.
Can you sue an abusive parent?
Previously this would be more difficult, as the "same roof" rule between 1964 and 1979 would prevent claimants from receiving compensation following an assault by a family member at the same address. However, it is now possible to make a claim of this nature since this rule has been removed from the Criminal Injuries Compensation Scheme 2012.
Can I make a personal injury claim myself?
You could claim for personal injury without the representation of a solicitor. However, you may find that a personal injury solicitor could help you through the process.
Can I claim if I have unspent criminal convictions?
You may still be eligible for compensation through CICA if you have unspent criminal convictions. However, it could affect your claim as the CICA could reduce your compensation.
If you receive a conviction during the application process, you should let CICA know as soon as possible.
For more information, please get in touch on the number above.
How much do you get for criminal injury compensation?
If you're wondering how much you could get for criminal injury compensation, it will vary depending on the severity of your injuries. Your compensation will be awarded according to the Criminal Injuries Compensation Scheme 2012 which sets out a tariff of injuries.
For more information, please get in touch with our team on the number above.
Can I claim compensation for being attacked? 
It's possible that you could make a claim for compensation if you were attacked and left with injuries. You could make your claim through the CICA if your attacker can't be identified or doesn't have the means to pay compensation.
For more information on whether you could claim compensation for being attacked, call our team.
Thank you for reading our guide on making a criminal injury victim compensation claim. 
Written By H
Edited BY Melissa