£15,000 Compensation For A Cyclist Knocked Off Their Bike
By Danielle Jordan. Last Updated 22nd September 2023. This is a case study guide to claiming compensation as a cyclist knocked off a bike by a car. In this guide, we look at an example of this type of claim, and explain how you could potentially claim compensation as a cyclist harmed by negligence. Read on to find out more.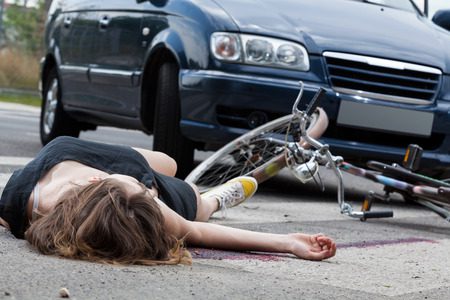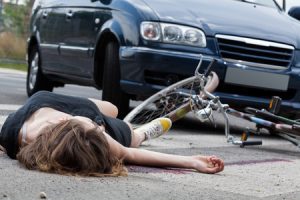 If you have any questions or would like help starting your claim, please get in touch with an advisor on the following details:
Select A Section
When Could You Make A Claim For Being Knocked Off A Bike?
When navigating the roads, all road users are expected to do so in a way that prevents injury and damage to themselves and others. This is their duty of care. As part of this duty, they are expected to comply with any relevant rules and regulations found in the Highway Code. In addition to this, certain road users, such as drivers must comply with the Road Traffic Act 1988. 
If you would like to seek compensation for injuries you suffered as a cyclist who was knocked off your bike, you will need to meet the eligibility requirements. This means that in order to make a personal injury claim, you must be able to prove that:
You were owed a duty of care. 

This duty was breached. 

As a result of this breach, you suffered injuries. 
If you have any questions about bicycle accident settlement amounts in the UK or if you would like a free valuation of your potential claim, get in touch with an advisor from our team. 
£15,000 Compensation For A Cycling Claim – Case Study
At Legal Expert, we have helped multiple people who are a cyclist knocked off bike by a car get the compensation they deserve. This case study looks at a cyclist who was knocked off their bike by a car. The vehicle pulled out in front of the bike without due warning. This caused the cyclist to be thrown off the bike, sustaining several injuries. The claimant (a woman) sustained a variety of injuries to her neck and legs. These injuries required physiotherapy treatment over a period of time to help heal from the injuries. A total of £15,000 in general and special damages were awarded.
Establishing Liability In The Bicycle Accident Claim
They gave the driver's insurance company 24 hours to acknowledge receipt of the claim and then 15 days in which to admit or deny liability. The acknowledgement was received on time.
Liability for the accident was admitted in just five days. The claimant and her solicitors noted down all out-of-pocket expenses that the lady incurred as a consequence of her accident.
What Injuries Did They Suffer?
The claimant was cycling along a hill when a car pulled without giving any warning, and straight into her bicycle. The knock threw her to the ground and caused the claimant to suffer various injuries. These injuries included stiffness of and bruising to the woman's neck as well as further bruising of the left knee and between her legs. As well as this, the claimant also suffered a strained back. The bruising between the claimants' legs caused her reduced mobility.
What Compensation Was Received?
The woman received general damages for her injuries. Special damages are part of the overall claim but are not the actual compensation for the injuries incurred. In this case, the special damages included expenses such as additional travel expemnses (including travel to medical appointments), the cost of replacing the bike and any care & assistance she needed around the home.
The woman had needed some assistance with domestic tasks. The special damages part of the claim also included painkillers and the costs of treatments. The total amount of compensation awarded (including general damages and special damages) was £15,000.
From the start of the claim through to the claimant receiving her compensation, the whole process took just nine and a half months. This also included the time for her to undergo a second round of physiotherapy treatment before she agreed to settle the claim.
How Long Does A Cyclist Knocked Off A Bike Have To Start A Claim?
If you have valid grounds to make a personal injury claim after being knocked off your bicycle, you should know that there is a time limit for getting your claim underway. As set out by the Limitation Act 1980, there is generally a three-year time limit for a cyclist knocked off their bike to start a personal injury claim. This time limit usually starts from the date the injury occurred.
Under certain circumstances, the time limit can work differently. If, for instance, a child has been injured, then the time limit is paused until the day of their 18th birthday. A claim could be made on the child's behalf by a court-appointed litigation friend before they turn 18. However, if this does not happen, then the injured party will have three years to start a claim from their 18th birthday.
If the injured party lacks the mental capacity to make a personal injury claim, then the three-year time limit is suspended indefinitely. A litigation friend could claim on the injured party's behalf during this time. If, however, the injured party later regains their mental capacity and a claim hasn't already been made, then the three-year time limit will start from the date of recovery.
Contact our advisors either online or on the phone today if you have any questions about starting a cycling injury claim.
Examples Of Compensation Payouts For Being Knocked Off A Bike
Compensation for a cyclist who was knocked off their bike can be made up of two heads. These are general damages and special damages. General damages address your injuries and the pain and suffering they cause you.
When calculating this head of claim, solicitors and other legal professionals can use the Judicial College Guidelines (JCG). This text provides guideline compensation amounts for different injuries and illnesses in varying severities. Below, we have included some examples of these guidelines for injuries that you could suffer if you are knocked off your bike.
Injury
Description
Amount
Brain damage
(b) Moderately severe – The person will experienced a disability of a very serious nature resulting in several consequences.
£219,070 to £282,010
Post-Traumatic Stress Disorder
(a) Severe – There will be a permanent impact on all areas of the person's life.
£59,860 to £100,670
Sight
(d) One eye totally lost.
£54,830 to £65,710
Digestive system
(a) (i) – A traumatic injury that causes severe damage with ongoing pain and discomfort.
£43,010 to
£61,910

Chest
(c) Lasting disability due to the chest and lung(s) sustaining damage.
£31,310 to £54,830
Bowels
(e) Permanent damage caused by penetrating injuries.
£12,590 to £24,480
Shoulder
(e) Clavicle fracture
£5,150 to £12,240
Finger
(o) Part of the little finger is lost.
£3,950 to £5,860
Teeth
(f) (iii) One front tooth has been completely lost or seriously damaged.
£2,200 to £3,950
Teeth
(f) (iv) Damage to, or loss of back teeth: awarded per tooth.
£1,090 to £1,710
What Else Can Bicycle Accident Settlement Amounts Include?
Following a successful personal injury claim for a bicycle accident, some settlement amounts in the UK could also include special damages. As discussed in the case study, special damages compensate you for the financial losses you have suffered due to your injury.
However, you will need to provide evidence regarding your financial losses to be able to claim them back under special damages, such as bank statements and invoices.
Some examples of what special damages could compensate you for in bicycle accident claim payouts include:
Loss of earnings covering past, present and future earnings.
Travel costs to attend medical appointments, such as taxi fares.
Medical expenses, such as prescription costs.
Call our advisors to discuss your road traffic accident claim and receive free advice. They could also help answer any questions you may still have about starting a personal injury claim.
Make A No Win No Fee Claim After Being Knocked Off Your Bike
Have you been knocked off your bike by a car? A road accident solicitor could help you settle your claim under a Conditional Fee Agreement. This is a No Win No Fee arrangement in which you usually aren't charged fees by your solicitor upfront or as the claim is underway.
Solicitors who work under No Win No Fee arrangements won't charge you for their services if your claim is not successful either. However, a success fee is taken from your compensation should your claim succeed. The percentage solicitors take from a claimant's cycling accident compensation amounts is capped under the Conditional Fee Agreements Order 2013.
If you would like to be connected with a No Win No Fee solicitor, or have questions about bicycle accident settlement amounts in the UK, please don't hesitate to contact us.
You can reach out to our advisors at any time and for free via the following ways:
Useful Links
Cyclist Accident Compensation Claims: Use our bicycle accident compensation calculator to find out how much knocked off bike by car compensation you could be entitled to.
Cycle Accident Solicitors: If you are a cyclist knocked off bike by a car, you need the best personal injury solicitors. Talk to Legal Expert about your cycling accident claim.
Further Helpful Articles