I Slipped On Water At Work Can I Claim Compensation
By Danielle Jordan. Last updated 17th July 2023. The number of people who have slipped on water at work and have been injured as a result is quite large. Across the UK the Health and Safety Executive or HSE has found that as many as 29% of all workplace accidents are caused by slips, trips, and falls. Having slipped on a wet floor at work fully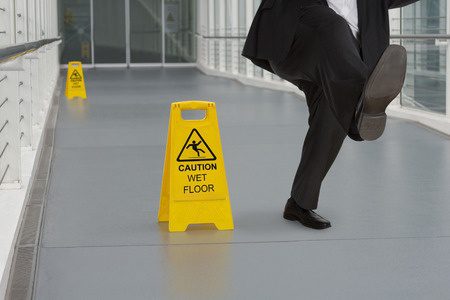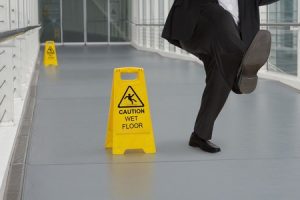 accounted for 90% of workplace slip accidents. People who have had a slip, trip, or fall are often able to make accident claims for their injuries. In this guide, we will answer some of the common questions people who have slipped on water at work have, as well as looking at example slip and fall injury settlement amounts.
If you have any questions at any point during this article, do not hesitate to get in touch. Our advisors are standing by to help you out.
Call us on 0800 073 8804
You start the process of checking to see if you have a claim online, by filling out the form on our website
Use the pop-up live chat function in the bottom right corner
Select A Section
I Slipped On Water At Work, Can I Claim Compensation?
If you injured yourself when you slipped on water at work, you may wonder whether you are entitled to seek personal injury compensation. In order to make a slip and fall claim, you must meet the specific eligibility requirements. These are:
You must prove that you were owed a duty of care by your employer.
This duty was breached.
You suffered injuries as a result.
The three points above lay the foundation of negligence in personal injury claims.
The duty of care your employer owes you is set by the Health and Safety at Work etc. Act 1974 (HASAWA). As per this central piece of workplace health and safety legislation, your employer must take all reasonably practicable steps to ensure the health, safety and welfare at work of their employees. They can uphold this duty by carrying out regular risk assessments and taking action to address any hazards that pose a risk of harm. For example, if there is a floor covered in water at work, the spill should be cleaned up and a warning sign should be placed to make others aware of the hazard.
Additionally, under Section 12 of the Workplace (Health, Safety and Welfare) Regulations 1992, every floor in the workplace needs to be suitable for the purpose in which it is used.
If you injure yourself slipping on a wet floor, because your employer breached their duty of care, get in touch with our team. They can further discuss eligibility to claim following an accident at work, please get in touch with one of our advisors.
Injuries Caused By Wet Floor Accidents
If you have slipped on water at work your injuries can range from the mild to the severe. Slipped on wet floor injury claims may include (but are not limited to) any of the following injury types.
Soft tissue damage, such as bruising
Cuts, lacerations and damage to the skin
Fractured and broken bones
Damage to ligaments and tendons
A wide variety of head injuries
Wet floor injuries can range from the mild to the severe. Some will get better on their own in a brief period of time. However, others will take a lot of medical treatment and time to heal from, even requiring long-term physiotherapy. Even more minor injuries can lead to considerable pain and inconvenience over the short term. If you have had to have physiotherapy as a result of your accident, you may be able to claim for these costs as part of your accident claim.
Slip And Fall Compensation Calculator
Typical personal injury and accident claims will include a combination of general damages (covering the pain and suffering caused by the injury) and special damages which take into account other factors.
These factors include any financial losses you have suffered as a result of having slipped on water at work. These could be a loss of earnings or medical bills. In more severe cases, these damages may pay for adaptations to a person's home and/or vehicle.
Below is a table containing some figures from the Judicial College Guidelines (JCG). These guidelines are what is consulted by legal professionals when they're calculating a general damages fee. Factors like the length of your recovery period and the severity of your injuries can affect the value of your claim.
| Injury | Description | Amount |
| --- | --- | --- |
| Arm | (b) injuries that result in lasting and severe disability, either to 1 or both forearms | £39,170 to £59,860 |
| Arm | (d) a simple forearm fracture | £6,610 to £19,200 |
| Leg | (c) Less serious - (i) Fractures or serious injuries to soft tissue that are never fully recovered from | £17,960 to £27,760 |
| Leg | (c) Less serious (iii) Simple tibia or fibula fractures or minor soft tissue damage | Up to £11,840 |
| Ankle | (d) Modest - minor sprains, ligament injuries, and undisplaced fractures | Up to £13,740 |
| Foot | (g) Modest - things like simple metatarsal fractures and ruptured ligaments | Up to £13,740 |
| Hand | (h) Moderate - crush injuries, higher end of the bracket awarded to those where surgery has been administered but permanent damage remains | £5,720 to £13,280 |
| Wrist | (e) uncomplicated Colles' fracture | In the region of £7,430 |
| Neck | (c) Minor - (iii) full recovery made within 3 months | Up to £2,450 |
| Back Injury | (c) Minor - (iv) full recovery made within 3 months | Up to £2,450 |
If your injury is not listed above, don't worry. This is just a small cross-section of the JCG.
If you have slipped on water at work and need to make a compensation claim, talk to the personal injury specialists at Legal Expert today.
No Win No Fee Slipped On A Wet Floor In A Shop Claims
No Win No Fee agreements are also known as CFA's or Conditional Fee Agreement's. They are entered into by a solicitor and a claimant and typically cover the services the solicitor will provide. Essentially, they are the terms and conditions under which the solicitor will work. It will lay out what the lawyer will do, and how they will be paid if the client wins their case. At Legal Expert the panel of solicitors we work with across the country can help with your slipped on water at work claim. We don't make upfront charges or ask for ongoing payments, meaning your won't feel any extra financial pressures.
How Legal Expert Can Help You
At Legal Expert out nationwide panel of specialist legal solicitors are ready to help with your slip, trip and fall accident at work compensation claim. To find out more about how the No Win No Fee claims process works, or to learn more about whether or not you have a claim talk to us today. You can contact Legal Expert today by calling 0800 073 8804. You can also arrange a call back by using our online contact form or by emailing us with the outline of your compensation claim case.
Useful Links
Below, you can find a list of guides which may tell you more about accident at work claims:
It's possible that your injury was captured on CCTV. If so, it is your legal right to request footage of yourself.
This government source will inform you about the process of appointing an adult to pursue someone else's claim on their behalf.
How Do I Know If I've Broken A Bone?
Some advice from the NHS