Twickenham Stadium Personal Injury Claims Guide – How To Claim Compensation For An Accident At Twickenham Rugby Stadium?
There is no denying that Twickenham is one of the most famous stadiums in the world. Known to host rugby, it has also hosted concerts and many other special events. If you have been involved in a Twickenham Rugby Stadium accident, and it was not your fault, you could explore the chances of securing compensation. At Legal Expert, who you can reach on 0800 073 8804, we could help you to launch a case for the stadium accident you may have been involved in if it was due to negligence or possibly error on the stadiums part. In this guide, we will provide you with information if you have had an accident at Twickenham stadium.
Select A Section
A Guide To Personal Injury Claims Against Twickenham Rugby Stadium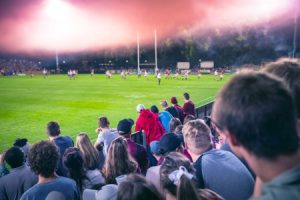 If you have been involved in a Twickenham Rugby Stadium negligent accident, this guide will discuss your options if you are thinking of pursuing a personal injury claim. Twickenham Stadium is the Home of England Rugby. It has a capacity of 82,000. Not only does it host rugby, but it has held American Rugby (NFL) too as part of the NFL London Games. It has also hosted a number of famous concerts, including Eminem, The Rolling Stones, Beyonce, U2, Iron Maiden, and Rihanna. If you have been involved in a Twickenham Rugby Stadium accident which has caused you an injury that was not your fault, but due to health and safety procedures not being followed you may be eligible to make a claim. From spectator injuries to an injured rugby player to making an accident at work claim, there are different ways you could potentially be involved in a rugby stadium accident. In this guide, we will take a look at some examples of accidents and injuries that could potentially occur, as well as providing you with some insight on how to make a claim, as well as how much compensation you could possibly receive. If you still have questions, you will find our contact information at the end.
What Are Twickenham Rugby Stadium Accidents?
An accident at a rugby stadium could involve both spectators, staff, or players. An accident usually happens when no one is expecting it and could cause an injury or possibly an illness. However not all accidents that take place even if they do lead to an injury will be eligible for compensation in terms of damages. The first thing you need to do is determine whether the accident that you was in could have been prevented and if so who was responsible for it. There are three things you need to assess:
Who caused the accident? This is the first question you need to ask yourself. You certainly won't be able to make a claim if you are at fault for the Twickenham stadium accident. You need to prove that someone else caused the incident and that this then resulted in your injuries. If the person or company responsible for the harm you have come to owes you a duty of care in which they breached you may have a basis for a claim. If you are partially to blame, you may still be entitled to a smaller sum of compensation. Give us a call and one of our advisors will give you a helping hand.
Did you see a doctor for your injuries? This is advisable. If making a sport event personal injury claim we always advise you see a doctor so that your injuries or illness can be medically noted. This is because the medical report they provide is often the most crucial piece of evidence when it comes to making a claim. It states your injuries, medical diagnosis, and treatment, and this is usually necessary when determining how much compensation you may get. If you have not seen a doctor yet, though, don't panic, as this is something your solicitor may be able to arrange for you.
When did the accident occur? There is a three-year personal injury claims time limit on most personal injury cases, which starts from the date of the accident. One piece of personal injury advice we would normally give is to claim as quickly as possible. You may find it much easier to build a case the sooner you do it. There are some exceptions to this rule, though, so do give us a call if three years have passed. It is also worth pointing out that in some cases, pinpointing an accident date won't be possible, for example, in some workplace incidents, like with hearing loss. If that is the case, you could have three years from the date of your diagnosis instead.
If you have been involved in a rugby stadium accident at Twickenham that was not your fault, get in touch with Legal Expert today to benefit from the services of no win no fee accident lawyers. If you are still feeling unsure as to whether you have the basis for a claim, please do not hesitate to ring our helpline.
Safety At Rugby Stadiums And Sporting Grounds
The statutory framework outlines what sports stadiums need to do in order to ensure safety. It is vital that stadiums are safe and secure for people to visit, because of this, the legislation today is very stringent. Some of the rules that all stadiums need to adhere to are as follows:
If this legislation has not been adhered to and a rugby stadium accident has occurred, call Legal Legal Expert for free legal advice.
What Duty Of Care Does The Rugby Football Union Have To Spectators And Staff?
All stadiums owe their employees and attendees a duty of care. This means that they need to do provide a safe and hygienic environment for all. The Duty of Care for any rugby stadium is developed in the courts.
How An Accident Could Happen In A Rugby Stadium
In the upcoming sections, we are going to take a look at some examples of accidents that could happen at a stadium and result in injury. If you cannot see the type of accident that you have been involved in, please do not panic. These are just examples, call Legal Expert and they can offer you a free consultation and will be able to advise you on what your next steps are.
Injuries Caused By A Trip Or A Fall
There is only one place to start, and this is with a slip, trip, or fall accident. These accidents are common due to the fact that they could be caused by a number of different hazards. There are a number of ways such incidents could occur including, slips due to wet floors without any warning signs, defected sitars causing trip injuries, rubbish on the floor causing a slipping injury, obstacles left in walk ways causing tripping hazards due to poor lighting.
Accidents And Injuries Caused By A Lack Of Maintenance
If the grounds and facilities are not properly maintained, and fixtures and fittings are not updated when needed then injuries could occur if staff or spectators alike come into contact with damaged and defected items. For example if there is a damaged toilet door and it has not been fixed or replaced it could fall on a spectator causing an injury.
If you have suffered an injury due to lack of maintenance at Twickenham Rugby Stadium but are unsure if you have a case for personal injury call us today and one of our advisors will be able to answer any questions you may have.
I Was Injured Due To A Broken Seat, Can I Claim?
Broken or defected seats are dangerous and if they are sat on they could easily collapse causing an assortment of injuries. Or, if someone else's chair has broken, they could fall onto you, and injure you. Other incidents could include when a piece of the chair has snapped and so a dangerously sharp edge is created, which could cause cuts or lacerations.
If you have been injured this way while at a rugby stadium, through negligence we advise that you report this incident to the stadium and then call us so we can give you some legal advice.
Assaults And Violent Crimes
Suffering an injury may be shocking and upsetting, yet it can be even worse when the injury has occurred because of criminal activity when you are out enjoying some recreational activities such as watching sport. Being attacked or assaulted is a very serious issue. We have provided you with information you may need to know in regards to claims for criminal injuries.
What is classed as 'criminal injury'?
This relates to an injury that has occurred due to a violent crime. This could be anything from assault and robbery, to sexual assault, stabbing, to even attempted-murder. Damages are not always physical – mental injuries often arise because of such horrific incidents.
Am I entitled to compensation for my injury?
You do not need to be the intended target of a crime in order to receive compensation. Sadly, when it comes to criminal activity, a lot of people may end up hurt because they were simply in the wrong place at the wrong time. If you were injured because of a violent crime or being injured when unprovoked call Legal Expert and they could begin a criminal injury case for you.
Nonetheless, it is advisable to make sure you see a medical professional for the injuries you have sustained in any accident. Not only is it pivotal to get the right treatment, but your medical records can be used as evidence of your suffering and any future suffering.
Allergic Reactions Caused By Food Or Beverages
Food poison could often occur due to unhygienic food practices, or storing and cooking the food incorrectly. Food poison could happen anywhere where food is provided if health and safety standards are not always followed at all times. If you have suffered due to food poisoning while at a rugby stadium always report what has happened and visit your GP for a medical diagnosis.
Again food illness could occur if allergen information is not presented correctly on packaged foods or drinks or those that are serving the foods give out wrong allergen information.
I Suffered A Workplace Accident Working At Twickenham Stadium, What Am I Entitled To?
It is the duty of your employer to ensure the working environment provided is one that is safe and healthy. Therefore, if you suffer an accident working at Twickenham Rugby Stadium  because of negligence or error on the part of your employer, you could be entitled to compensation for your suffering. If you injure yourself in the workplace due to a preventable accident that causes an avoidable your employer may be liable for damages.
One thing to do is to get in touch with Legal Expert. We will provide you with all the information you need to know regarding workplace accident claims. Through the free consultation we offer all potential clients we can assess your claim, tell you if you have a valid claim and if so will offer you a no win no fee contract.
Injuries Caused By Events On The Pitch
Are you a player who has suffered an injury due to poor health and safety standards at the stadium? Maybe you have had an accident due to the state of the pitch, which has caused you an injury. If so, call us today and we can advise whether you may be eligible for any damages.
What Should I Do If Injured At A Sports Stadium?
There are things you could do before you instruct a solicitor which could make your case strong. These could include;
Witness statements – It is always a good idea to get the contact details of anyone that witnessed the accident you were involved in, as this could really help to strengthen your case and your chances of getting compensation.
Medical documents – When you have been involved in an accident, it is advisable to see a doctor, as he or she could provide you with a medical report and this could be the most vital piece of evidence when it comes to making any type of claim.
Proof of expenses – Aside from this, you could help yourself by keeping receipts and anything else that shows the costs you have incurred as a direct result of the accident. You could be able to claim for these but you will need proof. Examples include prescription costs, counselling expenses, loss of income, vehicle repair costs, treatment costs, and childcare expenses.
Photographs – If you have taken photographs of your injuries or the damage at the scene then your solicitor may require these.
What Could I Claim If Injured In An Accident At Twickenham Stadium?
If your claim for a Twickenham Rugby Stadium accident is successful, you could be able to claim both general damages (expenses that can't be quantified) and special damages (expenses that can be quantified). The former relates to the likes of mental and physical injuries that you have sustained. The latter relates to any costs you have experienced because of what has happened, for example, this could be travel expenses, loss of income, and so on.
Personal Injury Calculator
How much compensation am I likely to get? The question you may wish to know the answer to. Unfortunately, it is impossible to put a definitive figure on how much compensation you will receive. This is because all cases are different and so they are rightly assessed on an individual basis. At Legal Expert, we match you to a specialist no win no fee personal injury solicitor. They will give you a potential realistic figure. Moreover, you have the added benefit of knowing you don't need to pay our fees if the service is not a success. We do not have a personal injury claims calculator on this page because we have put together a table that shows the Judicial guideline amounts for injuries that could be sustained. However, if you cannot see the injury you sustained in the accident at Twickenham stadium, please do not hesitate to give us a call for some more details.

| Type Of Injury | Compensation Amounts | Notes |
| --- | --- | --- |
| Moderate Neck Injuries | £2,150 - £3,810 | Soft tissue injuries that will fully recover in 3 to 12 months. |
| Fracture of Clavicle | £4,520 - £10,730 | The award will be concentrated on the level of the fracture, disability, symptoms and if there will be any permanent effects. |
| An Uncomplicated Colles' Fracture. | In the region of £6,510 | Distal forearm fracture in which the radius is bent. |
| Severe Fractures to Fingers | Up to £32,210 | Fractures to multiple fingers. The amount will be concerned with whether there will be future amputations of the fingers, deformity and impairment of grip. |
| Moderate Knee Injury | £13,010 - £22,960 | Dislocation, torn cartilage or meniscus which results in minor instability, wasting, weakness or other mild future disability. |
| Moderate Achilles Tendon Injury | £11,040 - £18,480 | Rupture or significant injury to the tendon. The amount awarded will be based on recovery, pain, functionality and any disability. |
| Moderate Psychological Injuries | £5,130 - £16,720 | A person's ability to be able to function and cope with work, family and other parts of life. Possible future vulnerability. However improvement is expected and future prognosis is good. |
| Facial Scarring | £7,990 - £26,380 | Significant scarring to the face reduced by plastic surgery leaving cosmetic disability. |
| Food Poisoning | £800 - £3,460 | Pain, cramps and diarrhoea continuing for some days or weeks. |
No Win No Fee Personal Injury Claims Against Twickenham Rugby Stadium
Now you know the basics of what constitutes as a personal injury claim. Let's take a look at no win no fee claims specifically. These claims are thought of by some as the best route to go down instead of a traditional personal injury lawyer's service. Why?
You won't need any money to begin your Twickenham Rugby Stadium accident claim.
Financial risk is decreased.
You could benefit from a much better level of quality.
A no win no fee solicitor only takes on your case if they believe you will actually win it.
Legal Expert are a great option for no win no fee claims. We were established many years ago, and have successfully helped thousands of personal injury victims since then. Will you be next? Give us a call today on our free legal helpline and see what we can do for you.
Contact Solicitors Today
Our solicitors are highly experienced and reputable. They all have plenty of experience and work on a no win no fee basis, ensuring you do not need any money to begin your personal injury claim and that you benefit from a great service. Give us a call today. The number you need is 0800 073 8804. You can also enter your contact information and we will call you back if you prefer. You will also notice a live chat feature on our website, which you can use, or you can send an email and we will get back to you as quickly as we can.
Related Articles And Resources
Rugby stadium claims – General information on rugby claims.
More on no win no fee – We explain more about this way of claiming here.
Edited By Melissa.