Unnecessary Surgery Compensation Claims
By Cat Soong. Updated 19th April 2022. If you've suffered from having reconstructive surgery or general surgery that wasn't required, you may be able to claim unnecessary surgery compensation. Medical negligence can come in many different forms but, given the length of time it can take to recover, having unnecessary surgery can be one of the most frustrating and debilitating.
This guide will answer important questions about the claims process like:
How can I make a compensation claim?
What is a never event?
Is there a time limit to making a medical negligence claim?
Is there a difference between medical and clinical negligence?
What are solicitors who work on a No Win No Fee basis?
How can a claims calculator provide me with a reliable estimate?
What kind of things can I claim when making an unnecessary orthopaedic surgery claim?
Our advisors offer free legal advice so, if you have any questions or queries about compensation for unnecessary surgery, you can call us 24/7 at a time that suits you. Our contact details are below.
Read on to discover how you could receive compensation due to doctors performing unnecessary surgeries.
Select A Section 
A Guide On Unnecessary Surgery Compensation Claims
Having to undergo surgery carries with it risks but these risks are often outweighed by the medical need for the surgery. If surgery is carried out that did not need to happen this means that the patient has undergone a very serious procedure and that they may face risks that were completely avoidable.
Unnecessary surgery could take place because a patient's notes are mixed up, misdiagnosed conditions, wrong-site surgery or because a surgeon failed to offer you an alternative that could have been a lot less invasive with reduced risks.
To be able to make a valid medical negligence claim your case must meet specific criteria. You must be able to prove that the treatment or absence of treatment you received happened because the medical professional acted in a negligent manner. Furthermore, you must prove that your health suffered a negative impact that it would not have otherwise suffered had you received the right standard of care.
The criteria differ slightly for unnecessary surgery. If you have undergone surgery you do not need the simple fact of having to be put under anesthetic and have an incision made may be enough to qualify for medical negligence compensation.
To find out if you can sue a GP for surgery, contact our team of advisors by following the information at the bottom of the page. If your claim is valid, you may be forwarded to one of our expert medical negligence solicitors.
What Is An Unnecessary Surgery?
Unnecessary surgery is when medical professionals perform surgery on you that is not required. As such, you could experience unnecessary pain, recuperation time, scarring and your original condition could deteriorate due to not receiving the right treatment. If the unnecessary surgery included amputations, spinal surgery or brain surgery you could face life-changing injuries.
Why Do Surgeons Perform Unnecessary Surgical Procedures?
Medical negligence is when a medical professional deviates from the required standards of their profession, leading to a mistake that can greatly affect someone's life. Before surgery is carried out it is vital that all checks are completed to ensure that the patient is the correct patient, that they are going to receive the right surgery and that there is no less invasive treatment the patient could receive.
If mistakes are made in the diagnosis, when interpreting test results, ensuring the patient matches the medical records that are presented and checking the patient is the correct patient before the surgery starts then it is very possible a patient may receive surgery they do not need.
If you're wondering if you can sue a GP for surgery, follow the information at the top of the screen to contact our advisors. They can provide free legal advice and may put you in touch with one of our medical negligence solicitors.
How Negligence Could Result In Unnecessary Surgical Procedures
To make a valid claim, it's important that you can prove you suffered harm as a result of medical negligence. Some examples of how medical negligence could result in unnecessary procedures include:
Misreading an X-ray e.g. diagnosing a fracture that needs surgery when in reality it is a severe sprain
Supplying the surgical team with the wrong procedure details
Misdiagnosing your condition. This could result in a surgical procedure, such as unnecessary knee surgery, making your condition worse.
Mixing up medical records so the patient becomes a victim of wrong-site surgery
What Types Of Surgical Procedures Could Be Unnecessary?
Oftentimes surgery is necessary and needed for your treatment and recovery. However, sometimes a doctor or GP could perform unnecessary surgery as a result of failing to meet the minimum standard of care. If you suffer harm due to their negligence, you may be able to make a claim. Some examples of surgeries that might be performed wrongly or as a result of negligence can include:
Heart stents
Heart surgery
Back surgery
Reconstructive surgery
Brain surgery
Amputations
To be able to claim unnecessary surgery compensation it must be proven that the patient did not require the surgical procedure. Simply give us a call to speak to our specialised advisors for free legal advice. Call us today using the phone number at the top of this page.
Types Of Surgical Negligence
Let us look at what type of surgical errors could occur due to medical negligence;
Wrong-site surgery
Performing surgery on the wrong person
There was an alternative that would have been more appropriate for the patient
Supplying you with the incorrect amount of anesthesia. This could lead you to suffer psychological damage due to being awake during part of it.
Removing the wrong body part due to an error. For example, concerning amputation, they could remove your left foot instead of your right foot.
Misdiagnosis Of A Medical Condition
Misdiagnosis could happen for different reasons. Maybe a patient fails to tell the doctor about all their symptoms which could have made the diagnosis more accurate or the doctor failed to listen to what that patient was saying. Just because a patient has been misdiagnosed does not mean they have been a victim of medical negligence.
It may not always be clear whether medical negligence has occurred. Courts often use the Bolam test to determine if the medical professional acted within their professional standards. This asks a group of medical piers whether they consider the doctor acted appropriately. If they agree that the doctor acted in the correct manner it is less likely that a case for medical negligence will be proved.
Failing To Have Offered Non-Surgical Care
Another way that unnecessary surgical procedures can happen is if all of the medical options weren't provided to you beforehand. There are now lots of alternative treatments open to patients that mean they do not have to undergo surgery. It is important that doctors offer their patients information on all the treatment options available to them.
If you are unsure whether your case meets the criteria for making a medical negligence claim contact our team today. They are available 24/7 to offer free legal advice, and may pass your claim on to one of our expert medical negligence solicitors.
Carrying Out An Inappropriate Surgical Procedure
You may be looking for compensation for unnecessary surgery due to you feeling as if an inappropriate surgical procedure was performed on you. This could be because the doctor performing your surgery didn't correctly assess the potential risks or didn't consider other aspects of your condition when making the decision to perform the surgery.
Whether it was a general surgery that was performed or more specific, why not call our team to have your case assessed for free. They can tell you if you can sue a GP for surgery, and may be able to answer any other questions you might have.
Lack Of Informed Consent Claims
Informed consent is extremely important in the medical field. This is because decisions, such as surgery, can be life-changing experiences, and so it's important that the patient is fully aware of the risks involved when agreeing to the procedure. Communication is key. Doctors need to understand clearly the needs of their patients and ensure that they listen and take into account what their patients tell them.
In emergency cases, it may not always be possible to seek consent. The doctor may ask the next of kin to provide consent when the patient cannot. In cases where it is possible the doctor or surgeon should always make every possible effort to receive consent from the patient before surgery is carried out.
Is Unnecessary Surgery Considered A Never Event?
A never event is one that, in medicine, should never occur. These incidences are entirely preventable. The NHS have systemic protective barriers in place to prevent these events from ever taking place.
Some examples of never events include:
Removing the incorrect body part.
Performing the incorrect surgery on a patient.
Performing an organ transplant on the wrong person. This could be due to a clerical error, for example, and could lead you to make a compensation claim.
Never events can have serious health consequences for a patient. Life-changing injuries could be the result of a never event and these incidents should never take place.
Calculating Unnecessary Surgery Compensation Payouts
There are two potential heads of claim when making a medical negligence claim. They are:
General damages
Special damages
General damages relate to the physical and mental pain suffered due to the incident in question, as well as the general decline in your quality of life. For instance, if you want to claim for unnecessary orthopedic surgery, you can claim for both the physical pain caused as well as the issues to your mental health, like anxiety or PTSD.
Regarding the amount of compensation you could receive for general damages, the Judicial College provide reliable compensation brackets. They do this by assessing previous payouts and containing them in a publication along with their reflective injuries. You can see below a list of potential issues you could suffer because of medical negligence and their relative compensation brackets. The Judicial College has provided these figures.
| Type of Injury | Amount of Compensation | Description |
| --- | --- | --- |
| Scarring | £27,940 to £91,350 | This higher bracket of compensation is for young claimant's (typically teens until early to mid 30s) where the scarring is incredibly disfiguring creating a severe psychological effect. |
| Scarring | £16,860 to £45,440 | Where the disfigurement is still serious and the psychological effect is substantial. |
| Scarring | £8,550 to £28,240 | Where plastic surgery could reduce the effect of the scarring and psychological reaction has greatly reduced. |
| Post-Traumatic Stress Disorder | £56,180 to £94,470 | The claimant will experience permanent debilitating psychological effects preventing them from working or at least functioning at remotely the pre-trauma level. |
| Post-Traumatic Stress Disorder | £21,730 to £56,180 | This bracket accommodates for a better prognosis, helped by a positive reaction to professional care. There will still be, however, serious disability for the foreseeable future. |
| Post-Traumatic Stress Disorder | £7,680 to £21,730 | The claimant will have mostly recovered and any negative effects will not be particularly disabling. |
| General Psychiatric Damage | £51,460 to £108,620 | In this cases, the claimant will have severe issues with aspects of life such as work, education and continuing relationships with friends and family. |
| General Psychiatric Damage | £17,900 to £51,460 | Claimants in this bracket will still experience serious problems with aspects of life but the prognosis will be improved from the bracket above. |
| General Psychiatric Damage | £5,500 to £17,900 | There has been a marked improvement compared to the above brackets regarding dealing with everyday life. |
The figures provided by the Judicial College Guidelines are only guidelines. For a free estimation of what your claim could be worth, contact our team of advisors today.
What Are Special Damages In Surgical Negligence Cases? 
The second potential head of claim is special damages. These relate to the financial losses caused by the injury. Evidence you'll need to prove the number of special damages includes:
Receipts
Invoices
Bank statements.
Expenses you may be able to claim under special damages include:
Loss of earnings
Loss of future earnings
Travel costs
Medicine/prescriptions
Recreational activities that you're now unable to attend.
The amount of unnecessary surgery compensation you could receive could greatly increase if you successfully claim for both general damages and special damages.
In a free medical negligence claim consultation, you can have your case assessed. The advisors can look at the details of your unique case along with any evidence you have managed to collect. They will inform you of the strength of your case. If they can see you have a valid medical negligence claim our medical negligence solicitor may offer to represent you. You can receive legal representation with the help of a No Win No Fee agreement.
No Win No Fee Unnecessary Surgery Compensation Claims
You may also be wondering, "What are the benefits of using a No Win No Fee solicitor?" The benefits are that:
Your medical negligence solicitor will not request legal fees, either upfront or during the entirety of the claim.
Instead, they will take a small, legally capped portion of your compensation as payment.
They will also not request legal fees from you if your claim is unsuccessful.
Therefore, they will only take your claim on if they feel you have a reasonably good chance of success.
Contact Legal Expert
Our helpful advisors provide free legal advice 24/7 so, if you have any questions or queries, please give them a call. In just a few minutes, you could start a claims process that could result in you receiving compensation.
Essential References
For more useful information, please refer to the links below.
Want to know more about procedures after surgery? If so, view the NHS website here.
To see the number of clinical claims that have occurred in the NHS from 2006 to 2020 click here.
For more information about the number of clinical negligence claims across the country, view the information found on the Government website.
Suffered scarring and want to know if you can claim? If so, view this page on our website.
Has a doctor or GP misdiagnosed you via a video examination? Click here to see if you can claim.
To know more about fatal accident claims, click here.
Surgical Never Event Statistics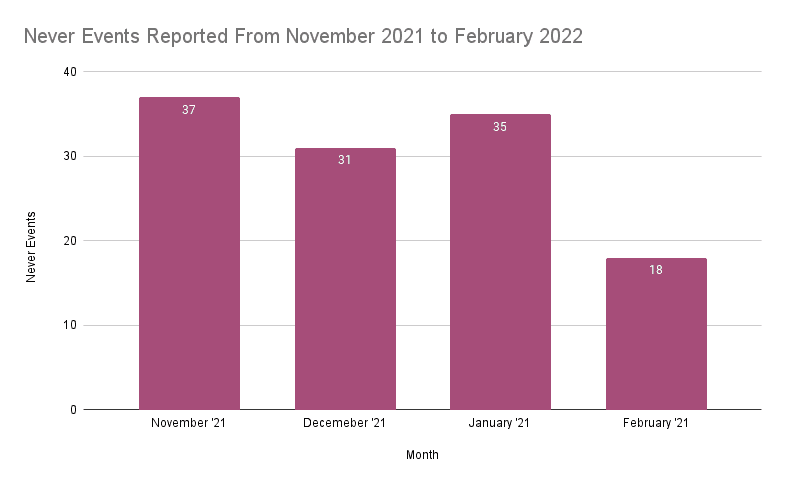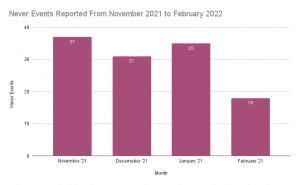 As previously stated, never events can have an awful impact on you and your quality of life. These largely preventable events are avoidable if medical practitioners correctly implement safety guidelines. There is a framework that should be put in place so these incidents do not happen. The statistics above were taken from the NHS' most recent report on never events.
These are mistakes that can drastically change a patient's state of mind and quality of life. It shows that these types of negligent events can happen to anyone. As such, if you feel you've been negatively affected due to one, please call to speak to one of our advisors for free legal advice.
More Helpful Guides
FAQs
For answers to frequently asked questions about compensation for unnecessary surgery, please see below.
Can you sue for unnecessary surgery complications?
Every case is different, not one shoe fits all. Very often surgery that is carried out that was not necessary may be considered a never event. An event that should never have happened. In these instances, you could have the right to make a medical negligence claim.
What is the average payout for negligence?
It's difficult to provide an average payout for negligence, as it depends on the extent of the injury and the ways in which it has affected you. An independent medical assessment is provided as part of the medical negligence claim to fully assess the nature of your injuries.
What is surgery negligence?
Surgery negligence is when professional standards are deviated from and the surgeon or their team cause harm that should not have occurred. If you feel you've suffered from this, you can call to speak to one of our advisors for free. If you're owed any unnecessary surgery compensation, they can help you work it out.
Which Surgeries Are Unnecessary?
Unnecessary surgeries are surgeries that you do not need for a healthy and complete recovery. Unnecessary surgeries can happen as a result of lost patient notes, never events, or other negligence on the part of a medical professional.
Guide By Durdy
Edited By Melissa.