How The Bolam Test Case Affects Medical Negligence Claims
In this guide, we'll explore the Bolam test case that's often used in medical negligence claims today. In cases where a patient suffered further or avoidable harm under the care of a medical professional, this test can be used to ascertain whether the care provided was of an appropriate standard.
How The Bolam Test Case Could Affect A Medical Negligence Claim
Medical negligence is where a healthcare provider has administered a level of care that is below the standard expected of the profession. If you've been caused avoidable harm or a worsening of your condition as the result of medical negligence, you may be able to claim. The Bolam test can be used by courts to determine whether or not a healthcare professional was in breach of their duty of care.
In this guide, we will look in greater detail at the duty of care owed by healthcare providers and how this can be breached. Despite this, we expect you may have questions after you've finished reading this guide.
If this is the case, you can call our team. They can provide further clarification on anything you may be unsure of. Please get in touch on the details below:
Call us on 0800 073 8804
Chat with an advisor through the live chat box below
An advisor can contact you at your chosen time; just fill out the contact us form
Select A Section
A Guide On How The Bolam Test Case Applies To Medical Negligence Claims
Our guide will look in detail at the case of Bolam v Friern Hospital Management Committee [1957] WLR 582. We will explore how this case brought about the Bolam test, which is a tool used to help to determine medical negligence.
Additionally, we'll look at the standard of care a medical professional owes you and the candour they should have when dealing with potential problems. Furthermore, we'll look at how other cases may have challenged the effectiveness of the Bolam test and drawn attention to its potential limitations in certain claims.
For medical negligence claims, it's important to have evidence in support of your case. The evidence you provide won't necessarily prove that negligence occurred. However, it can provide information on the extent to which you suffered as a result of your healthcare provider's actions. This guide will explore the evidence you could gather when preparing to submit your claim.
You may be wondering how much compensation you could claim in damages for the harm you have suffered. We'll provide you with example figures for different injuries from the Judicial College Guidelines (JCG), a document often used to help value claims alongside other evidence.
Don't forget, if you have any questions after reading our guide, you can call our team on the number at the top of the page. Alternatively, continue reading for more information.
What Is The Bolam Test Case?
In medical negligence claims, the Bolam test is where a panel of medical professionals present their opinion on whether one of their peers acted within the standard of their profession. The panel is made up of healthcare providers who are trained in a similar field and who have knowledge on the appropriate standard of care required.
Within the Bolam test, the correct standard of care is a matter of medical judgement. For that reason, medical professionals within a similar field to the defendant doctor or healthcare professional will be called upon.
They look at a case and confirm whether the level of care administered was of an acceptable standard. If they find that the defendant doctor provided the right level of care, then no negligence will be said to have occurred.
Bolam v Friern Hospital Management Committee [1957]
The Bolam v Friern Hospital Management Committee [1957] WLR 582 is a case between a patient and mental health facility. The patient voluntarily underwent electro-conclusive therapy (ECT). However, before the therapy, the doctor didn't give him muscle relaxants to prevent muscle contractions or spasms, despite knowing that these can occur as a result of ECT and have a risk of causing fractures.
The patient suffered serious injuries, including a fractured hip joint, for which he claimed compensation. He claimed negligence for not being:
Given the muscle relaxant
Given any restraints
Informed of the risks
However, the decision was in favour of the hospital, as the Court found the doctor had followed normal practice. The normal practice did not involve giving patients muscle relaxants or providing restraints. Therefore, the Court held that he provided the correct standard of care in relation to that form of treatment.
Medical Practitioners Duty Of Care
Every healthcare professional owes their patients the correct standard of care. They should also be open and honest when dealing with patients regarding their treatments. The following sections will look at these responsibilities in more detail.
What is a duty of care?
In accordance with the General Medical Council (GMC), doctors are required to provide the correct standard of care to all of their patients. This includes things like:
Making their patient's care their first concern
Being competent and keeping their professional knowledge and skills up to date
Taking prompt action if the safety of their patient is compromised
Being open, honest and acting with integrity
Failing to do so could result in a patient suffering avoidable harm through negligence.
What is a duty of candour?
In addition to providing the correct standard of care, medical professionals should act with candour when dealing with their patients. According to the GMC, this includes:
Being open and honest with patients when something goes wrong with the treatment
Apologising to the patient or person advocating for the patient
Offering an appropriate solution to correct things
Fully explaining the short and long term effects of the situation
If you would like to know more about the responsibilities that a healthcare provider owes to you, why not speak to a member of our team today? One of our advisors could offer you a free, no-obligation valuation of your claim.
How Does The Bolam Test Case Apply To Instances Of Negligence?
It's important to be aware that not all harm suffered in medical procedures is caused by the doctor's negligence. There are some instances where a doctor could cause you additional harm while adhering to the standards of their profession.
For instance, you may go to the hospital with a badly crushed and broken arm. The injuries to the arm mean that it must be amputated. While this procedure causes you additional harm, it's a necessary part of your treatment, and your doctor would not be considered negligent for performing it.
Cases of medical negligence involve a doctor directly causing you harm or your condition to worsen. If the correct standard of care could have avoided the harm or worsening of your condition had they provided you with the correct standard of care, then this is an example of medical negligence.
It can be difficult for people outside the medical profession to determine whether a certain action breached the duty of care or not. Because of this, a panel of the professional's peers will be asked if the level of care was of an acceptable standard.
Is Bolam Always Applicable?
The Bolam test was used in the case of Sidaway v Board of Governors of Bethlem Royal Hospital (1985). This case involved a woman who was offered surgery for back and neck pain. However, the doctor didn't inform her of the 1-2% risk of paralysis that the procedure carried.
She underwent the procedure and suffered paralysis. This led to her making a claim on the grounds that, had the doctor told her the risks, she wouldn't have consented to the surgery. However, the judge ruled in favour of the doctor after applying the Bolam test.
It provided expert evidence from a responsible body of neurosurgeons that not disclosing risks with a percentage this low was normal practice.
An argument was made for informed consent but was rejected on the basis that the Bolam test should always be applied when considering whether a doctor was negligent. The judge ruled that medical negligence should be decided based on expert medical evidence from a panel of medical professionals in the same field.
In the next section, we will look in greater detail at the role played by informed consent in medical negligence cases that use the Bolam test.
The Limits Of Informed Consent
The Human Rights Act 1998 gave individuals in the UK recognised autonomy over their own bodies. Informed consent says that a person must be given all of the information about what their treatment involves. This includes:
Benefits or risks
Alternatives to the treatment suggested
What will happen if they opt to have the treatment
However, it has been argued that there are limits to informed consent. For instance:
It can be difficult to explain all the risks to patients in a way they will understand
A patient may not understand the extent of their condition or treatment suggested to them
It can be argued that patients can't fully consent to something if they don't have a full understanding. Because of the existence of factors like those listed above, it may be difficult for healthcare providers to obtain informed consent from their patients in all circumstances.
Montgomery v Lanarkshire Health Board [2015] AC 1430
The Montgomery v Lanarkshire Health Board [2015] AC 1430 case involved Nadine Montgomery. She had diabetes and a small body frame and was due to give birth to a large baby. She gave birth vaginally but experienced complications caused by shoulder dystocia. This resulted in cerebral palsy.
Montgomery sued for negligence on the grounds that she hadn't been informed of the risk that this complication posed when giving birth vaginally, despite the fact that she asked if her baby's size could have posed a problem. She stated that if she had known, she would have opted for a cesarean section. The judge ruled in her favour on the basis that doctors should tell patients what they want to know rather than what they think the patient should know.
Errors In Diagnosing A Condition
There have been a few cases involving misdiagnosis or delayed diagnosis where the Bolam test has been found to have limitations. In particular, the Muller v King's College Hospital NHS Trust [2017] QB 987 case.
This involved a histopathologist who failed to diagnose a malignant melanoma. Eventually, the correct diagnosis was given but the delay meant cancer had spread and the patient needed more extensive treatment.
The NHS Trust used the Bolam test argument to show that the misdiagnosis wasn't through negligence. They stated that any histopathologist acting with reasonable care and skill could have made the same mistake.
However, Muller argued against the use of the Bolam test in this particular circumstance. They argued that in cases of "pure" diagnosis, there is limited scope for a difference in opinion. For instance, when a scan is performed to diagnose the condition, the interpretation of the results are either right or wrong.
In "treatment" diagnosis, however, a doctor might recommend a certain course of treatment or further diagnostic test, and a range of these may be considered reasonable.
In the end, the judge used the Bolam test but considered the limitations when looking at negligence in cases involving pure diagnosis.
Never Events Data And Statistics
A "never event" is defined by the NHS as a serious incident that could have been prevented by following the safety recommendations and guidance that are in place to ensure they don't happen. The Never Events List 2018 provides examples, such as:
Wrong-site surgery
Wrong implant or prosthesis
Retained foreign object post-procedure
Medication e.g. administered incorrectly or the wrong dosage given
Scalding patients
Falls from poorly restricted windows
According to NHS England, there were a total of 131 serious incidents that met the definition of a never event. The graph below shows the nature of the 131 never events that occurred between April and July 2021.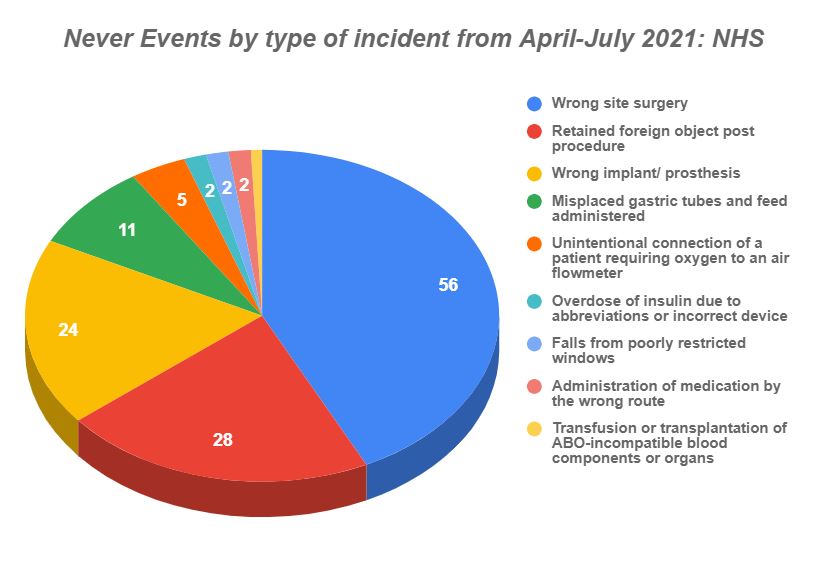 As you can see, the most common was wrong-site surgery. There were 56 instances of this happening in this time frame.
Calculate Compensation For A Breach Of Medical Duty Of Care
When putting forward a claim for medical negligence, you're entitled to claim compensation for your physical and emotional suffering. This can be claimed under general damages. The extent of your injuries will be considered, including how severe they are and how badly they have impacted your quality of life.
The table below looks at some of the different injuries you could have suffered due to medical negligence and how much you could claim for them. The figures have been taken from the Judicial College Guidelines (JCG), which is a document that can be used by legal professionals to help value claims.
| Harm suffered | Additional details | Compensation award |
| --- | --- | --- |
| Female reproductive system | Sterilisation that failed and led to an unwanted pregnancy but no serious psychological impact or depression. | In the region of £9,570 |
| Female reproductive system | Delayed diagnosis of ectopic pregnancy that doesn't affect future fertility. | £3,180 to £19,170 |
| Female reproductive system | Failure to diagnose an ectopic pregnancy causing infertility. | £31,950 to £95,850 |
| Kidney | Where both kidneys have been seriously and permanently damaged or lost. | £158,970 to £197,480 |
| Bowel | A penetrating injury that has caused some permanent damage but where some normal function will return. | £11,820 to £22,970 |
| Hernia | Ongoing pain that impacts or limits physical activities after repair. | £13,970 to £22,680 |
As part of your claim, you will usually be invited to an independent medical assessment. Here, a medical expert will assess your injuries. They'll then provide a medical report that details the extent of the harm you've suffered, which will be used to help value your claim.
For more information on how your claim may be calculated, get in touch with our team using the number at the top of the page.
Special Damages
We understand that when you've suffered injury or a worsening of your condition, it can impact your ability to work or take care of yourself. It may also mean that you incur costs that you would not have done if you hadn't been injured or made ill. For this reason, you're entitled to claim compensation for these additional costs incurred. The part of your settlement that covers these costs is called special damages.
Special damages might include the following:
Loss of earnings
Cost of care for yourself or for someone else dependant on you
Travel expenses
Additional medical care such as physiotherapy or counselling
However, you will need evidence in support of your claim for special damages such as:
Receipts for care costs or additional medical care
Payslips for loss of earnings
Invoices for any services you've required
If you aren't able to provide evidence of the costs you have incurred, you may find it difficult to claim back the full amount of the special damages you're owed.
No Win No Fee Claims And The Bolam Test Case
Under a No Win No Fee agreement, you won't be asked to pay solicitor fees in the event that your claim is unsuccessful. They won't ask you to pay any ongoing fees and won't request anything in order for them to start work on your claim.
If your claim is successful, you will be required to pay a small success fee that is deducted from your compensation package. However, your solicitor will make you aware of this before you agree to submit your claim on this basis.
Furthermore, it can be beneficial if you're concerned about the legal costs often associated with legal representation. If you use a No Win No Fee solicitor, this can allow you to avoid upfront costs and any additional costs incurred over the course of your claim.
Additionally, medical negligence claims can often be complex. For that reason, it can help to have a solicitor experienced in handling these types of cases and helping you get the compensation you deserve.
If this is something you want to discuss further, our team can assess your claim to see whether it's valid. If it is, they can appoint one of our medical negligence solicitors to represent your case. A solicitor can then advise on the next steps you may need to take.
Speak To An Expert
We understand that we have covered a lot of information so if you have any questions, please don't hesitate to get in touch with our team.
They are available 24/7 to either answer your questions or determine whether the claim you hold is valid. So, why not contact us on any of the following:
Call us on 0800 073 8804
Chat with an advisor through the live chat box below
An advisor can contact you at your chosen time, just fill out the contact us form
Useful Resources
See our guide for information on claiming compensation for a birth injury.
If you're looking to make a claim against the NHS for negligence, our guide could help.
For further details on how to claim for medical negligence, see our guide.
See the General Medical Council for more information on their involvement in doctors duty of care.
Visit NHS Resolution to see the role they play in claims made against the NHS.
See the government website for guidance on raising a complaint against the NHS.
FAQs On The Bolam Test Case
The following section will look at some questions often asked about the Bolam test with regards to medical negligence claims.
Is the Bolam test still used?
Yes, courts still use the Bolam Test to determine whether a healthcare provider has breached their duty of care.
Is the Bolam test enough to determine negligence?
Although the Bolam test can help to determine whether a doctor has acted negligently, some recent cases have highlighted its limits in certain medical negligence claims.
Has the Montgomery v Lanarkshire health case changed things?
The Montgomery v Lanarkshire case has highlighted the limitations of the Bolam test when discussing cases of informed consent in medical negligence claims.
We hope you found our guide exploring the Bolam test case in relation to medical negligence claims useful. Thank you for taking the time to read.
Written by Mitchell
Checked by Stocks