How much compensation can i claim for a Drain or Manhole Accident?
Missing Drain And Manhole Accident Injury Claims
By Fern Mitchell. Last Updated 25th March 2021. Welcome to our guide on manhole accident claims and drain accident claims. Slips, trips and falls, as well as other injuries caused by missing drain and manhole cover accidents, are more common than you may think in the UK. When you go out for a walk or are on your way to work, you expect to be able to walk up and down the pavements without suffering an injury due to a missing manhole cover or a drain that has been left open. However, these accidents and injuries can be common.
Problems can occur when a local authority or other responsible party takes too long to repair a defect in the pavement or when a work crew leave a drain or manhole exposed. The most common injury resulting from this are slips, trips and falls. You may be entitled to slip, trip and fall compensation if a utility company fails to place guard rails when works are in progress or if they do not replace the manhole or drain cover after works are complete (or between work sessions).
If you'd like to know more about personal injury claims for manhole and drain accidents, you can call us on 0800 073 8804  to start your claim.
Select a section
Who Is Responsible For Maintaining Drain And Manhole Covers?
Look down at the pavement or road, and you will see that imperfections and defects are quite common in the UK. Local authorities, such as councils, assess and repair any imperfections as quickly as they can. A particular concern is always levelling off manhole covers, so they are flush with the surrounding pavement and are securely in place. Even with this attention to detail, drain and manhole cover accidents happen on a daily basis and can cause a variety of different injuries.
The answer as to who is responsible for maintaining these covers and ensuring that they are correctly placed depends on where the manhole or drain cover is. If it is a manhole cover for a local water and sewage authority, then repairing, replacing or maintaining manhole and drain covers in public places, then it is their responsibility. If the manhole or drain is on private land, then the owner or occupier of the land is responsible for maintaining the cover.
Drain And Manhole Covers Causing Slip, Trips And Falls
Some injuries caused by drain and manhole cover accidents can be relatively minor, such as bruises, cuts and smaller lacerations or bumps. However, you could also suffer a more major or significant injury. These can lead people to have to change their entire life, working around their injuries. A missing or badly placed drain or manhole cover can cause accidents such as a pedestrian falling into the hole or a cyclist hitting the cover or hole with their bike. If the cover is on the road, it can even cause a driver to lose control of their vehicle, causing a variety of moderate to serious injuries to themselves, other road users or pedestrians.
If you have had a slip, trip or fall on pavement, street or road due to a missing or badly placed drain or manhole cover, you may be entitled to claim compensation for any resulting personal injuries. Other places where you could have suffered an injury caused by a missing drain or manhole cover include;
Public car parks, supermarket car parks and those for shopping centres,
Hospital car parks and grounds,
Garden centre car parks and grounds,
Leisure complexes (such as bowling alleys, swimming pools and other similar places)
The Compensation Recovery Unit, part of the DWP, recovers benefits paid as a result of an accident if compensation has been paid out. The cases handled by them don't include all personal injury claims, and they don't specify how many of these claims are related to manhole cover or drain cover accidents. However, from the graph below, we can see that public liability settlements  (which will cover a large number of these kinds of claim) were the third most settled case type in 2019/20.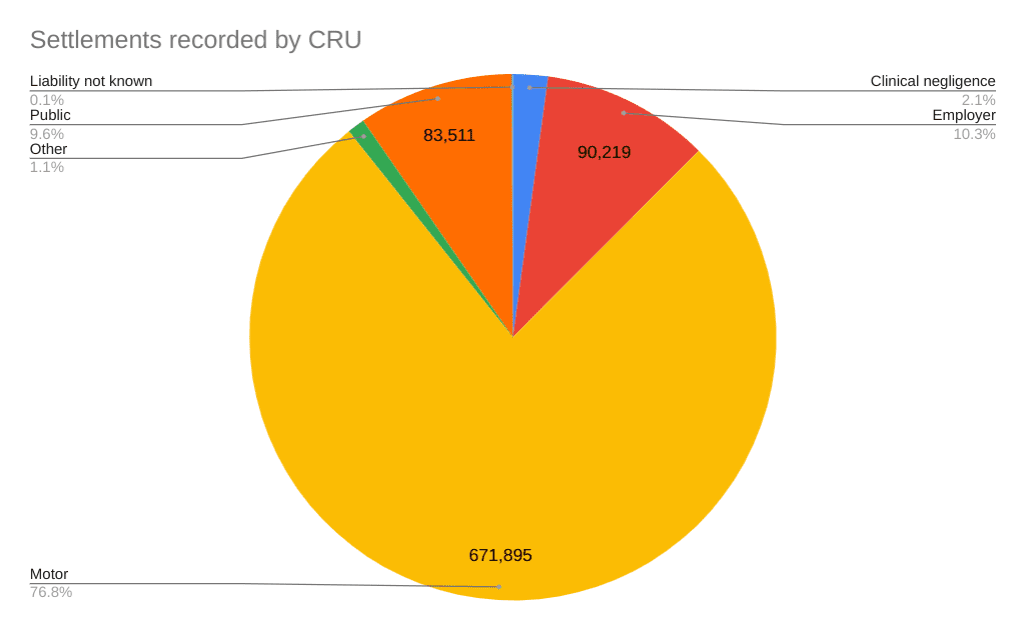 If you have suffered a slip, trip or fall due to negligence, see our guide to slip, trip and fall injury claims.
Can I Make A Drain And Manhole Cover Accident Claim?
In order to bring a claim after a slip, trip or fall injury following an accident that was caused by a drain or manhole cover placement, there are certain conditions and criteria which must be met. If you wish to bring a claim against a body, such as a council or local authority, you need to meet very specific criteria.
Time limits: firstly, your compensation claim must be made within three of the date of the accident (or three years from when the injury presented itself). This limit applies if you are 18 years old or over. If the slip or fall happened to a person under the age of 16, this three year period starting from the date of the claimants 18th birthday. If you have any children under the age of 18 who have had an accident, you can make a claim on their behalf.
Defects: if you had a slip or fall due to a drain or manhole without a cover or where there is a defect, this defect must be at least 1 inch deep. Generally, this is the case due to the depth of the hole it should cover.
If you'd like to know more about making manhole accident claims and drain accident claims against the council, you may find the section below of interest. 
Drain And Manhole Cover Accident Claims Against The Council
If you wish to bring a claim against the council, you must have had suffered an injury. Emotional distress or psychological trauma is insufficient for you to bring a case for compensation. If you have been injured in an accident such as this, you must seek medical advice as soon as possible. Take medical notes and, if possible or appropriate, take photos of the injury. Having these records will strengthen your case against the council.
If you are unsure whether your injuries are sufficient enough to sustain a compensation claim, talk to the experts at Legal Expert today. We will review your case, your injuries, medical notes and case viability to establish whether or not you have a case.
As well as taking a photograph of the injuries you have sustained, also take photographs of the manhole, manhole cover, or drain. If possible, use a ruler or other implement to provide scale. It could be that between your accident and the start of your claim, this section of pavement, street or road is repaired.
During your case, the Council will need to show the courts that (under section 58 of the Highways Act 1980) they have an adequate maintenance system in place and that inspections are carried out on streets, roads and pavements on a regular basis.
Drain And Manhole Cover Accidents On Private Property
Your slip or trip could also have happened on private property, such as land now owned by the council or a private house that you were visiting. If you suffered an accident or injury due to a manhole cover or drain here, your claim would be against either the landowner themselves or the owner/ occupier of the property. This depends on which party is responsible for property maintenance.
Our next section will look at the manhole accident claims and drain accident claims process in greater detail. Read on if this will be useful to you. Or, if you'd like to start a claim today, you can get in touch with us. 
The Next Steps To Make A Manhole Cover Accident Compensation Claim
Reporting the accident: If your accident occured whilst you were at work, the first step is to record your accident in your employer's accident report book. If possible, you should also take photographs of the accident. This helps to build a body of evidence around the incident, which can help your claim's case at a later stage. In the photo, try to show the general condition of maintenance of the drain or manhole cover.
Witnesses: If there are any witnesses to the accident, whether at work or on the street, ask people for their names and addresses. These may be needed later to provide a witness statement to support your compensation claim.
Medical treatment: as with any accident, you should seek medical treatment as soon as possible. If your injuries are more severe, you may need to seek medical advice before the other steps. The medical report will also help to provide evidence if you choose to make a compensation claim in the future. Once you have seen the paramedic, hospital doctor, or GP, you should obtain a copy of the medical report.
Suppose you have a head injury. Slip, trip and fall injuries can sometimes result in head injuries. If you have had a head injury, the trauma might seem minor at first. However, if you do not have the right treatment and are monitored, these accidents can have serious and long-term consequences.
How Much Can I Claim For A Drain And Manhole Cover Accident? (Updated March 2021)
You may be wondering, "how much can manhole accident claims and drain accident claims be worth?". How much compensation you can claim following an accident caused by a missing manhole cover or defective drain can vary due to the severity of your injuries, the long-term prognosis of your condition and how long they will take to heal. The amount you can claim will also be influenced by what caused the accident and even where it took place.
Below we have a table with some of the types of injuries which you may have sustained and the amounts of compensation that are commonly paid out for these.
| Injury | Severity | Amount | Notes |
| --- | --- | --- | --- |
| Quadriplegia | Severe | £304,630 to £379,100 | The mid-​range of this bracket is appropriate for cases in which the injured person is not in physical pain, has full awareness of their disability, has an expectation of life of 25 years or more, has retained powers of speech, sight, and hearing but needs help with bodily functions. The top end of the bracket will be cases where physical pain is present or where there is a significant effect on senses or ability to communicate. |
| Brain damage | Very severe | £264,650 to £379,100 | In awards to the top end of this bracket, there may be some ability to follow basic commands, recovery of eye opening and return of sleep and waking patterns and postural reflex movement, with little to no evidence of meaningful response to environment. |
| Brain damage | Moderately severe | £205,580 to £264,650 | For very serious cognitive and/or physical disabilities, resulting in a substantial dependence on others and a need for constant care. |
| Brain damage | Moderate | £40,410 to £205,580 | Final settlement is affected by the injuries effect upon factors such as concentration, cognitive ability, memory and general senses (sight, hearing etc.). Risk of epilepsy will also be taken into consideration. |
| Neck injury | Severe | £42,680 to £139,210 | Settlement is dependent upon the severity of break as well as other ongoing factors such as the extent of treatment required. |
| Neck injury | Moderate | £7,410 to £36,120 | Settlement will be dependent upon actual neck damage suffered, loss of movement, pain levels and increased vulnerability to further trauma. |
| Neck injury | Minor | Up to £7,410 | For soft tissue injuries. Award will be based on the severity of the injury, the extent of treatment required and what timescale a full recovery takes place in. |
| Back injury | Severe | £36,390 to £151,070 | Dependent several factors including, amount of pain, severity of damage and long-term effects. |
| Back injury | Moderate | £11,730 to £36,390 | Amount is dependent on lasting pain and the severity of the initial damage. |
| Back injury | Minor | Up to £11,730 | Where a full recovery takes place without surgery. Award will take into consideration the impact of the injuries on the injured person's ability to work and function in everyday life, as well as the recovery time. |
| Leg fractures | Less serious | Up to £26,050 | At the top end of the bracket is fractures from which an incomplete recovery is made. The lower end of the bracket will be awarded to simple fractures or soft tissue damage |
| Simple fractures of the forearm | Less serious | £6,190 to £18,020 | Where a substantial degree of recovery has taken place or is expected. |
Talk to Legal Expert today to discuss your claim and begin the process of getting you the compensation that you deserve.
What Can You Include In Your Claim?
We will work hard on your behalf to ensure that you get the right amount of compensation for your accident and injury. We will talk through your case with you, ensuring you get the maximum level of compensation to which you are entitled. As well as compensation for the severity of your injury, your claim can also include other financial amounts such as;
Loss of earnings.
Medical expenses, such as private healthcare and medications.
Travel expenses, such as travel to and from medical examinations.
If you receive a letter offering you a settlement directly from the other parties representatives without taking legal advice, be cautious. It can be the case that people often accept compensation amounts that are lower than they would otherwise have been able to get.
No Win No Fee Slip, Trip, And Fall Accident Claims
Also known as a conditional agreement, a no win no fee is a contract between you and your solicitor. It means that if you make a claim which is not successful, you won't have to pay your solicitor for their work. However, if you do win your claim, your solicitor's fee will be paid by the person or body you are making a claim against. Generally, this will be their insurance company.
We will take you through the no win no fee process and explain how the agreement works in our initial consultations with you.
How Legal Expert Can Help You
Slips, trips and falls, as well as other accidents and injuries, are much more common than many people think. A simple trip or fall caused by a misplaced or broken drain or manhole cover can result in a variety of different injuries. These injuries can range from moderate to severe. Life-changing injuries can prevent people from working for extended periods of time, if not preventing them from working at all.
Our clients choose to work with Legal Expert due to our professionalism and expertise. Our expert team of personal injury solicitors have up to 30 years of experience and are on hand 24/7 to provide you with initial advice and information. They will begin by reviewing your case in an initial no-obligation consultation. This informal talk will help us to establish the basis of your case and whether we think you have a chance of winning. Take advantage of our highly professional compensation claim services on a no win no fee basis. At Legal Expert, we are dedicated to getting you the compensation you deserve.
Contact Legal Expert Today To Start Your Claim
Talk to our solicitors today. You can talk to us by calling 0800 073 8804 and speaking to us directly. Alternatively, you can use our online enquiry form to start your conversation or send us an email about your case.
Useful Links
Slips, Trips and Falls
Information from HSE about slips, trips and falls.
Slip, trip and fall compensation claims
Find out more about how we can help if you have had a slip, trip or fall and need compensation.
NHS- When to visit a walk-in centre
NHS advice on when to visit an urgent treatment centre.
GOV.UK- claiming compensation against the council
Here, you can find more information about the claims process for your local council.
Our guide to claiming following a hip injury.
Our guide to claiming for an accident on a building site.
Manhole accident claims and drain accident claims- FAQs 
Who is responsible for manhole covers and drains?
You're responsible for maintaining drains on your own property. But manhole covers and drains in public spaces are generally controlled by the local water or sewage company.
How much compensation could I receive for falling down a drain?
This will vary. Compensation amounts are decided on a case-by-case basis and will be based on the severity of your injuries and the value of any special damages to be included in your claim.
What injuries can be sustained from a slip trip or fall?
There is a wide range of injuries that you could sustain from a slip, trip or fall. These include, but aren't limited to, damage to tendons, broken bones, soft tissue damage and head injuries.
How long does a slip and fall claim take?
The amount of time it will take for your manhole cover injury claim to be settled will rely on a number of factors, including the severity of your injuries, the complexity of the case and whether liability is clear.
Can I claim for a drain cover accident at work?
Yes. Your employer has a duty of care to ensure your safety while at work. If you've been injured by a drain on private property because of your employer's negligence, then you should record this in the accident book.
Should I use a compensation calculator for my injuries?
It's not advised. Compensation calculators rarely collect enough information to give you an accurate value of your claim. Instead, you can contact us today to get the claims process started.
What should I do if I've had a manhole cover accident?
The first step to take is to seek medical attention for your injuries. This will make sure that your injuries are assessed and tended to and will provide a record of how the accident affected you.
How long do I have to make a claim?
The personal injury claims time limit is three years. But if you've been injured in a manhole cover accident, there's no need to wait; you can contact our team today to get your claim started.
Thank you for reading our guide on manhole accident claims and drain accident claims.