Wirral Data Breach Solicitors – Expert Claims Support
If you're looking for data breach solicitors in Wirral, this article may help. It will show how our solicitors that cover the area can help with Wirral data breach claims. There are various ways we could help. Some examples include claims for suffering caused by unauthorised access to your medical records, bank data breaches and council data breaches.
You may have heard of the  General Data Protection Regulation (GDPR), which is a piece of EU legislation introduced in 2018. It was ratified into UK law by the Data Protection Act 2018 (DPA). Since the UK has left the European Union, the DPA was modified and exists in conjunction with the UK GDPR. This is the regime we now refer to when looking at the protection of personal data in the UK.
Together, these laws work to protect your personal data. They are governed by the Information Commissioner's Office (ICO). Where the rules are broken, the ICO is able to issue large financial penalties to the organisation responsible. However, they can't award compensation to you if the breach caused you to suffer. Therefore, to show you how to claim data breach compensation yourself, we've written this guide.
Legal Expert is here to help if you do decide to claim. We offer an initial telephone consultation and no-obligation legal advice about your options. If your claim appears to be strong enough, one of our advisors could connect you with a solicitor who could offer you a No Win No Fee agreement.
If you'd like to start the ball rolling right away, please call us today on 0800 073 8804 or fill out our online form. Otherwise, please read some more to learn about making Wirral data breach claims.
Select a Section
A Guide On Claims With Data Breach Solicitors For Wirral
Before we begin, let's look at some key phrases we'll use during this guide:
Data controllers are organisations that collect and process personal data. They are the main decision-makers in how your data is used.
Personal data is any information about a data subject that might be used to identify a data subject. This is information that can be used to identify you in isolation or when combined with other information.
Data subjects are living people to whom the personal data relates.
Data processors collect, file, store or carry out other actions related to personal data on behalf of the data controller.
As we continue through this article, we'll discuss when you might want to use our data breach solicitors for your Wirral claim. We'll begin by looking at what GDPR data breaches are and how they happen. After that, we'll look at how often data security incidents occur. Finally, we'll provide some example compensation figures relating to a range of injuries.
It is important to clarify that data breaches don't automatically result in compensation being paid. As well as showing that you experienced harm because of the breach, the organisation responsible must have acted in a way that allowed the breach to occur. If they did everything in their power to prevent a breach from happening but one occurred anyway, you wouldn't be entitled to claim.
If you think of any questions about data breach claims whilst reading, please use the live chat function.

What Is A Breach Of The Data Protection Act?
Let's now take a look at what data breaches are according to the ICO. The definition of a personal data breach is where a security incident causes personal data to be accessed, destroyed, lost, altered or disclosed unlawfully or accidentally.
You could use our data breach solicitors for Wirral to claim for an incident that meets these criteria led to financial or mental harm. You cannot claim for a data breach that did not affect you in at least one of these two ways.
Here's an example of when data breach compensation could be sought, though. An employer data breach claim might be possible if your employer left a file containing your personal phone number and home address (without your permission) and they subsequently harassed you. While this is an extreme case, it shows what harm can be caused if organisations share personal data without a lawful basis for doing so.
What Is The Most Common Cause Of A Data Breach?
While you might assume that data breaches usually involve hackers who access personal data for their own benefit, data breaches can also be caused by human error.
In this section, we've listed some examples of mistakes or actions that could lead to a personal data breach:
If an employee uses a database to look up information about friends, family or colleagues for personal reasons.
Where the failure to use the BCC field means that someone's email address is accessed by others in the thread when this should have been kept private
A lost or stolen device data breach claim may be justified if a laptop containing your personal data is left on public transport and the laptop is unencrypted.
You could make a school data breach claim if a member of staff shares data with an ex-partner who's not allowed to contact you or your child.
Again, on their own, these incidents do not automatically mean you'll be compensated. They can only be claimed for if you've suffered as a result and the defendant's actions allowed them to happen.
If you're unsure whether you have the grounds to make a claim, why not call our team today? We'll review your claim for free and provide free legal advice about your options.

How Common Are Data Protection Laws Breached?
Let's now take a look at how often data security incidents occur. The ICO holds statistics on data breaches that are reported to them. Any breach that threatens the rights and freedoms of a data subject must be reported to the ICO within 72 hours. Each quarter, statistics are released to show the volume of incidents for that period.
Our graph below uses data about reported incidents for the second quarter of the financial year 2021/22. It's based on non-cyber security incidents.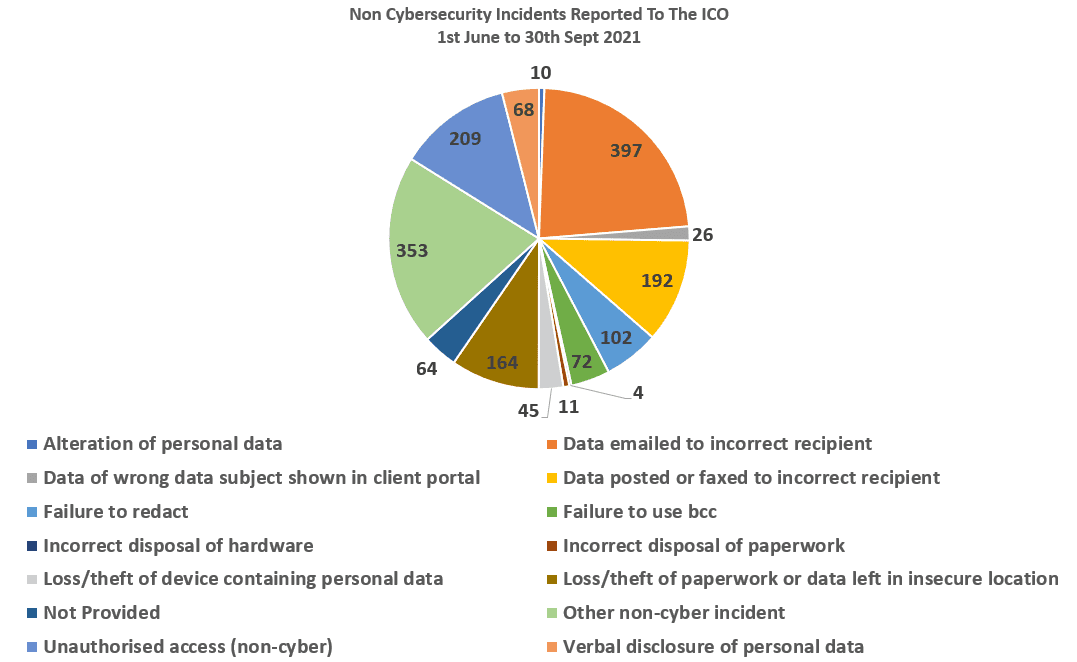 This data is not specific to Wirral but shows the types of incidents that are most commonly reported to the ICO. If you've experienced a breach caused by any of the conditions above, give us a call to see how data breach solicitors for Wirral could help you get the compensation you deserve.

Why Claim For A Data Breach With An Expert Solicitor?
It is our opinion that data breach claims are easier to win if you have a specialist solicitor on your side. We have a team of specialists who could try to ensure you receive the maximum compensation possible for your suffering.
The first thing a solicitor will look for is evidence that the breach took place. This can be something that's really easy to achieve. Legally, companies must inform you of any incidents that affect your rights without undue delay. Therefore, if you have a copy of a letter or email informing you of a breach, proving what happened should be quite straightforward.
However, you could still make a claim if you've not received a letter. To try and obtain confirmation of a breach involving your information you could:
Complain formally to the company involved. You should explain that you believe your data was exposed and make it clear what you'd like to know.
Escalate the complaint to the next level if you don't agree with the response. How to do this should be detailed in the initial response.
Request an ICO investigation. You can do this by contacting the ICO; you should do this within 3 months of the last update about your complaint.
Whether the ICO has investigated the matter or not, our data breach solicitors could begin legal action on your behalf. Get in touch for more information on how, as well as free legal advice about data breach claims.

What Payout Could You Claim For A Data Breach?
The UK GDPR permits two forms of damages to be included in data breach claims:
Material damages can be sought if you've lost money because of a breach.
Non-material damages might be claimed if you've suffered psychological injuries because of a GDPR breach.
The table below provides example amounts that could be paid as non-material damages. It includes a range of injuries along with compensation figures that have been obtained from the Judicial College. Legal professionals and courts use the same guidance to set compensation levels. A ruling in the case of Gulati vs. MGN [2015] means that these guidelines, which usually apply to personal injury claims, can also be used to help value damages in data breach claims.
| Injury Type | Category | Range of Compensation | Guidance / Notes |
| --- | --- | --- | --- |
| PTSD | Severe (a) | £56,180 to £94,470 | It is likely that PTSD symptoms will be permanent. That means the claimant will suffer with relationships, work and life in general. |
| | Moderately Severe (b) | £21,730 to £56,180 | There will very significant suffering early on. However, professional support should be successful and reduce the claimant's symptoms. |
| | Moderate (c) | £7,680 to £21,730 | While some effects of PTSD may continue, the claimant will have largely recovered. |
| Damage (Psychiatric) | Severe (a) | £51,460 to £108,620 | There will be a very poor prognosis in this category. It is likely that treatment will not help and therefore, work, life and relationships will have marked problems. |
| | Moderately Severe (b) | £17,900 to £51,460 | While the claimant will be affected similarly to the case above, they will be given a better prognosis. |
| | Moderate (c) | £5,500 to £17,900 | Professionals will have seen marked improvements in the claimant's symptoms. Therefore, a good prognosis will be offered. |
It's important to note that you can claim for the psychological harm of a data breach, for example, stress or post-traumatic stress disorder, even if you did not suffer financially as a result. This is because of a ruling in the Court of Appeal case Vidal-Hall vs. Google [2015].
Our data breach solicitors for Wirral could help you claim. For a free, no-obligation assessment of your claim, please don't hesitate to get in touch with one of our advisors today.

No Win No Fee Claims With Data Breach Solicitors For Wirral
Our data breach solicitors for Wirral provide a No Win No Fee service. That means that if your claim is accepted, you won't pay anything upfront, or while the claims process is ongoing. You also won't have to pay for your solicitor's work if the claim fails.
To check whether your claim is eligible for this service, your solicitor will verify that:
Your personal data was involved in a data security breach; that
Happened because of the defendant's actions (or inaction); and
As a result, you were psychologically harmed or you lost money.
Furthermore, they will need to check you're claiming within the allowable time limit. For claims against public bodies, this is just 1-year while there is a 6-year limitation period for claims against all other organisations. You might, therefore, want to check how long you have to start your claim as soon as possible.
You'll pay a success fee to your solicitor if you are paid compensation. This is a set percentage of any settlement you receive. Legally, success fees are capped to prevent overcharging.

Get Help On Claiming With Data Breach Solicitors For Wirral
Hopefully, you now understand when you can use our data breach solicitors to represent you in a data breach claim. If you are now considering making a claim, there are several ways to get in touch. You can:
For your convenience, we operate our advice line and chat service 24 hours a day, 7 days a week. For more information about how we can help, why not read some of our online reviews?

Where To Find Out More About Data Breach Solicitors For Wirral
Wirral Council Data Breach – This guide explains how you could spot if a Wirral Council data breach were to occur, and the steps you could take if you were harmed as a result.
Nursery Data Breach Claims – Advice on how our solicitors could help if you've been affected by a nursery data breach.
Police Data Breach Claims- This guide looks at how the police could expose your personal data and the circumstances in which you could claim.
Recent Action Taken By The ICO– This database lists all recent action taken by the ICO including any fines and enforcement action.
Cyber Security Breaches – The latest government survey on how cybersecurity breaches can impact organisations.
Your Data Protection Rights – A step by step guide on your rights under the UK GDPR.
Thanks for reading this article on choosing data breach solicitors for Wirral claims.
Written by Hambridge
Edited by Stocks