Bolton Data Breach Solicitors – Expert Claims Support
In this article, we'll explain how data breach solicitors in Bolton or those covering the area could help you to claim compensation if an avoidable data breach has caused you to suffer. This country has strict data protection laws to help keep your data safe. You may have heard of the General Data Protection Regulation (GDPR) and the Data Protection Act 2018 (DPA). Since the UK left the EU, the GDPR has been replaced with the UK GDPR and the DPA was updated to reflect the change.
If an organisation breaks these laws, it is likely to have to explain itself to the Information Commissioner's Office (ICO). Where necessary, the ICO can issue huge fines and force changes upon the way the organisation handles data. However, we've written this guide because the ICO cannot issue data breach compensation to you.
We can help if you are thinking about seeking damages following a data breach. We offer a free telephone consultation where you'll be given advice on your options. While there's no obligation to proceed, we could refer your case to one of our data breach solicitors. If your case is strong enough to be accepted, the solicitor will work for you on a No Win No Fee basis. They could help you to claim for any financial losses and you could also make a psychological injury claim too.
When you're ready to start your claim, please call us on 0800 073 8804. To learn more about claiming for a data breach in Bolton, please read on.
Select a Section
Our Guide To Data Breach Solicitors For Bolton
The purpose of this guide is to illustrate how data breach solicitors for Bolton claims could help you. Therefore, we'll look at why data breach claims might be necessary and what harm data breaches can cause. Furthermore, we'll explain how much data breach compensation could be awarded to victims who have had their data exposed through an organisations failures.
When you think of the harm caused by a data breach, you might automatically think of money being extorted from you. While your claim could include financial losses, you could also claim for mental harm too. For example, if you suffered due to stress following a data protection breach, this could be considered within your claim.
As you read this guide, please feel free to contact us with any questions. Our online chat service and advice line both operate 24-hours a day.

What Is A Data Breach?
Before we look at what data breaches are we'll define some key terms used when referring to the UK GDPR.
Personal data is information held by an organisation that could help to identify a data subject.
A data subject is a person whose personal data has been processed by an organisation.
The data controller is an organisation who needs to process personal data.
A data processor acts on behalf of the data controller to process personal data.
So, what is a personal data breach? Well, the ICO says that when personal data is changed, lost, destroyed, disclosed or accessed unlawfully or accidentally, in a security incident, a data breach has occurred.
However, not all breaches mean you're entitled to compensation. To be eligible to claim, the breach must have happened because of actions taken (or not taken) by the organisation.
Additionally, you'll need to prove that the data breach caused you to suffer. One type of suffering you could claim for is financial harm. Another is mental harm. For instance, a psychological injury claim may be possible if the breach caused anxiety or distress.
Importantly, where an organisation can show they took the necessary steps to protect your data, a claim would not be possible.
If you'd like to check whether you're eligible to take action, please call an advisor today.

How Could Human Errors Lead To Data Breaches?
So, why might you want to search for data breach solicitors for Bolton claims? Well, you may want to seek damages for data breaches caused by cybercriminals. However, many breaches are not caused deliberately. They can also happen because of mistakes made by staff. Some examples here include:
If a letter, fax or email that contains personal data is sent to the wrong person.
Where reports are published online but personal data is not redacted.
If an unencrypted device is lost or left in an insecure location.
Where personal data is lost following a data breach and it had not been backed up.
If an organisation's IT systems were exploited and data downloaded because the security software hadn't been updated.
When your email address is identifiable because the sender failed to use the BCC field.
If documents containing personal data are put out with the normal rubbish rather than be shredded.
As stated above, on their own these incidents won't entitle you to claim data breach compensation. Additionally, you'll need to prove how the GDPR breach led to financial or mental suffering.

How Often Do Data Breaches Happen?
Now we're going to look at how frequently data breaches occur. In a recent news report, it was stated that a number of "data breaches" had occurred regarding adopted children in Bolton's Councils care. Bolton's children's service director announced changes were to be made to improve the situation.
The breaches related to the control of information between adoptees that were trying to contact their birth parents.
Source: https://www.theboltonnews.co.uk/news/19259967.adoption-data-breaches-revealed-bolton-council/
To demonstrate how often other types of data security incidents occur, we've added the graph below. It is based on data security incidents reported to the ICO. The graph covers the period of July 1st to September 30th 2021. The data relates to cybersecurity incidents.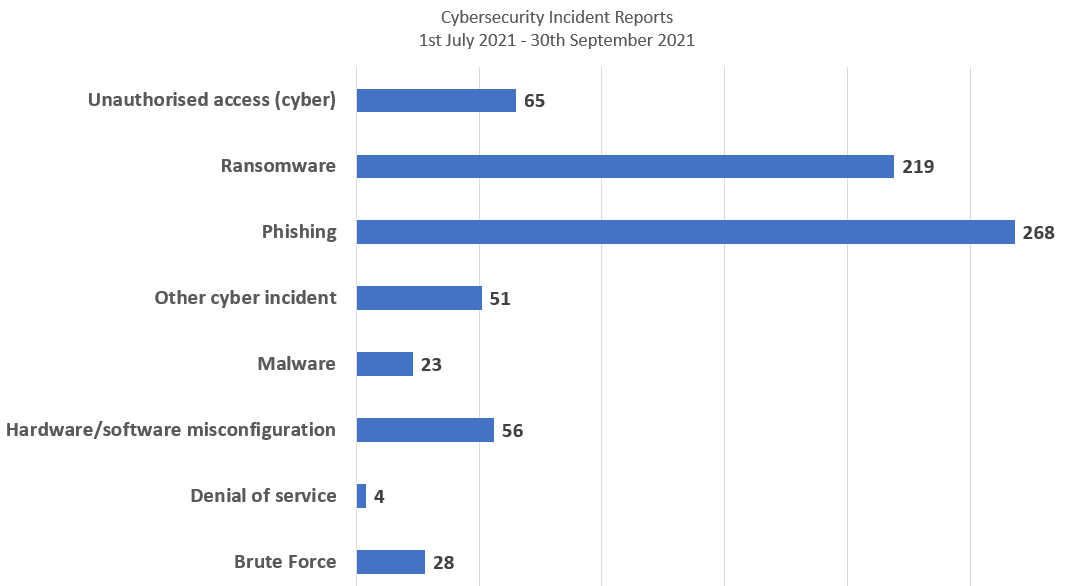 If you are looking for data breach solicitors for Bolton claims, please feel free to contact us.

Do I Need A Data Breach Solicitor Covering Bolton To Make A Claim?
In this section, we'll provide more information on how solicitors can help with data breach claims. If you are going to take action, you will need evidence to prove that a data breach took place. This can be achieved in a couple of ways.
Firstly, you may have received a letter or email informing you of the breach. That's because organisations must contact data subjects if a breach that identifies their rights is identified. If you receive such a letter, keep a copy safe as it could form the basis of your claim.
If you aren't informed about a breach, you could still take action. The following steps could help to prove that your data has been leaked:
Write to the organisation and complain formally. Explain that you believe your personal data has been exposed in a data protection breach.
Escalate your complaint if you're not satisfied with the response.
Contact the ICO and request an investigation. This must be done before 3-months have passed since you last heard from the organisation.
Any response you receive to the above steps could confirm that a breach has occurred. However, you don't have to wait for a response before contacting us. It is possible that a data breach solicitor from our team could take action without an ICO investigation. Where possible, they could file a claim and reach an amicable settlement with the organisation directly.
Having a solicitor support your case is not a legal requirement. That said, they will have experience and knowledge regarding the filing of data breach claims. Their talents could allow you to achieve the maximum compensation for your case. It is not necessary to have a data breach solicitor in Bolton. You can choose a solicitor no matter where they are based in the country. It is better to have a solicitor that has specialised in this area of law than choose one because they are close by.

Calculate How Much You Could Claim With Data Breach Solicitors For Bolton
According to the UK GDPR, two types of damages may be claimed following a data breach:
Financial losses. This includes costs, expenses or losses that have resulted from the data breach. Formally, this is called a material damages claim.
Non-material damages. This is where you could make a psychological injury claim. This could be based on distress, anxiety or Post-Traumatic Stress Disorder (PTSD).
To demonstrate how much might be awarded for non-material damages, we've provided the table below. It includes compensation ranges as listed in the Judicial College guidelines. Courts and legal professionals use these figures when setting compensation levels.
| Injury / Claim Type | Severity | Compensation Range (From JCG) |
| --- | --- | --- |
| PTSD | Severe (a) | £56,180 to £94,470 |
| PTSD | Moderately Severe (b) | £21,730 to £56,180 |
| PTSD | Moderate (c) | £7,680 to £21,730 |
| PTSD | Less Severe (d) | To £7,680 |
| Psychiatric Harm | Severe (a) | £51,460 to £108,620 |
| Psychiatric Harm | Moderately Severe (b) | £17,900 to £51,460 |
| Psychiatric Harm | Moderate (c) | £5,500 to £17,900 |
| Psychiatric Harm | Less Severe (d) | To £5,500 |
The amount paid as compensation is based on the severity of your psychological injuries. Therefore, as part of your claim, you may be invited to an independent medical assessment. Usually, your solicitor can book this locally. During your meeting, an expert will discuss how you've suffered with you. They may also look through your medical notes. Once the meeting has concluded, they'll provide a report outlining their findings. This will include a list of injuries as well as a prognosis for the future.

What Are The Benefits Of No Win No Fee Agreements?
In this section, we'll look at how No Win No Fee data breach solicitors for Bolton claims can help. Our solicitors work on this basis as they know potential claimants might be put off if they had to pay for their services upfront. Because the solicitor takes on most of the financial risk, this service isn't available to everyone.
Before your case is accepted, your solicitor will need to check whether your case is viable. To do this, they'll review your claim and check whether:
A personal data breach involving your data has occurred.
The defendant in the case allowed the breach to happen in some way.
You have been financially or psychologically harmed because of the incident.
If your case is accepted, your solicitor's work will be funded by a Conditional Fee Agreement (CFA). This is the type of No Win No Fee agreement we use. Your copy will explain when you'll need to pay your solicitor. Essentially, if you don't receive any compensation, you won't pay any solicitor's fees.
Where there is a positive outcome, you'll pay a success fee. This is listed in the CFA as a percentage of your compensation. By law, this fee is capped so that you cannot be overcharged.
Something else that needs to be considered before a claim is accepted is the time limit. According to the Limitation Act 1980, data breach claims have a 6-year time limit. However very often when claiming against a public body this is reduced to just one year. Therefore, we'd suggest you act swiftly to ensure your claim is started on time.
If you'd like us to check whether we could appoint a data breach solicitor for your Bolton claim, why not contact us today?

Getting Help From An Expert Claims Specialist
We are nearing the end of this article about Bolton data breach claims. If you have decided to take action and would like our help, you can:
To find out what previous clients have said about Legal Expert, please visit our reviews page.

Learn More About Data Breach Claims
Recent ICO Action – This database lists organisations that the ICO has fined or taken action against recently.
FOI Requests – Advice on how to make Freedom of Information (FOI) requests to public bodies.
Anxiety Advice – NHS guidance on how anxiety is diagnosed and treated.
What Steps Could I Take If A University Of Bolton Data Breach Occurred? – Information on when you could claim following a university data breach.
Who Do I Contact If I Suspect A Bolton Council Data Breach? – Our guide on seeking damages if a local authority has breached your data.
Bank Data Breaches – This article looks at when you could be compensated following a data breach by your bank.
Thanks for reading this article about selecting data breach solicitors for Bolton claims.
Guide By Hambridge
Edited By Melissa.