£12,000 Compensation For A Medial Meniscus Knee Injury
The no win no fee solicitors at Legal Expert are personal injury claims specialists. Our team can offer advice on personal injury claims, as well as helping to connect potential claimants with one of our specialist legal solicitors from across the country. The solicitors we work with are experienced in handling a variety of different personal injury claims, such cases where people have had a medial or other knee ligament injury. No matter the nature, extent or severity of your injuries, if you have contracted an illness, been injured or had an existing condition exacerbated as a result of an accident which was not your fault, you could be entitled to claim compensation.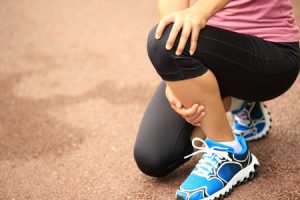 In this case study, we are looking at a knee ligament injury caused by one of the most common types of accidents in the workplace, a slip, and fall in the workplace. The claimant suffered a medial knee ligament injury as a result of slipping on a spill in her workplace. Many personal injury claims can be settled out of court. The defendant in this case (the claimants' employer) did not admit liability for either the accident or the knee ligament injuries suffered by the claimant. They did, however, make a pre-litigation offer for an out of court settlement of £2,950 which was accepted by the claimant.
At Legal Expert we work with specialist solicitors from across the country, helping people to recover the personal injury compensation that they are entitled. To learn more about this knee ligament injury case study and how it was successfully resolved for the claimant, read below.
How Common Are Slips, Trips, And Falls In The Workplace?

Whether in the workplace or out and about, accidents categorised as slips, trips, and falls are the most common types of accidents resulting in an injury. According to statistics in the Labour Force Study by the UK's Health and Safety Executive, slips, trips, and falls on the same level accounted for 29% of all reported (non-fatal) injuries in the 2016/17 period. Slips, trips, and falls can regularly cause a very wide variety of injury types, such as a knee ligament injury as a result of twisting or landing in an awkward fashion.
The workplace can often include a variety of hazards which can cause people to slip over, such as on a spill, or trip over carelessly placed items. In this case study, it was a spill on the floor which caused the claimant (a care support worker) to slip over and injure herself. The amount of compensation someone can claim after a slip, trip, or fall will depend on how bad their injury was. You can find out more about slip, trip, or fall workplace compensation claims with our guide.
Medial Knee Ligament Injuries And The Consequences
In this case study, the claimant was a care support worker employed by a city council to work in an adult day care centre. She was involved in a workplace accident, leading to a knee ligament injury. The centre works with adults who have a range of different and complex needs, including varying levels of incapacity. The claimant was working alongside a colleague as they assisted a visitor with their personal care and grooming. The room the claimant was working in had a sluice and drain under the patients' bed, as well an integral shower facility. After the claimant finished helping the patient she walked past the bed and slipped on a spillage. When the shower is used the area should be mopped down after, however, this time the shower facility had not been used and was not the cause of the spill. The claimant slipped over, holding to the bed railing as she did so. However, she still twisted one of her knees, resulting in the medial knee ligament injury.
Medial Knee Ligament Injury Treatment
After suffering the injury the claimant visited an on-site physiotherapist as she was not able to work well. As she could not carry out her duties she was sent home to rest. Knee ligament recovery times can be extensive and the next day her knee was painful, showing knee sprain symptoms. As such, she visited the hospital where she was diagnosed with a medial knee ligament injury. Her medial knee ligament injury treatment included support bandaging, medication for her pain and crutches to relieve pressure on the affected knee. The claimant was also offered medial knee ligament injury rehabilitation exercises. She also visited her own GP who recommended further physiotherapy to aid her medial knee ligament injury rehabilitation. However, though she was able to get a physiotherapy referral, the physiotherapy and knee ligament injury treatment exercises did not help her to recover, leaving her with the same level of knee pain. The claimant had to take several weeks sick leave before returning to work on light duties only. The claimant did not lose any income for this period.
How Long Does It Take For Ligaments To Heal In The Knee?
The initial knee ligament injury and extended medial knee ligament injury recovery time impacted her life. The claimant needed her partner to help with tasks such as household chores, walking her dog and shopping. She was also unable to participate in her active hobbies, such as fitness classes. It also prevented the claimant from going on a planned holiday. The total medial knee ligament recovery time, in this case, was six months.
The Knee Ligament Injury Settlement And Award
The claimant alleged that she had not caused the spill as she had not used the shower, or any water whilst caring for the service user. The claimant also alleged that the shower had not been used that day and that the likely source of the spill was the sluice/ toilet in the room.
Solicitors acting on behalf of the defendant initiated a claim against her employer. Whilst they did not admit liability for the accident or knee ligament injury, there was a negotiated settlement to the case. The defendant made a pre-litigation offer of £2,950 which was accepted by the claimant.
No Win No Fee Personal Injury Solicitors
At Legal Expert, we only work with highly trained and professional personal injury solicitors who make up our specialist panel. The no win no fee solicitors we work with have helped claimants across the country suffering a variety of different illnesses and personal injuries to recoup the compensation that they are owed. We work with solicitors who have expert knowledge of how best to help a claimant after a slip, trip, or fall causing injuries such as a knee ligament injury. Our specialist no win no fee solicitors help claimants who may not ordinarily be able to access legal services by offering a Conditional Fee Agreement service. This is a type of contract which stipulates that a solicitor will not get paid unless the compensation claim is successful. It sets out what the solicitor will do for the claimant and how they will get paid if they do win compensation for the injured party. Typically this will be a small percentage of the claim award (up to a maximum of 25%).
Across the country, the solicitors who are part of our panel of experts have helped people to secure the compensation they deserve. To start your no win no fee compensation claim, contact Legal Expert today
Contact The Team At Legal Expert Today
If you have been injured or contracted an illness as a result of an accident which was not your fault, contact our team today to find out if you could be entitled to make a knee ligament injury claim today. The amount of compensation that you could be entitled to will depend upon your initial injury and how serious it is. We have helped people from across the country to get the compensation that they deserve. You can contact us today by calling us on 0800 073 8804. You can also email us with the details of your case to info@legalexpert.co.uk. You can also reach our team using the online chat feature. Contact Legal Expert today to start your claim.
Useful Links
Knee Injury Claims
View our guide to knee compensation claims, as well as examples of compensation awards and settlements.
Knee Ligament Surgery
Advice for knee ligament injuries and knee ligament surgery options for more serious cases can be found in this NHS guide.