Forklift Truck Accident – How Much Compensation Can I Claim?
By Max Mitrovic. Last Updated 9th June 2022. In this guide, we will address how forklift accidents are caused, what impact they can have, and most importantly, how a personal injury solicitor could be of assistance. Forklift truck accident claims may be possible for those who have been hurt in an accident involving such a vehicle that wasn't their fault.
Fork trucks are used to lift and move heavy pallets, crates, or objects which are either too dangerous or heavy to be lifted by people or smaller mechanical tools. There are risks in operating forklifts, and as such employees need to be properly trained in their usage. Inadequate training could lead to serious injuries, such as a broken ankle injury or a concussion injury.
As with any heavy machinery in the workplace, forklift trucks should be operated with a high degree of care. Workplace forklift truck accidents can happen both to the driver and staff and other people in the surrounding operational area. Therefore, anyone working in this operation area for forklift trucks should take extra care and be trained to avoid falling victim to potential nasty accidents. If you have been injured by a forklift truck due to negligence, you could be entitled to making a No Win No Fee compensation claim.
We have endeavoured to make this a comprehensive guide on forklift truck accidents. However, if you still have any questions after reading it, we can offer free consultation and advice sessions. To contact the Legal Expert advisors if you have any questions, you can do one of the following:
Select a section:
Health & safety and forklift accidents
The Health and Safety at Work etc. Act 1974 states that it is the responsibility of an employer to ensure that all machinery (such as forklift trucks) used by staff are appropriately maintained and that all necessary measures have been taken to ensure employees operating the (forklift truck) machinery are protected to a reasonable degree from the risk of accidents.
Despite this, the overall number of accidents caused by or related to dangerous machinery (such as forklift trucks) at work has risen, which could lead to forklift accident claims being made. Workplace truck accidents could be caused by employer negligence such as inadequate training, failure to provide the correct personal protective equipment or failure to properly maintain equipment. However, it's not always employer negligence that causes accidents. Instead, employees may fail to take health and safety measures seriously leading to improper use of the machinery or protective equipment or failure to use the correct protective equipment and steps.
If you have sustained an injury at work due to a forklift accident and are looking for information on making a personal injury claim, this guide could help. We'll cover how to register your injury, the compensation you could be entitled to and the steps you will need to take. After you've finished reading, contact us today to start your claim.
What are near-miss accidents at work? 
A near miss is an incident that didn't result in injury but had the potential to be a workplace accident had the circumstances been different. A near-miss incident doesn't need to be reported under the Reporting of Injuries, Diseases and Dangerous Occurrences (RIDDOR), but should be investigated to ensure the safety of the workforce in future.
Causes of fork truck accidents at work
Forklift truck accidents can lead to injuries in the workplace in a variety of circumstances, including those outlined below. As a result of these accidents, it could result in forklift truck accident claims being made.
Where there is a forklift crash or collision with a pedestrian staff member or member of the public.
Where the load has not been properly secured or lifted, resulting in objects falling onto people.
Forklift truck accidents resulting from imbalanced loads, resulting in the forklift toppling over and injuring someone.
An unseen pedestrian is crushed between the truck and a load or wall etc. This could happen if the driver's view is obstructed, they are not operating the truck with due care and attention or if the pedestrian has not been trained appropriately.
There is a forklift crash with another object or vehicle.
Following proper operational and health & safety guidelines, there are a plethora of preventative measures that can be carried out. These work to increase overall employee safety around forklift trucks. Common and easy to enact measures include the wearing of high visibility jackets and hard hats.
Machinery should be regularly maintained, according to appropriate schedules and standards. There should be regular checks on all parts of the forklift equipment. Any faulty machinery should be identified and repaired before forklift truck accidents can occur.
Your employer should also have a comprehensive liability insurance policy to cover both the business and yourself in case you suffer an accident on their premises. Appropriate liability insurance is required under the law as per the Employers' Liability (Compulsory Insurance) Act 1969.
It provides cover to all parties in the event of an accident where compensation, such as forklift accident claims, could be made. The insurance provides employees with a way to claim against their employer without worrying about the financial impact it could have on the company. As such, you shouldn't worry too much about the impact of your claim on the business, your employer will be covered for such an eventuality, and you deserve the right amount of compensation to get you back on your feet.
To learn more about forklift truck accident claims, our team is here to help. Simply call them on the number at the top of this page.
Common types of forklift truck accidents at work
These are the most common type of forklift truck accidents in the workplace. The first thing to remember is that around two-thirds of all forklift truck accidents involve someone other than the injured driver. Anyone working or otherwise in the vicinity of a forklift truck could be placed in danger if they or the driver are not paying due care and attention.
Many different industries can be inflicted due to both improper and even proper use of forklift trucks. Forklift truck accidents can even happen when the truck is being used safely and in line with user guidelines. Common accidents include;
Toppling over: uneven surfaces, uneven loads and loads which are too heavy can cause forklifts to topple over. This type of accident can injure the driver and anyone around the vehicle. Obstacles such as potholes, drains, and slopes can cause truck accidents, and proper risk assessments need to be carried out.
Falling objects: a loose load can fall from the truck and injure passers-by. This could cause serious injury to the victim and possibly even death. Loads must always be secured and stable before being moved.
Racking failure: if you look online, you will probably see lots of videos of racking failing when an object is placed on it. This can be due to poor driving and loading items in the wrong place or non-existent or poor maintenance. Another common incident is pushing the load too far onto racking, allowing it to fall off the other side.
Collisions: forklifts can collide with other objects such as racking, desks and walls, and other forklifts, pedestrians and other vehicles, especially if traffic routes around the workplace aren't planned.
Slips, trips and falls: these types of accidents can often fall under their own type of accident at work claim. Just getting out of a vehicle such as a forklift can sometimes result in injuries such as slips, trips or falls. Employees should be instructed on the correct ways to get into and out of forklift trucks.
Speed and dangerous driving: dangerous driving, such as speeding, remains a common cause of accidents for forklifts and forklift truck drivers as well as those around your workspace. Driving without due care and attention or speeding leading to injuries.
If you've suffered harm in any of the ways described above and want to learn more about forklift truck accident claims, our team is on hand to help. Simply call them anytime you like and they'll answer all of your queries.
Recording and reporting of accidents at work
RIDDOR, or the Reporting of Injuries, Diseases and Dangerous Occurrences Regulations 2013, requires employers and those who control or manage premises to report and keep relevant records of the incidents listed below. These must be reported to the relevant enforcement authority. Records must be kept for;
Work-related and deaths in the workplace.
Work-related accidents (such as a forklift accident) that cause certain injuries and those that result in the worker being incapacitated for more than seven consecutive days.
Near miss accidents and other 'dangerous occurrences' from a specified list.
Injuries to public members (resulting in the person being taken directly from the site to the hospital) caused by an accident at work.
Remember, not all incidents, accidents or injuries need to be reported to an external body. However, employers must record each and every incident that occurs in the company accident book. You can find more information on the types of accidents and reporting procedures at the RIDDOR site.
Reports to enforcement authorities (except for injuries resulting in more than seven days off) have to be made straight away and by the quickest means possible. They must then be followed up within ten days of the occurrence with a written notification. Reporting for over seven-day injuries need to be sent to the relevant authority within fifteen days.
Records need to be kept of all 'over-three-day injuries', i.e. where a person who is injured at work is then incapacitated (unable to work) for three or more consecutive days. Whilst records should be kept of these injuries, and they may not need to be reported. A person is defined as being incapacitated if they cannot carry out their usual day-to-day work tasks. Your counting period for an over three or over ten-day injury periods does not include the day of the accident. It does include weekends and days off/ rest days.
Your employer needs to records all workplace incidents. This is so bodies such as the HSE (Health and Safety Executive) and Environmental Health representatives can carry out a thorough risk assessment of the workplace. These bodies are also there so that if something does go wrong and an accident occurs, they can investigate what happened and what went wrong. As such, they help to make your workplace safer and reduce the risk of forklift truck accident claims needing to be made.
Making a forklift truck accident at work compensation claim
Starting a compensation claim for a forklift truck accident at work can seem complex. For that reason, it may be beneficial to choose the right solicitor and law firm to represent you. It would be best if you chose a reputable firm that has expertise in the personal injury sector.
To win a claim for personal injury or accident at work compensation, you need to be able to prove the accident was the result of negligence on the part of the employer or someone else who may have owed you a duty of care. You also need to be able to demonstrate that the accident caused by the person's failure to uphold their duty of care resulted in you suffering a personal injury of some kind.
As a claimant, you may have been the driver or other worker. You could also have been visiting a warehouse or other space where forklift trucks are in operation. The overall principle is that you will have suffered an injury that is not your fault. Employers and managers have a duty of care to ensure that anyone can move about their premises in a safe way. This duty is to both employees and visitors alike. This includes measures such as keeping forklift truck operating areas separate from other parts of the workspace. If an employer does not do this, they can be held to account by the pursuit of forklift truck accident claims.
Our team of personal injury solicitors have many years of experience dealing with some of the most complicated accident at work cases. They can help gather evidence, obtain the correct medical reports, and ensure that all paperwork is correctly collected and filled out. We will ensure that our team does everything to ensure that you can dedicate yourself to rest, relaxation and recuperation.
Forklift truck accidents at work can be severe, and we endeavour to provide you with a promise to take care of you and your case. We ensure you receive a hassle-free service and are cared for every step of the way. We cover your and provide our services to you on a No Win No Fee basis. We can start by offering, confidential, free legal advice and consultations. We will assess your case before we both decide whether to proceed. We ensure you will know the merits of your case and likely outcomes before you go ahead.
How much compensation could you receive for forklift truck accident claims?
The first thing to do when you have reported your injury following a forklift accident correctly is to seek the specialist advice and help that can come from discussing your accident with a solicitor.
As no two forklift truck accidents or injuries are the same, estimating damages at an early stage can be difficult. What could look like similar incidents or injuries on paper can be very different in real life. Even the effects of two identical injuries on two different people can be entirely different.
Forklift truck accident claims could also be affected by the medical notes and long term prognosis from the attending physician. Until all the evidence has been collected, we can't really estimate how much you could be awarded.
However, normally, personal injury claims comprise general and special damages. The former provides compensation for your physical and psychological injuries sustained in the accident for which you're claiming. Whereas, special damages compensate for any financial losses both in the past and future. For instance, medical bills such as the cost of prescriptions could be claimed back under special damages.
Below is a table of compensation amounts compiled using the Judicial College Guidelines (JCG). The JCG may be used to help calculate how much you could be awarded for the injuries caused by your accident.
Alongside the JCG, medical reports may also be used to help value your injuries. The figures in the table relate to general damages only and should be used as a guide as your actual settlement will vary. They have been taken from the latest guidelines available.
| Injury Type | Severity | Amount |
| --- | --- | --- |
| Back Injury | Severe (i) | £91,090 to £160,980 |
| Back Injury | Moderate (i) | £27,760 to £38,780 |
| Back Injury | Minor (iv) | Up to £2,450 |
| Arm Injuries | Severe | £96,160 to £130,930 |
| Arm Injuries | Less Severe | £19,200 to £39,170 |
| Knee injury | Severe (i) | £69,730 to £96,210 |
| Knee injury | Moderate (ii) | Up to £13,740 |
| Leg Injuries | Very Serious | £54,830 to £87,890 |
| Leg Injuries | Moderate | £27,760 to £39,200 |
| Hand Injuries | Serious Damage to Both Hands | £55,820 to £84,570 |
| Hand Injuries | Severe Fractures to Fingers | Up to £36,740 |
| Hand Injuries | Moderate | £5,720 to £13,280 |
| Shoulder Injuries | Severe | £19,200 to £48,030 |
| Shoulder Injuries | Moderate | £7,890 to £12,770 |
| Shoulder Injuries | Minor (i) | £4,350 to £7,890 |
Compensation awards can vary from one forklift truck accident compensation claim to another, purely because of the range of injuries that can be sustained. To get a more precise estimate, it's important to know what happened in your case. If you call our advisers and discuss it with them, they'll be able to tell you much more. They can also advise on the special damages that you could include in your claim, provided you have evidence to support any financial losses.
What you need to start your forklift truck accident claim
You may feel confident that the injuries you sustained while driving a forklift truck or having been otherwise injured by one are sufficient to make a claim. If this is the case, you may want to know what kind of information is necessary when processing forklift truck accident claims. You will need to have:
Basic personal information such as your name, proof of address, date of birth, etc.
Information about the forklift accident itself. The circumstances which lead to or caused the accident as other information on your workplace, such as practices.
Details about where and when the incident occurred which may be detailed on a forklift truck accident report.
Information on the injury. What type of injury did you sustain and how serious was it. Do you already have medical notes from any examinations?
The name and contact details of the company you work for or your employer.
Medical information. Notes from any EMT's, local hospitals or GP's.
Forklift truck accidents photos of the accident or injuries.
Proof of earnings, (If you had to take time off from work then you may be able to claim for a loss of earnings) incident details – time and location.
How long do I have to make a no win no fee claim for a forklift truck accident at work?
There are time limits for bringing your forklift accident compensation case for personal injury at work. The typical time limit for personal injury claims, including forklift truck accident claims, is three years from the date of the accident. Often if you have not made a claim within this time and if you have not brought any initial proceedings, your claim may be considered invalid. There are some exceptions to this though:
Mental capacity: If the person lacks the mental capacity to bring forward the claim themselves, the three years are frozen. During that time, someone could apply to act as a litigation friend to claim on their behalf. A litigation friend could be a family member, solicitor or someone else who meets the criteria. If the person recovers their mental capacity, the three years will begin from the date of their recovery.
Child accident claims: For anyone under the age of 18, someone could apply to act as a litigation friend and claim on their behalf up until they turn 18. Alternatively, the three-year time limit will begin from the date of their 18th birthday if a claim hasn't already been made on their behalf.
Date of knowledge: The consequences of personal injury won't always surface or be obvious straight away. There have been cases of people not being aware that they have even suffered an illness or injury until sometime much later. There are thus exceptions for these cases. The time limit won't start until the date you have become aware that someone else's negligence caused or contributed to the illness or injury.
Forklift Pedestrian Accident Statistics
Within this section of this forklift truck accident claims guide, we have taken the time to include statistics provided by the Health and Safety Executive (HSE). As outlined by the HSE, in 2020/2021, around 51,211 non-fatal injuries were reported by employees under the Reporting of Injuries, Diseases and Dangerous Occurrences 2013 (RIDDOR).
HSE also recorded data on the fatalities that occurred in the workplace. In total, there were 142 fatalities suffered in various circumstances. However, the main kinds of fatal accidents as per HSE are as follows:
Struck by a moving vehicle.
Struck by a moving object.
Trapped by something collapsing or overturning.
Contact with moving machinery.
As the graph below shows, statistics from HSE indicates that the industry which carries the most risk of being injured after being struck by a moving vehicle is transportation and storage.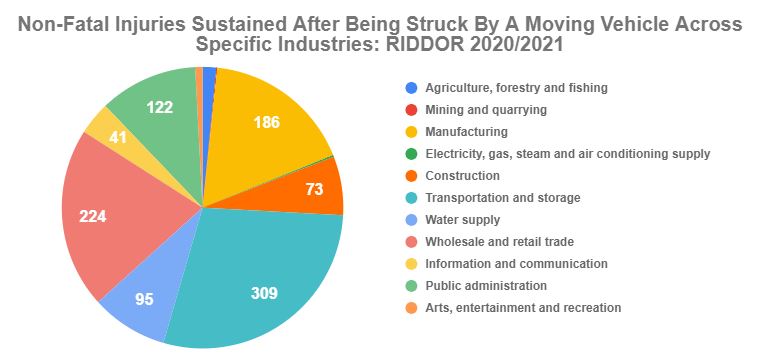 However, there are various causes of accidents in the workplace. The most common causes of a workplace accident as of 2020/2021 include:
Slips, trips and falls on the same level = 33%.
Handling, lifting or carrying = 18%
Struck by a moving object = 10%
Acts of violence = 8%
Falls from a height = 8%
If you've been injured at work or you want to learn more about forklift truck accident claims, give our team a call.
A brief guide to making a No Win No Fee claim
You will probably have seen many adverts on TV and in the papers for No Win No Fee services helping you make a claim without having to pay for services upfront. It also means that you won't have to pay any ongoing costs that could incur while your claim proceeds. These fees could include medical costs or court costs should your claim reach this stage.
No Win No Fee services include Conditional Fee Agreements. They are an arrangement you make with your solicitor helping you claim compensation without worrying about paying any fees upfront. The agreement will state you won't have to pay solicitor fees if your claim is not successful.
Only paying for the legal services in the event of a win removes the risk of making a personal injury or accident at work claim with a solicitor who charges by the hour.
As part of the No Win No Fee agreement, you will be required to pay a success fee if your claim succeeds. The fee is legally capped and is taken as a percentage of your total compensation amount. However, your solicitor will make you aware of these fees prior to you agreeing to their services.
We have developed a No Win No Fee service to help anyone who wishes to access legal representation whilst avoiding the costs often associated with a solicitors services.
It doesn't matter whether or not you have the funds to cover the legal costs, and you should not be put off making a claim just because of your financial situation. Our No Win No Fee service could help with forklift truck accident claims.
Top Tips On Making A Forklift Accident Claim
Forklift accidents could potentially cause a variety of injuries that could affect your life in different ways. However, it is important to know that when making forklift accident claims, you need to prove that your injury was caused by third-party negligence.
An important aspect of making a personal injury claim is gathering evidence. You need to illustrate how negligence led to your injury. If you're attempting to claim for forklift truck accidents, potential evidence could include:
Visual evidence, such as CCTV footage. This can help establish the series of events that led to the accident.
Medical evidence, such as doctor's reports and copies of medical scans. This can show how serious the injury is and illustrate the likelihood that the accident led to the injury or exacerbated it.
Witness statements. If you get the contact details of witnesses who saw the accident, your solicitor can contact them to take statements as part of the claims process.
Your solicitor or lawyer can help you collect evidence to strengthen your compensation claim. For more information about how to make forklift accident claims, please contact our team for a free consultation using the above details.
Start your forklift accident claim today
If you have had a personal injury or accident at work that was not your fault or resulted from someone else's negligence, get in contact with our team of specialist workplace accident or personal injury claims solicitors today.
Our team will check through your case and let you know whether or not you have a good case for forklift truck accident claims. Even if you think that the accident which leads to your injury was not the direct result of someone else's actions or negligence, you may still have a case to make against your employer.
We will contact one of our solicitors to provide you with expert legal advice for free. We'll get all the facts together and take a look over it before deciding on whether or not to proceed. We can discuss with you whether you have a good chance of making a successful claim accident at work compensation.
Using our No Win No Fee agreement, you won't need to pay so much as a penny in upfront fees. Please get in touch to discuss your forklift truck accident on the following details:
Telephone: 0800 073 8804
Contact form: Fill out our online form and an advisor will get back to you.
Live chat: Use the function below to speak with an advisor straight away.
Helpful Links
Thank you for reading our guide to forklift truck accident claims. We hope you've found it useful. In this final section added in some extra links you may find useful, as well as answers to some frequently asked questions.
Accident At Work Compensation Amounts
If you have suffered from an accident at work, find out how much compensation you could claim for forklift truck accident claims.
Click here to read about rights at work
A guide on your rights in the workplace.
Head here to discover more about car accident claims
A guide on car accident claims.
Information on the safety of lift trucks from the HSE website.
Other Useful Guides:
Forklift Truck Accident Claims FAQ
Are forklifts dangerous?
Much like any other form of transportation or heavy machinery, forklifts can also contribute to an accident.
What is the most common forklift accident?
There are numerous factors that could potentially cause a forklift accident. This includes machinery malfunctions, speeding, inadequate training or a collision with an object or a pedestrian.
What injuries could be caused by forklift accidents?
Forklift truck accidents could result in a wide variety of injuries for those driving a forklift or hit by one. Victims may suffer from being crushed, being pinned or they may have a slip, trip or fall accident.
What are my rights if I am injured at work?
As your employer owes you a duty of care to help ensure your safety at work, if they fail to do so and you're injured as a result, you could be able to make a claim against them.
Can I sue my employer for stress and anxiety?
As part of a personal injury claim, you can claim for psychological harm as well as physical harm. This is all part of general damages, whereas special damages covers financial losses.
How do you prove emotional distress damages?
Whether you're looking to prove physical or psychological harm, a medical evaluation with an independent expert will help evidence your claim. They'll file a report on any bodily or mental harm you suffered, as well as how your quality of life has changed, and provide a future prognosis.
How much can I sue for pain and suffering?
As all personal injury claims are individually valued according to the extent of each claimant's suffering. Therefore, it's impossible to say how much you could be entitled to without giving more detail about your case. For a free consultation, please get in touch today.
For more advice and support on forklift truck accident claims, contact the Legal Expert team today using the contact details in this guide.