Penetrating Damp, Leading To Mould: Can I Claim Compensation?
Damp and mould in council property or other rented homes can be a major concern for tenants. It can be an issue at the end of a tenancy, where a landlord and tenant may enter discussions about the return of a deposit, for example, but an ongoing damp problem can cause mould and lead to health problems and damage to personal property. Mould can be caused by penetrating damp, rising damp or condensation; all can be a problem, but the type of damp will have an effect on what claim can be made. Broadly, if the damp is caused by disrepair, it is the landlord's responsibility and, if they will not repair it, the tenant may be able to sue landlord for mould and damp compensation. There may also be environmental health damp and mould issues.
To start your no win-no fee compensation claim for penetrating damp and disrepair, please call us, free, now on 0800 073 8804, or contact us through our website. To find out more about compensation for mould and damp, damp in house tenants' rights re mould in the UK and how to take action against damp and condensation, please read on.
Select A Section
A Guide To Penetrating Damp Compensation Claims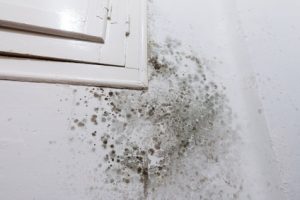 There are three main sources of damp in the home: penetrating damp, rising damp and condensation. Rising damp is usually caused by an underlying structural issue, and will be down to the landlord to sort out; penetrating damp and condensation can be trickier. Penetrating damp occurs when water finds a way of entering the property, for example through a broken tile or window frame, or a hole (however small) in the external wall. This amounts to housing disrepair, and will be the landlord's responsibility. However, it isn't always obvious where the damp is entering the property, and the landlord may try and avoid their obligations. Condensation damp is caused by sources within the home, commonly washing, cooking or bathroom use (such as showers), and who is responsible for it depends on the cause and the overall state of ventilation of the property.
Where there is damp and mould in rented property, or damp and mould in a council property, the first step will usually be to bring it to the attention of your landlord and ask them to resolve the problem. However, unfortunately, many landlords resist dealing with damp and mould in rented homes and you may need to take further action.
A damp claim lawyer can help you identify tenants' rights regarding mould in the UK, and even sue your landlord for mould, which may include housing disrepair compensation for mould and damp. Damp claims are likely to be part housing claim and part personal injury claim, covering damage to property (belonging to you, the tenant – such as clothes or soft furnishings), the effect of the damp on your health and forcing your landlord to take action against damp and condensation. Environmental health damp and mould teams may also be involved. Withholding rent due to damp is risky, unless you follow a specific procedure, and you can find more about this below.
What Is Penetrating Damp?
Damp, as the name suggests, is moisture in the home, and it becomes a problem when it occurs in places where it is not wanted. The damp can be caused by water entering the building from outside (e.g. rain or rising damp), a problem inside the house (e.g. a burst internal pipe) or from condensation caused by things within the property, such as cooking, washing and bathroom use, often in conjunction with inadequate ventilation.
Penetrating damp is damp that comes into the property from outside, through the wall. Common causes are damage to the roof, broken or inadequate guttering, damaged windows or cracks in the brickwork, and it can happen anywhere on the property. Flat roofs can be a particular problem if they do not drain properly.
It is usually seen inside the property as damp patches or black mould on the walls or ceiling, often accompanied by a musty smell. You may also see damage to woodwork or brickwork. If not fixed, it can cause further damage to the property and furnishings, including wet rot or dry rot, as well as various health problems including allergies, skin conditions and breathing conditions.
What Causes Penetrating Damp?
There are many potential causes of penetrating damp. The water has in some way entered the property, and this could be through a broken roof, damaged brickwork or a broken window frame. Damage to guttering can also cause water to enter the property, by either concentrating it or directing it the wrong way. Malfunctioning plumbing can also be a point of entry for the damp. When seeking to make a claim for damp, the first issue is to identify what is the cause and where the damp is entering the property.
What Are The Symptoms Of Penetrating Damp
The first sign of penetrating damp will usually be a persistent damp patch on the wall or ceiling, followed by the appearance of black mould. If the damp is entering the property somewhere hidden by furniture or in a cupboard, you may not notice it until the mould has spread quite widely, perhaps also on to soft furnishings or personal property. The damp may also cause a musty smell or damage to plaster, and you may also see damage to woodwork or brickwork. You can sometimes see the problem from outside – e.g. a broken roof tile or damage to masonry, but that is not always the case.
How Is Penetrating Damp Treated?
In order to treat penetrating damp, the first step is to identify and fix the external problem, whether that is a broken tile, brickwork or guttering. This is likely to need assistance from a builder or other relevant tradesman. Once the source of the moisture has been cut off, the internal damp will need to dry out before you and the landlord can consider what else needs to be done.
In serious cases, the wall may need to be replastered, damaged woodwork replaced, and the whole lot redecorated, but in other cases it will be a case of treating the mould with mould removal spray and/or specialist paint. A damp survey may be required and, in some cases, more serious preventative measures such as a new damp-proof course or a protective membrane may be necessary to stop the problem happening again.
What Duty Of Care Does My Landlord Owe Me?
Basically, your landlord is responsible for the maintenance and repair of the structure of the property. The landlord is also legally responsible for ensuring that the supply of gas, electric and water, and heating and heating water are in working order. You should notify your landlord (or their agent) as soon as you are aware that there may be a damp problem, preferably in writing. If the tenancy was started after October 2015, the landlord must respond within 14 days.
If there is a hole in the wall or the roof, this amounts to 'disrepair' and the landlord is responsible for fixing it. There may be some dispute over the exact cause, in which case a survey may be needed. The landlord should be responsible for the cost of this if the problem is shown to be penetrating damp.
The Housing Health and Safety Rating System (a risk assessment approach that landlords should follow) makes damp a mandatory repair, and also goes on to emphasise that the presence of mould should not affect the tenant's physical or mental health. Therefore, the landlord should take prompt action against damp and condensation. Even if there is no penetrating damp, there may be an environmental health issue, and the council should be informed – especially where there is mould in a council house. The environmental health department has the power to order your landlord to fix the issue.
Understanding Who Is At Fault In Cases Of Penetrating Damp
There can be confusion over who is at fault for damp caused by condensation (lack of ventilation or tenant's lifestyle), but penetrating damp will almost always be the responsibility of your landlord, as they are responsible for maintaining the structure of the property.
If there is any doubt as to who is at fault, a survey or inspection may be required. In general terms, damp from condensation is usually caused by the lifestyle habits of the residents, but the landlord may bear some responsibility if ventilation is poor in that area and could be improved.
Withholding Rent Due To Damp
Withholding rent can be very tricky – if you do not pay rent without appropriate cause and do not follow the correct procedure, you may be evicted. Minor breaches of the tenancy agreement by the landlord are not sufficient justification for withholding rent, and even more significant repair issues, such as a broken internal wall, may not be allow you to withhold rent. However, tenants do have rights regarding mould and claims for damp and disrepair, and there is a specific procedure for withholding rent due to damp.
If you are sure that the cause of the damp is due to disrepair, i.e. a hole in the property, you must notify the landlord in writing (including email) and give them the opportunity to repair the damage within a 'reasonable time'. If the landlord refuses, or there is too much delay, there is a procedure you can follow in order to withhold ('set-off') the rent in order to fix the problem. Only the cost of the actual repair can be withheld (not compensation for any damage to personal possessions or health – for this you must sue the landlord for mould and housing disrepair compensation). It may be useful at this stage to take photos of the damage.
Once you have notified the landlord of the problem and the landlord has either not replied or has refused to do the work, or if there is excessive delay, you should write again to the landlord, giving them further time to do the work and stating that if they do not, you will organise the repair yourself. If there is still no response, obtain at least two quotes for the work (ideally at least three) and write again to the landlord, notifying them of the quotes and giving them final notice that if they do not complete the repairs, you will.
If the landlord does not respond to this notice, you can then go ahead and get the repair done, using the most appropriate contractor. You should send the invoice to the landlord. Only if the landlord does not respond or refuses to settle the invoice can you then withhold rent. You should only deduct the costs of the repair itself, not any consequential damage. If you have any further expenses to be claimed, you will need to sue the landlord for compensation for mould and damp.
This process can be tricky, and carries a risk with it as if done incorrectly you may be evicted for non-payment of rent. Please speak to our damp claim lawyers and personal injury solicitors for further advice as to how to correctly withhold rent in this situation.
What Can My Penetrating Damp Claim Include?
A claim for penetrating damp is usually formulated as a housing claim, but if the mould and damp has caused injury to health, there will also be a personal injury claim as part of that claim for damp, for example where allergies, asthma and skin conditions have been caused by the damp and mould in rented property. The housing claim may include any damage to personal possessions due to the damp and mould, and may include a claim for breach of the tenancy agreement. Our disrepair compensation calculator will help calculate what compensation for mould and damp you are entitled to.
Personal injury claims are formed of two parts. General damages are calculated based on case law, and compensate you for your pain and suffering, emotional distress and how your illness or injury affects your everyday life. Special damages include loss of earnings, cost of medical treatment (including prescription costs), cost of care around the home (even if provided by family members) and other specific expenses such as damage to your property as a result of the damp and mould, travel expenses for hospital appointments and anything else related to your illness/injury. Future losses may include future loss of earnings, care, treatment costs and even loss of pension as a result of having to give up work or change job. If you keep all receipts from an early stage, that will make it much easier to calculate via our personal injury claims calculator.
Health Complications And Illness Caused By Damp
Damp and mould can affect anyone who is living with it, but particularly babies, children, the elderly and people who are particularly vulnerable due to existing conditions such as asthma, allergies or a weakened immune system. It can also produce a thoroughly unpleasant living environment.
Mould can irritate and produce allergens, causing skin conditions and allergic reactions, and its spores can spread rapidly. They can also affect the respiratory system, potentially inducing asthma attacks or exacerbating that and similar conditions. Tenants' rights relating to mould in the UK mean that you should be able to live in your rented property free from potential health hazards.
Examples Of Compensation For Penetrating Damp
As indicated above, compensation for mould and damp will potentially be split into a personal injury compensation claim, and a claim for damp and disrepair. The housing claim will include your out-of-pocket expenses for damage to property, such as mould on soft furnishings, the cost of making good the damage (e.g. decorating costs, if these were not paid by the landlord) and potentially a claim for loss of enjoyment of the property due to the landlord's breach of the tenancy agreement.
The table below sets out possible personal injury claim amounts in respect of general damages (as set out in case law, and summarised in the Judicial College Guidelines) for the relevant conditions. Special damages for personal injury (out-of-pocket expenses) will be in addition, and will be particular to your own situation.
| Injury | Compensation Amount | Comments |
| --- | --- | --- |
| Lung disease and serious breathing difficulties | £24,950 – £55,830 | Lung disease and damage to lung function, and breathing difficulties short of disabling, but having a restrictive effect on work and social life |
| Bronchitis and ongoing breathlessness | £8,480 – £24,950 | Bronchitis, wheezing and breathlessness with no serious effect on work life, includes aggravation of existing condition |
| Mild respiratory condition | £1,760 – £14,420 | Temporary aggravation of existing respiratory problems or other more minor chest conditions |
| Serious asthma | £34,330 – £52,390 | Disabling asthma affecting all aspects of life and employment prospects |
| Wheezing or chronic asthma | £15,300 – £34,280 | Long-term asthma or bronchitis, affecting work and social life, particularly if prognosis is uncertain |
| Mild asthma | Up to £15,300 | Mild asthma, bronchitis and chest problems, treated without hospitalisation and usually resolved quickly |
| Moderate dermatitis, eczema and other skin conditions | £6,890 – £9,100 | Skin condition lasting for a significant period but resolving with treatment |
| Mild dermatitis, eczema and other skin conditions | £1,360 – £3,150 | Itching, irritation, rash, resolving with treatment, or an aggravation of a pre-existing condition |
| Minor injuries | Up to £1,950 | Other minor injuries of any kind where there is a full recovery within three months |
These claims will form the basis of a personal injury claim against the landlord in respect of damp and mould in rented property. Claims for damp and mould in council property will be made against the council (likewise for housing associations). The housing portion of the claim will come under the Landlord and Tenant Act and breach of the tenancy agreement, but the claim can be made in one go. Please contact our personal injury lawyers for further information.
No Win No Fee Penetrating Damp Claims
Making a court claim can be expensive and confusing, but to help you through it we may be able to offer you no win-no fee agreement, also known as a conditional fee agreement, or CFA. This means that if your claim does not succeed, you do not have to pay legal costs. The agreement can be supported by an insurance policy to cover specific costs such as court fees and medical experts. If you win your claim, the majority of your costs will be paid for by your landlord.
If your claim is over return of the deposit at the end of the tenancy, the deposit should have been placed in a specific scheme with its own dispute resolution process. If that process breaks down, you will still have the opportunity to use a no win-no fee agreement to sue your landlord for mould in the UK courts.
Why Make Your Claim With Our Specialist Team?
Legal Expert has many years of experience in dealing with tenant claims and personal injury claims, including claims for damp. We can also help you navigate environmental health damp and mould issues. We appreciate that housing claims can be particularly stressful, and we will support your throughout. Our team will progress your case, keep you informed and resolve your housing disrepair compensation and personal injury claim in the shortest time possible.
Contact Us And Start Your Claim Now
Personal injury claims must be made within three years of the incident which caused them, with the clock starting when the damage is repaired (the personal injury claims time limit), so call us now to get your claim started. Housing disrepair claims have a longer time limit, of six years, but it is much easier to get the claim started when the facts are fresh in the mind. Calls us free on 0800 073 8804 or contact us through our website.
Useful Links
Legal Expert – Housing Disrepair
Legal Expert – Landlord Compensation Claims
NHS – can damp and mould affect my health?