Swansea Data Breach Solicitors – Expert Claims Support
When can data breach solicitors for Swansea compensation claims help? Recent changes to laws and the introduction of regulations mean that personal data is more protected than it was before. Those who handle your personal information must take steps to keep it confidential and secure. Personal data breaches may mean that this identifiable information has been exposed. In turn data breach solicitors may be able to help you to claim for any harm caused by a personal data breach.
In the UK, your personal data is protected by very strong legislation. When the Data Protection Act 2018 (DPA) was enacted, the GDPR (General Data Protection Regulation) was introduced. Since Brexit, the DPA has been amended and now runs alongside the UK GDPR.
If an organisation is found to have broken either law, it could face action from the Information Commissioner's Office (ICO). Unfortunately, though, the ICO doesn't have any powers to compensate those harmed by data breaches. Therefore, this guide explains how our solicitors could help you seek data breach compensation. Claims may be possible if an avoidable data breach results in psychological injury or financial losses.
If you want to claim damages, we could help. We offer free legal advice during a no-obligation telephone consultation. If you have a suitable claim, we could appoint one of our data breach lawyers to it. They provide a No Win No fee service for any claim that's taken on. As a result, the claims process will be a lot less stressful because you'll know that you won't pay solicitors fees unless you are awarded compensation.
To take action right away, please feel free to call us on 0800 073 8804. To learn more about claiming following a potential Swansea data breach, please read on.
Select a Section
An Overview Of Data Breach Solicitors For Swansea
Throughout this guide, we'll explain when you could use our data breach solicitors for your Swansea claims. Before we do, we will list some important terms that'll be used throughout this article:
Data controllers are organisations that choose to process personal data.
Personal data is information about a data subject that could lead to their identification.
A data processor performs tasks on personal data for the data controller.
The data subject is a living person whose personal data is to be processed.
As we continue, we'll explain what damage can be caused by personal data breaches. We'll also explain what mistakes can cause them to happen. Finally, we'll let you know what level of damages you might expect to be paid as data breach compensation.
Later on, we'll look more at what sort of suffering you could claim for. Briefly, though, claims could be based on any money you've lost. Additionally, they could be based on psychological injuries caused by distress, anxiety or depression.
As you read this guide, please use the live chat function if you have any queries.

What Is Considered A Personal Data Breach?
It's important to understand what a data breach is if you're going to seek compensation for one that's affected you. The UK GDPR defines them as security incidents that result in personal data being lost, accessed, changed, disclosed or destroyed. This can be done deliberately, unlawfully or accidentally.
That's not the end of the story though. To seek damages, you'll need to prove that the party responsible for your data did or didn't do something that allowed the breach to take place. For example, if an organisation failed to secure online systems that contain personal data with a cyber security system and hackers infiltrated it accessing your identifiable information a claim is possible. On the flip side, a claim wouldn't be appropriate if the company proves they did all they could to protect your data.
Additionally, you will need to demonstrate how the GDPR data breach caused you to suffer. Firstly, it's possible to seek damages if a data breach caused a psychological injury. Secondly, claims could also be based on monetary losses that result from a breach.
To check if you have the grounds to claim data breach compensation, why not call our team today?

What Are The Common Causes Of Data Breaches
Let's now take a look at how data protection breaches can occur. Remember, claims don't have to be based on breaches caused by hackers. Human error is often a major cause of data breaches. Some scenarios that might lead to personal data breaches include:
If a member of staff uses a company's databases to access information about celebrities, friends, colleagues or family.
Where IT equipment containing personal data is left in an insecure location like on a train or in a shop and is not password protected.
Personal documents are posted to the wrong address.
If an email is sent to multiple recipients but the Bcc field is not used.
Where documentation relating to a data subject gets into the wrong hands because it hasn't been shredded when finished with.
If an email containing personally identifiable information is sent to the wrong email address.
Where a data subject can be identified because staff discuss their case in a public place and are overheard.
Once again, these incidents on their own will not entitle you to compensation. In some cases, no harm will result from these scenarios. However, if a similar incident does result in financial losses or mental harm, you could be entitled to claim.
To check if you could appoint our data breach solicitors for your Swansea claim, why not call today?

How Many Data Breaches Happen Every Year?
As a result of the new data protection laws, many security incidents must now be reported to the ICO. That means that it's much easier to see how frequently data breaches occur. That's a good thing in our opinion and should lead to a reduction of such incidents over time. In the following table, we've used data about security incidents in the health sector. These relate to incidents reported to the ICO for the period July 1st to September 30th 2021.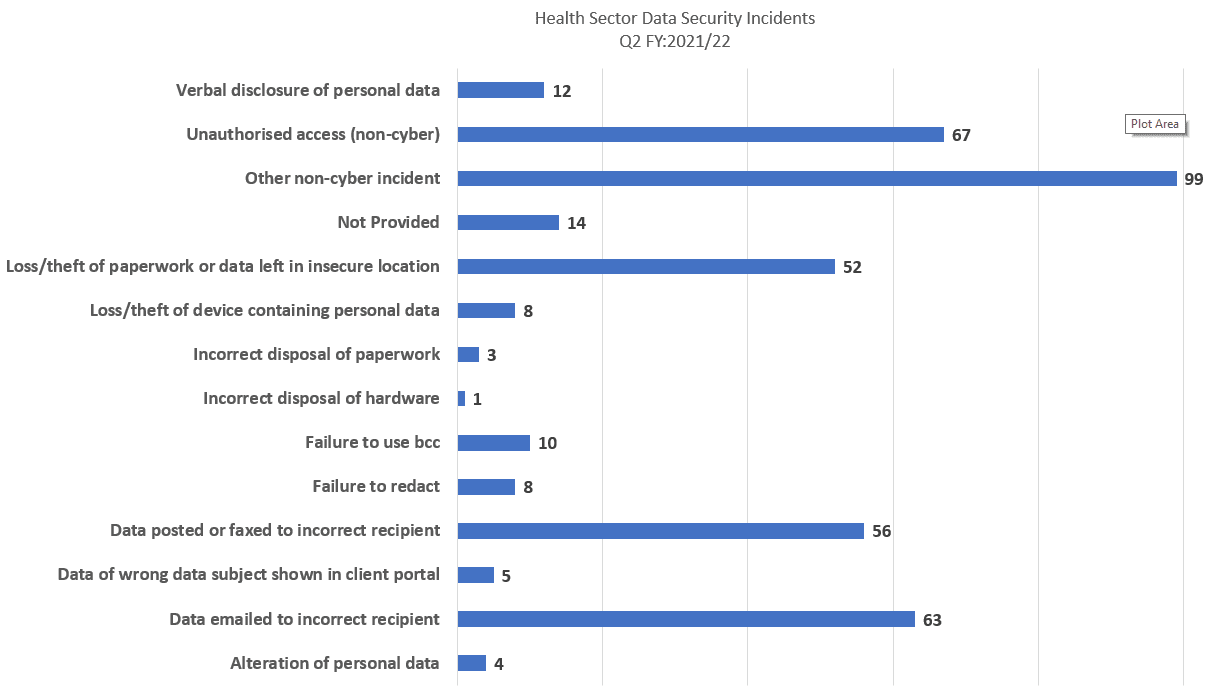 A reported incident involving Swansea Bay University Health Board was made when sensitive and personal medical information about children was accidentally released. The report explains how a father had made a Subject Access Request (SAR) to the board about his son's care. When he was sent a reply email it contained personal information of patients and the treatment they had undergone.
There were reportedly thousands of pages of documents.
The health board reported itself to the Information Commissioner's Office once it was made aware of the incident.
Source: https://www.walesonline.co.uk/news/wales-news/swansea-bay-health-board-data-18825608

What Can I Do If There Is A Data Breach?
If you want to claim compensation following a data breach, you'll need evidence that it occurred. In some cases, this might be quite simple to achieve. That's because organisations must write to you if a data breach is spotted and affects your rights. In these cases, the letter you receive can be used as evidence to support your case.
If you haven't received such correspondence, you could still try to seek damages. To attempt to obtain proof of the breach you could:
Raise a formal complaint with the company responsible for your data.
Escalate your concerns if you don't agree with the initial response.
Ask the ICO to step in and investigate.
ICO investigation reports (and complaint responses) could provide important information that may support your claim. If you want the ICO to take a look, you should contact them within 3-months of your last complaint update.
Importantly, you can seek legal advice from us at any time. If one of our data breach lawyers believes you have the grounds to proceed, they could contact the defendant directly. In some cases, the case can be settled without the involvement of the ICO.

How Much Compensation Can I Get For A Data Breach?
If your data breach claim is successful you could claim for the following:
Financial harm. This is called material damages. It can include costs, expenses or any losses caused by the GDPR data breach.
Mental harm. Here claims might be made for any psychological injury such as distress, anxiety or Post-Traumatic Stress Disorder (PTSD). This part of the claim is called non-material damages.
So that you have some idea of what might receive for your injuries, we've added a compensation table below. It uses compensation ranges taken from the Judicial College guidelines (JCG). The same figures are used by legal professionals when settling claims.
| Injury Claim | Grade | Compensation Range | Further Information |
| --- | --- | --- | --- |
| PTSD - Post-Traumatic Stress Disorder | Severe (a) | £56,180 to £94,470 | Every aspect of the claimant's life is affected and symptoms may be permanent. |
| PTSD - Post-Traumatic Stress Disorder | Moderately Severe (b) | £21,730 to £56,180 | Professional support should mean the claimant can overcome the initial significant symptoms. |
| PTSD - Post-Traumatic Stress Disorder | Moderate (c) | £7,680 to £21,730 | Only minor symptoms will persist and the claimant will have almost fully recovered. |
| Mental Harm | Severe (a) | £51,460 to £108,620 | Work, relationships and life in general will be severely affected. There will be a very poor prognosis and treatment probably won't help. |
| Mental Harm | Moderately Severe (b) | £17,900 to £51,460 | Severe suffering initially but there will be a more optimistic prognosis. |
| Mental Harm | Moderate (c) | £5,500 to £17,900 | The prognosis in this category will be good. Any lingering symptoms will not be grossly disabling. |
Proving the extent of your injuries is vital if you're to receive the correct level of compensation. To help with this, an independent medical assessment may be needed as part of the claims process. You shouldn't worry about this and, usually, your appointment can be arranged locally.
During the meeting, a medical specialist will discuss your injuries with you. They may review your medical notes and find out more about the suffering you've endured. Once they've completed their review, a report will be compiled. This will list all of your injuries and offer a prognosis for the future. Both sides of the claim will receive a copy of the report.

No Win No Fee Data Protection Breach Solicitors For Swansea
Many people worry about the cost of hiring solicitors for compensation claims. However, you don't need to worry if you use No Win No Fee data breach solicitors for your Swansea claim. That's because they provide a No Win No Fee service which means no upfront costs and no costs if the claim fails.
Before offering this service, they will seek confirmation that:
A personal data breach involving your data has taken place; and
The party you're claiming against did or didn't do something that led to the breach; and
Financially or psychologically, you were harmed because of the breach.
Something else they'll take into account is when the breach happened. That's because the Limitation Act 1980 places time limits on data breach claims. It's a good idea to check how long you have to claim quite quickly. The reason that's true is that some claims only have a 1-year time limit (while others have 6-years).
No Win No Fee solicitors are usually funded by a Conditional Fee Agreement (CFA). This contract will clearly show what needs to happen before you'll need to pay for your solicitor's work. Where a claim fails, you will not pay any solicitor's fees at all.
Where there is a positive outcome, your solicitor will deduct a success fee from your settlement amount. So that you can't be overcharged, the maximum success fee is 25% of your compensation when using a CFA.

Talk To A Specialist Data Breach Solicitor For Swansea
Thank you for reading this article about data breach solicitors for Swansea claims. If you'd like Legal Expert to help you to take action, why not:
Finally, to read what some previous clients have said about Legal Expert, why not head to our reviews page?

Our Latest Data Breach Claims Guides
How Could A Swansea University Data Breach Occur? – Information on claiming if a university data breach has caused you to suffer.
Lost Personal Data – Advice on what to do if you find out that an organisation has lost your personal data.
Employer Data Breaches – This article explains your options if your employer fails to protect your data.
Other Guides & Resources
Freedom Of Information – Advice on requesting information from public bodies.
Your Data Matters – ICO articles about the rights of data subjects provided by the UK GDPR.
Symptoms Of Anxiety – NHS information on how to tell if you're suffering from anxiety.
You've reached the end of this guide about data breach solicitors for Swansea claims. Please call if you have any further questions.
Guide By Hambridge
Edited By Melissa.