Sunderland Data Breach Solicitors – Expert Claims Support
If you're looking for data breach solicitors in Sunderland, this article should prove useful. Legal Expert's solicitors can work for you from anywhere in the country. They could help with Sunderland data breach claims. Amongst other things, if you have evidence to justify a claim, they could help you to make social services data breach claims, bank data breach claims or claims against organisations that have lost your personal data.
The laws relating to data protection are very strong in the UK. Previously, the EU GDPR (General Data Protection Regulation) and the Data Protection Act 2018 (DPA) helped keep your personal data safe. Since Brexit, the DPA has been amended and the EU GDPR was replaced by the UK GDPR.
If the laws are broken, organisations can be penalised by the Information Commissioner's Office (ICO). While the ICO enforce data protection legislation, they aren't able to award compensation to those affected by data breaches. For that reason, this guide has been written to show you how to take legal action.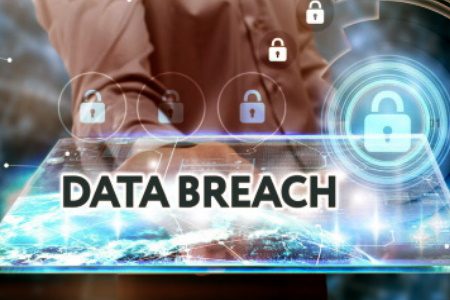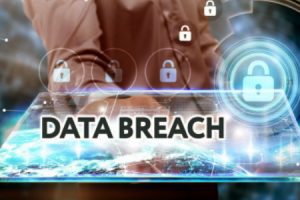 Data breach compensation could be sought if you've been harmed psychologically because of a data breach. Also, if you've lost any money as a result of the incident, you could claim that back as well. Later on, we'll explain the criteria that must be met before you'll be able to begin a claim.
If you'd to take action, we can help. We offer free legal advice about your options and a no-obligation case review. Also, we could appoint a No Win No Fee solicitor if your claim is strong enough.
To begin a claim right away, why not call us on 0800 073 8804? For more information on Sunderland data breach claims, please read on.
Select a Section
A Guide On How A Data Breach Solicitor For Sunderland Could Help You
During this article, the following key terms will be used:
Data subject. This is any person whose data is to be (or has been) processed.
Personal data. Any information that might help to identify a data subject.
Data controllers. Organisations that need to use personal data in some way and decide how and why it'll be used.
Data processors. These are organisations that process data on behalf of the data controller.
Now that we've clarified those terms, let's move on. The purpose of this guide is to show when you could use the services of our data breach solicitors for a Sunderland claim. To help do that, we'll begin by explaining what data breaches are and the harm they can cause. Then we'll provide some scenarios that could lead to a claim. Finally, we will list some compensation amounts to give an idea of what you could be paid for your suffering.
It's important to note that data security incidents don't all lead to compensation claims. You'll only be eligible to claim if the defendant in the case was responsible, due to positive wrongful conduct, for the breach. Additionally, mental harm or financial damage must've resulted from the incident too.
If any queries arise whilst reading the rest of this guide, please use live chat to speak with a specialist.

What Is A Breach Of The GDPR Or Data Protection Act?
A breach of the GDPR or Data Protection Act doesn't necessarily mean that a data breach has occurred. However, data breaches are defined in legislation.
To help you understand when a data breach might have occurred, let's look at a definition of personal data breaches from ICO. Their guide says that personal data breaches are:
Security incidents that cause accidental or unlawful destruction, alteration, loss, access or disclosure of personal data.
In such cases, you may wish to check if you could use our data breach solicitors for your Sunderland claim.
As mentioned in the last section, the defendant in your case must have allowed the breach to occur in some way. For example, if a colleague clicked on a phishing link that caused an employer data breach because they weren't trained in data protection, you could be eligible to seek damages. However, if your company had strong IT security but hackers still managed to access your employer's files, a claim would be less likely.
Also, to reiterate, compensation is only awarded if the breach caused financial or psychological suffering (or both). Without any of these, a claim could not proceed. To find out if you could use our data breach solicitors for your Sunderland claim, why not contact us today?

How Could Your Data Privacy Be Breached?
There are many ways in which personal data breaches might happen. We couldn't possibly list them all here. However, we have supplied a few examples below:
A school data breach could involve a child's contact details being shared with an unauthorised party.
You could claim if you've been harmed because of a failure to use the BCC field when sending bulk emails. Your email address is an example of personal information.
Data breaches can happen if computer screens are visible and personal information can be read from public waiting areas, where the viewers don't have a lawful reason to access it.
A lost device data breach claim might be possible if your personal details were accessed because a laptop was left on a train.
Claims might be possible where personal information is sent to an unauthorised recipient via letter, fax or email, for example.
Once again, these incidents could result in a claim if they resulted in you suffering psychologically or financially.

Data Breach Statistics By Cause
One of the benefits of the UK GDPR is that many data security problems must be reported to the ICO. This transparency aims to lead to a reduction in data breaches over time. Each quarter, the ICO releases data to show the number of incidents that it is aware of. The chart below shows data for reported data security incidents in the second quarter of the 2021/22 financial year.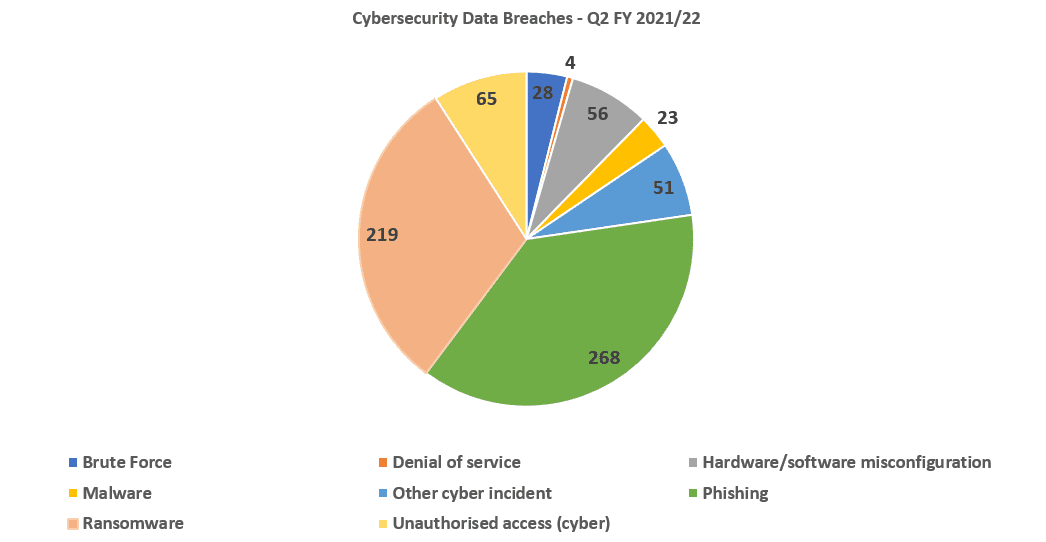 We've used the cybersecurity statistics in the chart. As you can see, phishing and ransomware attacks accounted for the majority of cyber incidents that quarter.
In 2021, there was a reported cyberattack at Sunderland University. The news report explained how the university had experienced extensive IT issues following the attack. As a result of the attack, all online lectures were cancelled and students were asked to attend face-to-face lessons instead.
At the time the report was written, it was unclear whether any personal data had been exposed by the attack.
Source: https://www.bbc.co.uk/news/uk-england-tyne-58895850
If you'd like to use our data breach solicitors for a Sunderland claim, why not get in touch today?

Do You Need A Data Breach Lawyer In Order To Make A Claim?
We strongly believe that you have a better chance of winning a data breach claim with a solicitor by your side. We also believe you'll receive a fairer amount of compensation if your claim is won. If you'd like to work with one of our data breach solicitors, why not get in touch?
Claims do require some evidence before they can proceed. The first you'll need is evidence that the breach took place. In many cases, this is quite easy to achieve. That's because you should be informed about an identified breach if it impacts your freedoms and rights. We would suggest that you retain any such correspondence as it could be used as evidence in your case.
If you don't receive a letter, but suspect a data breach has occurred, you could:
Write a formal letter of complaint to the organisation that was supposed to keep your personal data safe.
Following their response, escalate the complaint if you're not happy with the outcome of their investigation.
Ask the ICO to take a look at what's happened. Their report could be useful, even if they can't compensate you directly. (You'd need to contact the ICO within 3 months of the final response from the organisation, however.)
Our advisors can be contacted at any point (even if you've not spoken to the ICO). It is quite possible for a claim to be settled directly without any external investigations. If you'd like to see if one of our data breach lawyers could help you to claim, please call today.

Examples Of Data Breach Payouts
Let's now move on to potential compensation levels. In a data breach compensation claim, you could request:
Material damages – where you claim for any monetary losses caused by the incident.
Non-material damages – to cover any distress, anxiety or other psychological issues the data breach causes.
Using the compensation table below, you can see what could be awarded for some injuries. We've used the same figures as lawyers and courts use. They come from the Judicial College Guidelines.
| Injury | Category | Compensation | Additional Guidance |
| --- | --- | --- | --- |
| Post-Traumatic Stress Disorder | Severe (a) | £56,180 to £94,470 | The claimant probably won't return to work or pre-trauma levels of functioning. In some cases, PTSD symptoms will cause problems permanently. |
| | Moderately Severe (b) | £21,730 to £56,180 | In this category, some improvement could be seen with professional support. However, significant suffering will be seen early on. |
| | Moderate (c) | £7,680 to £21,730 | Where the claimant has largely recovered, this category may apply. |
| Mental Harm / Psychiatric Damage | Severe (a) | £51,460 to £108,620 | The claimant will be given a very poor prognosis. Treatment probably won't help them to deal with issues like everyday life, work and relationships. |
| | Moderately Severe (b) | £17,900 to £51,460 | This category will involve similar significant problem as above. However, there will be a better prognosis. |
| | Moderate (c) | £5,500 to £17,900 | A good prognosis will be offered here and the claimant will have almost fully recovered. |
Importantly, any settlement will be based on factors such as the severity of your injuries. Therefore, you are required to have a medical assessment as part of your claim. This will be conducted by an independent medical expert. Appointments can generally be made locally by our solicitors.
During the meeting, you'll discuss how your injuries have affected you. The medical expert may also review your medical records. After they've finished, they'll produce a report. It will be sent to all parties and will detail the extent of your suffering as well as your prognosis. It should also establish whether the injuries align with those caused by data breaches.
To find out how much compensation you could be entitled to claim, please get in touch today.

Do Data Breach Solicitors For Sunderland Offer No Win No Fee Services?
Our data breach solicitors for Sunderland claims provide a No Win No Fee service for all accepted cases. This means you won't pay them their fees upfront or at all if you are not compensated. Before taking you on as a client, a solicitor will need to verify that:
Your personal data was involved in a data breach; that
Was caused by the data controller or processor's positive wrongful conduct; and
Caused you to lose money and/or suffer mental harm.
Also, they'll check that you have time left to claim. Data breach claims have time limits. This will either be a 1-year limitation period or 6-years.
If your case is accepted, you'll be sent a Conditional Fee Agreement (CFA). (That's the formal term for a No Win No Fee agreement.) This will explain the terms of your claim and show when you'll need to pay your solicitor. If compensation isn't awarded, you will not need to pay for their work.
A success fee will be deducted from your compensation if there is a positive outcome to your claim. This is listed in the CFA as a fixed percentage. So that you cannot be overcharged, success fees are capped by law.

Find Out If Data Breach Solicitors For Sunderland Can Help You
We do hope that our guide on choosing data breach solicitors for Sunderland claims has been useful. If you'd like to reach out to Legal Expert to begin your claim you can:
Our live chat service and claims line operate 24-hours a day, 7-days a week. That means you can begin your claim when it's most convenient for you. Please read some of our solicitor reviews if you'd like to know more about us.

What Else Do You Need To Know About Data Breach Solicitors For Sunderland?
We have more guides that could be of use for you.
Sunderland City Council Data Breaches – Guidance on when a council data breach could result in a compensation claim.
Report A Data Breach – Provides information on when you may need to tell the ICO about a data breach.
Post-Traumatic Stress Disorder Claims – Information on when compensation could be paid for PTSD.
Avoiding Internet Scams – Advice from the Government on how to avoid scams including phishing emails.
Your Data Matters – ICO advice on the steps you can take to protect your personal data.
Anxiety UK – A charity in the UK that helps those affected by anxiety.
You've come to the end of this article about choosing data breach solicitors for Sunderland claims. Please call today if you have any further questions.
Written by Hambridge
Edited by Victorine