Stockport Data Breach Solicitors – Expert Claims Support
This guide will explain how data breach solicitors in Stockport (or those covering the area) could help you to seek damages if you've suffered because of a personal data breach. It's important to note that you don't need to be restricted to the services of solicitors in your local area. For example, our expert solicitors can work for you from anywhere in the country.
Our solicitors can help with data breach claims for Stockport. Amongst other claims, they could help you with council data breach claims, a bank data breach or if your personal data was lost by an organisation.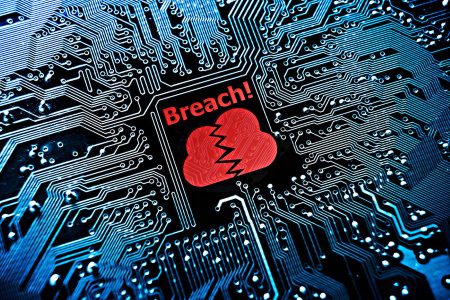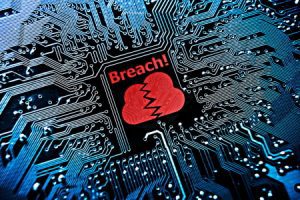 The Information Commissioner's Office (ICO) is able to penalise organisations that breach the Data Protection Act 2018 or the UK General Data Protection Regulation (UK GDPR). However, even though those laws are designed to protect your personal data, the ICO cannot help you seek compensation.
Therefore, we have produced this article on how to start a data breach compensation claim yourself. We'll look at claiming for psychological harm and also any financial losses. Importantly, we'll show you what criteria must be met before you're eligible to seek damages.
Legal Expert can help if you'd like to take action. We begin by offering a free telephone consultation. During your call, you'll receive legal advice about the claims process. There is no obligation to continue but we could connect you with a data breach lawyer if your claim is strong enough. They'll represent you on a No Win No Fee basis if your case is taken on. For many, the thought of not paying legal fees upfront can make the process a lot less stressful.
To begin a claim today, please call 0800 073 8804. Alternatively, please read on to learn more about Stockport data breach claims.
Select a Section
Explaining Services Provided By Data Breach Solicitors For Stockport
Some key definitions we'll use during the course of this guide are:
Personal data: Any information held by organisations that could help to identify you.
A data subject: In the context of a data breach claim, this is you i.e. the person whose data is involved in the breach.
Data controllers: Organisations that need to process personal information and decide how and why it'll be done.
Data processors: Companies who conduct processing of personal data for the data controller.
During the course of our guide, we'll explain when you could use our data breach solicitors for your Stockport claim. To do so, we'll review what harm data breaches can result in. Additionally, we'll show you what types of data breaches can occur and when they could result in a claim. Finally, we'll use a compensation table to show how much could be awarded as damages.
Data breach claims can only be made if the organisation responsible for protecting your personal information failed to do so due to positive wrongful conduct. Furthermore, you must have suffered psychologically or financially to be able to take legal action.
Please continue reading to find out more. If you have any questions, please speak to one of our specialist advisors.

What Is A Breach Of The Data Protection Act?
It's not always clear when a breach of data protection rules has happened. ICO documentation about personal data breaches says that they happen when:
A security incident leads to unlawful or accidental access, disclosure, loss, destruction or alteration of personally identifiable data.
In certain circumstances, such a breach could mean you want to use the services of our data breach solicitors for a Stockport claim.
It is important to show that the defendant somehow allowed the breach through their actions or inaction. For example, if poor data protection security meant an unlocked computer led to unauthorised access to your medical records, a claim might be allowed.
On top of proving a level of responsibility, you will need to show how you were harmed. Claims could be based on anxiety, stress or other psychological injuries caused by the breach. Also, any costs, expenses or losses incurred due to the breach could be claimed back too.
To check whether you could use the services of our data breach solicitors for a Stockport claim, please get in touch today.

How Does A Breach Of The Data Protection Act Occur?
While you might hear about cybercriminal activity resulting in data breaches, they can also occur because of simple mistakes too. To give you some idea of scenarios that could result in Stockport data breaches, we've added the list below:
A social services data breach claim might be possible if personal information was disclosed to an unauthorised party.
You could claim if an unauthorised failure to use the BCC field in an email caused you to suffer.
If an accessible laptop containing personal data was left on a bus, it could result in a lost devices data breach claim.
A claim might be possible if a letter or email containing personal data intended for you was sent to the wrong person, who didn't have a lawful reason to access it.
You could also be eligible to take action if a member of staff accessed your personal information for personal reasons.
Please get in touch if you believe you have the grounds to begin a claim.

How Frequent Are Breaches Of Data Protection Legislation?
The rules of the UK GDPR mean that many data security incidents must be reported to the ICO. As a result, the ICO can keep track of what caused the incident and where it's been resolved. They also produce a quarterly report to show how many incidents of different types have occurred. The following graph shows some reported incidents for the period July 1st to September 30th 2021.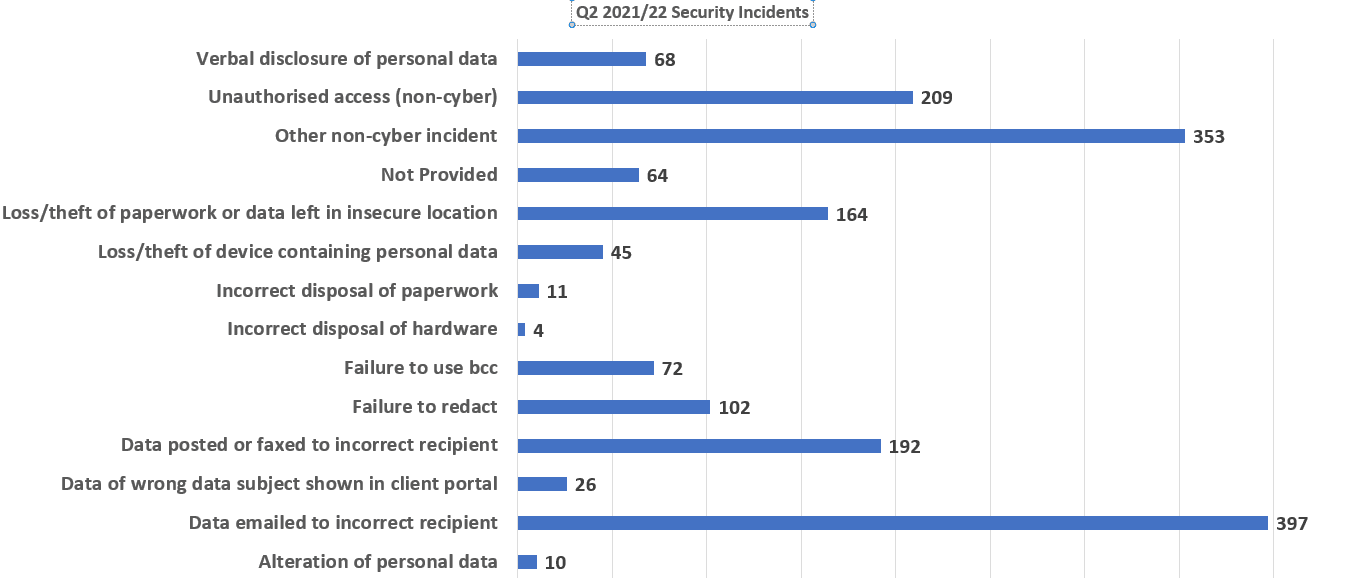 The graph shows that 209 occurrences of 'unauthorised access (non-cyber)' were reported. Locally, it was reported that a worker in Stockport was prosecuted for looking at personal information without authority.
The customer services employee worked for a company responsible for managing the local authority's homes. However, an audit found that she'd accessed a database of anti-social behaviour reports 67 times. She had no reason to look at such data.
She was taken to court and found guilty following action from the Information Commissioner's Office.
Source: https://www.manchestereveningnews.co.uk/news/greater-manchester-news/ex-housing-worker-stockport-homes-16408460

What Action Could Be Taken After A Data Breach?
If you believe you have the grounds to claim, why not contact Legal Expert? We'll check whether you could use the services of our data breach solicitors for a Stockport claim.
If you are going to take action, evidence will be needed to prove what happened. In some cases, you may already have proof that the breach occurred. That's because the UK GDPR's rules mean you must be told about incidents that might affect your freedoms and rights. If you have been written to about a breach, keep the letter or email safe as it may be an important part of your claim.
Where you suspect a breach but have no evidence, you could:
Send a complaint to the organisation it relates to.
Escalate the complaint if there is a way to do so, should you not agree with the response.
Within 3 months of the last update about your complaint, contact the ICO. They could investigate the matter.
You can call us to discuss your options at any time. It is possible that one of our data breach solicitors for Stockport claims could take action without ICO intervention. If the defendant admits liability for the breach and your suffering, a swift amicable settlement could be agreed upon. If that's the case, your claim could be settled in months.

Data Breach Compensation Examples
When seeking damages for a personal data breach, the UK GDPR allows you to claim for:
Any distress caused (material damages). This might include claims for depression, anxiety or embarrassment. In some cases, you could also claim for symptoms of Post-Traumatic Stress Disorder (PTSD).
Monetary losses caused (non-material damages). This might mean claiming money back that was stolen because your personal data was used by criminals and you weren't able to recover it. It could also cover any expenses you've incurred because of the breach.
Our compensation table uses data from the Judicial College to demonstrate potential compensation levels. The same information is used by courts and lawyers when finalising compensation claims.
| Type Of Claim | Category | Settlement Brackey | Detailed Guidance |
| --- | --- | --- | --- |
| Mental Or Psychological Harm | Severe (a) | £51,460 to £108,620 | The injured party will receive a very poor prognosis. Daily life, work and relationships will all be affected. |
| | Moderately Severe (b) | £17,900 to £51,460 | The claimant will be affected similarly to above. However, they will be given a more optimistic prognosis. |
| | Moderate (c) | £5,500 to £17,900 | The injured party will already have shown signs of recovery. As a result, a good prognosis will apply. |
| Post-Traumatic Stress Disorder | Severe (a) | £56,180 to £94,470 | It is possible that the symptoms of PTSD will affect the claimant permanently. It is unlikely they'll return to pre-trauma functioning levels and they won't be able to continue working. |
| | Moderately Severe (b) | £21,730 to £56,180 | Many aspects of the injured party's life will be significantly affected by PTSD initially. However, they should see some recovery. |
| | Moderate (c) | £7,680 to £21,730 | This category will apply if the claimant has largely recovered from their symptoms. |
As part of the claims process, a medical assessment is required. This process is needed to try and ensure the right level of compensation is awarded, if paid. Your solicitor will therefore book an appointment with an independent specialist. In your appointment (usually booked locally), you'll discuss your suffering with the specialist. They may also review your medical file.
After the meeting, all parties involved will receive a medical assessment report. This will list all of your injuries and offer a prognosis for the future too. It should also establish whether the data breach could have caused or worsened your injuries, or whether there was no link at all.
What's more, a solicitor could use the report to value your injuries.

Find Data Breach Solicitors Who Can Handle Stockport Cases On A No Win No Fee Basis
Our data breach solicitors for Stockport claims offer a No Win No Fee service for claims they work on. That means they risk not being paid if the claim doesn't work out. Therefore, before accepting your case, they'll check whether:
Evidence is available to prove your personal data was involved in a data breach.
The organisation you're claiming against was responsible through positive wrongful conduct.
You have been harmed financially or psychologically because of the breach.
They will also review the Limitation Act 1980 to see if you're claiming in time. While some data breach claims have a 6-year time limit, others have a much shorter 1-year limitation period. Please check with an advisor as soon as you can before your claim becomes statute-barred.
If your case is accepted, your solicitor's work won't have to be paid for upfront. Instead, their efforts will be funded under a Conditional Fee Agreement (CFA). This is also known as a No Win No Fee agreement and essentially says that you'll only pay their fee if you receive compensation.
Where your claim is won, you'll pay a success fee to your solicitor for their work. Rather than sending funds, a fixed percentage of your settlement will be deducted. This is capped by law when using a CFA. That means you can rest assured that you won't be overcharged.
To find out if one of our No Win No Fee data breach solicitors could help you, please call today.
Make Your Claim With A Data Breach Solicitor For Stockport
We hope that you're now ready to take action after reading this article on picking data breach solicitors for Stockport claims. If you'd like our help, you can:
Our reviews page may also be useful if you'd like more information on how we can help.

Additional Resources About Data Breach Solicitors For Stockport
Stockport Council Data Breaches – Advice on what to do if your data is compromised by the local authority.
Data Breach Stress – Information on when you could seek damages if you suffer from stress because of a data breach.
Blackbaud Data Breach – This article discusses a GDPR breach that affected a number of UK organisations.
Avoiding Phishing Scams – Government advice on how to avoid becoming a victim of phishing emails.
Lawful Basis For Processing – This article explains when organisations can legally process your personal data.
Anxiety Advice – Information from the NHS on what anxiety is and how it can be reduced.
Thanks for reading about what data breach solicitors for Stockport can do for you.
Written by Hambridge
Edited by Victorine