Southampton Data Breach Solicitors – Expert Claims Support
Data breach solicitors for Southampton could help you to make a claim if your personal information has been breached. This guide will clarify what a breach of data protection is, under what instances you may be able to claim and the benefits of using No Win No Fee solicitors. 
Our advisors are available 24/7 and offer free legal advice so if you have any questions after suffering a potential data breach in Southampton, contact us today. You can use our specialised data breach solicitors to seek compensation if you have a valid claim. However, if you call us, you're under no obligation to use our services to claim. Contact us using the details below.  
Read on to learn more about how you could receive compensation for a GDPR data breach.
Select a Section
A Guide To Data Breach Solicitors Who Handle Southampton Claims
Depending on the personal information exposed, a data protection breach can negatively impact your quality of life. Data protection breach solicitors specialise in this field. Therefore, they could help you build your case by accruing relevant evidence and fully assessing the negative implications of the breach. 
This guide will give you a better idea of what GDPR compliance is and the legislation that defines it, and the criteria that could result in you receiving compensation. Furthermore, it will help illustrate if you can use data breach solicitors for the Southampton area to make a claim. 
However, if you prefer, you can contact us to answer any questions or queries you may have about the claims process. Contact us by using the details above. 
What Is A Breach Of The UK GDPR?
Before answering questions like, "how much compensation can you get for a breach of GDPR?" we first need to clarify what a data protection breach is.
The Information Commissioner's Office is an independent body responsible for policing data privacy. It looks to ensure organisations known as data controllers, secure the personal data they handle. In 2018 the European Union introduced a new directive known as the General Data Protection Regulation GDPR. This was enacted into UK law through the Data Protection Act 2018. As part of the withdrawal from the EU, the DPA 2018 was updated and the UK GDPR was introduced. 
Those whose personal data is handled by the data controller are called data subjects. These new laws and regulations give data subjects a lot more control over how their personal data is managed. If a security incident takes place that means personal data is lost, stolen, altered, destroyed or accessed without authorisation and no lawful basis is established this is classed as a data breach under UK GDPR.  
Criteria For Data Breach Claims
For you to claim for a data breach, the following must apply: 
Firstly, the onus is on the claimant to prove using evidence that the data controller did not take all the relevant necessary steps to protect the personal data it handles. This means that their actions or lack of actions need to have caused the breach. An example of this would be if your data were stolen from a hack due to the controller having insufficient cybersecurity. 

Secondly, the breach of your personal information needs to lead to a negative impact in the form of material damage (financial loss) or non-material damage (psychological injuries, such as depression and anxiety). 
This is clarified with UK GDPR legislation. In 2018, EU GDPR was introduced in the General Data Protection Regulation. The UK then ratified the Data Protection Act 2018  in the same year. Once the UK left the European Union, they updated DPA and introduced UK GDPR. These are the regulations we now refer to when making data breach claims in the UK. 
What Is The Most Common Cause Of Data Breaches? 
Data breach solicitors for the Southampton area may take on your claim if it has good grounds for succeeding. Firstly, they will want to check that a data breach has occurred. Below we look at scenario examples of potential data breaches;
A data controller emailing your information to the wrong person. Medical records, for instance, could be sent to the wrong email address. 
Sending personal documents to the wrong postal address

Failing to redact information

Not using BCC in mass emails. 

Providing unauthorised access to your personal data. 

Losing important personal information

Not disposing of paperwork or hardware correctly. 
If you're able to prove that these acts have negatively impacted you and that their primary cause was an oversight or mistake from a data controller, you could possibly make a claim for compensation for a data breach under the GDPR. Please get in touch with our advisors for free legal advice using the details above to learn more about this. 
How Often Is Data Privacy Breached?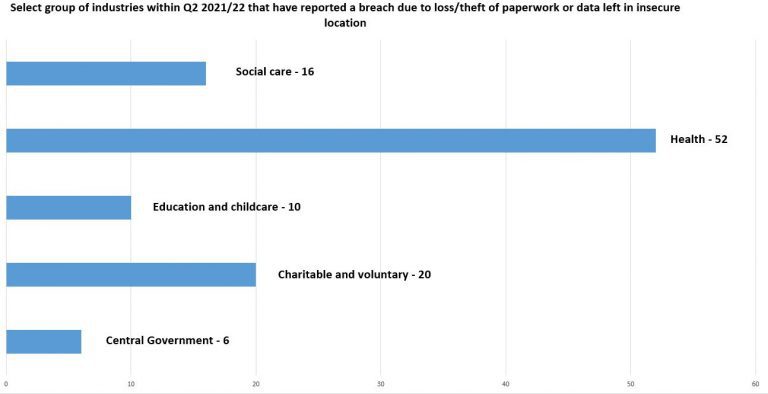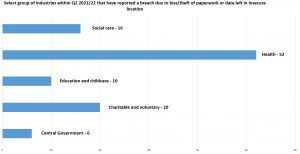 The Information Commissioner's Office (ICO) independently upholds information rights in the UK, meaning that it regulates organisations to ensure they adhere to the UK General Data Protection Regulation. Furthermore, the ICO produce statistics to provide awareness of how data protection breaches can occur.
These statistics can help provide you with more awareness about whether you could use data breach solicitors for Southampton. As listed above, a data breach can occur from many different incidents. The ICO's statistics from Q2 2021/22 reflecting reported lost or stolen paperwork can be found in the graph above. 
52 of these data security incidents happened in the Health sector alone, while 20 occurred in the charitable and voluntary sector. This shows that these kinds of incidents can happen in many different organisations, such as a university or health care provider. 
Data Breach Solicitors For Southampton
You may be wondering, "what can I do if my data has been breached?" You can do various things if a data protection breach has negatively impacted you. 
Firstly, you need to determine whether a data breach has occurred. Either the data controller will contact you about the data breach if your rights and freedoms have been put at risk. Or you may become aware of a data breach because of certain activity. 

If you've discovered that the breach has occurred without the organisation contacting you, you can get in touch with them to complain and confirm what information has been exposed. 

However, if you haven't received a satisfactory response within 3 months time, you can complain to the ICO to investigate the breach. 
Additionally, you can also pursue a claim for compensation at the same time. Furthermore, you don't need to have contacted the ICO before beginning the claim. 
However, you don't need just to be looking for data breach solicitors in Southampton. Our specialised solicitors can help you no matter where you are located in the country. Their years of experience and expertise in GDPR compliance law may make them a good choice to work on your claim. To learn more about claiming compensation for a GDPR data breach, call us today to speak to one of our advisors for free legal advice.  
How Much Are Personal Data Breach Claims Worth?
The data breach compensation you could receive from a successful claim varies based on many factors, such as the number of financial losses you've suffered or the extent of the psychological damage caused. 
One of the first things our data breach solicitors for Southampton would do is clarify what types of damages you want to claim for. There are two potential types of compensation:
Material damages

: This is for the financial losses suffered due to the breach. This could be caused by personal data, such as bank details, being exposed or stolen. 

Non-material damages

: This is for the psychological damage caused by the incident. For instance, you could suffer from depression or anxiety because a data controller gave unauthorised access to your data. 
The Judicial College works to provide you with compensation brackets of what you could receive. They analyse previous payouts for psychological injuries and compare them to the severity of the injury. Therefore, they've been able to build compensation brackets which you can see below. 
However, this doesn't necessarily mean that you'll receive this level of compensation. After all, each case is unique, and the compensation you could receive will be specifically based on the psychological damage and financial losses you've suffered. The Judicial College provided the figures below. 
| Injury Type | Compensation Amount | Description |
| --- | --- | --- |
| Psychiatric Damage (Reactive) | £7,680 to £21,730 | An injury in this bracket will result in the injured person having largely recovered. Therefore, any continuing symptoms or effects will not be grossly disabling. |
| Psychiatric Damage (Reactive) | £3,710 to £7,680 | In this bracket, a virtually full recovery will be made within a year or two. Only minor symptoms will persist beyond that point. |
| Psychiatric Damage Generally | £5,500 to £17,900 | An injury in this bracket will cause problems to aspects of life such as the ability to cope with work, education and life and could cause future vulnerability. However, the prognosis will be good because of a marked improvement by trial. |
| Psychiatric Damage Generally | £1,440 to £5,500 | The level of compensation awarded in this bracket depends on factors such as how badly the injury has negatively impacted the injured person's life and how much their daily routine and sleep pattern are affected. |
Why Claim With A Data Breach Solicitor For Southampton Offering No Win No Fee Services?
You don't just have to look up data breach solicitors in Southampton. You could also use our solicitors, who can provide their services through a No Win No Fee agreement. 
If a No Win No Fee solicitor agrees to work on your case they will ask you to sign a Conditional Fee Agreement CFA. This is a contract that both you and the solicitor will sign. It will state that only on the condition that the claim is won will the solicitor receive payment.
It will also say;
No hidden fees. 

No upfront solicitor fees

Only paying your solicitor's legal fees once a settlement has been reached. 

Not having to pay any solicitor fees until the claim is won

If the claim is not successful there will be no solicitor fees to cover.
For these reasons, it may be more financially beneficial for you to use a No Win No Fee data breach solicitor for the Southampton claims. 
No Win No Fee data breach solicitors will want to check the following before taking on your claim:
That a data protection breach has occurred

That a mistake or an oversight on behalf of the data controller allowed the breach to happen. 

Finally, that you suffered either material and/or non-material damages because of it.
Additionally, another important aspect they would need to consider is whether your claim is still within the applicable time limits. This is because, as stated in the Limitation Act 1980, you only have a specific period of time to begin a claim. You have six years if you're claiming against a private organisation. However, you may only have one year if it relates to a public body, like a local council. 
Talk About Your Case With A Specialist Data Breach Solicitor For Southampton
To learn more, please get in touch with our advisors. They offer free legal advice, are available 24/7 and can provide you with a compensation estimate on a no-obligation basis. This means you won't have to use us to claim if you call us. Furthermore, they can also put you through to our data breach solicitors for Southampton, who can work your case on a No Win No Fee basis. You can read our online reviews and contact us using the details below. 
Additional References
To learn more about data breaches, please use the links below. 
To read about the mental health services that the NHS provide, please visit their website.
What are psychological therapies? Click on this webpage to learn more. 
Please refer to the ICO website if you want to know more about how organisations treat your data. 
Want to know how to make a pharmacy data breach claim? If so, read this article on our website.
To read about claiming against a hotel for a data breach, please refer to this webpage.
Has a bank breached your data? Please refer to this page.
Contact us today to learn more about if you can use data breach solicitors for Southampton.
Guide By Durdy
Edited By Melissa.