Liverpool Data Breach Solicitors – Expert Claims Support
This guide will explain how data breach solicitors for Liverpool can help if you've been harmed by a breach of your personal data. The laws in this country that are designed to protect your information have been galvanised in recent years.
The Data Protection Act 2018 (DPA) was enacted into UK law after the General Data Protection Regulations were introduced in 2018. Since the UK has left the EU, the DPA was updated accordingly and the UK GDPR is the regime that protects personal data in the UK. Importantly, if an organisation fails to process data safely, it could be sanctioned by the Information Commissioner's Office (ICO).
The ICO can enforce changes or issue financial penalties where personal data has been breached. However, as they can't issue data breach compensation to individuals, this guide has been written to set out steps you can take to claim for the harm caused to you.
Our service begins with a free telephone consultation. During your no-obligation call, you'll receive legal advice about the action you could take.
If the claim appears to have strong grounds, you could be connected with one of our data breach solicitors. They could help you claim for the psychological injury caused by a data breach.
They could also help you to claim back any money you have lost as well. Importantly, you could benefit from a No Win No Fee service if your case is taken on.
To discuss your options today, please call us on 0800 073 8804. Alternatively, for further information on how data breach claims, please continue reading.
Select a Section
Our Guide On Data Breach Solicitors Liverpool
During the course of this article, we want to show you how a data breach solicitor for Liverpool could help you claim the compensation you're entitled to. We'll explain how data breaches can happen and the harm they can lead to.  Also, we'll look at the data breach compensation amounts that might be paid.
To show what you can claim for, we'll spend some time looking at material and non-material damages. This is compensation that could be paid for psychological injuries and financial harm.
In addition to this, we'll examine how a No Win No Fee agreement could help you fund legal representation for your claim. We'll examine the benefits that it could have for you and when you may be offered representation on this basis.
Proving that you've suffered because of a data breach is not always easy. If you'd like us to check whether one of our specialist solicitors could help, why not call our advice centre today?

What Are Breaches Of Data Protection?
Before we explain what data protection breaches are, let's look at a few important UK GDPR terms:
Personal data is information that could be used to identify you (indirectly or directly).
A data subject is somebody whose data has been or will be processed.
The data controller is the organisation who needs to process personal data. They will design the method by which the data is processed.
The data processor is any organisation (or an individual) that processes personal data on behalf of the data controller.
According to the ICO, they happen when personally identifiable information is unlawfully or accidentally processed. This can include modification, deletion, access, disclosure or loss.
However, those actions alone are not enough to start a compensation claim. Instead, you'll need to demonstrate how you've suffered because of the breach. Furthermore, you must be able to show why the defendant in your case was responsible for the breach.
For example, if the organisation did all it could to prevent data loss by installing top of the range IT security systems, you might not have the grounds to claim against them. However, if their systems were easy to hack because they were out of date, a claim might be possible.
Medical records could be used to prove that you've suffered from a psychological injury like anxiety. When claiming for financial losses, you could use receipts, bank statements or benefit statements.
To find out if you could use our data breach solicitors for Liverpool claims, why not call us today?

What Are The Most Common Causes Of Data Breaches?
Let's now take a look at how data breaches can happen. As mentioned in the previous section, they can be caused deliberately or accidentally. We can't list every possible scenario here so don't worry if there's not one that matches yours. We could still help you to begin a claim.
Some of the more common examples include:
If a letter, fax or email intended for you containing your personal data is sent to the wrong address.
Where a company is hacked and your personal data is exposed because their security was too weak.
If staff look up your personal information when there isn't any business reason for doing so.
Where your information is exposed because an unencrypted memory stick is lost.
If an unredacted report is filed online and exposes personal data.
Once again, it is important that you can show that the data controller or processor did something wrong that caused the breach to happen. If you can, and you suffered as a result, a data breach compensation claim might be possible.

How Frequent Are Data Protection Breaches?
In this section, we have used a graph to illustrate how frequently data security incidents are reported to the ICO.  The graph is based on cybersecurity incidents but it's worth noting that certain non-cyber security incidents must also be reported.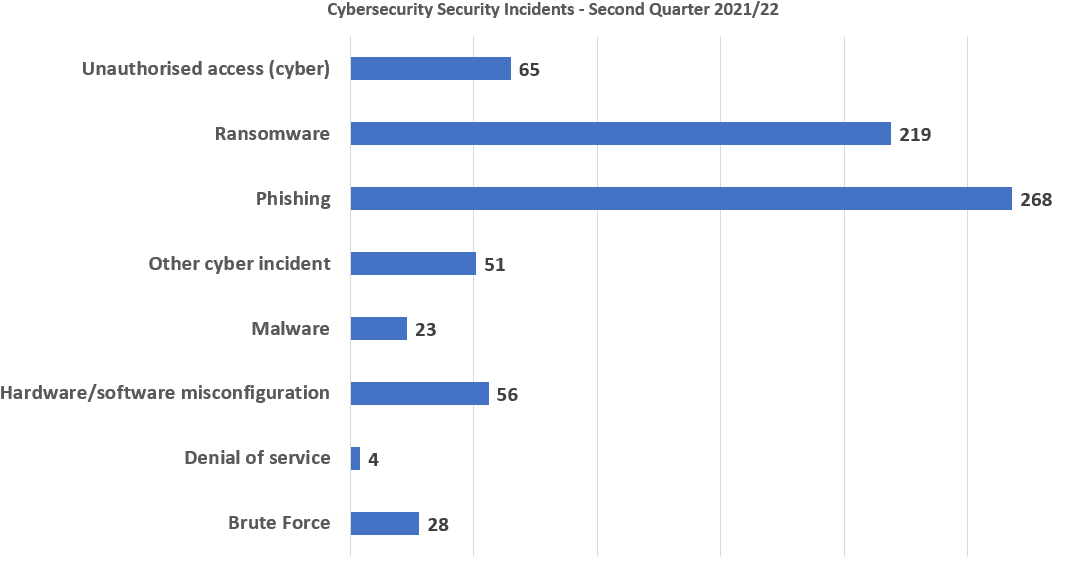 These figures relate to the second financial quarter of 2021/22. As you can see, the most common kind of cybersecurity security incidents reported to the ICO in this period were phishing attacks.

Do You Have To Use A Data Protection Breach Solicitor?
In this section, we'll review how data breach claims are made. We'll also look at how our data breach solicitors for Liverpool claims could help.
The first thing to point out is that you will need evidence that a breach has occurred. In cases where the organisation identifies the breach themselves, you are likely to have been sent a letter informing you of the incident. We'd suggest that you retain a copy of the letter as it could be vital evidence in your claim.
If you aren't informed about a breach, though, there are some steps you could take that could provide the information you'll need to support your claim. You could:
Write to the organisation you believe has breached data protection rules. This should be a formal complaint.
Escalate the complaint if you don't agree with the organisation's findings.
Report the incident to the ICO and ask them to investigate. This needs to be done within 3 months of your last meaningful communication with the organisation.
It's important to state that an ICO investigation is not always needed. For example, if the organisation confirms that a breach has occurred following your complaint, you could take action. In some cases, they may offer to compensate you directly. However, be aware that if you accept such an offer, you won't then be able to go on and make a claim.
If your claim is accepted, a data breach lawyer could be appointed to work on your claim. To find out if you have a valid claim, why not speak with our claims team today?

What Is The Average Data Protection Breach Payout?
In accordance with the rules of the UK GDPR, the following can be claimed if you've been harmed by an avoidable data breach:
Material damages. This is where you'll claim back any financial losses the data breach has caused.
Non-material damages. Where you claim for injuries like Post-Traumatic Stress Disorder (PTSD), anxiety, depression and other psychological injuries.
The compensation table that follows uses figures from the Judicial College. Their guidelines are often used during personal injury claims to help value compensation claims. A ruling in the case Gulati vs. MGN [2015] means that these figures can now also be used to value non-material damages in data breach claims. The table below covers non-material damages.
| Type Of Claim | Severity Level | Settlement Bracket |
| --- | --- | --- |
| Psychiatric Illness (General) | Severe (a) | £51,460 to £108,620 |
| | Moderately Severe (b) | £17,900 to £51,460 |
| | Moderate (c) | £5,500 to £17,900 |
| | Less Severe (d) | To £5,500 |
| PTSD Claims | Severe (a) | £56,180 to £94,470 |
| | Moderately Severe (b) | £21,730 to £56,180 |
| | Moderate (c) | £7,680 to £21,730 |
| | Less Severe (d) | To £7,680 |
To try and make sure you are compensated correctly, it is vital to prove the extent of your injuries. Medical records from your GP can help with this. Also, you may be invited to a medical assessment as part of the claims process. Our solicitors can typically arrange these appointments locally.
During an assessment, an independent medical specialist will discuss your suffering with you. They may also read through your medical notes. Based on their findings, a report will be written that explains your prognosis. This will then be used to work out how much compensation you could be owed.
To find out how data breach solicitors for Liverpool could help you seek damages, please call our free advice line today. You could be connected with a No Win No Fee solicitor if your claim has a good chance of success.
Why Choose No Win No Fee Data Breach Solicitors For Liverpool?
It is normal to have concerns about paying solicitors' fees when taking on legal representation. However, we believe that having a specialist solicitor on your side could improve your chances of being compensated. Therefore, our solicitors provide a No Win No Fee service for any claim that's accepted. As a result, most of the financial risk is moved away from you and that means your claim will be much less stressful.
Before your case is taken on, it will need to be reviewed by one of our solicitors. They will check whether:
Your personal data was involved in a GDPR data breach; and
The defendant in the case somehow caused or allowed the incident to happen; and
You were harmed mentally or financially because of the breach.
A No Win No Fee agreement allows your case to proceed without any upfront solicitor's fees. You'll also not have to pay for your solicitor's work if the claim fails.
Where compensation is awarded, you'll pay your solicitor a success fee. This is a set percentage of your compensation. The percentage you'll pay, which is legally capped, will be set out by your solicitor beforehand.
As well as checking whether your claim has sufficient grounds to proceed, your solicitor will check that it is being made within the appropriate time limits. There's a 1-year limit for data breach claims against public bodies or a 6-year time limit for all other organisations.
To check how long you have to start your claim, why not contact us? If your claim is valid and within the time limit, you could begin the claims process today.

Get Advice On How Data Breach Solicitors Liverpool Could Help You
Hopefully, this article has helped you to choose us as your data breach solicitors for your Liverpool claim. If that's the case, there are several ways to contact us. They include:
To find out more about how we've helped other clients, please take a look at our reviews page.

Learn More About Claims With Data Breach Solicitors For Liverpool
This is the final section of our guide. Therefore, we've linked to some extra resources that might be helpful.
Complain To The ICO – If you would like to involve the ICO following a data breach, this guide explains how to do so.
About Anxiety Disorders – Information on anxiety disorders from a UK charity.
Right Of Access – ICO guidance on how to request a copy of data a company holds about you.
University Of Liverpool Data Breach Claims – Advice on claiming if you've suffered following a breach at the University of Liverpool.
Employer Data Breach Claims – Information on what you could do if your employer has broken data protection laws.
Liverpool John Moores Data Breach – Guidance on when you could claim after a John Moores University data breach.
Thank you for reading our guide on how our data breach solicitors for Liverpool could help you get the compensation you deserve after a breach.
Guide by Hambridge
Editor Stocks