Leicester Data Breach Solicitors – Expert Claims Support
If you are trying to find data breach solicitors for Leicester, this article should help. We'll look at what data breaches are, how they can occur, the harm they can cause and when you could be compensated for the harm they might cause.
The UK has some of the world's strongest data protection laws. This includes the UK General Data Protection Regulation (GDPR) and the Data Protection Act 2018 (DPA).
Both laws are enforced by the Information Commissioner's Office (ICO). Therefore, any organisation that fails to uphold the laws could face ICO action and a substantial financial penalty. However, we've written this article because the ICO can't get involved in data breach compensation claims.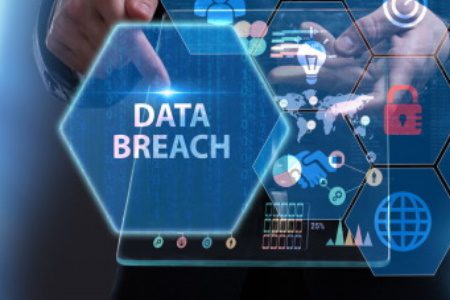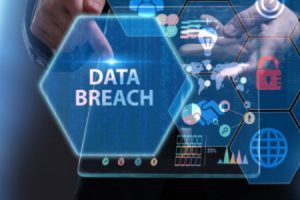 If you are deciding whether to make a claim, we can help. We have a team of advisors who can review your options with you. During your no-obligation telephone consultation, you'll receive free legal advice about claiming. If your case appears to be viable, we could connect you with one of our data breach lawyers.
Our solicitors provide a No Win No Fee service for each claim they work on. They could help you claim if a data breach has led to a psychological injury or if you've lost money.
To start the claims process right away, why not connect to live chat or call us on 0800 073 8804? If you'd like more information on Leicester data breach claims before calling, please read on.
Select a Section
Our Guide To Data Breach Solicitors For Leicester
In this guide, we will show you what types of data breaches could lead to a claim. Additionally, we'll look at what sort of harm can be caused and what level of data breach compensation might be paid.
Any compensation paid following a data breach would cover your financial losses and/or any mental harm. For example, you could claim if an avoidable data breach meant that you suffered due to stress, depression, anxiety or other similar conditions.
It's important to note that you don't need to use the services of data breach solicitors in Leicester. That's because solicitors can work for you from anywhere in the country. Therefore, you have a wide range of choices when it comes to selecting the best solicitor for your claim.
We operate our live chat service and phones 24-hours a day. Therefore, why not get in touch to check if you're eligible to make a data breach claim?

What Is A Data Breach Under The UK GDPR?
According to the ICO's guide to the UK GDPR, a personal data breach is where personally identifiable data is accidentally or unlawfully disclosed, lost, accessed, changed or destroyed.
It is important to state that you can't claim compensation just because a UK GDPR data breach has occurred. Firstly, you'll need to prove how the actions of the organisation responsible for your data caused the breach.
For example, if the party that was supposed to protect your personal data used substandard online security software and, therefore, your personal data was accessed in a cyberattack, that party could be seen as liable.
Secondly, you need evidence that the data breach caused you to suffer. For this, you could use medical records to show that you suffered from a psychological injury. Alternatively, you could use financial documents to show any costs you incurred due to the breach.
you could claim for both financial loss and psychological harm or either.
Key Terms Relating To The UK GDPR
Before we move on, we've defined some key terms regarding personal data breaches:
Data controllers are organisations that decide why and how personal data is to be processed.
Personal data is information that could potentially identify a data subject directly or indirectly.
A data subject is a person whose data will be processed.
Data processors are individuals or organisations who conduct data processing for the controller.
Common Causes Of GDPR Data Breaches
Let's now look at what types of data security incidents might cause you to search for data breach solicitors in Leicester. They include:
If staff in a company share your personal information without any lawful requirement to do so.
Where your personal data is downloaded during a cyberattack due to poor cybersecurity.
If a letter, fax or email meant for you was sent to the wrong address and an unauthorised recipient accesses it.
Where personal information about you was viewable in an online report where it should have been redacted.
If a memory stick containing unsecured personal information about you is lost or stolen.
Where a laptop containing personal information is left on a train.
Again, you won't receive data breach compensation just because these incidents occur. They must also result in harm and be caused by the action (or inaction) of the organisation responsible for protecting your personal data.
For advice on whether you could use our data breach solicitors for a Leicester claim, please contact us today.

Data Breach Statistics
In this section, we're going to provide information about statistics relating to data security incidents reported to the ICO. The graph below shows how many cybersecurity incidents were reported during the second quarter of 2021/22.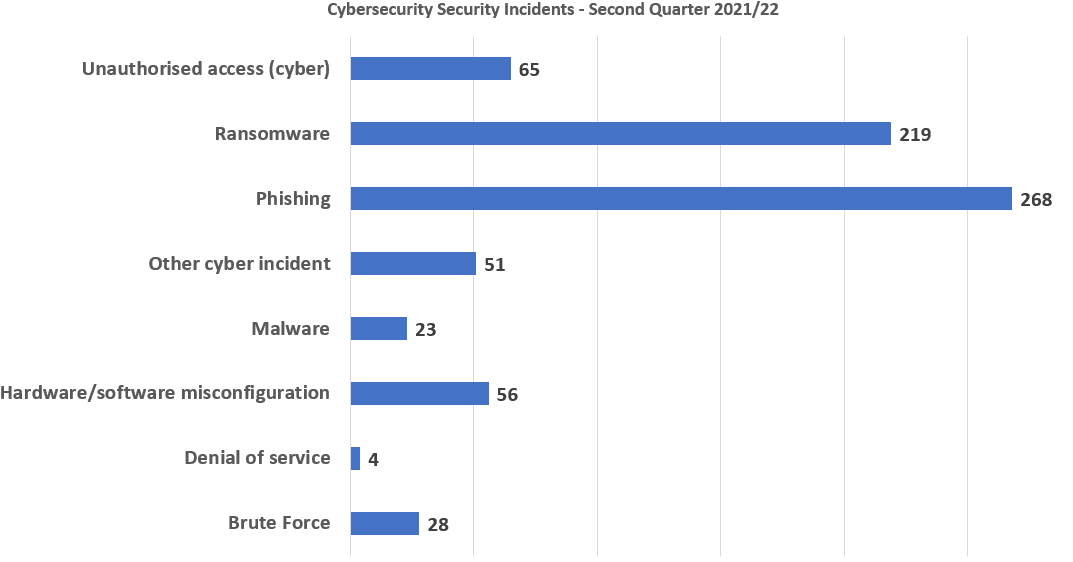 These are national statistics and aren't specific to Leicester data breaches. However, data breaches can happen anywhere.
One incident in Leicester was reported by local media. It informed readers about a cyberattack on a private healthcare provider. As a result of the breach, scanned medical files were accessed unlawfully.
A spokesperson for the healthcare provider affected reported that the ICO was involved in the ongoing investigation.
Source: https://www.leicestermercury.co.uk/news/leicester-news/medical-files-leicester-hospital-accessed-6154552

Do Victims Need A Data Breach Solicitor To Pursue A Claim For Damages?
In this section, we are going to look at the claims process in more detail. We'll also explain when we could appoint data breach solicitors for Leicester claims. In any claim, you will need evidence to show what happened and how you've been affected.
One piece of evidence you could use is a letter or email from an organisation explaining that your personal information was involved in a data breach. This is something that must be done when an organisation realises that your rights and freedoms have been affected by a breach.
If you don't receive a letter but believe a breach has occurred, you could:
Write a formal complaint to the company that was supposed to protect your personal data.
Take the complaint further if you aren't happy with the response.
Raise your concerns with the ICO if the response isn't satisfactory. You should make contact within 3 months of your last meaningful update from the company.
While is true that an ICO report might help, it is not essential. You can contact us for free legal advice at any time. In some cases, it is possible for a data breach claim to be settled directly with the defendant.
If your case is taken on, your solicitor will review whether an investigation is required or not. In cases where the defendant takes responsibility for the breach and also your suffering, the claims process might be finalised in a number of months. Claims that require additional evidence or negotiation could take longer.

How Much Is The Average Data Breach Payout?
Before looking at what amount of compensation might be paid following a data breach, let's look at what you could claim for. The UK GDPR allows you to base your claim on:
Material damage. This is where you'll try to claim back any expenses or losses caused by the personal data breach.
Non-material damage. Here you could claim for a psychological injury like anxiety, depression or distress. In some cases, a worsening of Post-Traumatic Stress Disorder (PTSD) symptoms might also be claimed for.
The compensation figures in our table below show how much could be awarded for non-material damages. The amounts listed are from guidelines provided by the Judicial College. Legal professionals use these guidelines to help value injuries.
| Injury Claim | Severity | Settlement Bracket | Notes and additional information |
| --- | --- | --- | --- |
| PTSD | Severe (a) | £56,180 to £94,470 | Due to permanent symptoms of PTSD, the claimant will not be able to function as they did prior to the incident or return to work. |
| | Moderately Severe (b) | £21,730 to £56,180 | With professional support, there will be a chance of some recovery following the initial significant suffering. |
| | Moderate (c) | £7,680 to £21,730 | This category is for claims where the victim has almost fully recovered. |
| Psychiatric Damage - General | | | The following factors are used to determine compensation levels: How the claimant is able to cope with life and work; Any relationship problems; If treatment will help; Future vulnerability; Prognosis. |
| | Severe (a) | £51,460 to £108,620 | A very poor prognosis with serious problems associated with all factors. |
| | Moderately Severe (b) | £17,900 to £51,460 | All factors will cause significant issues initially. However, the claimant will receive a more positive prognosis. |
| | Moderate (c) | £5,500 to £17,900 | A good prognosis due to an already good level of recovery. |
A medical assessment will be needed to help determine the extent of your injuries and also to show that the injuries were caused or worsened by the data breach. This will involve a meeting with an independent medical expert.
They will discuss your suffering with you and look through your medical notes. After the meeting, a report detailing your prognosis will be produced. So that you don't have to travel too far, our solicitors can usually book these appointments locally.
Your solicitor can use the report to act as evidence in your claim and to help value your injuries.
To see if we could appoint one of our data breach solicitors for your Leicester claim, please call today.

Claiming Through A No Win No Fee Agreement With Data Breach Solicitors For Leicester
Before a data breach lawyer works on a compensation claim, they'll check a few criteria to see if there are grounds to proceed. They will review whether:
A data breach took place. If it did, they'll confirm it involved your personal data.
The defendant's actions or inaction led to the data breach.
You suffered financially and/or psychologically as a direct result of the breach.
If all of the above is true in your case, we could connect you with one of our data breach solicitors. They provide a No Win No Fee service for any claim that's taken on.
If your case is accepted,  you'll be sent a Conditional Fee Agreement (CFA). It's also known as a No Win No Fee agreement. It will make it clear what needs to happen before you need to pay for your solicitor's work.
Where a claim has a positive outcome, you'll pay a success fee. Details of this fee will be listed in your CFA. It is a small percentage of any compensation that is awarded because of a data breach. To prevent overcharging, the success fee is capped by law.
Other benefits of No Win No Fee include:
No upfront solicitor fees.
No ongoing solicitor fees.
If your claim doesn't win, you don't pay any solicitor fees at all.
Talk To A Data Breach Solicitor For Leicester
We hope that this guide about choosing data breach solicitors for Leicester has helped. What's more, if you would now like to discuss your options with Legal Expert, you can:
Please refer to our reviews page if you'd like to know what other clients have said about our service recently.

Find Out More About What Claims Data Breach Solicitors For Leicester Could Handle
Here are some additional resources that may come in handy if you're thinking of claiming. Please let us know if there's any further information you need.
Accessing Your Health Records – Details on how to request your medical notes from the NHS.
Do I Need To Consent? – Advice from the ICO on when organisations need your permission to process your data.
Complain To The ICO – This article explains how to ask the ICO to investigate your concerns.
University Of Leicester Data Breaches – Advice on when you might act following a potential data breach at the University of Leicester.
Lost Personal Data – Explains your rights if data about you is lost.
Leicester City Council Data Breaches – This article explains whether you could claim compensation because your personal data was involved in a data breach by the local council.
Thanks for reading this article about choosing data breach solicitors for Leicester.
Written by Hambridge
Edited by Victorine