Kingston-upon-Hull Data Breach Solicitors – Expert Claims Support
By Cat Way. Last Updated 27th February 2023. If you're looking for data breach solicitors for Kingston-upon-Hull claims, this guide will help. Our solicitors can cover the area and could help you if you've suffered financially or psychologically following a preventable breach. In the UK, we have some of the world's strongest data protection laws. You may have heard of the General Data Protection Regulation (GDPR). It was introduced by the Data Protection Act 2018 (DPA).
Following Brexit, the DPA was amended and the GDPR transitioned to the UK GDPR. Together, these laws help to protect how your personal data is handled by organisations (data controllers). Any failure to uphold the law could be investigated by the Information Commissioner's Office (ICO). While they can penalise companies who break the law, they cannot issue data breach compensation to those affected. Therefore, we've compiled this article on how to take action yourself. We'll show you when you could claim for a psychological injury or any financial losses caused by a data breach.
If you call our team, you'll benefit from free legal advice during a no-obligation telephone consultation. Where your claim appears to have strong grounds, we could partner you with a data breach solicitor from our team. They provide a No Win No Fee service for any claim they work on. As a result, their fees only need to be paid if you are awarded compensation.
To discuss your options right away, please feel free to contact us on 0800 073 8804. Alternatively, to find out more about what may be meant by Kingston-upon-Hull data breach claims, please continue reading.
Select a Section
Our Guide To Data Breach Solicitors Who Cover Kingston-upon-Hull
This guide aims to show you why it is better to have data breach solicitors for your Kingston-upon-Hull claims when pursuing such a case rather than go at it alone. Throughout the guide, we'll explain the harm data breaches can cause. We'll also explain the types of incidents that could lead to a claim. Finally, we'll provide example data breach compensation amounts as well.
When seeking damages following a GDPR data breach, you are allowed to claim for monetary losses and/or psychological injuries. That means you could claim if you suffered due to stress as a result of the breach. Anxiety, depression and similar conditions could also be claimed for.
Before we move on, we're going to define some key terms that you'll see throughout this article:
Data Controllers are organisations that would like to process personal data.
A data subject is an individual whose personal data will be processed.
Personal data is data that might lead to your identification.
Data processors perform actions on personal data on behalf of the data controller.
Not all data is protected by these laws and regulations. Only data that can be used to directly or not so directly identify you. That is why very often it is referred to as a personal data breach rather than just a data breach.
Whilst you can read the rest of this guide, please get in touch if you have any questions. Our live chat service and advice line operate 24-hours a day, 7-days a week.

What Is A Data Breach?
ICO documentation explains that personal data breaches are security incidents that lead to the unlawful, accidental or deliberate, disclosure, access, loss, alteration or destruction of personal data.
Data breach compensation claims can only be made in certain circumstances, though. Firstly, the organisation responsible for the data must've acted in a way that allowed the breach to occur. As an example, a claim may be possible if the company failed to encrypt a stolen laptop that caused a breach.
Secondly, the breach will need to have caused a data subject to suffer financial loss and/or mental harm. In this case, a claim might be possible for any psychological injury such as stress, embarrassment or anxiety caused by the data security breach.
Later on, we'll look at how you could take action if you've been affected in the ways listed above. If you'd like to discuss using our data breach solicitors for your Kingston-upon-Hull claim, please call today.

What Are The Most Common Causes Of Data Breaches?
As mentioned above, data breaches can be caused by accidental, deliberate or unlawful actions. That means there are numerous types of data breaches that might result in a compensation claim. We can't list them all here. However, we have added some examples for you below:
When emails, letters or faxes containing personally identifiable data are sent to the wrong person.
If unredacted personal data is published in reports (physically or online).
Where staff lookup contact details or information about colleagues, friends or family.
When computer terminals containing personal data are visible in public locations (waiting rooms, shop windows etc).
If devices containing personal data that are not password protected are left behind in insecure locations.
Where personal data is lost and there are no other copies.
If staff discuss a data subject in public areas and an unauthorised party overhears them.
As discussed already, you can't claim just because a data breach has occurred. However, if you've suffered psychologically or financial because of an avoidable breach, we could help you take action. Please call today to find out more.

How Commonly Are People Affected By Data Breaches?
One of the requirements of the UK GDPR is that some identified data breaches must be reported to the ICO. Essentially, they must be informed of any breach that affects the rights of a data subject.
The ICO records reports of data security incidents whether cyber or non-cyber such as human error. Details of the reported incidents are then released quarterly by the ICO. Therefore, we've supplied the graph below to show how many cybersecurity incidents were reported in the second quarter of the 2021/22 financial year.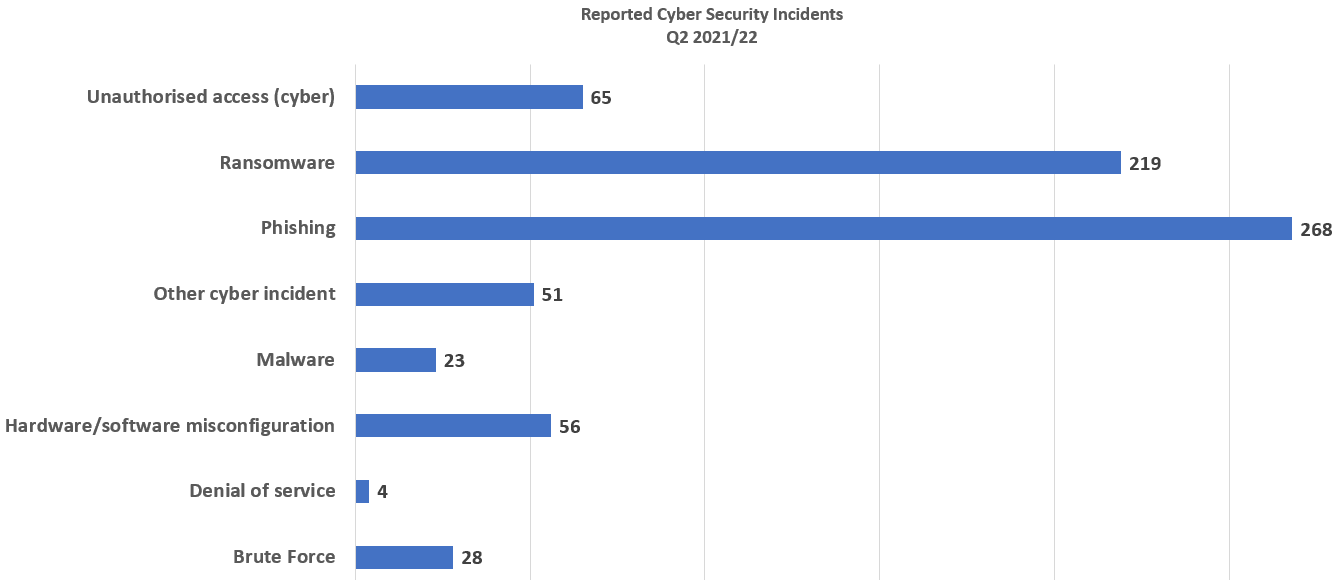 As you'll see, phishing attacks, ransomware demands and unauthorised access were the three main incidents for the period. Importantly, these figures don't mean all incidents led to personal data breaches.
As well as cybersecurity incidents, other non-cyber incidents must be reported as well. Many of these are similar to the scenarios we detailed in the previous section.
If you've been harmed financially or physically because of an avoidable data breach, why not call today? We'll check whether you could use our data breach solicitors for Kingston-upon-Hull claims.

Can I Claim without A Data Protection Breach Solicitor?
Yes, you could claim compensation without a solicitor. However, we believe your chances of winning your case will increase with specialist legal representation. Although if you decide to proceed, you'll need evidence of how you were harmed and that the breach took place.
When breaches are identified, you must be informed quickly if your rights have been affected. The letter or email you receive could be used as evidence to support your case. Therefore, we'd suggest that you store a copy safely.
If you suspect a breach has occurred but haven't been told about it, you could:
Write to the organisation and complain. In your letter, explain that you believe your data has been involved in a breach.
Escalate the complaint if given the option to in the response letter.
Request an ICO investigation. This is something that should be done within 3-months of your last meaningful update regarding your complaint.
At any point, please feel free to call us for free legal advice. Our data breach solicitors for Kingston-upon-Hull claims could claim compensation without any ICO evidence. If the organisation responsible admits liability, you could be compensated within 6 to 9-months. If your case is taken on, your solicitor will advise you whether the steps above will help your claim or not.

What Damages Could Be Awarded For A Breach Of Data Protection?
According to the UK GDPR, two types of compensation can be sought in data breach claims. They are:
Material damages. This covers any form of monetary loss caused by the breach. For example, you could claim for any money stolen from you if the information from the data breach was used in identity theft for example.
Non-material damages. This is where you could be compensated for any psychological injury caused by a breach. Claims could be based on anxiety, distress and also Post-Traumatic Stress Disorder (PTSD) amongst other things.
To give some idea about compensation levels, we've added the table below. It shows several injuries along with a compensation range. The data in our table is from the Judicial College guidelines. The same figures are used by solicitors when assessing personal injury claims.
| Claim Type | Severity | Compensation Range | Explanatory Information |
| --- | --- | --- | --- |
| General Psychiatric Damage | Severe (a) | £54,830 to £115,730 | In this category, the claimant is unlikely to improve with treatment. All aspects of their life including work and relationships will be significantly affected. |
| | Moderately Severe (b) | £19,070 to £54,830 | While suffering in this category will be similar to above, there will be a better chance of some recovery. |
| | Less Severe (d) | £1,540 to £5,860 | In this category, the amount of time daily activities were impacted will be assessed. |
| PTSD | Severe (a) | £59,860 to £100,670 | There is a chance that the claimant will be permanently affected by PTSD. Relationships, work and life in general will all be impacted upon. |
| | Moderately Severe (b) | £23,150 to £59,860 | With professional support, the claimant should see some signs of recovery. However, they will suffer significantly before this happens. |
| | Less Severe (d) | £3,950 to £8,180 | This category is for cases where an almost complete recovery is made (in less than 2-years). |
You'll notice that awards are largely based on how severe your injuries are. Therefore, the claims process may require an independent medical assessment to be carried out. You shouldn't worry about this, though. Your solicitor will usually be able to make a local appointment with a medical specialist.
During the meeting, the effects of the data breach will be discussed. Your medical records may be referred to as well. Once completed, the specialist will write a report to list your injuries and explain your prognosis.
Kingston-upon-Hull Solicitors – Get Free Advice
If you are interested in making a data breach, you could be eligible to get free advice from our solicitors. By offering their services under a Conditional Fee Agreement (CFA), our solicitors could potentially help you through the claims process without requiring any upfront or ongoing fees. Under this kind of No Win No Fee agreement, the only fee your solicitor will take is a success fee, and only if your claim succeeds. If it doesn't, you won't be required to pay your solicitor.
You aren't limited to solicitors in Kingston-upon-Hull to help you make your claim. This is because our solicitors take data breach claims from all over the UK. If you would like to find out if you could qualify for free advice from our solicitors, get in touch with our team today.
Could Data Breach Solicitors For Kingston-upon-Hull Help Me?
We hope that this article on why you could use our data breach solicitors for your Kingston-upon-Hull claim has helped. If you would like to discuss your case with an advisor, you can:
If you'd like to read what previous clients have said about our service, please head to our reviews page.

Find Out More About Data Breach Solicitors For Kingston-upon-Hull
Register Of Data Controllers – Search this database to find companies registered with the ICO.
Dealing With Anxiety – NHS guidance on what you can do if you're suffering with anxiety.
Your Data Rights – This page on the ICO's website explains some of your rights relating to data safety.
Data Protection Breaches In Schools – Information on when you might need to seek damages.
Employer GDPR Breaches – List some of the ways employers could break data protection laws.
Stress Due To A Data Breach – More information on the mental harm that could result from a personal data breach.
Thanks for reading about choosing data breach solicitors for Kingston-upon-Hull claims.