Doncaster Data Breach Solicitors – Expert Claims Support
This article will show you how data breach solicitors for Doncaster claims could help you.
In recent years, data protection laws in the UK have been strengthened. Initially, the UK General Data Protection Regulation (GDPR) was introduced alongside the Data Protection Act 2018 (DPA).
Together, these laws provide some of the strictest rules in the world that are designed to protect your personal information. Where the rules aren't followed, the Information Commissioner's Office (ICO) can step in and punish organisations for their failings. However, the ICO cannot award data breach compensation if you've suffered because of a UK GDPR breach. For that reason, we've written this article to show you how you could take legal action.
If you have lost money or suffered a psychological injury because of a data breach, we could help. Our service starts with a no-obligation review of your case.
During your call, we'll offer free legal advice on your options. If you decide to make a claim, and your case appears to be viable, we could connect you with one of our data breach lawyers. To allow as many people to benefit from their legal expertise as possible, they offer a No Win No Fee service.
Our advisors can be contacted right away via live chat or on 0800 073 8804. If your case is suitable, a specialist solicitor could be appointed right away. If you'd like more details on finding a data breach solicitor for Doncaster claims before you call, please continue reading.
Select a Section
Explaining Claims With Data Breach Solicitors For Doncaster
The purpose of this article is to explain how data breach solicitors for Doncaster claims can help. Importantly, you don't need to choose a law firm that is based locally. Our solicitors can work for you from anywhere in the country. One simple call to our advisors might be all it takes to get your claim started.
As we progress, we'll look at why you might claim data breach compensation and how much you could be paid.
Additionally, we'll explain what harm your claim be based on. Generally, you could claim for any psychological injury or financial loss (or both) caused by an avoidable data breach.
We have a team of advisors who are ready to provide free legal advice on your options. Therefore, if you'd like to check whether you're eligible to claim compensation, why not call today?

What Are Breaches Of The Data Protection Act?
Before we explain what personal data breaches are, we should explain some key terms that are listed in the UK GDPR.
Personal data is any information that could result in a data subject being identified.
A data subject is any individual whose personal data is processed.
Data controllers define why and how personal data is processed.
Data processors are companies that process data for the data controller.
Now that we've explained those terms, let's explain what a personal data breach actually is. They are either accidental or deliberate incidents that result in the unlawful destruction, disclosure, access, modification or loss of personal data.
You won't automatically have the right to claim compensation following a data breach though. For a claim to be possible, you'll need evidence that:
The breach occurred because the defendant did or didn't do something that allowed the breach to take place; and
You suffered a psychological injury or financial loss as a result.
For example, if a laptop containing your personal data was stolen from a securely locked cupboard in a securely locked building, the data controller could successfully argue that they'd done everything possible to protect your information. However, if the cupboard had been unlocked and the laptop was unencrypted, you could have the grounds to begin a claim.
As you can see, it's not always clear cut as to whether damages can be sought following a personal data breach. Therefore, why not speak with our advisors for free legal advice on your case?

How Data Breaches May Occur And Are Discovered
There are many ways in which data breaches can occur. While we can't list every scenario possible here, we have provided the following examples:
If a member of staff accesses records about colleagues, friends or relatives with no lawful reason.
Where a computer screen containing personal data is left unlocked in a public waiting area and is accessed by an unauthorised person.
If staff openly discuss personal information about a client within earshot of unauthorised parties.
If emails, faxes or letters are sent to the wrong recipient and they don't have a lawful reason to access it.
Where IT systems are attacked by cybercriminals because of an out of date firewall and personal information is exposed.
If your personal data is lost following a break-in.
Where a USB stick containing unsecured personal data is left on a train.
These examples are the types of incidents that may mean you want to find data breach solicitors for Doncaster. If you believe that a data breach that has caused you to suffer could've been avoided had the company acted differently, why not call to discuss your options?

How Many People Could Have Been Affected By Data Breaches?
In this section, we have used data from the ICO relating to reported security incidents. The figures are relevant to the whole of the UK rather than just Doncaster. They relate to the period 1st July 2021 to 30th September 2021.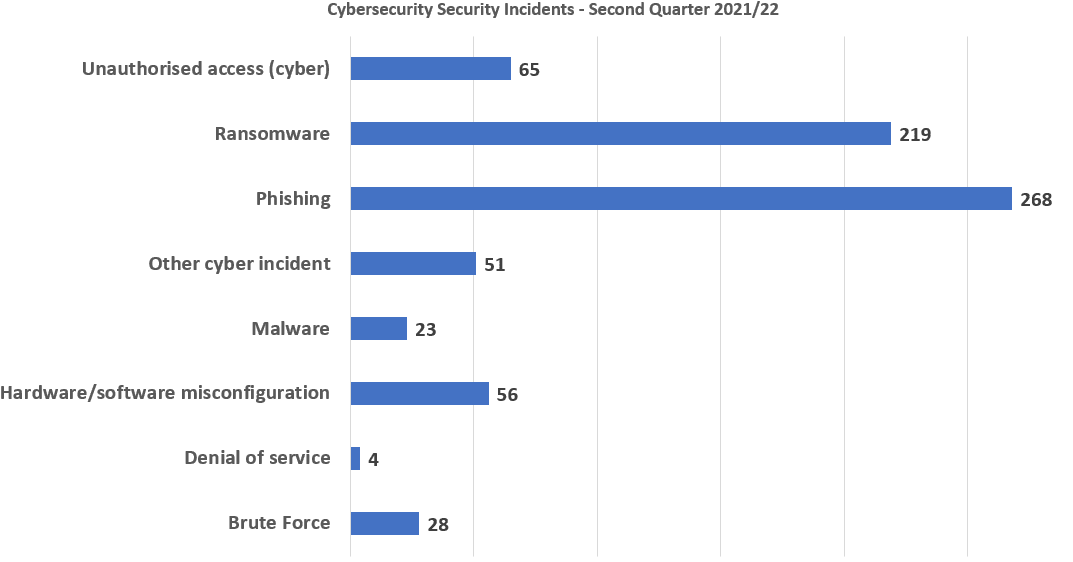 Importantly, these figures only show cybersecurity incidents. The ICO also captures data about non-cyber incidents as well.
In May 2021, a Doncaster firm was reportedly hit by a ransomware attack and a demand for £15m. The incident is said to have happened at a local insurance firm. Cybercriminals took over the firm's website and said that if the ransom demands were not met, information relating to customers would be made public.
The firm took immediate action to investigate how the breach happened and made the ICO aware of what was happening.
Source: https://www.theregister.com/2021/05/21/darkside_ransomware_doncaster/

Steps To Take After A Data Breach In Doncaster
If you decide to claim data breach compensation, evidence will be needed to prove that the incident took place. When organisations find out that a breach has occurred, they must inform you if your personal rights have been affected. Therefore, you should keep hold of the letter or email you receive as it may be used as evidence to support your claim.
However, what if you want to claim for an incident that's not been identified yet? Well, the steps you could take include:
Writing formally to the company you blame to ask them to investigate.
Escalate a complaint if you're not happy with the response.
Contact the ICO if you still don't receive a satisfactory response from the company. You should try to do this within 3 months of your last update from the company.
While each of these measures could help, you are always free to seek legal advice at any point. If you call our advisors and your case is accepted, it is possible to conclude your claim without any ICO action. That's because our solicitors can sometimes reach an agreement directly with the company involved on your behalf.
To find out more, please call our advisors today.

Calculating Data Protection Breach Damages
The UK GDPR explains that if you do seek compensation following a data breach, it could be based on:
Material damages – where you claim for any financial loss caused by the breach.
Non-material damages – this is where you could make a psychological injury claim because the breach left you anxious, depressed or distressed, for example. Additionally, if your Post-Traumatic Stress Disorder (PTSD) is worsened as a result of a data breach, this could be claimed for too.
We have listed some of the injuries you could experience due to a data breach in the compensation table below. We've used figures from the Judicial College as their compensation ranges are used by lawyers and other legal professionals to help decide upon settlement levels in injury claims.
| Type of Injury | Severity Level | Compensation | Additional Information |
| --- | --- | --- | --- |
| PTSD | Severe (a) | £56,180 to £94,470 | In this compensation bracket, the claimant will suffer permanently. All aspects of their life will be affected and returning to won't be possible. |
| | Moderately Severe (b) | £21,730 to £56,180 | PTSD will cause significant issues for a long time. However, a certain amount of recovery will be possible with professional help. |
| | Less Severe (d) | Up To £7,680 | An almost full recovery will be seen within a year to two years. |
| General Psychiatric Damage | Severe (a) | £51,460 to £108,620 | There will be serious issues with relationships, work and life in general. Treatment is not likely to help which will leave the claimant vulnerable. |
| | Moderately Severe (b) | £17,900 to £51,460 | There will also be similar suffering as detailed above but with a better chance of recovery. |
| | Less Severe (d) | Up To £5,500 | Based on how long symptoms affected the claimant. |
To try and ensure you receive the correct level of compensation, you'll need to prove the full extent of your injuries. Part of that process requires a medical assessment during your compensation claim. Our solicitors are usually able to make local appointments to reduce unnecessary travelling.
During your meeting, an independent medical expert will consider your injuries after reading your medical notes and discussing how you've been affected. After that, they'll produce a report that explains your prognosis.
To find out whether you can use the services of our data breach solicitors for Doncaster claims or how much your claim might be worth, please call today.

Do Data Breach Solicitors For Doncaster Handle Cases On A No Win No Fee Basis?
Our data breach solicitors are aware that upfront solicitor fees can put people off from seeking data breach compensation. Therefore, they offer a No Win No Fee service for any claim they accept.
Before taking on any claim, our solicitors do need to check on whether the case has a reasonable chance of success. To do this, they'll find out whether:
A personal data breach involving your information has taken place.
The organisation responsible for protecting your personal data allowed the incident to occur in some way.
You were harmed financially and/or psychologically because of the breach.
A No Win No Fee agreement is also known as a Conditional Fee Agreement (CFA). It sets out the criteria that need to be fulfilled before you need to pay any fees for your solicitor's work.
Where a claim is won, you'll pay a success fee. You won't pay this fee if the claim is lost. In the CFA, the success fee is listed as a fixed percentage of any compensation you're paid. This fee is legally capped so you can't be overcharged.
Why not call today to see if we could appoint a data breach solicitor for your Doncaster claim?

Speak To Specialist Data Breach Solicitors For Doncaster
We have almost reached the conclusion of this guide about finding data breach solicitors for Doncaster. We hope it has proven useful and you'd now like to talk with us. If that's the case, you can:
Latest Guides About Data Breach Solicitors For Doncaster
Please take a look at some of the guides and links below for additional useful information:
Your Data Matters – Various ICO articles relating to personal data security.
Panic Attacks – NHS information on dealing with panic disorders and other forms of anxiety.
ICO Enforcement – Information on recent ICO action taken against various organisations.
Doncaster Council Claims – Advice on what you could do if you've suffered because of a Doncaster Council data breach.
School Data Breach Claims – Information about how to start a claim if a school has exposed personal data.
Lost Medical Records – Guidance on what could be claimed if your medical records are lost and you suffer as a result.
Thanks for reading this article about choosing data breach solicitors for Doncaster.
Written by Hambridge
Edited by Victorine