Rhinoplasty Negligence Claims Guide – How Much Compensation Can I Claim?
Rhinoplasty, commonly referred to as a "nose job", is one of the most common plastic surgeries performed every year. However, as with any kind of surgery there is always a risk things might go wrong but if you suffer complications from a rhinoplasty gone wrong due to the negligence of your surgeon or other medical staff then you may be entitled to compensation.
Rhinoplasty claims can be complicated as you will need to prove that any suffering you have endured should have been avoided and that liability for your pain lies with someone else. You should seek the advice of a personal injury lawyer to help you through the nose job claims process but this guide will give you all the information you will need to start you in the right direction.
Read on to learn all about what to do with rhinoplasty surgery gone wrong before calling Legal Expert on 0800 073 8804 to start your rhinoplasty compensation claim.
Choose a section
An overview- rhinoplasty/ nose job claims
A rhinoplasty procedure is used to improve the appearance of the nose; make it straighter, smaller or to get rid of lumps or ridges. Thousands of people every year opt to go through the procedure but unfortunately some procedures go wrong and patients can be left with a range of problems such as prolonged pain and breathing difficulties. If you have suffered a nose surgery gone wrong then you may be entitled to compensation as a result of your suffering.
As part of rhinoplasty claims, sufferers of rhinoplasty surgery gone wrong can claim compensation with the help of a personal injury solicitor for a range of damages including an amount for any pain and suffering endured as well as any medical expenses or time off work due to the effects of the botched procedure. If your rhinoplasty surgery went wrong due to the negligence of your surgeon or due to poor post-surgery medical care then you may be entitled to claim compensation through a personal injury claim. You will have to prove that any suffering or condition you have been left with is the result of medical negligence as well as obtaining a medical report describing the extent of the medical problems you have been left with.
Medical professionals have a duty of care toward their patients and if they fail this duty and this results in your suffering or pain then you can put in a claim for rhinoplasty compensation. This guide will give you all the information that you need to know.
What is a rhinoplasty?
Rhinoplasty is an operation to resize or reshape the nose. It is usually done for cosmetic reasons and therefore not often available on the NHS but is can also be performed for health reasons such as to ease breathing, a procedure which would be available on the National Health Service.
Rhinoplasty is performed under a general anaesthetic and depending on the aim of the surgery, the surgeon may perform several different procedures. A surgeon may remove bone as well as cartilage to ensure the nose is made smaller, or they may act to make it bigger by adding cartilage that is taken from part of the ears and possibly some bone out of the hip, or skull, or even the elbow. The shape of the nose can also be changed by way of breaking the patient's nose and reshaping it. Another procedure can amend the angle between the patient's top lip and nose.
Rhinoplasty procedures can take anywhere between an hour and three hours and you may expect to stay in hospital for one or two nights depending how the surgery was performed. Some rhinoplasty involves making an incision across the skin that sits between both of the nostrils, called open rhinoplasty, however, if it is done by making tiny cuts on the inside of the nostrils; it is called closed rhinoplasty. Closed rhinoplasty causes less swelling and leaves no scarring and can have a shorter recovery time but it is not always an option.
Rhinoplasty claims are often brought again surgeons or medical practitioners after a nose job gone wrong and the patient is left with medical problems or prolonged pain as a result of botched surgery, poor aftercare or the patient not being made aware of the risks of rhinoplasty before the surgery. If you have had a rhinoplasty gone wrong then you should contact a personal injury lawyer at Legal Expert to help you start your own rhinoplasty compensation claims.
Rhinoplasty/nose job statistics
Recent statistics show that more and more people are opting to have plastic surgery with numbers opting to undergo rhinoplasty increasing year on year.
The most recent figures from 2017 released by the British Association of Aesthetic Plastic Surgeons (BAAPS) showed that 2,751 people underwent rhinoplasty surgery in 2017, a rise of 2% from 2016. Rhinoplasty surgery has become even more popular amongst men with it being the most common plastic surgery being performed on men last year.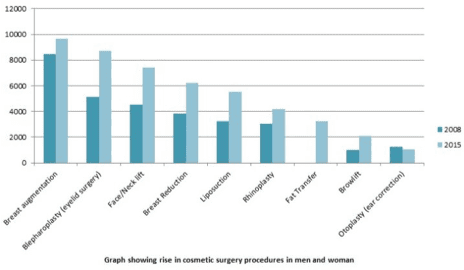 Rhinoplasty figures have been on the rise for the last several years as the above graph shows. As more people go under the knife, the number of rhinoplasty gone wrong stories has also increased. Rhinoplasty claims can be brought against surgeons and medical professionals if your surgery goes wrong due to their negligence. Contact Legal Expert if you want to claim for rhinoplasty compensation.
Top 4 reasons that people have rhinoplasty
Self-esteem
The way a person feels about their appearance can have a huge impact on their lives. As the nose is such a prominent part of the face, if a person is not happy with how it looks then it will have a very negative effect on their self-esteem. The opportunity to improve the shape or reduce the size of the nose may be just the confidence boost a person needs.
Following an accident
Accidents happen and a trip or fall could result in an injury to the face resulting in a broken or misshapen nose. Rhinoplasty within the first two weeks following an accident often has the best results as the surgeon can reshape the nose and get results very similar to the original appearance.
Breathing difficulties
A deviated septum, also referred to as nostril collapse, can cause breathing problems especially at night time. A deviated septum is often the cause of chronic snoring and sometimes sleep apnoea, when the person occasionally stops breathing in their sleep. In cases such as this, rhinoplasty is often offered on the NHS to cure the breathing difficulties.
Sinus problems
Another health problem associated with a deviated septum is issues with the sinuses resulting in infections and recurring sinusitis. This can leave patients in chronic pain and so a GP may refer them for rhinoplasty to correct the nostril collapse. However, rhinoplasty is not offered to under 18's on the NHS as the septum is still growing until this age.
If you have had rhinoplasty for any of these reasons and it has left you with worse symptoms or in chronic pain due to medical negligence then you should contact a personal injury lawyer who has experience in rhinoplasty claims to help you get the rhinoplasty compensation you may be entitled to.
Top 5 ways rhinoplasty can go wrong
As with any surgery, rhinoplasty surgery can go wrong and when it does, you can be left with lasting pain and health complications. Rhinoplasty claims can be filed if you have had rhinoplasty and any of the following complications have occurred;
breathing difficulties- while rhinoplasty is often recommended as a treatment for breathing difficulties, if the nose job has gone wrong then it can result in breathing problems for the patient
overdone surgery- if the surgeon takes away too much cartilage or tissue from the nose than it can look pinched or have visible dents
underdone surgery- similarly, if not enough cartilage or tissue is removed then a patient may return for a revision rhinoplasty as an underdone surgery can leave the tip of the nose pointing downwards
a bent nose- in the case of a nose job gone wrong, the nose may be left looking bent and misshapen, resulting in breathing difficulties and lowered self-esteem
visible marks on the outside of the nose- following a rhinoplasty, grooves, depressions or dents may be visible on the outside of the nose. Rhinoplasty gone wrong pictures show the visible marks that can be left behind by sub-standard surgery.
Medical negligence and rhinoplasty claims
Your medical professionals who perform your rhinoplasty and look after you post-surgery have a duty of care towards you. If they fail in this duty and it results in an injury to your self then you may be entitled to claim compensation as a result. If your rhinoplasty surgery goes wrong and your nose is left looking worse or you develop a breathing condition or other health problem as a result then this can be classed as medical negligence. Also, if you were not properly informed of the risks associated with rhinoplasty and later developed a complication then you may also be entitled to compensation as your medical professionals will have failed in their duty to ensure that you were able to make an informed decision about your surgery.
Rhinoplasty surgery claims rely on medical evidence of the condition or injury you have sustained. This is why the team at Legal Expert will ensure that you undergo a thorough medical assessment as part of your rhinoplasty compensation claim. This independent assessment will provide the evidence that will support your rhinoplasty claims.
What should you do if your nose job goes wrong
If your rhinoplasty goes wrong then you will need to seek medical advice as soon as possible and if you are considering applying for rhinoplasty compensation then you will need to act immediately to ensure that you have as much evidence to support your claim as possible.
Once you have visited your GP with your concerns about your nose job gone wrong then you should ensure that you get photos of any obvious physical flaws or defects. You should also aim to get supporting evidence in the form of a thorough medical assessment and you should also write down your version of events while they are fresh in your mind.
As rhinoplasty claims are complicated, it is always advisable to get the help and advice of an experienced personal injury solicitor. Legal Expert will put you in touch with a solicitor with plenty of experience in rhinoplasty claims who can help you gain the compensation that you deserve. You should also keep a record of any costs that you incur such as medical or travel costs and records of any time off work you incur as a result of your private or NHS rhinoplasty gone wrong.
Who can you claim against for rhinoplasty gone wrong
If your rhinoplasty was performed for health reasons under the NHS but the surgery went wrong then you can sue the NHS for rhinoplasty compensation. The doctors in the NHS have a duty of care no matter what reasons you are having your surgery and the NHS as the medical authority has the liability to ensure that your surgery is a success so any rhinoplasty claims for compensation will be filed against the NHS.
If you have had rhinoplasty surgery as a cosmetic procedure then it is likely that you went to a private hospital. If your surgery has gone wrong and left you with complications then you can claim rhinoplasty compensation again the private hospital in which you had your surgery or against the specific surgery who performed it.
What can I claim for within nose job claims?
Rhinoplasty claims can include amounts for a range of damages sustained as a result of rhinoplasty gone wrong. These can include;
general damages- this covers damages for the general pain and suffering that you have endured as a direct result of botched nose job surgery
medical expenses- if your rhinoplasty gone wrong has meant that you have had to pay for additional medical treatment, such as private medical care, then you can include this as part of your rhinoplasty compensation claim
travel costs- you can also include any travel costs you have incurred as a result of having to attend court or medical appointments as a result of the botched surgery
care claim- if your condition means that you have had to pay for care then this can also be included in your compensation claim
loss of earnings- if you have had to have time off work due to a nose job gone wrong then you can claim for loss of earnings or loss of earning potential if your time off has meant that you miss out on the chance of a promotion
Rhinoplasty compensation calculator
Compensation for rhinoplasty gone wrong compensation claims is worked out on a case by case basis. The amount of compensation you can claim for depends on the severity of your injury and condition as well as the impact that has had on your life, such as having time off work.
The below personal injury claims calculator should give you a rough idea of how much compensation you may be entitled to depending on the severity of your case.

| Type of injury | Description | Estimated compensation amount |
| --- | --- | --- |
| Very severe scarring | A disfiguring cosmetic effect which causes a severe psychological reaction- younger claimants often receive a higher compensation amount | Between £23,500 - £85,400 |
| Less severe scarring | Substantial disfigurement combined with an equally substantial psychological reaction | Between £14,300 - £45,500 |
| Significant scarring | Any scarring may be reduced by future cosmetic surgery but is still visible. Psychological trauma has occurred but has reduced over time | Between £7,200 - £26,400 |
| Less significant scarring | In these cases there may be one scar which may be covered or several small scars which only slightly affect appearance | Between £3,000 - £12,000 |
| Trivial scarring | Very minor effect | Between £1,000 - £3,000 |
| Loss of smell | Total or partial loss of the sense of smell | Between £19,900 - £29,000 |
While the above table does not give exact compensation figures, but you can see how the severity of your condition affect the amount of compensation you may receive.
No win no fee rhinoplasty claims
No win no fee compensation claims mean that you can file a claim for compensation without any financial risk to yourself. You will only have to pay your personal injury lawyer should your claim for compensation be successful. If the team at Legal Expert do not win your rhinoplasty gone wrong compensation claim then you won't have to pay us a penny.
No win no fee solicitors will agree a fee which will be deducted from your compensation amount should your personal injury claim be successful. Legal Expert no win no fee claims take the financial risk out of rhinoplasty claims meaning you can focus on your case and your recovery.
Legal Expert- how we can help with nose job claims
The team at Legal Expert are here to help guide you through rhinoplasty claims to help you gain access to compensation should your nose job go wrong due to the negligence of your surgeon or medical staff. We will connect you with a personal injury solicitor who has years of experience with rhinoplasty claims and who understands the intricacies of personal injury claims. Our team is on hand to help with your enquiries and we will also ensure your solicitor will arrange for you to undergo a thorough, independent medical examination to help to support your claim. We'll be here throughout the process for advice support and to answer queries you might have.
Begin a rhinoplasty claim today
If you have suffered breathing difficulties or a loss of self-esteem as a result of rhinoplasty gone wrong then you should start your claim for rhinoplasty compensation as quickly as possible. Call Legal Expert today on 0800 073 8804 to discuss your case as part of a free consultation with our team. Alternatively, you can fill out our contact form and a member of our team will get in touch as quickly as possible. We don't like to leave you waiting long. We know how important your claim is to you and we will treat it with the priority it deserves. After all, you have likely been through a lot and we would never wish to let you stress for a moment longer than you need to.
Helpful links
Medical Negligence Compensation Amounts
Find out how much you can claim for medical negligence
While we attempt to provide all the information you're likely to need within this one guide, we encourage further reading for those that are wanting to know more about the surgery, and what can go wrong. Below you will find a few resources that should go some way towards helping you understand more.
As with any medical procedure, the NHS has produced a guide to rhinoplasty that gives a wealth of information about why you might need one, what the procedure involves and more details about this common operation. This may be of interest to you.
This page gives details of plastic or aesthetic surgeons, as well as how to verify whether they are accredited, and many other details. BAAPS also provide a wealth of information pertaining to statistics about plastic surgery and much more.