How To Claim Compensation For A Death Caused By A Fatal Bike or Cycle Accident
By Daniel Archer. Updated 29th June 2022. This is our updated guide to fatal cycling accident claims. According to figures released by the Royal Society for the Prevention of Accidents, there were 21,287 accidents involving bikes on the road in 2014. Of these accidents, 3,401 people were seriously injured and 113 were killed. In cases where an accident has caused a death, the deceased's loved ones may be able to make a claim for compensation. This guide will explore this issue.
Claiming for fatal bike accident compensation can be incredibly complicated. Any fatal bike accident claim is likely to involve a great deal of effort, a need to prove that an act of negligence or another kind of failure led to the death. This is why the assistance of an expert Claims Service can be so important.
This guide will detail everything you need to know to make a successful cycling accident compensation claim. Our contact details are at the bottom of this guide; feel free to contact our team if you have any further questions.
Select a section:
A Guide to fatal cycling accident claims
There are many aspects of your fatal cycling accident claim which might seem daunting, difficult, or confusing. As such, we have assembled this guide in order to answer the basic questions that may be asked following an accident. As well as covering the various definitions involved in fatal bike accidents, we will also cover the legal recourse you are provided by the government.
The guide also covers the different causes of fatal bike accidents and outlines the people who are eligible to make a claim following a fatal bike accident.
We have also included a table that shows the average cycling accident compensation amounts based on different injuries, in order to help you get an idea of similar payouts and how your own settlement total might be determined. Towards the end of the guide, we will explain the importance of legal expertise in such cases and outline why we are one of the best cycling accident solicitors in the country. For more information, our contact details are provided in the final section.
What is a fatal cycling accident?
A fatal cycling accident is an accident involving a cyclist, in which he/she suffers a life-threatening injury that results in death. It is important to note that – when discussing this type of bike accident – the 'bike' in question typically refers to bicycles. In this guide, we will touch upon issues involving both cyclists and motorcyclists, though many of the laws and regulations will be relevant to both parties.
Unfortunately, fatal bike accidents are an issue across the UK (and especially in London). Unfortunately, cyclists have less protection when compared to cars, lorries, and many other vehicles. As such, when a cyclist or motorcyclist is involved in an accident, the likelihood of there being a serious or fatal injury is greatly increased. Contact us about fatal cycling accident claims today.
Claiming for a Fatal Bike Accident Caused by Driver Negligence
The negligence of a driver may cause a fatal bike accident. However, in cases like this, liability could be determined by whether or not the cyclist caused the accident (and thus acted in a negligent manner). The identification of the cause of the accident will be vital in winning a compensation claim case. It is important to note that both cyclists and drivers are expected to obey the UK road regulations – clearly set out in the Highway Code and other places – and any case will be decided based on all UK traffic laws.
Negligence can be established when the oncoming driver does not see the bicycle coming due to blind spots or failing to properly look in their mirrors when the cyclist is making a manoeuvre. Whatever the case, you can claim compensation from the driver if there is proof of negligence. Your personal injury solicitor can help you build a case in this regard. You can contact us for further advice and information regarding fatal cycling accident claims.
Claiming for a Fatal Bike Accident Caused by a Distracted Rider
A cyclist can also get distracted and can cause an accident that harms or causes death to someone. For example, cyclist or rider negligence could be caused by driving the wrong way
along a one-way street, by making unnecessary manoeuvres, by turning dangerously into traffic, or by listening to loud music and obstructing the senses.
However, it is important to note that an accident caused by a distracted rider may be considered as negligence on the part of the cyclist and may not be relevant to an insurance company compensation claim process. However, if the negligent cyclist caused the accident that injures someone else, the cyclist may be liable for the injury. In any case, your solicitor will evaluate the legal claim and advise accordingly.
Claiming for a Cycling or Bike Accident Caused by Vehicles Not Leaving Enough Room
One of the major causes of fatal bike accidents is the inability of vehicles to leave enough room for a cyclist to move freely and safely. Some drivers – whether through negligence or lack of road knowledge – take up unnecessary road space for themselves at the expense of other road users. This can cause an accident to a cycle user and, in cases such as these, the other driver may be liable.
You can make a claim for this kind of incident but it will need to be established that the accident was caused by the inability of the driver to leave enough space for the cycle. A solicitor will help you to ascertain the facts of the matter and advise on the issue accordingly. You can reach us through the contact form at the bottom of this guide about fatal cycling accident claims.
Other Common Causes of Fatal Cycle and Bike Accidents
There are many causes of road accidents, many of which can involve fatalities. These causes can include:
Speeding: exceeding the speed limit can lead to a loss of control and is illegal.
Intersection or Lane Merging: motorcycles are not expected to engage in unnecessary manoeuvring on the road. They are required to ride in the proper lane on the road, except during turning or other safety operations. They are not expected to be switching in and out of lanes as it can lead to accidents
Riding Too Close to Vehicle Traffic: cycle riders are expected not to ride too close to vehicles because it could cause an accident. Rather, it is advisable for cycles to leave a good amount of space when in traffic.
Not Paying Attention When Riding/Driving: as mentioned earlier, both the car driver and the cycle rider could get distracted while driving and this is one of the most common causes of fatal bike accidents.
No matter the cause of the accident, it could lead to a loss of life. You can make a compensation claim for the death of your loved ones as a result of the accident. You can contact us for a free advice on what to do so we can help you through this tough time.
Claiming for a Fatal Cycling or Bike Accident that Happened at Work
Accidents can happen when a person is at work. This can involve those whose job is dependent on motorcycles or bicycles, such as couriers, or it can involve situations in which regular employees are placed in a position in which they may become involved in a traffic accident, perhaps due to poor traffic regulations in a company car park.
It is important to mention here that – by law – it is the duty of the employer to ensure that employee workplaces are safe, either by providing the right equipment, a secure environment or the required training. If this is not so, any cycling accident compensation could be directed at the employer. Your solicitor could help you make fatal cycling accident claims against an employer.
Claiming for a Fatal Bike Accident in a Public Place
When discussing the potential for compensation claims as a result of fatal bike accidents, we should acknowledge the importance of a public place and how this may affect a claim. The safety of a visitor (and the safety of the general public as a whole) when visiting a public place should be of paramount concern to the operators or owners.
In this context, a public place could be referring to public bike lanes, sports facilities, BMX parks, bike shows, bike races, and many more public spaces. The occupiers of these places have a responsibility to ensure that the visitors (both authorised and unauthorised) are kept safe to a reasonable degree.
When there is a fatal bike accident in a public place, the owners or operators of the place may be considered liable as there are myriad health and safety regulations which govern how they should maintain the premises. If these regulations have been breached, there may be a viable case for compensation. Your solicitor can look at the merits of your case and pursue a fatal bike accident claim on your behalf.
Bike Accident Facts and Statistics
When you are thinking about legal action following a fatal accident, it can help to examine the statistics and the facts which relate to bike accidents. For example, the Royal Society for the Prevention of Accidents (ROSPA) records that as many as 3,514 cyclists (including children and adults) were killed or injured in accidents in 2014 alone.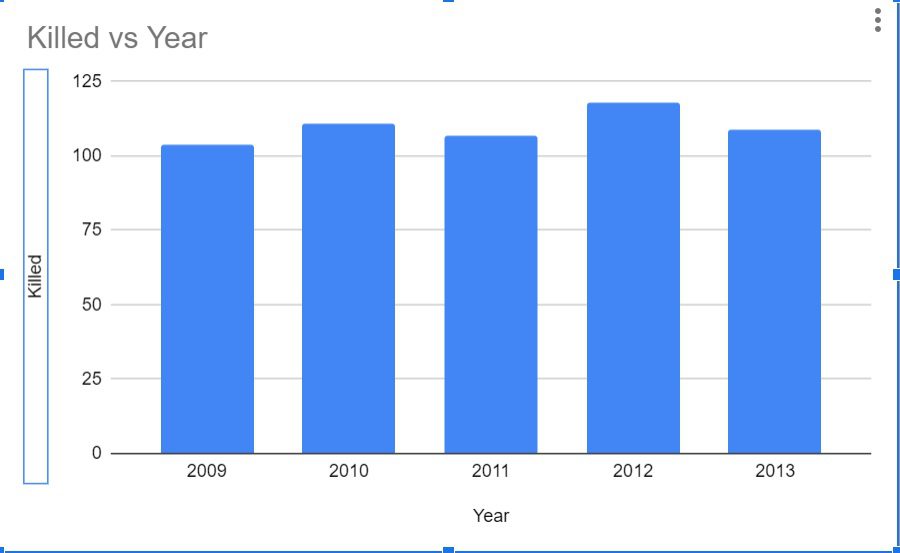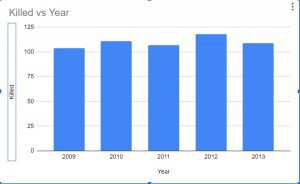 According to the research, male cyclists are far more likely to be involved in accidents. It is reported that as many as 81% of accidents involving a cyclist involved someone who was male. Roundabouts and junctions were by far the most dangerous parts of the road for cyclists, with many bike accidents occurring in these places.
Our updated graph shows rates of fatal cycling accident. You can find statistics in this Government report. If you believe that you have been affected by accidents such as these, we recommend discussing the matter with a legal professional as soon as possible.
Who Can Claim for a Fatal Cycling or Bike Accident?
Who could make fatal cycling accident claims. Following a fatal bike accident, you may be unaware which parties are able to make a compensation claim. Typically, there are three types of people who may make a claim. These are:
Dependants of the Deceased: people who are connected to (or dependent on) the deceased in a financial sense. This could be children, a spouse, or family members.
Family Members of the Deceased: people who are connected to the deceased but not in financial terms. This set of people does not necessarily depend on the deceased financially but shares in the pain and suffering as a result of his/her death.
The Estate of the Deceased: people who also suffer from hardship due to the loss of the deceased. It could be the businesses or companies of the deceased who could suffer financial losses due to the death of the owner.
Claiming for compensation in this regard will depend on the circumstances of the accident.
What to do if You Have Lost a Loved One due to a Fatal Bike or Cycling Accident
Can family members make fatal cycling accident claims for the death of a relative? If a family member, friend, or loved one has been involved in a fatal bike accident, figuring out your next move can be difficult. This is why we advise that clients get in touch with a Claims Service, who will be able to ease the burden. Before you do so, you might consider the following steps:
Report the Accident: Report the accident to the relevant authorities and get a police report.
Collect Evidence: If the accident involved a car, get the registration number, gather any eyewitness accounts, and any other evidence you think will help your case.
Get a Medical Report: A medical report is important to know the cause of death and to make medical expense claims.
Keep Records: keep all records intact. This includes medical costs, funeral costs, travel expenses, and other relevant expenditure records and receipts.
Attempting something like a knocked off bike by car compensation claim can be tough. If you would like to heighten your chances of winning, we recommend following the above steps and then contacting a law firm.
What can be Claimed for After a Fatal Bike or Cycling Accident
Understanding how a compensation settlement total is determined can be difficult. In many situations, there are a large number of factors which need to be considered. When you are making a claim following a fatal bike or motorcycle accident, these damages can include:
General Damages: This refers to claims for damages that cannot be quantified in monetary terms. For example, the pain, grief, psychological damage, and the trauma experienced as a result of the fatal bike accident.
Medical Expenses: This refers to the medical expenses or costs that were incurred prior to the death of the victim.
Funeral Expenses: You can claim for the funeral costs, such as flowers and catering.
Special Damages: This refers to special damages anticipated like loss of financial support from the deceased to his/her dependents.
Almost all cycling claim examples will be different. If you would like to know more about the exact damages and expenses you can claim, call our team today.
No Win No Fee fatal cycling accident claims
Who could make No Win No Fee fatal cycling accident claims? We can offer a 'No Win No Fee' arrangement. When you're dealing with the aftermath of a fatal accident, including the financial and emotional damage this brings, trying to sort out legal representation can be tough. It's why our approach can be so much easier.
Our 'No Win No Fee' arrangement is a Conditional Fee Agreement (CFA). This provides you with legal representation for your claims without the high upfront costs that many law firms will charge. We take our fees from the final settlement total, diminishing the risk involved in your case and allowing you to focus on other matters at a difficult time. Our 'No Win No Fee' agreement could be the perfect way in which to seek legal assistance for your compensation claim.
How Much Can I Claim for a Fatal Bike or Cycle Accident?
In almost every case, cycling accident compensation amounts can be hard to estimate. With so many unique circumstances and factors to consider, a generic cycle accident compensation calculator is only so much help. However, we have listed average bicycle accident claim payouts in the table below.
Compensation Payouts for a Bike Accident
The compensation brackets below have been taken from the Judicial College guidelines (JCG). These guidelines are used by lawyers and solicitors to help them when calculating your cycling accident claim. With fatal accident claims, calculations are made according to factors such as the deceased person's pain and suffering.
The figures shown are from the latest guidelines, published in April 2022. Compensation payouts for a bike accident can vary based on many different factors. Therefore, please remember that, if your claim is successful, the amount you receive may not be the same as the ones listed below.
| Reason for Compensation | Compensation Brackets | Description |
| --- | --- | --- |
| Death with financial losses | £550,000 + | This figure that is around this level could accommodate for the suffering and pain of the deceased and any dependency costs. |
| Tetraplegia / Quadriplegia | £324,600 to £403,990 | The claimant is fully aware of their injures and expects to live for 25 years or longer. Whilst they can communicate, see and hear they will need help with bodily functions. |
| Very severe brain damage | £282,010 to £403,990 | The person could still have some basic abiity to understand and follow basic commands. |
| Moderatly severe brain damage | £219,070 to £282,010 | Where the person may be left in a vegetative state, compensation may be awarded at this or a lower bracket. |
| Paraplegia | £219,070 to £284,260 | The level of compensation awarded will be affected by several different consideration. |
| Lung disease / damage | £100,670 to £135,920 | A serious disability which leads to a premature death. |
| PTSD - Severe | £59,860 to £100,670 | Psychological trauma which is suffered in response to either actual or a threatened death. |
| Death (full awareness) | £12,540 to £23,810 | Fully aware and cognitive, death within a couple of weeks and three months. |
| Death (unconsciousness following a brief period of awareness) | £10,510 to £10,670 | Full unconsciousness within 3 hours, and final death within 2 weeks. |
| Death (unconscious death within six weeks) | £3,760 to £4,390 | Full unconsciousness, and final death within 6 weeks. |
| Death (unconscious death within one week) | £1,370 to £2,790 | Full unconsciousness, and final death within 1 week. |
| Mental anguish | £4,670 | Psychological damage caused by fear of death. |
If you're unsure if you can claim compensation for a cycling accident, our advisors will be more than happy to answer any questions you have about the claims process. We can inform you of your claim eligibility, provide you with a compensation estimate and potentially connect you with a specialised solicitor. Please contact us at a time that suits you using the above details.
How to Start a Fatal Cycling or Bike Accident Claim
How do you start fatal cycling accident claims? Beginning a legal claim might seem impossible. In the time immediately after an accident, knowing how to approach a complicated legal situation can seem impossible. This is why expert help is so important. If you are wondering how to begin a compensation claim, we recommend contacting a law firm. If you contact our team, for example, we can get you started with a free legal consultation session.
In this session, we can provide you with the insight and expertise you need to properly evaluate a case. We'll consider every detail and then give you a breakdown of the best way in which to proceed. We can provide an estimate of compensation amounts and suggest how successful we believe the case might be. If you choose to work with us, we can even proceed with our 'No Win No Fee' approach. After that, we'll conduct further fact-finding and ensure that every single aspect of the case is considered in great detail. When you want to begin a case, our assistance can be invaluable.
How Long Do I Have To Claim For A Bike Accident Death?
Bike accidents, as with many other kinds of accidents on the road, unfortunately, have the potential to end in fatalities. If a loved one has passed away due to injuries sustained in a bike crash, then you may be wondering how long you have to make a claim for compensation.
We can find the answer in the Limitation Act 1980. When making a claim for fatal injuries, then you have 3 years from the date of their death to start the process. If you do not start your claim in this time window, then you could lose the right to do so.
There can be certain circumstances where the window in which you can begin a claim may be extended. If you'd like to find out more about these particular scenarios, get in touch with our advisors today.
We can tell you whether or not you are still eligible to claim for a fatal bike accident. A death-related claim can seem difficult. Our advisors are trained to handle your case with sensitivity and compassion. We are available 24/7 to assist in any way that we can.
Why Choose us as your Claims Service for a Fatal Cycling or Bike Accident Claim?
A good Claims Service is essential when you want to get the maximum possible compensation claim without the stress and hassle. We are one of the best law firms in the country in this respect and the advantages of choosing our team will include:
We have the knowledge and experience for all kinds of compensation claims
We keep our client's interests at the forefront of our priorities.
We are an ethical company; we do not cut corners.
We are proud of our customer service.
We will give you cycle accident claim tips that will help your case.
You can capitalise on our 'No Win No Fee' arrangement.
We offer a free legal consultation at the very start of your claim.
If you have lost someone important, we are the ideal choice when considering a compensation claim. Get in touch with us today to get started on your claim.
Call for Free Advice and To Start a Claim
We have made the process of claiming compensation simpler than ever before. All you need to do is to call us for a free consultation session. You can use any of our contact channels, such as the contact form on our website, our web chat function, or you can call 0800 073 8804. We will be happy to talk about your case at any time.
We hope our guide to fatal cycling accident claims has helped you.
Helpful Links
How Much Compensation Can I Claim For a Cycling Accident?
If you have been involved in a cycling accident contact us today to see if you can claim compensation.
The death of a family member or loved one can be devastating. This NHS link has some useful information.

Citizens Advice on What to do after a death
This Citizens Advice web page explains more about what to do after a death of a family member or loved one.
Car Accident Claims How Much Compensation?
How much compensation can be claimed if a car accident has caused a cyclist death? call us for free advice.
Calculate the Compensation amounts for Death and Fatal Accidents
Find out the full amounts you can claim for death compensation including funeral costs and future loss of earnings.
Motorcycle Accident Claims How Much Compensation Can You Get?
Death caused by a Motorcycle accidents are common in the UK click the link to find out the compensation amounts or phone us for free advice
CPS Road Traffic Offences – Guidance on Charging Offences?
The (CPS) The Crown Prosecution Service, this link provides information and guidance on charging drivers for the drivers and driving offences.
I Was Hit by a Car Pulling Out of a Driveway Whilst Cycling – Can I Claim?
Find out here if you can claim as a cyclist for being hit by a car that was pulling out of the driveway.
Can I Claim Compensation For Cycling Without A Bike Helmet?
You can find out by reading this guide.
What To Do If You Have A Cycle Accident
Find out if you have a claim.
FAQs On Fatal Cycling Accident Claims
What Is The Fatal Accidents Act 1976
The act allows the dependents of people who die in fatal accidents to claim compensation. People can claim different types of compensation. These are
A statutory bereavement award.
Compensation for the loss of someone special.
The effects of lost financial assistance and other help if a dependent.
What is the loss of consortium?
These are damages awarded because someone has lost what are called special services. Examples may be someone losing a partner or a child losing a parent.
Who are financial dependents?
Dependents may be those who are financially dependent upon the deceased, such as children or close relatives and partners.
Can dependents make a fatal personal injury claim?
The Fatal Accident Act 1976 allows dependents of someone killed in a fatal accident, such as a road traffic accident, to make a personal injury claim.
What are statutory bereavement awards?
In addition to the compensation outlined above, you could also apply for the Statutory Award for Bereavement. This is also set out in the Fatal Accident Act 1976.
What happens if the vehicle did not stop after the road traffic accident?
If the other vehicle failed to stop or if they did not have insurance you could still make a fatal cycling accident claim through the Motor Insurers' Bureau.
Do you have to have an inquest?
If someone has died suddenly or unexpectedly (such as in an accident) then it may be referred to a coroner. We could also assist you at this stage.
Time Limits
It is important that you begin your compensation claim within a three year time period. Contact a personal injury lawyer to start your fatal injury compensation claim.