AA Insurance Claims Guide – How To Claim Compensation For Whiplash Injury Claims Against AA Car Insurance?
Whiplash is one of the most commonly claimed for kinds of injuries. Often, the case of whiplash will have been caused by a road traffic accident of some kind, although it can be caused by other types of accidents. If you do suffer whiplash in a road traffic accident, then it will generally be the defendant's insurance company that a personal injury solicitor will make a personal injury claim against. For example, AA car insurance.
We can help people who have suffered whiplash in an accident that is not their fault to make a compensation claim for the harm that they have suffered. This guide will cover the claims process and how a solicitor may be able to help you. If at any point you have questions, you can speak to our claims team on 0800 073 8804. They will be able to answer your questions, and they can also help you to get your claim processed.
Select A Section:
A Guide To Whiplash Claims Against AA Car Insurance
In this guide to making an AA car accident claim for whiplash, we shall give you the information you need to start making the proper choices about your own claim. This guide begins by laying some groundwork and explaining what whiplash is, the symptoms of whiplash, and why you may need to make a claim for whiplash.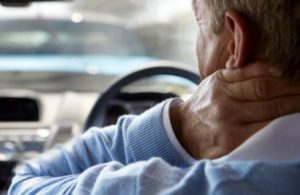 The next part of this guide moves on to look at specific questions and facts related to the claim itself. We look at what split claims are. We also go over whether it is a good idea to accept the first settlement you are offered, or to accept a pre-medical offer.
The last part of this guide relates to the financial aspects of the claim. We have provided a table that details possible compensation payouts for neck and back-related injuries. We have also listed some of the most commonly claimed special damages. Finally, we explain why using the services of a No Win, No Fee solicitor could be the best way to make your claim, whilst minimising financial risk.
If you have any questions about the process of making personal injury claims, or you are ready for a personal injury lawyer to move forward with your claim, please speak to a member of our claims team on the number at the top of the page.
What Are Whiplash Symptoms And Claims?
Whiplash is a general term used to define a medical condition that consists of unspecified or general injuries. It can be hard for doctors to diagnose the root cause of whiplash, and it is usually treated as a general injury rather than damage to a specific part of the neck. Whiplash symptoms can include:
Neck pain ranging from minor to severe.

Stiffness of the neck, or difficulty moving the head.

Headaches varying in intensity, from minor to severe.

Muscles spasms, tingling or pins and needles in the arms and shoulders.
The National Health Service (NHS) has published more information about whiplash, its symptoms, diagnosis and treatment.
Any combination of these symptoms may be construed as a case of whiplash, especially if the patient has recently undergone a traumatic movement of the neck, such as being involved in a car accident.
In the past, whiplash has sometimes been the basis of fraudulent claims. Therefore, all whiplash claims are looked at very closely. In most cases, you will need to have a medical examination to prove the extent of your injuries, and that they have had a negative effect on your life.
When To Claim Against Your Own Insurance Provider
This section is going to attempt to answer the questions: 'can I get compensation for whiplash?' and 'does whiplash claim affect insurance?' To answer the first question, yes, you can make a claim for whiplash if you are eligible to do so. This means that you will need to prove that a third party was at least partially to blame for the harm you suffered.
To answer the second question, generally, you will not be able to claim from your own vehicle insurance if you caused the accident yourself. Most vehicle insurers do not cover negligent drivers for their own injuries. If you are the victim of an accident caused by another driver and suffered whiplash, then it would be the vehicle insurance firm of the other driver that you make your claim against. The only time you might claim against your own insurance is in a knock-for-knock claim, which we'll cover in a later section.
Insights Into Injury Claims Against Insurance Companies
When you make an AA whiplash claim, there are some things you should know that relate to the chances of your claim attracting the maximum level of compensation possible.
The Financial Conduct Authority (FCA) has conducted research that found that in the case of whiplash claims, that claimants often receive up to three times more compensation if they:
Don't accept the first settlement they are offered by the defendant.

Use the services of a professional accident and injury solicitor.

Take care when deciding whether it is a good idea to accept a pre-medical settlement that has been offered.
We can help to ensure you do everything you can to maximise the value of your claim. Our team can guide you through the claims process and help you to make informed decisions at key junctures.
Split Liability Whiplash Claims Against AA Insurance
If you have been involved in an AA insurance car accident, where it is the third party that has a policy from AA insurance, then as long as the third party was partially to blame for the accident, you could be able to make a claim. However, in some cases, you may have contributed to the accident in some way. For example, you did not cause the hazard that resulted in the accident, but you did not take proper, appropriate actions to avoid it. A third party is still to blame for causing the hazard, but you also carry some of the blame for the accident taking place. In cases such as these, a reduced level of liability would be negotiated between your solicitor and the legal team representing the defendant.
There is also a different set of circumstances that can arise when both parties were responsible for the accident. This is known as a "knock-for-knock" claim. In these kinds of claims, both drivers are at fault and each will claim against their own insurance. It should be noted that a knock-for-knock claim will have an effect on your no claims bonus and could increase the cost of your insurance. In some cases, especially those where the claimant has only suffered a minor case of whiplash, it may make more sense not to claim at all if the increase in insurance is too high.
Should I Take The First Settlement Offer From The AA?
If you are hoping to claim compensation for chronic whiplash or even a minor case of whiplash, you need to be ready to deal with the defendant's insurance firm doing their best to get you to accept the bare minimum compensation pay-out. 
Many insurers will contact accident victims and offer to provide free legal help and to settle the claim quickly by making an almost instant compensation offer. This is entirely within the letter of the law, even though it is not exactly an ethical way to deal with accident victims. If you are contacted by an insurance company and offered an instant settlement, please consider the following:
You are not legally obliged to accept an offer. You are allowed to turn it down and try to get a better one. If you do accept the offer, you may have gotten more if the claim had been processed by a solicitor or if it reached court.

You don't need to rush or worry too much about making a rapid decision. You have up to three years from the date of the accident to make your compensation claim (in general). You can take your time and consider the offer, and how best to proceed.

Before accepting the offer, you need to understand the nature of your injuries and the likely effect they will have on your life. A medical examination would tell you whether there are any long-term or permanent effects of your injury.

If the insurance company sends you something that they wish you to sign, make sure that you understand exactly what it is you are signing before you do so. The best advice here would be to speak to a solicitor before putting pen to paper.

If the insurance company offered you a solicitor to help you, you do not have to use this solicitor. You are free to appoint your solicitor, who would be acting independently.
If you have been contacted by AA insurance and offered a rapid settlement, you may need some help in deciding whether accepting it is the right course of action. We can provide you with some free legal advice that can help you to make the right decision. Talk to one of our claim advisors and discuss your situation with them today.
Should I Take The Pre-Medical Offer?
It is very hard to give a figure for the average insurance claim for whiplash. However, one thing we can say is that this figure would likely be higher if pre-medical settlements were not included. As this statement suggests, pre-medical (or pre-med) settlements are often on the low side.
A pre-med settlement offer is often made at the same time that an insurance firm admits liability. In the previous section, we looked at why insurers do this, and how you may wish to respond to the offer. With a pre-med offer, the settlement amount has not been based at all on the testimony of a medical professional or any medical evaluation of your injuries. A pre-med offer is made by the insurer in an attempt to pay the bare minimum amount of compensation they can, as quickly as possible.
When a solicitor values your claim for you, they will take into account the following:
How bad your injuries are.

How long your injuries will take to heal.

How much pain and suffering you have been through.

Whether there are any long-term or permanent negative effects of your injuries.
A pre-med offer does not take any of this into consideration. Therefore, in many cases, the settlement offer could be too low. For example, if you are offered an absurdly low pre-med settlement when it is likely you will suffer some form of permanent disability.
You also need to consider the fact that a pre-med settlement won't consider other forms of damages. Loss of earnings will not be covered. You also won't be paid for any out of pocket expenses such as travel or hiring in-home help or a nurse. Additionally, if you have had to pay for any medical care, such as private physiotherapy, you won't be compensated for this.
If you think that the pre-medical settlement offer you have received is on the low side, you can talk it over with our claims team. They will let you know whether you could potentially do better by pursuing the claim further.
AA Car Insurance Whiplash Compensation Calculator
Every claim has its unique aspects which affect the value of the claim. It is, however, possible to gain an idea of the potential value. You could try using a personal injury claims calculator to do this, though we find they can be frustrating to use. Instead, we've provided the table below that gives compensation ranges for relevant injuries. This table is based on figures taken from the Judicial College Guidelines, a legal publication used by solicitors and the courts to value claims. s.
| Type of Injury | Severity | Compensation Range | Details |
| --- | --- | --- | --- |
| Neck Injury | Minor (iii) | Up to £2,300 | This compensation range is for soft tissue damage with full recovery within 3 months. |
| Neck Injury | Minor (ii) | £2,300 to £4,080 | This compensation range is for soft tissue damage with full recovery within 1 year. |
| Neck Injury | Moderate (i) | £23,460 to £36,120 | This compensation range is for fractures or dislocations that might need spinal fusion. |
| Neck Injury | Severe (iii) | £42,680 to £52,540 | This compensation range is for dislocations, fractures and severe soft tissue damage which leads to severe conditions, extensive treatment and significant disability of a permanent nature. |
| Shoulder Injury | Minor (i)-(iii) | £2,300 to £7,410 | This compensation range is for painful soft tissue damage to the shoulder where full recovery is made within in less than two years. |
| Shoulder Injury | Moderate (c) | £7,410 to £11,980 | This compensation range is for soft tissue damage which takes over 2-years to recover from and also injuries like frozen shoulder. |
| Shoulder Injury | Serious (b) | £11,980 to £18,020 | This compensation range is for shoulder dislocations or brachial plexus damage which results in movement loss with pain in the shoulder, neck and elbow. |
| Shoulder Injury | Severe (a) | £18,020 to £45,070 | This compensation range is for brachial plexus damage which leads to significant disabilities. |
To have your claim valued accurately, please speak to a member of our claims team, who will be able to help with this. They can arrange for a solicitor to value your claim for you.
Additional Damages You Could Claim
If your claim is successful, the settlement you receive will likely be made up of two heads of claim: general damages and special damages. The potential value of general damages we have included in the section above. To help calculate this figure, several considerations are made:
General damages (these are paid for physical and psychological harm):
Trauma and shock of being involved in an accident.

Pain and suffering at the time of the accident, as well as when receiving emergency medical care.

Painful recuperation, if your recovery will be long and require painful treatment.

Long-term disability if your injuries will affect your life for some time.

Permanent disability if your injuries will leave you impaired in some way.
Special damages are designed to cover financial losses and other ad-hoc expenses, such as:
The cost of care if you had to hire a nurse or home help.

Travel costs to have your injuries treated and also to deal with the claim itself.

Medical expenses if you had to pay or needed treatment that wasn't available on the NHS.

Loss of income if you were forced to take time away from work and were not paid.

Lowered earning potential if your injuries will leave you with reduced working capacity.
The types of damages you receive will depend on the specifics of your case. Our team will be able to tell you more about the types of damages that could be available in your own case. It may be that you need a solicitor to value your claim for you before an accurate list of damages can be estimated.
No Win, No Fee Claims Against AA Insurance
By using the services of a No Win, No Fee solicitor, you will be able to minimise the financial risks of making a claim. This is because you won't have to pay anything at all unless your claim is successful. When it is successful, the solicitor may seek a small contribution toward their fees. This contribution is known as a success fee. Success fees are legally capped and will be agreed with you before the claim begins. : To summarise:
There is no fee for a solicitor to start working on a claim for you.

There is no fee during the time it takes a solicitor to process your claim for you.

There is no fee if your claim is unsuccessful and you don't receive any compensation at all.
If you would like a further explanation of how making a No Win, No Fee whiplash claim works, you can speak to a member of our claims team on the number below. They will be happy to provide you with all of the information you need.
Contact Our Team Today
Contact our claims team on 0800 073 8804 today. They will go over your claim with you and answer any questions about the claims process that you have. They will also be able to provide you with critical information about your claim, such as the personal injury claims time limit that will apply in your own case. Our solicitors have decades of experience handling road traffic accident claims. They will strive to win you the maximum amount of compensation possible and will guide you through the complexities of the legal process, explaining all legal jargon along the way. And if ever you have a query or would like an update on your case, they'll be on hand to take your call.

Guides And References
These links to external pages below may have useful information that could relate to your claim:
NHS information About whiplash
Information About Whiplash Form The Chartered Society Of Physiotherapy
Department for Transport: Report on Road Casualties in 2017
House of Commons Transport Committee Report on the Cost of Motor Insurance: Whiplash
You may also like to take a look at these additional guides we have published elsewhere on this site:
How To Make A Claim For Whiplash Due To An Existing Condition Being Exacerbated
How To Prove That You Have A Whiplash Injury
A Guide To Different Kinds Of Whiplash Injuries
Written by Wheeler
Edited by Billing