How much compensation can I claim for injury in France?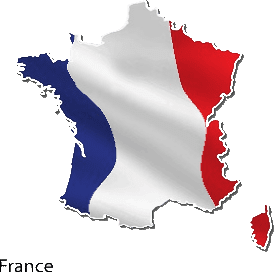 When you are a planning your trip to France you might imagine long luxurious meals, scenic road trips, relaxing by the pool or an invigorating ski through the Alps. Whilst most travellers return home unscathed from France, the minority are not so lucky.
France is a safe country to holiday in but hazardous situations can still occur. If you are unfortunate enough to suffer an accident or injury whilst in France, you may be in a position to claim compensation. Whilst your initial thoughts will focus on receiving treatment and getting better, it is prudent to consider what steps you may need to take in order to successfully make future accident claims in France. If you have experienced food poisoning, been involved in a car accident, obtained injuries from a slip, trip or fall by the pool or been injured in a ski lift accident in France amongst other things then check out this helpful guide to see how you can make an accident claim in France.
Select A Section
A Guide to France Accident Claims
France is a big country and in 2015 attracted 8.8 million visitors from the UK. France offers a huge variety for holidaymakers from beautiful beaches and oceans to vast mountain ranges. Whilst not an especially hazardous country to travel to, a large number are injured every year whilst taking part in holiday activities leading to accident claims in France. The most common causes of tourist accidents that occur in France include road traffic accidents, either as a driver or as a passenger in a transfer vehicle; skiing accidents on the snow, involving cable car accidents in Franceon or chair lifts; injuries sustained whilst on a package holiday; food poisoning caused by restaurant food and slips, trips and falls in hotels.
This guide is to advise you what to do if you wish to make accident claims in France. You may be unsure who to contact, what evidence to collect or what the time limit is. We will try to answer all of your questions but if there is still something you are unsure about then please check the useful links at the bottom of the page or contact our friendly team at Legal Expert for more information.
What to do if you have an accident or injury in France
If you have had an accident or injury whilst on holiday in France, then as soon as you feel well enough you should gather evidence of all the medical treatment you have received. Make a note of all of your injuries and try to collect evidence of any expenses that you have been liable for as a result of the accident or injury. If you were involved in a road traffic accident, then collect the details of the vehicle and the driver of the vehicle. If anybody witnessed your accident try to ask for their details as they may be useful in the future. Photographic evidence can also be helpful if there is any clear sign of what caused your injury. If you were on a package holiday, then you should do all of the above as well as letting your tour operator know. If you are eligible to claim compensation, it is the tour operator that you will be claiming against. Ensure that you advise your travel insurance company that you have been involved in an accident.
Emergency contacts in France after an accident
112 is the number for the French emergency services, you may need a police officer to attend the scene in emergency. However all accidents in Francemust be reported to the police or gendarmerie station. Even if gendarme has attended the scene you will still be required to go to the office to make a statement before leaving the country.
Information about the British Embassy and Consulates in France is listed in the useful contact section at the end of this page.
Don't forget, if you are involved in an accident, be sure to seek medical attention, alert your travel insurance provider to your injuries, report the accident to the police, gather evidence and witness information and then consider contacting a solicitor if you wish to make an accident claim in France.
The British Embassy in Parisis based on Rue du Faubourg St Honoré. The phone number is +33 (0) 1 44 51 31 00, should you need their assistance.
Medical treatment after an accident
If you have been injured in France, you can dial 112 for the emergency services. This is the generic number for the European emergency services. However, bear in mind that if you were travelling near the border of another country then your call may be directed to the emergency services of that neighbouring country. So if you are staying in France on the German border you will need to ensure that you ask for the French emergency services, rather than the German ones.
You can also dial 15 which is the French national emergency number for medical help.
Dialling 18 will get you the general French emergency services. This is like dialling 999 from the UK.
If you are travelling to a European Union country, including France, from the UK you are strongly recommended to have comprehensive travel insurance which covers medical care. If you are a UK citizen, at the moment until Brexit, you are entitled to receive a free European health insurance card(EHIC). You can request a EHIC card very easily online. This card entitles you to receive reimbursements for certain types of urgent healthcare received in France. However, not all treatments or medications are covered. This is why travel insurance is so highly recommended.
You will find doctors surgeries everywhere, even in the smallest towns and an a accident and emergency department is available in most medium-sized towns. The EHIC will usually entitle you to a reimbursement of around 70% for a GP visit and dental fees and around 35 to 65% of the cost of prescribed medications.
If you are seen in hospital as an emergency with your EHIC then most of your treatment will automatically be covered but you may be charged for any extras that are not covered by the EHIC so think seriously about getting insurance.
In order to successfully receive reimbursements from any medical treatment that you have paid for be sure to keep hard copies and photocopies of your receipts and prescriptions.
Compensation claim time limits in France
If you decide to seek a compensation claim for an injury in France then be aware that there are time limits to your claim for compensation in France.This table gives some indication of how soon you need to put in a claim, should you wish to.

| Where did the accident of injury occur? | How long do I have to claim? |
| --- | --- |
| Whilst on a package holiday. This can include incidents in the aeroplane, in a hotel, on a cruise ship or whilst taking part in an activity or trip organised by the tour operator. | 3 years |
| During an independently planned and booked trip abroad, not using a tour operator. | The time limit varies depending on details |
| On an independently booked international flight. | 2 years |
Package holiday injury claims in France
If you are travelling as part of a package holiday and you suffer an accident or injury whilst in France then you may be able to claim against your tour operator. The Package Travel, Package Holidays and Package Tour Regulations 1992 state that tour operators are liable for any injury sustained by their customers whilst on holiday. This usually covers any injury or accident sustained whilst in the hotel, on an excursion or whilst taking part in an activity which was included in the package or organised by the tour operator. These regulations make it much easier and quicker to claim compensation rather than becoming involved in the legal system of another country. It is important to report the injury or accident to your tour representative at the resort or directly to the tour operator's head office.
Here are some of the most popular tour operators and package holiday operators in the UK:
Thompson
First Choice
Thomas Cook
Virgin Holidays
Cosmos
Hays Travel
Travel Republic
TravelSupermarket
EasyJet
Last minute
On the beach
Monarch
Injured in France? Claims we can help with
If you have had an accident or injury whilst on holiday then you may be considering illness or injury in France claims. You may be able to make a claim for an accident in a hotel, illness caused by food poisoning in a restaurant, a road traffic accident, slip, trip or fall or an injury sustained whilst taking part in a sporting activity. Whatever your circumstances, Legal Expert can help. Please feel free to call us to discuss what happened to you and our expert holiday claims team will be able to advise you.
French hotel accident claims
There are many accident claims arising from negligent acts by French hotels. Swimming pools and exercise facilities are rife with potential hazards. Holidaymakers may suffer cuts or foot injuries from sharp tiles or drains in pools. As well as a painful laceration this can also result in nasty infections. Poor hygiene standards or careless cookery can result in food poisoning from hotel restaurants causing an upset stomach or worse, which really spoils the holiday experience for tourists. Slips and trips occur regularly and are frequently attributed to the negligence of the hotel in not warning visitors about slippery surfaces or trip hazards.
Restaurant illness, accident or food poisoning claims
The majority of people enjoy dining out on their holidays. The risk of accidental injury in a restaurant is low but France is the second most likely country for British tourists to suffer food poisoning, although this may be due to the large volume of people travelling to France. There are a number of ways that accident or illness can occur in a restaurant:
Badly cooked food, poor quality, stale ingredients or low levels of hygiene can lead to food poisoning or upset stomachs. It is hard to prove food poisoning after the symptoms have abated so seek medical help as soon as possible in order to be able to provide evidence.
Spillages of hot food or drink onto a customer can cause burn injuries, as can serving food which has been overheated and is too hot.
If spillages of food or drink are not cleared up properly then this can cause a hazard on the ground from slippery substances or sharp pieces of glass or crockery being left unattended on the floor.
Poorly maintained furniture railings or inadequate lighting can lead to customers experiencing a slip, trip or fall.
Poorly maintained, designed or badly lit car parks can lead to car accidents outside a restaurant.
It is the restaurant owner's responsibility to ensure the health and safety of their guests. If you have suffered from an injury or accident in a hotel then you may be able to claim one or more of the following:
Medical expenses
Transportation costs
Psychological trauma
Short-term rehabilitation
Long-term care
Slips, trips and falls
Slips, trips and Falls can happen at any point on your holiday from boarding or disembarking the plane to walking through the lobby of your hotel. If someone else's negligence is to blame for the injury you sustained following a slip, trip or fall then you may be able to claim compensation. Common causes of slips, trips and falls on holiday include:
slippery surfaces poolside
Badly fitted carpets or rugs, or carpets in need of repair
Handrails in need of repair
Slippery bathroom floors
Uneven pathways outdoors
Potholes
Trailing cables
Inadequate lighting
If you trip and fall this can cause anything from bruising to serious fractures. Common fractures suffered as a result of a slip, trip or fall include hip, knee and foot injuries. Elbows and shoulders are also frequently damaged.
Sports activity claims
France offers a wide variety sporting activities that holidaymakers may wish to take advantage of. In particular, skiing and snowboarding are popular pastimes. Skiers and snowboarders frequently experience injury and often these injuries can be serious. If it can be proven that another skier was behaving recklessly, that an instructor was negligent, equipment was faulty or the piste had not been managed well resulting in an avalanche, then a claim could be made against them.
There are also a number of adventure sports on offer in France including rafting, skydiving, caving and rock climbing. These Sports can be very risky in and of themselves but if it is found that there was negligence which led to the injury then trainers and operators can still be held responsible, even if you have signed a waiver form.
Many travel insurance policies will not cover adventure sports due to the nature of the risk, therefore compensation is sometimes the only way for you to recoup costs.
Injuries suffered from these types of adventure sports can vary from minor bruises to serious fractures. Skiing and snowboarding injuries in particular usually involve lower limb fractures and sprains, in particular to the knee.
If you are wondering how to pursue a France skiing compensation claim then speak to Legal Expert today for advice on travel claims in France. If for example, you have had a ski accident in the Alps our holiday compensation experts will be able to advise you on the best way to proceed.
Car or Road traffic accidents in France
It is not uncommon for tourists to become involved in road traffic accidents in France. This isn't very surprising considering the number of British holidaymakers who visit France annually. They are driving unfamiliar vehicles, on the other side of the road, in a new area. However if someone else is found to be responsible for your road traffic accident, for example another driver or a cab or bus driver then you may be able to make a car accident claim in France.
France's road networks attract a higher number of casualties than Britain's roads. In 2015 there were 3600 deaths on France's roads which was twice as many as Britain, despite having roughly the same number of people and cars.
We recommend that you speak to our team at Legal Expert to discuss holiday compensation advice specific to your claim but in general you may be able to claim medical expenses, cost of transportation, psychological trauma and even the cost of long-term care should it be necessary following a road traffic accident.
Do I need to use a French lawyer for my claim?
The short answer is no. Even though your claim happened abroad we can provide a solicitor for you in the UK who specialises in foreign holiday compensation claims. You are not required to hire a French solicitor.
No Win No Fee Claims
Legal Expert offers a no win, no fee service for your holiday compensation claims. This means that you won't be asked to pay a penny upfront. A fee will only be deducted once you have received your payout. This is a stress free way of accessing legal advice as it means you don't need to add financial concerns to your list of worries. You can focus on getting better and winning your case.
Top 16 biggest cities in France
Of course, you may want to visit countryside destinations while you are in France, but if you're in one of the bigger cities, such as the ones below, you are sure to not be the only tourist travelling there. The largest cities in France can be found below and we can cover claims in any of these cities, in the countryside and on the coast too.
1). Paris
2). Lyon
3). Marseille
4). Toulouse
5). Lille- Roubaix
6). Bordeaux
7). Nice
8). Nantes
9). Strasbourg
10). Rennes
11). Grenoble
12). Rouen
13). Toulon
14). Montpellier
15). Douai- Lens
16). Avignon
Start your claim
If you think you may be eligible for holiday illness compensation then please speak to Legal Expert for more information and holiday compensation advice from our friendly and helpful team. Their experience and expertise will help you to receive the compensation that you deserve.
Call us on 0800 073 8804 or contact us via our online form and we'll get back to you shortly.
Useful links
British Embassy France
35, rue du Faubourg St Honoré
Paris Cedex 08
75383 Paris
France
Tel: +33 (0) 1 44 51 31 00
Web: www.gov.uk/world/organisations/british-embassy-paris
Opening hours: Monday to Friday, 9:30am to 1pm and 2:30pm to 5pm
British Consulate – Bordeaux
2nd Floor
353, Boulevard du President Wilson
33073 Bordeaux
France
Tel: +33 (0)5 57 22 21 10
Web: www.gov.uk/world/organisations/british-consulate-bordeaux
Opening hours: Monday, Wednesday and Friday, 9.00am to 12.30pm
British Consulate – Marseille
Les Docks de Marseille-La Joliette
10 Place de la Joliette
Atrium 10.3
1st Floor
13002 Marseille
France
Tel: +33 (0) 4 91 15 72 10
Web: www.gov.uk/world/organisations/british-consulate-marseille
Opening hours: Monday, Wednesday and Friday, 9.30am to 12.30pm
NHS information on accessing healthcare in France