How Much Compensation Can I Claim For Professional Negligence
By Stephen Burke. Last Updated 6th October 2021. In its most basic form, professional negligence claims most often occur when a professional person, or representative of a professional organisation, causes damage by giving bad advice. However, in recent years the professional negligence landscape has changed somewhat. Our increasing dependence upon technology has mostly driven this change has left us open to damage from a much broader range of professionals.
A decade ago, we primarily saw professional negligence claims against solicitors, accountants, and financial advisers. We now see a growing number of professional negligence cases brought against IT professionals and other providers that maintain and administer the technology we now depend upon.
Select a Section:
A Guide to Professional Negligence Claims
As mentioned above, the professional negligence landscape has grown over the last decade. This means that not only are negligence compensation claims now more common, damages claims of this kind now target a much wider range of professionals.
This, of course, means that if you feel you have a valid reason for making a compensation claim for professional negligence, you will need to find a legal firm that is experienced in managing the full range of potential reasons for claiming against a professional person or organisation.
In this guide to professional negligence claims, we aim to help you familiarise yourself with the process of starting a claim. It will also outline some of the main reasons you may have a valid case for claiming professional negligence and the most common types of professionals that claims are brought against.
Finally, it will explain how to start a compensation claim for professional negligence, detail some example compensation amounts that different types of claims can expect to be awarded, and make a valid case for pursuing compensation under a No Win No Fee kind of agreement.
Professional Negligence Explained
The term 'professional negligence' is a broad one. It can cover a wide range of potential situations that could lead to the victim encountering some form of damages. And this could be the basis on which you can file professional negligence claims.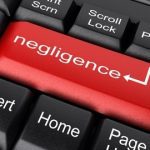 For example, a solicitor may give bad legal advice, leading to the client being subject to financial loss or even incarceration in prison due to this bad advice. And then, we have the more modern forms of professional negligence. For example, if a person were to trust an IT professional to repair a computer, and due to the repair being mishandled, the customer loses critical irreplaceable data, then a reason may exist to claim compensation.
Put simply, any time a person employs the professional services of an individual or organisation, and the advice or service provided causes harm due to being applied negligently. You could have valid professional negligence claims.
What Is a Professional Negligence Compensation Claim?
Building on the information above, which explains why a reason to make a professional negligence compensation claim may exist, we now need to discuss what a claim actually is.
A claim for compensation due to the negligence of a professional is an attempt to gain a monetary settlement to make up for damages caused by advice or expert services being provided poorly.
The compensation claim can potentially be made up of many forms of damages. Everything from actual physical harm and loss of quality of life through to purely financial damages such as damage to property or loss of earnings.
The myriad of potential reasons why a compensation claim for professional negligence can be made, and the very wide range of potential damages that professional negligence can cause, makes this one of the most complicated categories of compensation cases. Therefore, it is advised that any person who feels they may have a valid case for compensation makes sure they contact a legal firm that can offer them the best advice on making professional negligence claims. Please find out how to claim by speaking to our legal experts today.
No Win No Fee Professional Negligence Claims
If you have been the victim of professional negligence but lack the financial resources to pursue a compensation claim by paying a solicitor, there may be another option. Many solicitors offer to take on a valid compensation claim under a No Win No Fee agreement. This is also sometimes referred to as a Conditional Fee Agreement (CFA).
This means that the solicitor will take on your case and carry out all of the legal functions to pursue the compensation claim without charging anything up front or across the claim's life cycle.
Once the professional negligence claims reach their completion, the client only pays the solicitors fee if the case was won. If no compensation was awarded, the client doesn't pay the solicitor anything. In effect, the solicitor is betting on the fact that they can win the compensation claim.
In the event of an amount of compensation being awarded, the solicitor will levy legal fees, legally kept diminutive compared to the overall amount of awarded money. 
However, it should be noted that in some cases, there may be additional fees that need to be paid once the case is over. A good legal firm will always warn of these potential costs and help the client find ways to mitigate them.
Who Can Sue for Professional Negligence?
The person who could make professional negligence claims should be the person suffering the most from the negligence. However, there are cases when, for various reasons, the person affected cannot claim on their own behalf, but others can. These are:
The person's estate affected: This could be the person responsible for the victim's assets and property, being either their family to a business or institution responsible.
The family of the person affected: If the person directly affected by the negligence is unable to claim on their own behalf, due to death or ill-health, for example, then their family members can claim on their behalf and their own behalf if the negligence also impacted them.
What Types of Professional Negligence Can I Sue For?
Trying to create a full list of the types of professional negligence that can happen would be exhausting, since there are so many different examples. However, you can find below some of the most common reasons why a claim for compensation due to professional negligence could happen. It's also explained what type of professionals each example claim would be made against. Some of the most common situations resulting in professional negligence claims include the following:
Solicitor – one of the most common types of claims. This could cover many reasons. At one end of the scale, we have simple cases where the solicitor has given bad advice that clearly led to a financial loss for the client. At the other end of the scale, it could be a person who has spent months or years in prison after their solicitor mishandled their case.
Barrister – very similar to claiming against a solicitor, but in this case, we are almost always talking about the client being misrepresented during legal proceedings by their barrister, which led to financial or other harm.
Accountant – when an accounting professional or firm is negligent in handling the client's financial affairs, which leads to monetary or some other form of loss.
Financial adviser – when a finical adviser, either an individual or a firm, gives bad advice to a client resulting in a monetary loss. For example, bad advice on investments or mismanaging an investment portfolio.
Insurance broker – either a private broker or an insurance firm, which has failed to ensure that they have provided the correct cover for the client, and as a result, the client has suffered hardship.
Surveyor – if the surveyor has failed to carry out their duties responsibly, which has, in turn, led the client to make a misinformed decision regarding property development, which resulted in some form of loss.
The builder is either a private contractor or a building firm, which has failed to undertake building work professionally. For example, a building firm pledging to complete planned work within a certain timescale and failing to do so leads to hardship.
Again, Engineer, either a private contractor or an engineering firm, has failed to complete engineering work professionally. For example, a firm under contract to undertake work as part of a larger project that fails failed to do so within the time frame, thus causing additional costs.
Architect – if the architect has failed to draw up effective plans, which leads to construction being either inadequate or in breach of construction conditions such as local planning laws.
IT professional – either an IT firm or a private professional that has failed to undertake IT-related work professionally, which has resulted in a loss to the claimant. An example of this would be failing to back up critical, irreplaceable data before re-installing an operating system or allowing private and confidential data to receive exposure to a third party.
Professional trustee – for the mismanagement of trust funds and activities resulting in some form of financial loss to the trust.
A business – any business with a legal contract to provide a professional, measurable level of service that fails to do so could be a valid case for claiming compensation due to professional negligence.
These are some of the most common types of professionals who make compensation claims for professional negligence. Note, though, that there are many more examples of professional negligence claims.
If you could make a professional negligence claim for other reasons, please contact us for some free advice.
How to Make a Claim for Professional Negligence
Claiming compensation if you have been a victim of professional negligence is a complex procedure. Any person who is considering making such a claim must get legal advice ASAP. Before doing so, it is a good idea to do the following:
Document the entire history of the case. This includes what the contract states for the professional to do. And it also covers how the professional fails to perform their duties properly.
Detail all losses. These can be tangible losses, such as the direct cost of repairing damages to property, and intangible losses, such as future loss of earning, and other long-term negative effects that aren't measurable.
If you receive any professional opinions from a third party, such as having an additional firm take a look at the problems via the original contractor, then make sure to have them document their findings.
After that, you should contact a legal firm. We are happy to offer every new client a completely free initial consultation session. As part of this, we will ask you relevant questions about your case. And we will use the answers that you give to offer you the best advice we can. These responses will explain how to move your claim for professional negligence compensation forward.
We will offer to take on your professional negligence claims under a No Win No Fee agreement in many cases. You won't need to pay us anything unless we successfully win compensation for you.
What Can I Claim for With a Professional Negligence Claim?
Now, the professional negligence category of compensation claims is very broad. So, it's almost impossible to give a complete list of the damages that a person could claim. However, below you will find the most common types of damages that a claimant receives due to professional negligence.
Property damage – in the case that professional negligence has led to financial loss through damage. An example would be a building firm causing damage to a structure by not delivering professional or safe work.
Additional costs accrued – this could be the building firm failing to meet a construction deadline. And this might mean that an additional hire period for plant machinery causes additional costs.
Loss of quality of life – if a professional is grossly negligent, and the result affects the victim's life quality. Examples of this would be a financial adviser losing the claimant's long-term savings through bad investment. Or perhaps a solicitor misrepresenting the victim resulting in imprisonment when they are, in fact, innocent.
Medical expenses – professional negligence claims could cover the cost of medical care. This includes the victim requiring treatment for stress or other conditions stemming from professional negligence.
Travel expenses – any costs from travelling as a direct result of the incident of professional negligence or in pursuing a compensation claim.
Loss of short-term or future earnings – if the instance of professional negligence negatively affects the victim's income. This could be both short-term whilst they deal with the case or long-term if the incident itself caused ongoing hardship.
These are the most common types of damages that make up a claim for compensation due to professional negligence. However, professional negligence cases are complex. Also, there is a broad spectrum of types of negligence that can be the basis for a claim. And there are many more types of damages that might apply. You will need legal advice to help you discern what these might be.
Professional Negligence Compensation Amounts
Below is a table showing common damages that make up a claim for compensation due to professional negligence:
| | | |
| --- | --- | --- |
| Damage to or loss of property | £5,000 - £500,000 | Calculated on the initial cost of the property, and the level of damage or loss suffered. |
| Monetary loss due to bad financial advice | £5,000 to £500,000 | Calculated on the amount of monetary loss suffered and the level of responsibility apportioned to the adviser causing the loss. |
| Monetary loss due to mishandling of the victim's finances | £5,000 to £500,000 | Calculated on the amount of monetary loss suffered and the level of responsibility apportioned to the professional responsible for the loss. |
| Monetary loss due to inadequate insurance cover | £5,000 to £500,000 | Calculated on the amount of monetary loss suffered and the level of responsibility apportioned to the professional responsible ensuring the victim had adequate insurance cover. |
| Monetary loss due to additional costs being incurred | £3,000 to £500,000 | Calculated on the amount of additional cost, and the level of responsibility of the professional in causing the additional costs. |
| Loss of quality of life | £5,000 to £1 million or more | Entirely dependent upon how much the victim's life quality has been affected by the professional negligence. |
| Loss of earnings | £1,000 to unlimited | Entirely dependent upon the victim's earning potential, and how far into the future this potential will be impacted. |
| Medical expenses | £1,000 to £500,000 | Driven by the overall cost of medical expenses. |
| Breach of privacy | £1,000 to unlimited | Entirely driven by the seriousness of the privacy breach, and the severity of the effect the breach will produce. |
| Loss of data/information | £1,000 to unlimited | Entirely driven by the inherent value of the data that was lost, and whether it can ever be recreated. |
These are guidelines for the many damages that make up a compensation claim in a professional negligence case. There are many more potential payouts for professional negligence claims. We advise you to contact us for a free consultancy session to discover what you could claim compensation for.
Why Choose Us as Your Claim Service?
The process is both complex and in need of expert guidance. But we offer a truly unique service. This helps people gain access to the legal representation they require when they need it. We combine a free consultancy session with a No Win No Fee approach to taking on new cases. This means the removal of the financial roadblock of starting a new professional negligence claim. And that makes bringing a claim forward much easier for the victim.
Start A Professional Negligence Claim Today
If you suffer loss or damages due to the professional negligence of a third party, contact us ASAP. We can help you decide whether you have a valid case and how best to proceed. This may include potential court proceedings if no settlement is possible before a trial.
In almost every case, we will offer to work under a No Win No Fee agreement. This means that you don't have to pay a thing. Indeed, you won't need to spend your savings or take out finance to gain the legal representation you need. Only when we win compensation for you will we take a fee. And this has a legal cap covering a small amount of any damages for professional negligence claims. So, don't delay. Contact us now and find out if our professional negligence solicitors can help you successfully make a compensation claim.
Useful Links
Pre-Action Protocol for Professional Negligence: Read the Ministry of Justice's protocol for professional negligence.
At Legal Expert, we also have a wide range of personal injury claim guides, such as the following examples:
Medical Negligence Claims: We have a helpful guide on what to do if you're thinking about claiming against a medical professional and how they can breach their duty of care. 
Personal Injury Claim Against Employer: Take a look at our guide to claiming against your employer. 
How Much Compensation Can I Claim for an Accident in a Restaurant?: Were you the victim of negligence in a restaurant? Perhaps you could claim. Please read our guide to find out.
How Much Compensation Can I Claim For A Road Accident?: This guide looks at how you may be able to claim compensation following different types of road accidents which weren't your fault.
How Much Compensation Can I Claim for a Supermarket Accident Claim?: Have you been hurt in an accident that occurred in a supermarket? Do you have proof that the accident was caused by another party, such as staff at the supermarket? You can read this guide for insight into making a supermarket accident claim.
How Much Compensation Can I Claim For An Accident In An Office?: If you are ever hurt in an accident within an office, you could be entitled to compensation if it was caused by another party. This guide looks into how office accidents may occur and ways you could claim compensation for such incidents.
Professional Negligence Claims FAQs
What is a professional negligence claim?
When a professional's substandard actions or work causes you to suffer, you could claim compensation.
What damages could someone claim for negligence?
You may have lost out financially or suffered personally. And you could receive compensation for both via your potential claim. 
What could you describe as negligence?
Negligence occurs when a third party provides a lower standard of professional duty than is reasonable. Note that this is in comparison to the standards of others in their position. 
How do you prove professional negligence?
The professional should owe you a duty of care before breaching it with your suffering.
What is a type of professional negligence?
Negligent advice, poor practice by doctors or financial advisors, accounting errors and IT negligence fall under professional negligence.
What is a professional duty of care?
This is a duty of care to look after fellow employees to the best of your abilities. And this may include the employer having professional indemnity insurance.
What limitation period applies to professional negligence?
In most professional negligence cases, the time limit is six years from the date of the original negligence incident. An extension is a possibility if the date of knowledge comes later.
What are the four types of negligence?
These are a breach of duty, the cause, the proximate cause and damages or injuries.
Thank you for reading our guide on professional negligence claims.